How To Pass the NYS Notary Exam With Flying Colors
Not all states require future notaries to pass a notary exam, but the State of New York does. You will have to pass the NYS notary exam if you want to work in this profession. DoNotPay will help you get through the entire process with ease—you only need our practice test.
What Is the NY Notary Exam?
The notary exam is one of the required steps to becoming a notary in the Empire State. Rules and regulations vary depending on the state, so you need to know about the specifics for the one you are interested in.
The notary exam in New York consists of 40 questions, and you must give 70% of the right answers to pass. The questions have multiple-choice answers, and the predetermined time to finish the test is one hour. All the questions are referring to the notary law in New York.
These are the languages the notary exam in New York is available in:
Spanish

Haitian-Creole

Russian

Italian

Korean
Why Should You Prepare for the NYS Notary Public Exam?
As much as 60% of people fail the notary exam in New York. If you wish not to be among them, you'll have to prepare for the test. The statistics show that a notary exam is not easy and should not be taken lightly. Once you pass the test, you get a lifetime commission that is renewable every four years. 
If you organize yourself well and manage to cover everything from the study material, you won't have to worry about passing.
Study Methods That Will Help You Pass the Notary Exam in NY
People who don't prepare for the notary exam in New York won't pass. You should take the test seriously and start studying on time. First, get the Study Guide for the NY notary exam. You'll have to read that book several times until you get the proper idea of what the notary job is all about.
Feel free to highlight the important passages along the way or make notes.
When you finish this part, you can use practice tests to check your knowledge! They are simple, fun, and useful. But not all of them—the best option is DoNotPay. We can simulate the experience of taking the real test and ensure the best results when the time comes.
Pass the NY State Notary Exam With DoNotPay
If you want to ensure good results on the notary exam in New York, you should turn to DoNotPay for help. Our practice test is the best one available, and you only need to follow these simple steps to access it:
Open DoNotPay in a

web browser

Type in the name of the test

Select the test you want to prepare for

Tell us how many questions you want your test to have—10, 20, or 30

Begin the test completion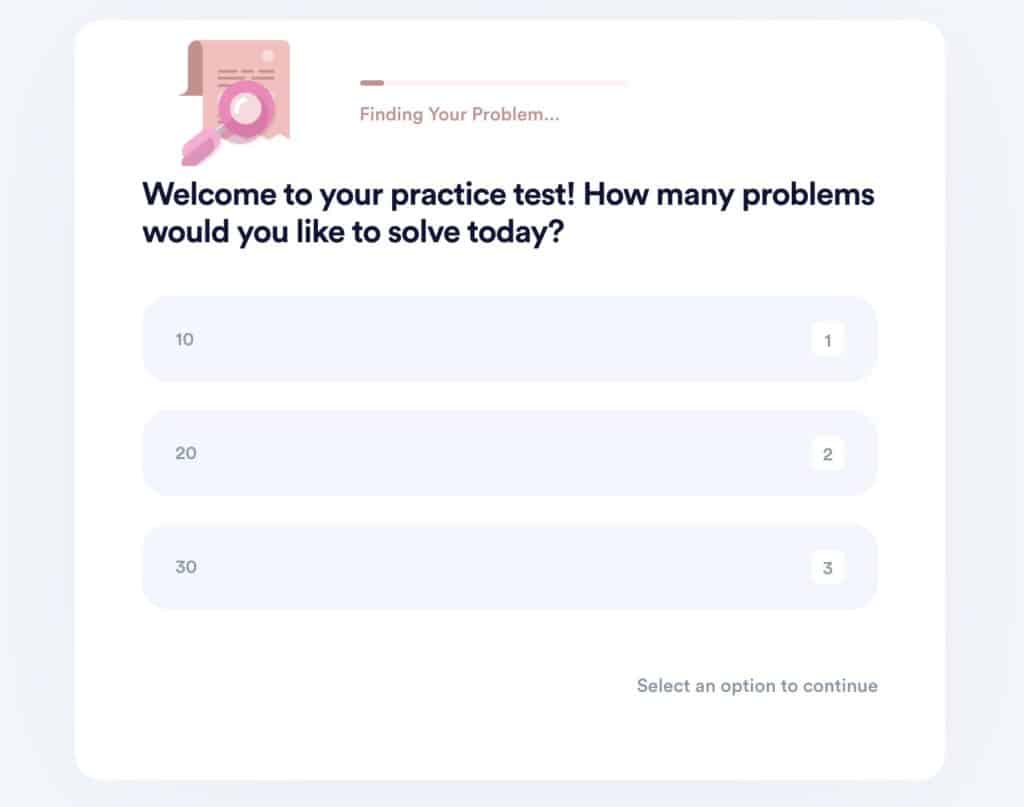 How To Schedule a Notary Exam in New York
Scheduling notary exams in NY is done via email. These are the steps you'll have to take:
Type in

Schedule Notary Public Exam

as subject

Enter your name, address, and phone number

Include the date and time of the exam that you wish to attend

Send the email to

exams@dos.ny.gov
Submitting an application this way will not ensure you the place at the exam. If the date and time of your choice are not available, you'll get another exam date. Do not show up for the exam unless you get the email confirmation first. Take a look at the table below to see the locations in New York where you may take the notary exam:
County
Address

Albany County

Alfred E. Smith State Office Building

80 South Swan Street

Albany, NY, 12239

Binghamton—Broome County

State Office Building

44 Hawley Street, 15TH Floor

Binghamton, NY 13901

Buffalo—Erie County

State Office Building

65 Court Street, Main Floor, Hearing Room, Part 5

Buffalo, NY 14202

Franklin Square—Nassau County

(VFW Hall) 68 Lincoln Road, Basement Franklin Square, NY 11010 

Hauppauge—Suffolk County

Perry Duryea State Office Building

250 Veterans Memorial Highway

Basement Conference Room

Hauppauge, NY 11788

New York City—New York County

123 William Street, 2nd Floor

 New York, NY 10038

Pomona—Rockland County 

Rockland County Fire Training Center

35 Firemen's Memorial Drive

Pomona, NY 10970

Rochester—Monroe County

(Finger Lakes DDSO)

620 Westfall Road

Rochester, NY 14620

Syracuse—Onondaga County

(APWU Union Hall)

407 East Taft Road

North Syracuse, NY 13212

Utica—Oneida County

State Office Building

207 Genesee Street,

2nd Floor, Room 205

Utica, NY 13501
DoNotPay Has Numerous Practice Tests in Its Offer
DoNotPay can help you pass the government-issued test of your choice. Take a look at the practice tests in our extensive offer:
You'll be able to pass the written driving test easily with our help. We also know how to make DMV driving test appointments and ensure you have everything on your driving checklist.
Don't Let Companies Take Your Hard-Earned Money!
People love to subscribe to all sorts of services—especially if there are free trials involved. The problem is that most of them forget that they signed up for anything in the first place. Companies are aware of this, which is why they auto-renew memberships as soon as the free trials expire.
Don't let them get away with it—use DoNotPay to sign up for free trials and cancel subscriptions right before they renew. If you want to save even more money, use our platform to learn how to handle high bills, parking tickets, college application fees, canceled or delayed flights, or faulty services you should get refunded for.
Use DoNotPay To Stop Illegal Activities and Earn off Scammers!
Our AI-powered platform can assist you in dealing with all sorts of scammers. If you got any of the following, the world's first robot lawyer will help you seek justice:
Do you want to protect yourself and your loved ones from stalking and harassment as well? Use DoNotPay to learn how! If the situation with a stalker escalates, our app is going to help you take them to small claims court by preparing all the paperwork and your court statement.
Don't stop there—check out how you can bypass phone number verification, claim any type of warranty, or pass any government test with flying colors!