Is Visiting a Notary Public in Minneapolis a Good Call?
Paying a visit to a notary public in Minneapolis is what most people first think of when planning to get their documents notarized. You should know that you have other, and more importantly, simpler options to have your document notarized.
and gain access to our time-efficient online notary service and step-by-step guides to notarizing your documents from any location!
What Does a
Notary in Minneapolis
Do?
Notaries in Minneapolis are people appointed by the government to do the following tasks:
Witness the signing of legal documents

Confirm the identity of a signer

Verify the signer's willingness to sign the document

Check whether the signer is aware of the contents of the document

Finalize the process with their

signatures
Visiting a
Notary Public in Minneapolis
Before you book an appointment with a notary public in Minnesota, you should know how the process works. We'll explain it step by step:
Locate a notary

—Use websites like

123Notary.com

or the

American Association of Notaries

to find one close to you. You can also visit public places that provide notary services, like

banks

,

AAA

stores,

UPS

locations, law offices, libraries, or courthouses

Schedule a meeting

—Be sure to pick a time that works for you since notaries can charge you certain fees for canceling your appointment at short notice

Inquire about the notary service costs

—Find out all about the notarization fees before going to your meeting to know how much money you should set aside

Gather the documents you want to get notarized

—Have all the documents you want to get notarized ready to make sure you don't forget anything, or you'll have to come back another time

Prepare your ID

—Don't forget to bring your ID or other proof of identity, such as a driver's license or passport
Keep in mind that forgetting to bring your ID can result in you having to reschedule the meeting. The law in Minnesota doesn't allow notaries to perform notarial acts if they don't verify your identity first.
What Documents Can a
Notary in Minneapolis
Notarize?
If you're curious about what the common documents a notary public in Minnesota notarizes are, check out the table below:
Business Documents
Legal Documents
Financial Documents

Articles of incorporation

Memorandum of understanding documents

Vendor contracts

Commercial leases

Employment contracts

Construction agreements

Trusts

Advanced directives

Executorships

Custody and guardianship agreements

Court documents

Mortgage closing documents

Property deeds

Loan documents
How Much Does a
Notary Public in Minneapolis
Charge?
The notary service costs are different throughout the U.S. Some states set a maximum fee that notaries are allowed to charge for the service.
In Minnesota, the maximum fee for acknowledgments, jurats, and verbal oaths is $5. The state also allows remote online notarization (RON), and the maximum fee for RON is set at $25.
How To Notarize Documents Without Visiting a
Notary in Minneapolis
You don't have to visit a notary public in person in Minneapolis. Other options of notarization you can go for are:
Mobile Notary Service
Mobile notary service is a good option if you don't want to travel to a notary's office. You can have a notary visit you at any location you choose to sign and stamp your documents.
This option, though convenient, has its downsides. Mobile notaries tend to charge a lot for travel expenses. Add them to the standard fees, and you'll be spending way too much money unnecessarily.
Online Notary Service
Online notary service is a simpler and more affordable option compared to mobile notarization. If you choose to notarize your documents online, you won't have to pay any travel fees or additional expenses. You can schedule a meeting and get your documents notarized from your home or office.
An online notary will witness the signing via video chat and provide his or her digital signature.
Have Your Documents Notarized Remotely With DoNotPay in a Few Taps
Avoid the tiresome steps of the standard in-person notarization process and choose DoNotPay instead! We have all the necessary info and can connect you to a remote notary in a flash! All you have to do is and take the following steps:
Tap the

Notarize Any Document

feature

Submit the documents you want to get notarized

Provide us with your email address
We'll send you a direct link that you should use to make your appointment with an online notary.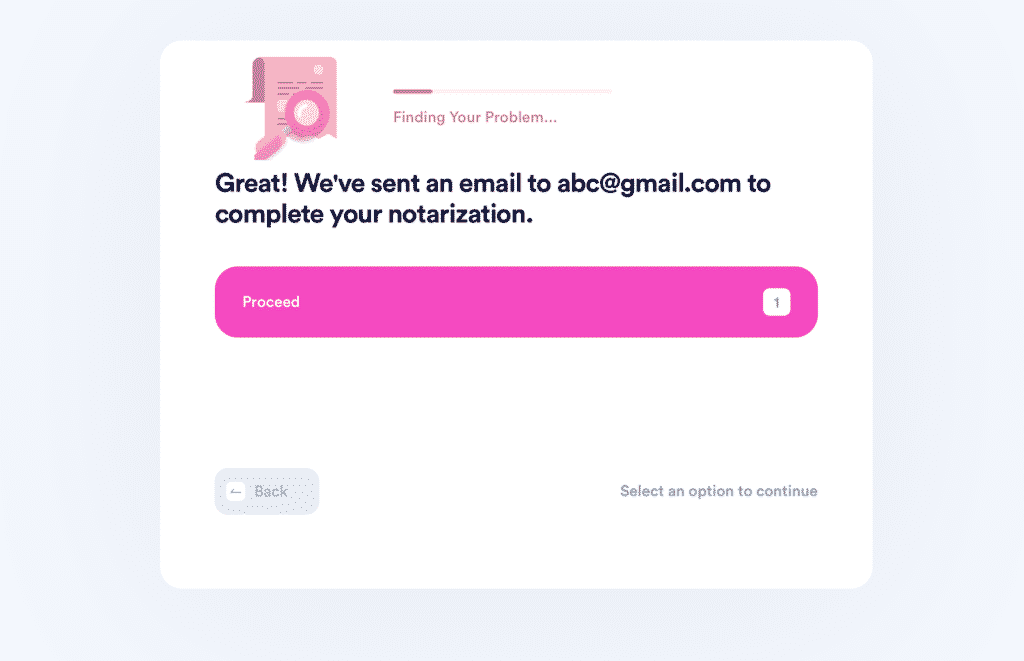 If you are struggling to create a document that needs notarization, DoNotPay can assist by generating various legal documents on your behalf! You can count on our app to help you draft the following:
Intent to purchase real estate

Estoppel certificate

Lease agreement

Non-disclosure agreement

General business contract

Independent contractor agreement

Parenting plan (child custody)

General affidavit

Promissory note

Quitclaim deed

Non-compete agreement

Prenuptial agreement

LLC operating rules document

Bill of sale
DoNotPay Helps You Claim Your Money
Our virtual assistant app makes sure you get back funds that are rightfully yours.
Whether you need to claim insurance, warranties, or your property held by the state, we will help you do it in minutes.
DoNotPay can also help you initiate a chargeback on any transaction you disagree with. We can help you secure compensation from airlines, robocall and text scammers, or in case you've been a victim of a crime.
In case you are dealing with an unfair company regarding your subscription cancellation or any other matter, we can help you get your money back by suing them in small claims court.
Bypass the Administration With DoNotPay
There's no more need for extensive research, abundant paperwork, or endless phone calls with customer service reps.
DoNotPay brings the administrative nonsense to a minimum.
Book DMV appointments fast and easy, appeal your parking citations, sign up for free trials without disclosing your credit card info or phone number, or reach your loved ones in jail—all in less than five minutes.
We also generate any legal document, provide full access to public records, offer DMCA protection, and reduce your property taxes with a few clicks.