Avoid Going to a Notary in Hamburg, PA, With DoNotPay's Help
Nowadays, it's easy to search for notary offices on your laptop or a smartphone and see numerous locations appear on the map of your area. The problem is that you need to go there—in person. can tell you how to avoid visiting a notary in Hamburg, PA, and get your documents notarized online!
How To Get Documents Notarized Online With DoNotPay
If you enjoy wasting your time and energy on unnecessary bureaucratic tasks, you should go with the traditional way of notarization. In case you'd rather handle such tasks with ease, you should choose DoNotPay!
Our app will gladly help you find an online notary to get a document notarized anywhere, including Hamburg, Pennsylvania. To get access to this neat product, follow these steps:
in any web browser of your choice

Select the

Notarize Any Document

product

Upload the document you want to get a

notary's signature

on

Enter your email address in the designated field
The best part is that online notaries DoNotPay works with are at your service 24/7 every single day of the year! No need to check the working hours of notaries in Hamburg!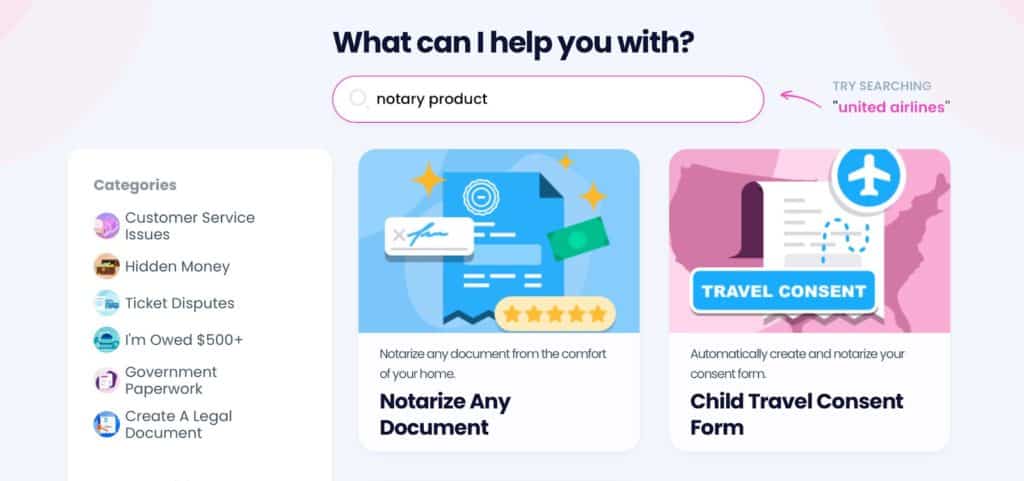 What Do You Need for Online Notarization in Hamburg, PA?
Notaries in Pennsylvania have been performing online notarization since 2020 due to the global COVID-19 pandemic. Using online notary services means you don't need to waste time in traffic, spend money on gas or bus tickets, or have unnecessary human contact.
So, what do you need to get a document notarized online?
Good internet connection

—a video call with a notary should run smoothly without any interruptions

A web camera

—if you don't have an integrated camera, you should buy one in advance

The document you need to get notarized
Your ID or another proof of identification with your photo on it
Additional witnesses

—if necessary for your document
Once you make sure you have everything for your virtual meeting, you only need to schedule one! That's the easy part when you use DoNotPay!
Is Online Notarization Safe To Perform in Pennsylvania?
In case you prefer to handle tasks the old-school way, you will change your mind once you see how serious Pennsylvania regulations are about online notarization. Everything is done in accordance with the state law, and safety is the priority.
Notaries must:
Inform the Department of State that they will perform online notarization

Be physically present in Pennsylvania (the signer can be in another state)

Use only the technology that is permitted to perform the notarization (Skype, Zoom, and FaceTime are not allowed)

Record the meeting and every step of the notarization process

Keep the recording safe for a minimum of ten years
Getting documents notarized from the comfort of your home with all these precautions is, without a doubt, the best and safest solution available!
Alternative Options of Getting Documents Notarized in Hamburg, PA
The other options of getting documents notarized in Hamburg are not as convenient as online notarization. The choices include:
Standard notarization—You need to visit the notary

Mobile notarization

—The notary comes to your home or office
Why Is Standard Notarization Not a Good Idea?
Standard notarization is an old-fashioned method of getting documents notarized. It requires adjusting your busy schedule to the working hours of a notary and traveling to their office. With the global pandemic at play, it is also dangerous for your health.
Why Is Mobile Notarization Not a Good Idea?
Although mobile notarization is a slightly more convenient option compared to the standard one, it is still flawed. You may not have to pay for your travel expenses, but you will need to set even more cash aside for the notary's travel fees. These extra expenses can go up to $50 in Pennsylvania.
You also have to meet the notary in person, hence exposing yourself to the risk of catching COVID-19.
How Much Do Notaries in Pennsylvania Charge for Their Services?
Notaries in most states have a set amount they can charge for notary services. Take a look at the table below to see the notary fee caps in Pennsylvania:
| | |
| --- | --- |
| Notarial Act | Price |
| Taking acknowledgments | $5 (+$2 per each additional name) |
| Administering oaths or affirmations | $5 (per individual taking oath or affirmation) |
| Taking verification on oath or affirmation | $5 (no matter how many signatures) |
| Certifying or attesting a copy or deposition | $5 (per certified copy) |
| Noting a protest of a negotiable instrument | $3 (per page) |
| Witnessing or attesting a signature | $5 (per signature) |
What Documents Should You Get Notarized in Hamburg, PA?
Not all documents need to get notarized, but a notary's signature increases the legal weight of an agreement. Here are some of the documents that you should consider taking to the notary:
Trusts

Employment contracts

Consent forms

Real estate deeds

Loan documents

Business contracts
DoNotPay also has numerous guides that can help you make up your mind when having this dilemma. We can answer the following questions:
Use DoNotPay's Features to Your Advantage!
DoNotPay offers a myriad of helpful services you can use to resolve your everyday hurdles.
Do you need help paying bills or finding and claiming missing money? Are you interested in applying for clinical trials in your area? We can help you solve these and many more issues in no time!
Here are some other problems you can handle effortlessly with our help:
Hiring a Lawyer Can Cost a Small Fortune—Rely on DoNotPay Instead
If you're on a tight budget and can't pay a lawyer to help you create legal documents, file a claim in small claims court, or handle stalking and harassment, DoNotPay has a solution for you.
Our app will help you create various documents, including child travel consent forms and complaint letters for a problematic neighbor.
Are you a victim of a crime and need help applying for reimbursement of your crime-related expenses? You can sign up for DoNotPay and allow us to handle your crime victims compensation on your behalf.
DoNotPay can also connect you with an online notary and enable you to get your documents notarized from the comfort of your home.