How Does the Minneapolis Paid Sick Leave Work?
According to the statistics, Minneapolis was one of the first cities in the Midwest to adopt a paid sick time law. These rules propose paid time off for more than 100,000 employees in the area, helping them cope with health issues more smoothly.
Reading our article will help you get familiar with the Minneapolis paid sick leave policy and discover how to take advantage of it. We will also teach you how to leave tiresome call-in-sick correspondence with your boss behind and demand sick days within minutes by !
How Does the Minneapolis Sick Leave Law Work?
In 2017, the city of Minneapolis put into effect the Minneapolis Sick and Safe Time ordinance. It's a specific law that guarantees paid time off for the eligible employees in companies that count six or more workers. According to these regulations, sick time is also available for businesses with five or fewer employees, but the employer can choose if it will be paid or unpaid.
The payment rate remains regular but excludes:
Bonuses
Overtime pay
Tips
Commissions
Expense reimbursements
Other similar payments
Who Is Eligible for Paid Sick Time in Minneapolis?
The paid time off benefit in Minneapolis is available to all:
Part-time employees
Full-time employees
Temporary workers
Paid interns
To qualify for paid sick time, employees must:
Work within the geographic area of Minneapolis
Have worked at least 80 hours in the last 12 months
In What Situations Are You Allowed To Take Paid Sick Leave in Minneapolis?
The Minneapolis Sick and Safe Time ordinance allows employees to take paid time off for their/family members' medical purposes. The following table provides more details:
Reasons Related to You
Reasons Related to Someone Else

Suffering an injury

Getting sick at work

Having a physical or mental illness that requires recovery
Seeking medical diagnosis or treatment
Receiving preventative care
Being a victim of:

Stalking
Sexual harassment
Domestic abuse

Supporting a family member who suffers an injury or has a physical or mental illness
Caring for a child whose care provider has stopped their services due to a public health emergency
Taking care of a family or household member who is a victim of stalking or sexual/domestic abuse
How Much Sick Leave Time Can You Earn in Minneapolis?
Eligible employees in Minneapolis earn one sick and safe time hour for every 30 hours of work. This way, they can accrue 48 sick leave hours in a calendar year.
Workers start earning time off as soon as their employment begins but can start using it only after three months. If they don't use the earned sick time, these hours can be carried over to the following year.
How Can DoNotPay Speed Up the Sick Leave Request Process for You?
Being forced to perform your work duties while being sick is exhausting and can also be dangerous in some cases. To call in sick, you usually have to check the city- or state-specific sick leave laws and get in touch with your manager via phone or email.
What if we told you that DoNotPay could spare you the trouble and do all this in your stead? The primary purpose of our Request Sick Leave feature is to compose a request letter for your boss on your behalf and send it to the company in no time! Before that, we will carefully revise the local sick time laws and make sure you can take the deserved time off effortlessly!
Here are the prompts you should follow:
and navigate to the Request Sick Leave product
Enter the name of your state
Provide details related to your work and the reason for sick leave
Mark how much sick time you want to use
Once we generate the request, you can choose whether you want to send it yourself or let DoNotPay forward it in your stead! Our app also has a fantastic tool that helps you take your employer to small claims court if they fire you for being sick or wrong you in any other way. It will assist you in preparing everything you need for a court proceeding quickly and effortlessly.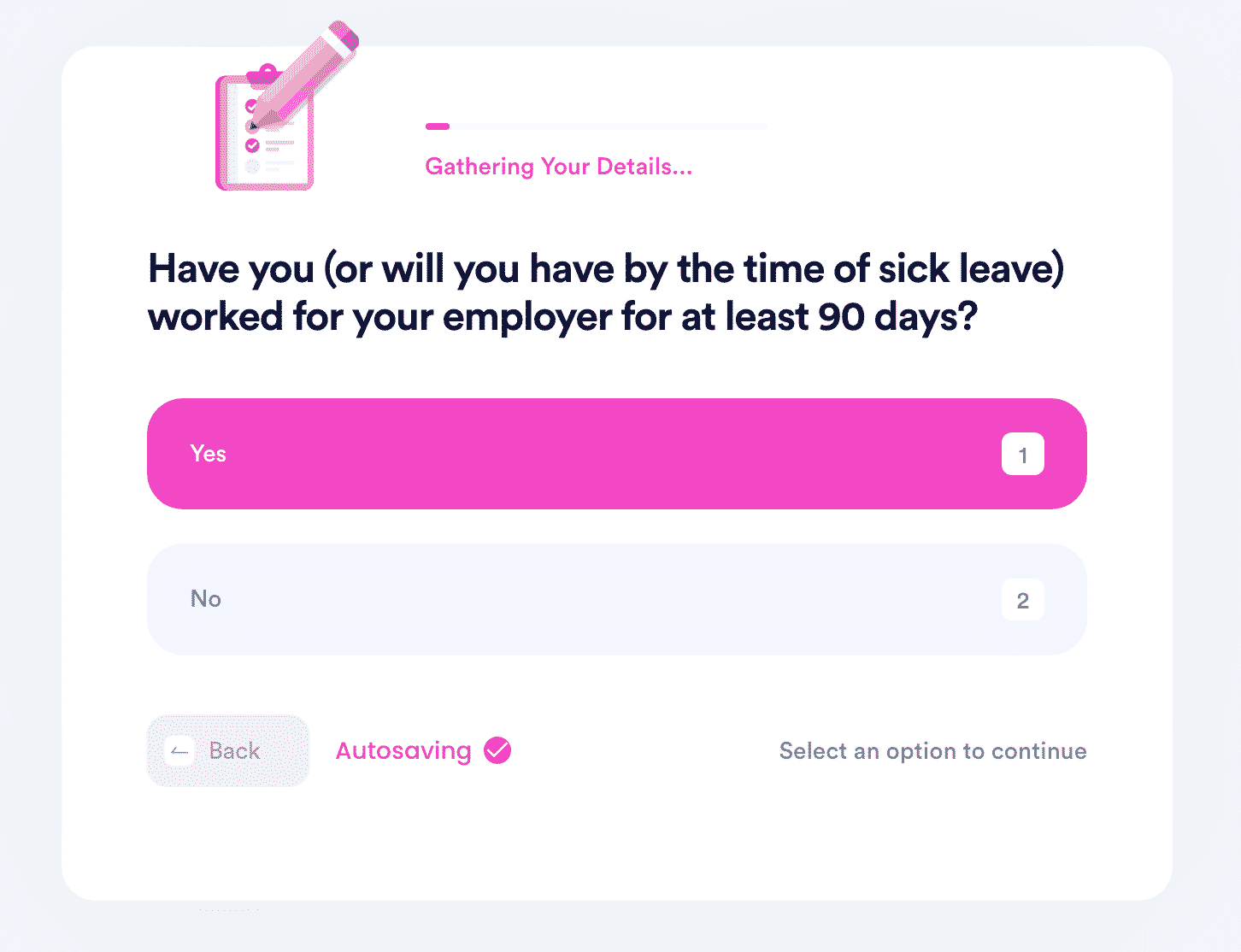 Rely on DoNotPay to learn more about other sick leave-related issues, such as the Emergency Paid Sick Leave Act!
DoNotPay Is Your Ultimate Money-Saver
Don't spend your hard-earned money on subscriptions you don't use—cancel them with our app in a few simple steps! The best part is—that's not all we can do to help you save some coins. DoNotPay can also reduce other expenses by helping you:
Reduce property taxes

Create legal docs without hefty attorney fees
Kiss Spammers and Harassers Goodbye for Good With DoNotPay
Our app offers handy features that can assist you with blocking irritating robocalls and getting rid of pesky spam texts and emails. It also gives you peace of mind by helping you fight workplace discrimination, stalking and harassment, annoying neighbors, and defamation.
With DoNotPay, you will always be able to maximally protect your safety by searching updated sex offender databases and avoiding unpleasant situations. Suppose you have already been a victim of harassment or any other crime. In that case, we can help you get compensation with no difficulties!