Midway Airport Lost and Found—All You Need To Know
Did you lose something at the Chicago Midway airport? According to the Transportation Security Administration (TSA), many Americans share the same fate—between 90,000 and 100,000 items get left behind during security checks only. Because so many items get found by TSA and airport employees, your chances of getting your wallet, phone, luggage, or other lost items back are high if you act quickly and know who to call.
This guide lists all ways to and unveils which one is the quickest!
Ways You Can Reach the Chicago Midway Airport Lost and Found Office
Chicago Midway airport has multiple departments that handle lost items. Check the table below to find out who you need to contact depending on the location of the incident:
Location
Who To Contact

Near ticket counters
Gate areas
On an airplane

If you lost your items near any of the mentioned locations, you need to contact the airline you flew with. Carriers that serve the Chicago Midway airport are:

Allegiant Air 1-702-505-8888
Delta Air Lines 1-800-221-1212
Porter Airlines 1-888-619-8622
Southwest Airlines 1-800-435-9792
Volaris Airlines 1-866-988-3527

Public areas of the terminal
Departments in charge of public areas are the:

Midway Communication Center 773-838-0656
Chicago Police 773-838-9669

Restaurants
Retail stores

If you lost your items at any concessions location, you should contact the Midway Concessions Guest Services office by calling 888-813-4568
TSA checkpoints
You can contact the Transportation Security Administration by:

Calling 773-498-1308
Writing an email to mdwlostandfound@tsa.dhs.gov

Parking facilities
Should you lose your items in one of the many parking areas of the Chicago Midway airport, call 773-838-0753
Customs area
The department in charge of the customs area is the Customs and Border Protection, and you can contact it by calling 773-948-6330
Midway Airport Lost and Found—Frequently Asked Questions
Check the table below to get answers to some of the most common questions about the process of retrieving an item you lost at the airport:
Question
Answer
What kind of information would help the department locate my item?
To help the department find your item, you should prepare:

Your plane ticket, boarding pass, or flight itinerary that contains the following information:

Flight number
Boarding gate
Date and time of takeoff

A detailed description of your lost item and photos (if you have any)
Contact information the department can use to inform you about your item's whereabouts

What happens after I contact the right department?
If the department manages to locate your item, a representative will contact you to arrange a time for pickup
What will happen if I don't take quick action?
TSA typically keeps lost items for 30 days. Items that don't make their way back to their owners are:

Destroyed
Turned over to a state agency
Sold as excess property

The Chicago Midway airport doesn't have an official statement on processing lost items, but departments typically share procedures that are similar to those of the TSA
To avoid losing your precious belongings forever, it's crucial that you act quickly, and DoNotPay can help with that!
Contact Any Lost and Found Office in Moments!
Calling numerous lost and found hotlines until you find the one that located your item can result in hours spent on the phone, waiting for representatives to answer (if they ever do). DoNotPay provides a painless way for you to contact any airport's lost and found office without wasting time in long phone queues—all you need to do is:
Enter Find Lost Airport Items in the search box
Answer some questions about the incident and provide a detailed description of the item you lost
After completing all steps, the app will contact the airport in question in your stead, track your item and inform you about its current location.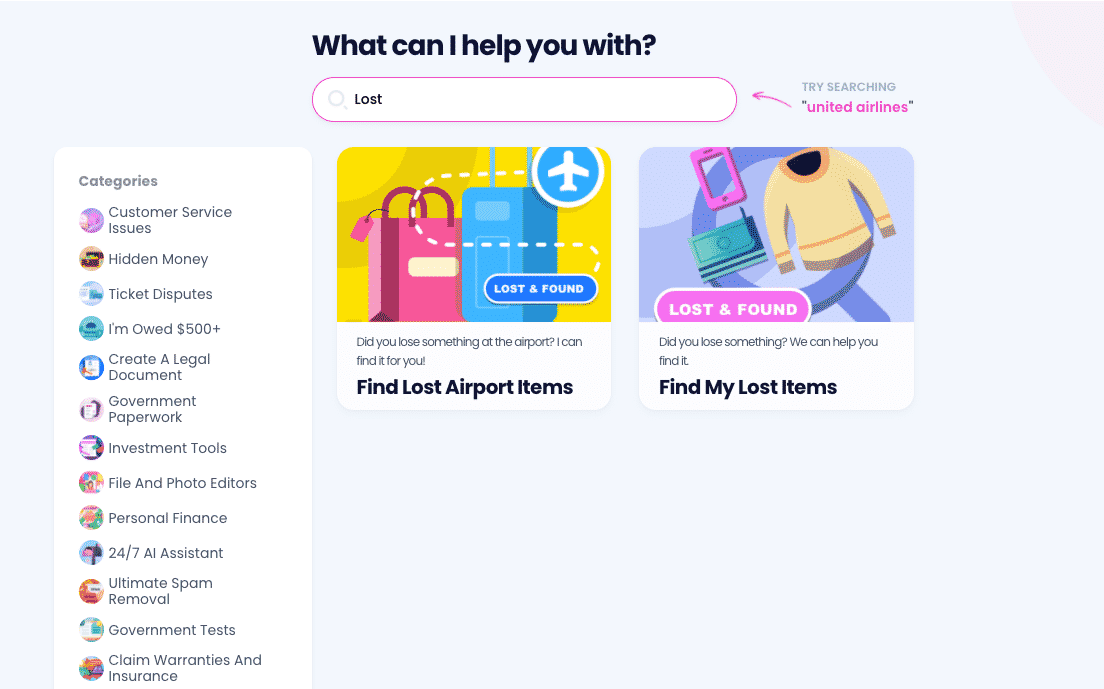 Get the Best Solutions for Everyday Tasks With Our App
DoNotPay has come up with multiple handy products whose purpose is to make your life simpler and more enjoyable! Don't hesitate to check out the features that will help you:
Complaints and Appeal Letters Have Never Been Easier To Draft With DoNotPay
Dissatisfied with a delivery? Use DoNotPay to file an item return request and get a refund from the merchant if the product didn't meet your expectations! We can also help you apply for a late delivery refund or help you claim your warranty or insurance if the product you purchased gets damaged or breaks down. Our multi-functional app also allows you to appeal potentially inaccurate property tax assessments, banned accounts, and seatbelt or parking tickets.
If you subscribe to our platform, you will have a chance to file anonymous HR complaints and prevent discrimination at work more effectively.