How To Avoid Paying for a Loyola Application Fee With DoNotPay
College application fees can burn a hole in your pocket, especially if you're applying for more than three colleges. Loyola University Chicago (LUC) is a private college that has around 12,240 undergraduate students. It ranked 112th on the National Universities list, which doesn't exactly make it a high-profile college.
LUC doesn't have an application fee, so you don't have to worry about money in this particular case. If you're planning to apply to other colleges, you'd probably like to know how you can obtain a college application fee waiver.
What Is a Fee Waiver?
In addition to high college fees, you need to pay an application fee. Some schools don't charge application fees, but the general rule is—the higher the university's status, the higher the fee.
A college application fee can cost anything from $25 to $100. Even with the affordable fees, you can find yourself in a difficult financial position, especially if you apply for more than one university.
There's a solution to the problem of spending a lot of money on university application fees—a fee waiver. It is a request form that students submit to apply for a college for free.
How Much Are College Application Fees on Average?
The most common application fee is $50. Some schools charge as low as $35 for an application, but certain universities charge twice as much. These are usually the colleges with a long tradition and high reputation.
In the table below, you can find the most popular colleges in IL and corresponding application fees:
How To Get a College Application Fee Waiver by Yourself
There are many ways to avoid unnecessary application fees. To save some money on this expense, you can:
Apply online

Request the ACT or SAT fee waiver

Use

Common App

to request a fee waiver

Request a

National Association for College Admission Counseling (NACAC)

fee waiver

Apply for a college that doesn't have an application fee

Visit the college

Obtain your high school counselor's signature
Applying Online To Avoid Application Fees
Applying online can save up a lot of time and—it turns out—money. Some colleges don't charge the application fee if you apply online.
The ACT and SAT Fee Waiver
Some colleges don't charge an application fee if you have the ACT and SAT fee waivers. Having an ACT or SAT fee waiver will make you eligible for college application fee waivers automatically.
If you obtain a fee waiver for your SAT, you'll be able to submit an application to four colleges—free of charge.
How To Request a Fee Waiver via the Common App
The Common App has a feature for waiving application fees. To get a Common App fee waiver, you'll need to meet the eligibility criteria that the Common App set. You can find out if you qualify in the Common App fee waiver section.
The NACAC Fee Waiver
If you got the SAT or ACT testing fee waiver, you can request the NACAC one. You will be able to apply for up to four colleges for free. Keep in mind that not all higher education schools accept NACAC application fee waivers.
Find a College That Has No Application Fee
You can apply for a school that doesn't require an application fee. Some of the colleges with free applications are:
Visit the School You're Interested In
Some colleges offer a fee waiver if you take a tour of the school. You will usually have a strict time window to show up. To learn if the college you're interested in offers this option, contact their admissions office.
Get Help From Your High School Counselor
You can go to your counselor and ask them for advice on how to apply for a fee waiver. They might have the fee waiver request form. You can ask them to show you how to fill it correctly.
You should ask for their signature because it will improve your chances of getting the fee waiver.
Use DoNotPay To Rid Yourself of Any Application Fee
DoNotPay created the College Application Fee Waiver feature to help new college students lower the expenses of their university applications. The college fees are already through the roof, and any kind of financial help is welcome.
Most students apply for several colleges, which makes the final amount of money spent on higher education astronomical. If you're one of the ambitious young people who find higher education important, DoNotPay can help relieve the financial burden.
DoNotPay can help you avoid:
New Student Application Fees

Enrollment Deposit Fees

Transfer Student Fees
Our platform offers an additional option that can help with your application—getting a school counselor's signature that will attest to your financial difficulties.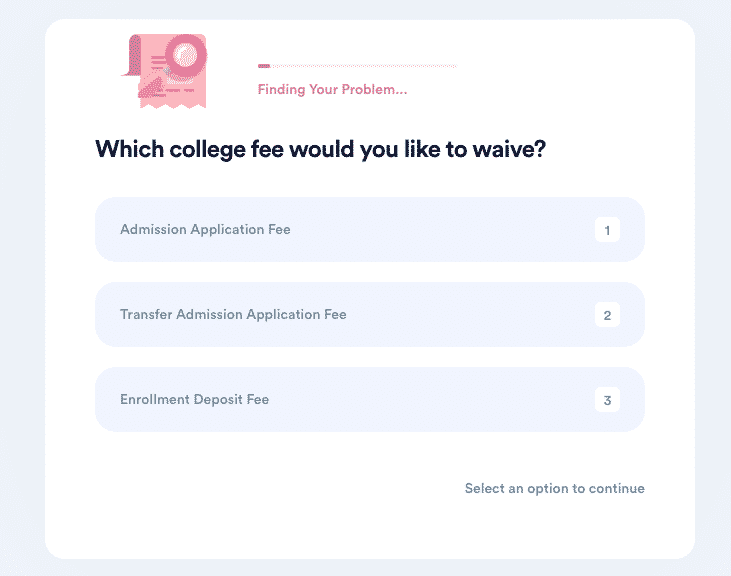 How To Use DoNotPay To Avoid the Loyola Chicago Application Fee
DoNotPay simplifies the complicated bureaucratic processes by filling out the forms for you and sending them to the right place. Since Loyola doesn't have an application fee, you can obtain a fee waiver from any other college by following the steps below:
Open DoNotPay in any

Find the

College Application Fee Waiver

feature

Select the fee you want to waive

Type in the name of the college you're applying to and provide a few answers about your financial situation

Specify if you want to obtain a counselor's signature
After we fill out your request form automatically, we'll either send it to your counselor to obtain a signature or mail it to the University's financial aid office directly.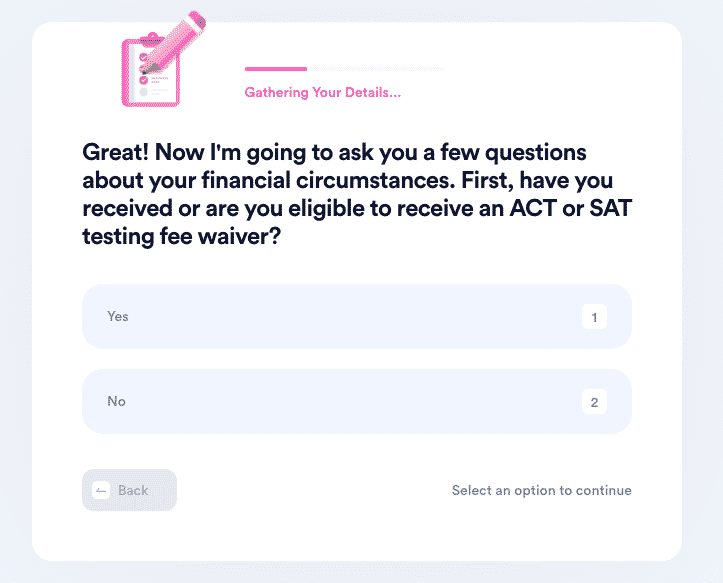 DoNotPay Can Help You With a Lot More! Check Out What We Offer
DoNotPay is a versatile platform that can help you with various problems, such as Chicago parking tickets. If you're ever in need of extra cash while studying at Loyola, we will help you find the best clinical trials in Chicago.
If you realize that Chicago isn't for you after some time, DoNotPay can help you cancel your subscription to Chicago Tribune and Chicago Sun-Times. You want to drop your gym membership? No problem, DoNotPay will cancel XSport for you. Another service we can terminate for you is ComEd, or we can help with your electric bill in Illinois.
DoNotPay can do even more. Find out what other useful features we offer by accessing our app in your .
We will help you:
Avoid traffic tickets

Appeal speeding citations