Unpacking the Lowe's Call-In-Sick Policy
Sick leave is an employee management element that still isn't as regulated as it should be. There are almost no federal laws or policies mandating sick leave benefits for employees. Some laws exist at the state, city, or county level, but most companies come up with their own paid sick leave policies—and Lowe's is one of them.
If you're employed at this hardware store, you need to understand the Lowe's call-in-sick policy. DoNotPay will explain all you need to know and show you how to .
What Are the Details of the Lowe's Call-In-Sick Policy?
Lowe's allows employees six sick days in a calendar year—giving a total of 48 hours of paid time off work. Each of these days can be used separately or together, depending on your situation. Lowe's also allows workers to carry unused sick days forward into the next calendar year—there are no limits on the number of sick days you can accumulate this way.
The company also allows its employees to use the sick days for other reasons, such as childbirth or adoption. Any other days you take outside these six days will be unpaid. To be able to call in sick under the company's Employee Benefits Program, you must meet these conditions:
You must be a regular full-time employee
You must have worked as a full-time employee for more than 89 consecutive days
What Is the FMLA, and Is Lowe's Eligible?
While Lowe's provides its employees with paid sick leave, sometimes six days are not enough—even with the extra days offered by the Emergency Paid Sick Leave Act. The Family and Medical Leave Act (FMLA) demands that employers give their employees up to 12 unpaid working weeks of time off in a calendar year to take care of family and medical problems.
This act is binding for the following entities:
All public agencies
All public and private elementary and secondary schools
Every company that has 50 employees or more
Under this act, Lowe's—or any other eligible employer—can't force you to work if you are sick. If your employer fires you for using sick days, you can sue them if they fall under the FMLA criteria or are in a state that obligates employers to give sick leave.
Sick Leave Reasons Covered by the FMLA
The FMLA can offer more than 12 weeks of unpaid sick leave under certain circumstances. The table outlines these circumstances and their sick leave windows:
Up to 12 Work Weeks
Up to 26 Work Weeks

Birth and care of a newborn child within one year of birth
The care of an adopted or foster child within one year of adoption or placement
Looking after a direct family member (parents, child, or spouse) with a severe health condition
Caring for oneself while suffering from a health condition that impairs work ability

Care for a covered servicemember with a serious illness or injury, provided that the employee is the patient's direct relative (parent, son, daughter, spouse, or next of kin)
To take advantage of the FMLA, the employees have to meet the following requirements:
An eligible employer has employed them for at least 12 months
They have clocked in for at least 1,250 hours in the past 12 months
The employee has worked at a location where the employer employs at least 50 people within a 75-mile radius
DoNotPay Can Help You Request Sick Leave From Your Employer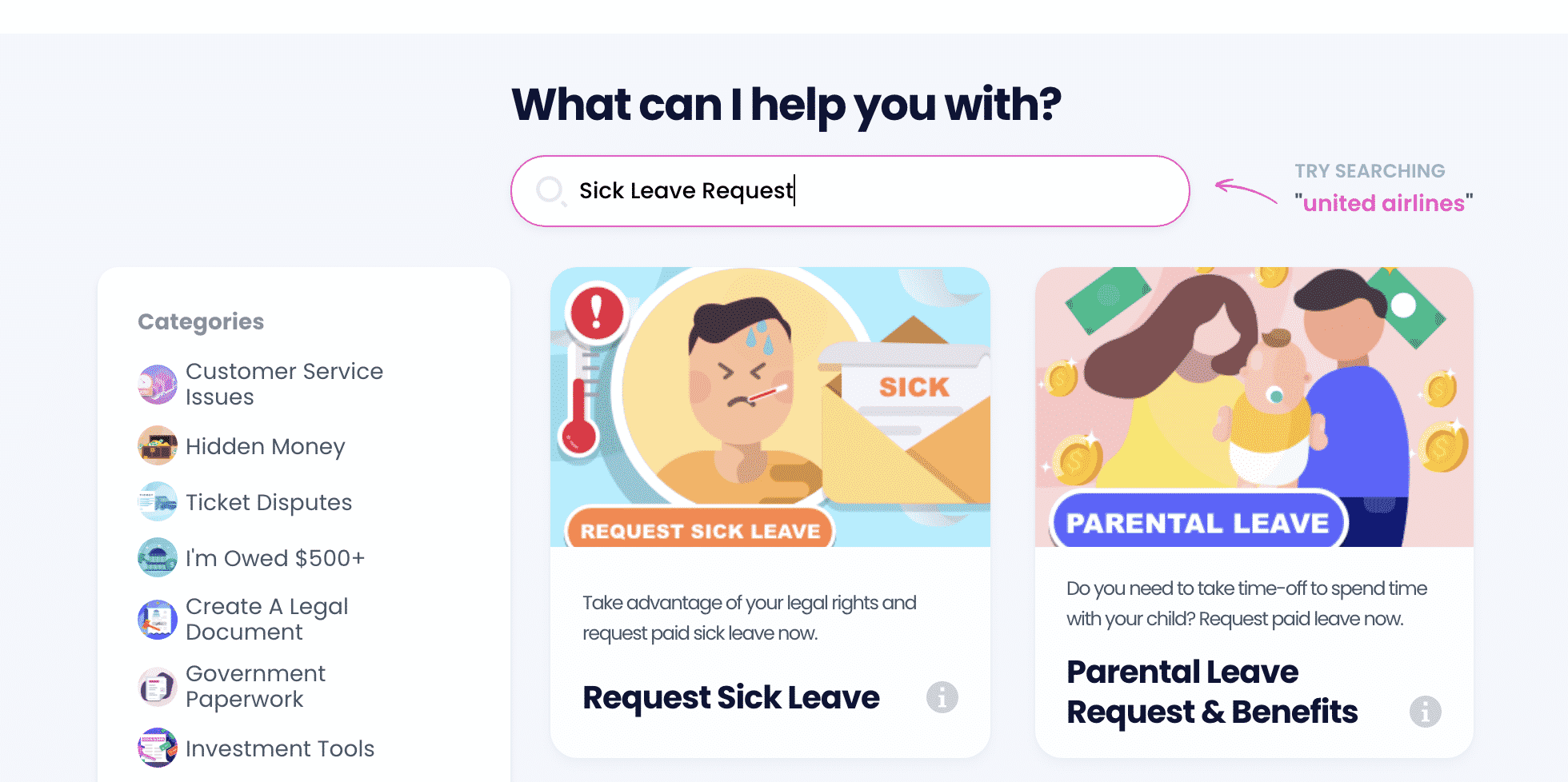 Requesting sick leave can be tricky. You could opt to use a sick leave email template, but DoNotPay offers a much more efficient and quicker solution that takes only a few minutes of your time:
and locate the Request Sick Leave tool
Indicate the state where you work to see if there are any paid leave laws applicable to you
Answer the chatbot's few questions about your employer and input the number of days you'll be absent from work
Choose whether you want DoNotPay to send the request to your employer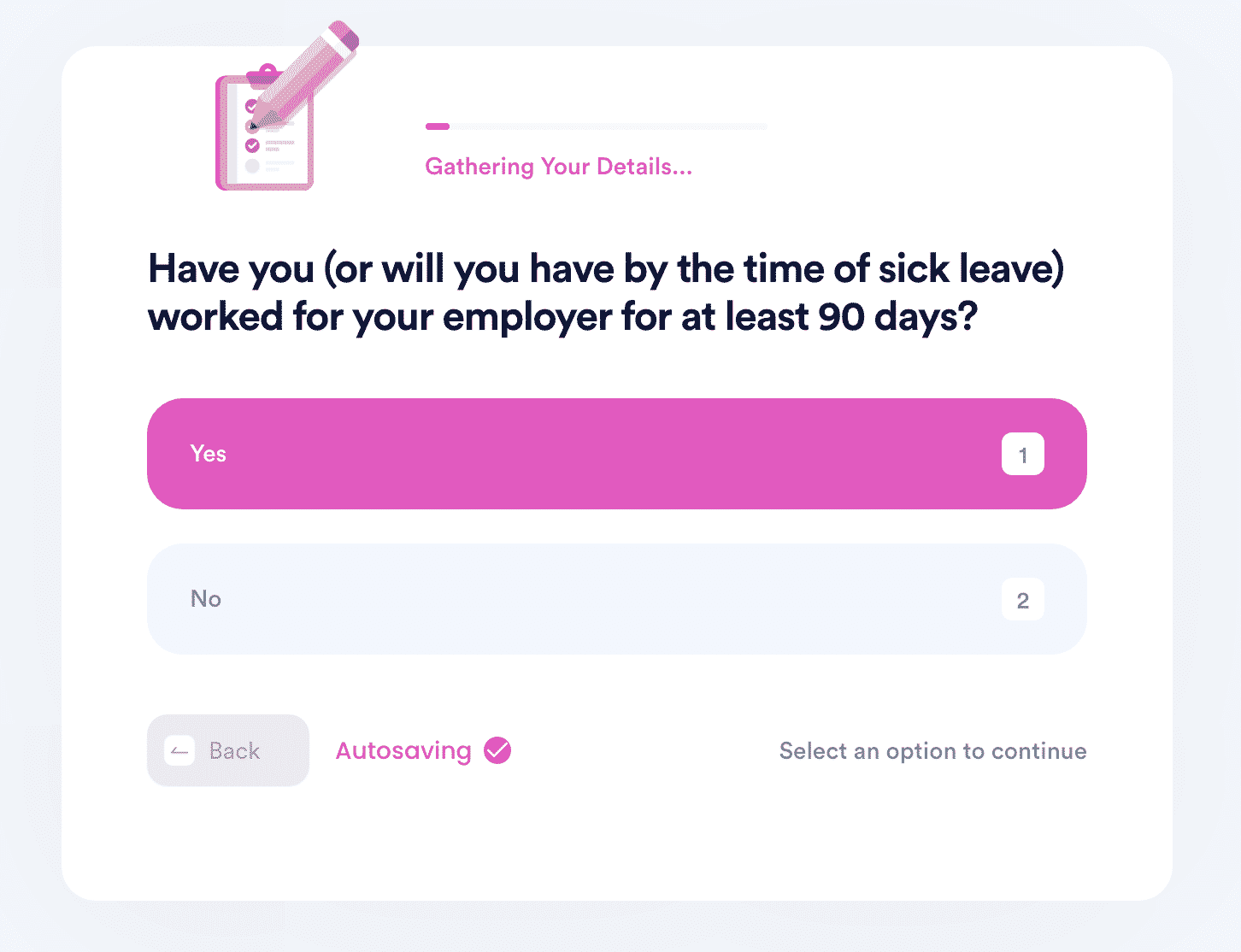 What About Other Perks Our App Offers?
DoNotPay offers valuable assistance with the following tasks:
DoNotPay Cares About Health Matters
Finding suitable and verified clinical trials you can participate in is often complicated and time-consuming. Still, with DoNotPay, it becomes a breeze! Our platform allows you to search through clinical trial databases and apply for the ones that seem acceptable to you.
If you want to make sure your health wishes are honored if you get too sick, we help you compose an advance health care directive based on your preferences. That's not all—you can also name a person who can decide on your finances and estate if you get incapacitated by creating a power of attorney in our app!