What Is the Quickest Lost Wallet Finder?
What should you do when you lose an item you need for everyday activities? Don't panic—there are various ways to find the missing object, be it your car keys, eyewear, phone, or any other item.
If you've realized you cannot pay for a coffee, lunch, or taxi because your wallet is missing, you should try to keep calm. This article presents a lost wallet finder you can use from any place and at any time. Sign up for DoNotPay to get in touch with Lost and Found departments of any company, organization, or institution hassle-free.
How To Find a Lost Wallet
We understand how frustrating it is to lose a wallet, especially if you keep in it, for instance, your:
ID
Driver's license
Health insurance card
Credit and debit cards
Loyalty and gift cards
While you can probably kiss your cash goodbye, you need to take care of the above-listed items fast. Otherwise, you might face much bigger problems than losing some cash and a nice leather money holder.
Here are some options worth considering:
Use a lost wallet tracker device
Go back to the place where you last saw your lost wallet
Get in touch with the Lost and Found department of the institutions you visited that day
Contact Lost and Found police centers
Use DoNotPay's Find My Lost Items product
A Lost Wallet Tracker Device Could Be a Good Solution
Using a lost wallet tracker device might be a good way to find your missing billfold. While there are different wallet finders, a typical device operates in the following way:
Place a tracker in your wallet
Connect it to a wallet finder app on your cell phone
Use the app to locate your billfold whenever you misplace or lose it
Some lost wallet finders:
Pinpoint the object by using both sound and a map to show the exact location
Offer setting up range alerts that turn on whenever you leave your wallet behind you
Head Back to the Last Location on Your Route
You should retrace your steps and visit the place where you remember last using your wallet. If it fell out of your bag or pocket, an employee might have noticed it and put it aside.
Some sales assistants leave lost items in a special office for some time to see if owners would come back to collect them. That's why you should:
Head to the yellow cab NYC garage, store, airport, rail station, or any other place where you last used your wallet
Look for a Lost and Found office of that company or institution since if a considerate person has found your wallet, they will hand it over to that department
Contact Lost and Found Departments
If you couldn't find the wallet in the location you visited, you might have lost it in another place you went to during the same day. As you probably don't have time (and money) to look around all these venues, you should:
Find the contact information of their Lost and Found or customer service
Reach out to these companies via phone, email, or online forms
Get in Touch With Lost and Found Police Centers
It's a fat chance that your wallet has ended up in one of the Lost and Found police precincts since the police would have contacted you if they've come across your documents in the billfold.
You should still get in touch with these centers in case:
Your ID documents weren't in the wallet
A passer-by or police officer found your wallet without any documents, i.e., the police don't know you're the owner
DoNotPay Can Be Your Efficient Lost Wallet Finder
You don't have to waste time looking for contact details, dialing different numbers, or waiting on hold for ages to finally get someone to answer your call only to transfer you to another department.
Our AI-powered app can get in touch with the Lost and Found or Customer Service department of any store, company, or institution—be it MTA, Uber, Metro, Disneyland, or any other.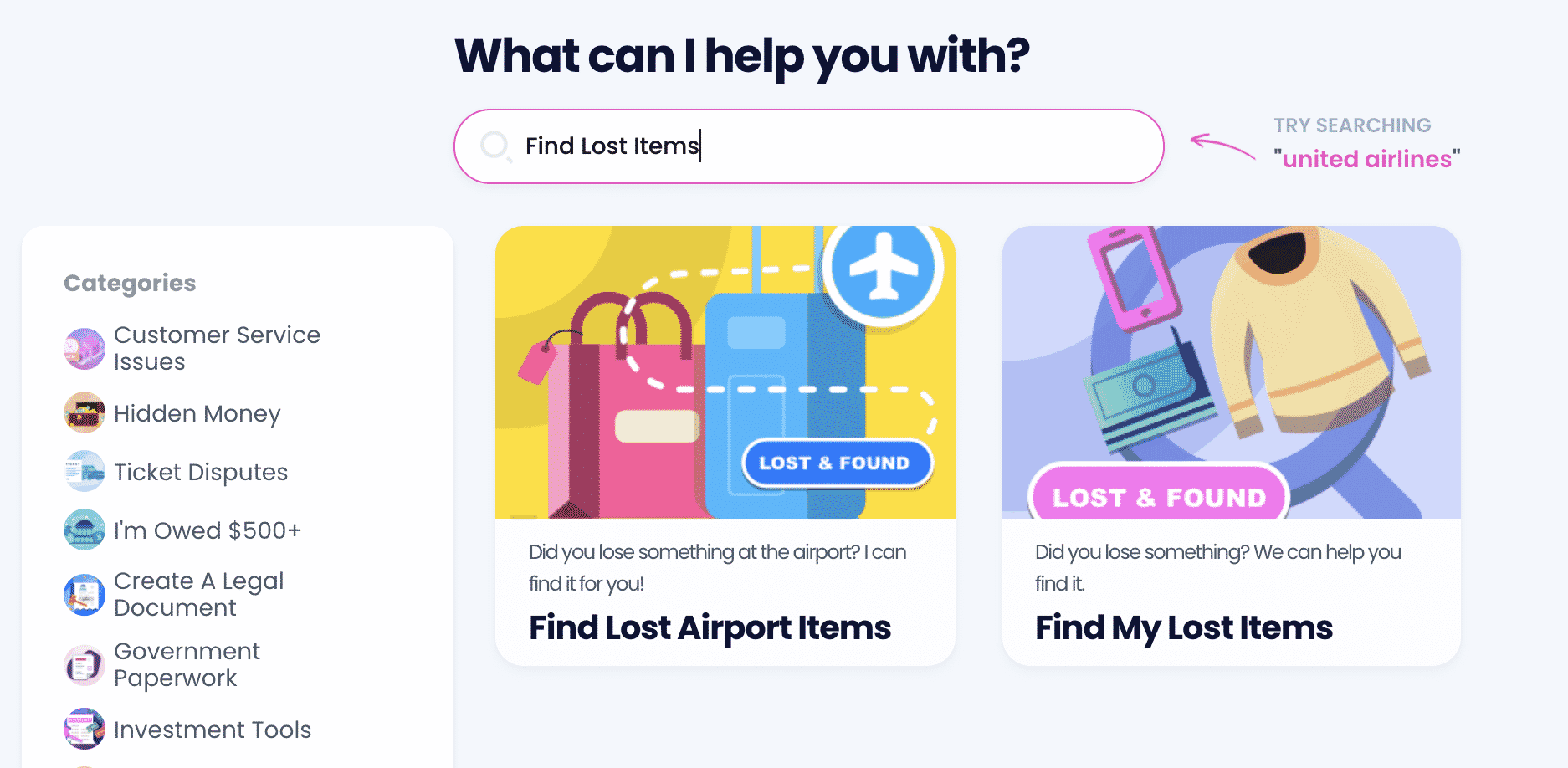 We know how to reach the right department and report your lost wallet, keys, phone, ring, glasses, Apple Watch, or any other object.
Subscribe to DoNotPay and take these simple steps:
Find our Find My Lost Items feature
Let us know what location(s) you believe you lost the item at
Describe the object and upload its photo, if you've got one
Select the date and (approximate) time when you last had the item on you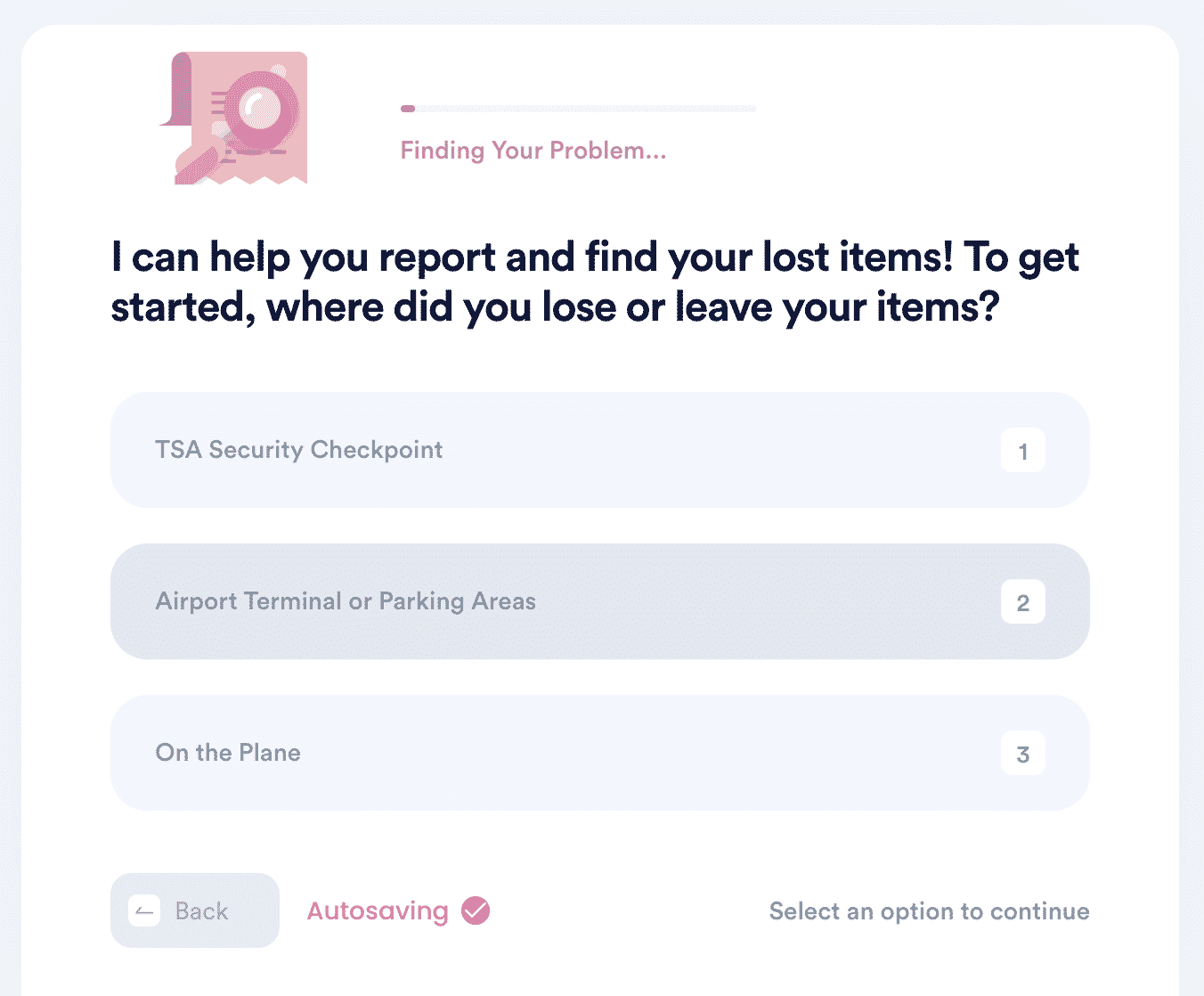 As soon as you provide the above-listed information, DoNotPay gets in touch with the appropriate office and files a lost item report in your stead. You can relax since once the object is found, we will inform you how you can get it back (e.g., by pick-up or delivery).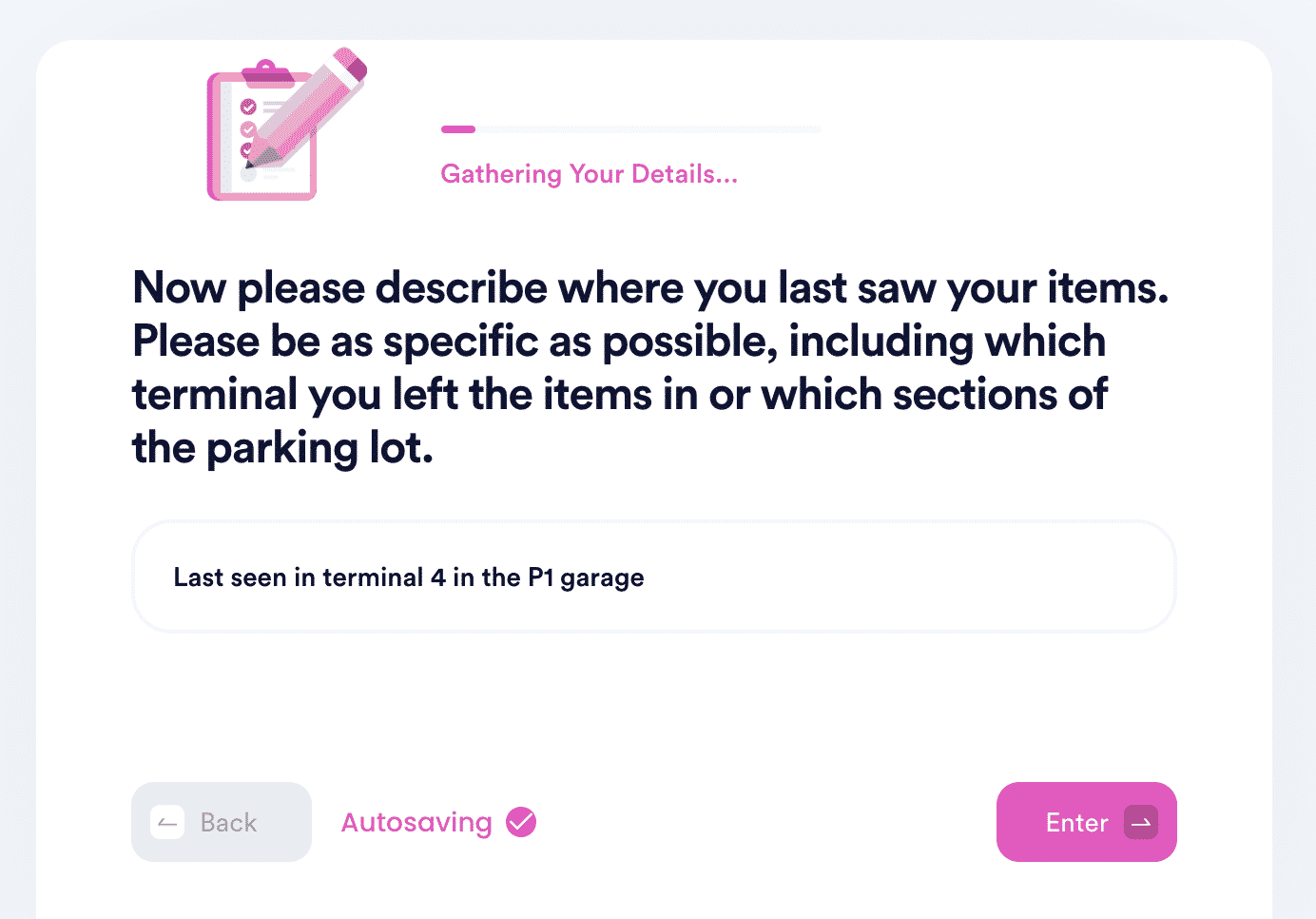 Don't Forget To Deal With Your Documents
While DoNotPay can help you get back your lost wallet, no one can guarantee your documents will be in it. To avoid fraud and additional expenses, you should report your missing documents and cards. Here's what you should do:
Steps To Take
Details
Contact your bank
You should inform your bank that your debit or credit cards are missing so that they could:

Freeze them
Issue you the new ones

Get in touch with the Department of Motor Vehicles (DMV)
Since you cannot drive your car without a license, you need to:

Report your missing driver's license to the DMV
Take the necessary steps to get another one

Contact your insurance provider
If you had a health insurance card in your lost wallet, you should get in touch with the insurance company to get another medical card
Let Our App Assist You With Paperwork
You don't have to deal with bureaucratic tasks on your own! DoNotPay is here to help you cancel your memberships, appeal parking tickets, discover unclaimed funds, and get any document notarized online.
If you need help covering your bills or you'd like to get extra cash by signing up for clinical trials, we are your go-to!
We can also assist you in drawing up and sending out the following documents:
Keep Your Online Safety Intact
Staying anonymous is almost impossible these days, but with DoNotPay's help, your contact and payment details will remain private.
Thanks to our Burner Phone product, you'll be able to keep your phone number to yourself and get a temporary one you can use when you register on various platforms.
If you want to avoid getting charged and revealing your personal info when signing up for free trials, we can help you kill two birds with one stone. Get our multifunctional virtual credit card and skip submitting your name, email address, and payment details.
With our app, you can also handle stalkers and harassers, fight workplace discrimination, and block spam.