KitchenAid Refrigerator Warranty Explained
KitchenAid has a long-standing reputation for providing quality kitchen appliances. One of the reasons their products are so popular is that they usually come with generous warranty coverage.
If you want to purchase a KitchenAid refrigerator, you should know what kind of warranty to expect. DoNotPay is here to explain what the KitchenAid refrigerator warranty covers and how to file a warranty claim the easy way.
What Does the KitchenAid Fridge Warranty Cover?
KitchenAid's refrigerator warranty coverage is one of the most comprehensive on the market. It offers 10-year protection for your refrigerator from the moment of purchase.
KitchenAid will designate a service company to provide repair and replacement services for any malfunctions caused by workmanship or material defects. The warranty applies if you operated and maintained the refrigerator according to the manual.
Check out the details of the refrigerator warranty plan and service:
The Warranty Coverage
KitchenAid Provides

A one-year full refrigerator warranty

Repair and replacement parts

Labor expenses coverage

Second to fifth-year full warranty on cavity liner and sealed refrigeration system parts

Repair and replacement (including labor costs) of the freezer, cavity liner, and sealed refrigeration system parts

Sixth to tenth-year limited warranty on sealed refrigeration system parts

Replacement of factory-specified sealed refrigeration system parts, including a dryer, compressor, evaporator, condenser, and connecting tubing
KitchenAid refrigerator warranty will not cover damage caused by:
Pickup or delivery

Repairs done outside the U.S.

Labor performed during the limited warranty period

Repair performed by an unauthorized service company

Fire, flood, accidents, abuse, misuse, or improper installation

Any use of the fridge that doesn't qualify as the standard household use
Claim Warranty for Your KitchenAid Refrigerator by Yourself
Here is the overview of ways to file a warranty claim with KitchenAid:
| | |
| --- | --- |
| Can You Claim Your Warranty Via | Yes/No |
| DoNotPay | Yes |
| Email | No |
| Phone | Yes |
| In Person | No |
| Online Chat | Yes |
Claiming KitchenAid Warranty Service via Phone
You can file your warranty claim by accessing KitchenAid Support and Service at 1 (800) 422-1230. Business hours are Monday–Tuesday from 8 a.m. to 8 p.m. and Wednesday–Friday from 9 a.m. to 7 p.m.
Filing a Warranty Claim via Live Chat
If you wish to file a warranty claim using live chat, you have to:
Access the

company website

Click on the Live Chat button

Provide a short description of the problem
Most of the methods of filing a warranty claim prove to be ineffective and tiresome. DoNotPay offers an easy and time-saving way of requesting warranty service from KitchenAid.
File a KitchenAid Refrigerator Warranty Claim With DoNotPay
According to customer reviews, KitchenAid doesn't have the best track record when it comes to honoring their part of the warranty agreement.
If you want to avoid waiting for a response, go with DoNotPay! Our expertise goes beyond kitchen appliances and includes car and home warranties and even extended warranties for used cars. You can take advantage of our service if you:
Open DoNotPay in any

Select the

Claim Warranty

feature

Opt for

Warranty on a Purchased Item

Choose KitchenAid, provide details of the purchase, and describe the issue

Tap on the

Submit My Claim

button
DoNotPay will use the information you provided to create a compelling case. We will even save you the time and file the claim on your behalf! It will not be long before KitchenAid contacts you regarding your warranty request.
If KitchenAid Rejects Your Warranty Claim, DoNotPay Will Deliver
It is not unusual for companies to reject warranty claims. They usually make up all kinds of excuses to decline your request and avoid keeping their end of the bargain. If that happens, don't despair! DoNotPay can help you file an appeal against Kitchenaid's decision.
You need to perform a few simple steps:
Navigate to DoNotPay in your

Go to the

Claim Warranty

product

Select

Appeal a Denied Warranty Claim

Choose Kitchenaid and enter information about the denied warranty claim
We will generate and submit an appeal in your name. KitchenAid will contact you in no time to deal with your case.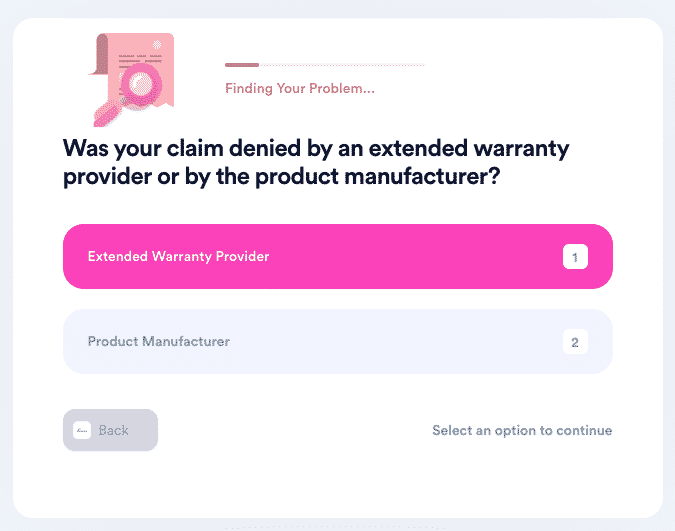 Let DoNotPay Be Your Pocket Assistant
DoNotPay can make boring bureaucracy issues bearable. We provide easy solutions for various other warranty-related troubles, such as a dealer refusing to cancel your extended warranty. Check out our knowledge base for inside information on home warranty reviews and the best home warranties in America.
DoNotPay offers an array of different services. Access them by opening our app in your , and find out how to:
Dispute traffic citations

Contest speeding tickets