Reach the JetBlue Lost and Found at the JFK Airport The Easy Way
Thousands of passengers forget their belongings at the JFK International Airport when boarding a JetBlue airplane or going through the security check. While it may seem like you'll never locate the lost item(s) again, the chances are they were found and deposited in one of the designated departments.
If you need a quick and efficient solution for getting in touch with those offices, our article can help. Learn how to to contact the JetBlue Lost and Found at the JFK Airport and trace your lost wallet, phone, or a lost piece of luggage quickly!
What Should You Do if You Lose Something When Traveling With JetBlue?
Once you notice that you have lost an item during a JetBlue flight or at the JFK airport after landing or boarding, you must:
Determine the exact location where you have left the object—Remembering where you have lost a valuable item isn't always possible but can help significantly in reporting the incident. If you don't have any clue where you could have dropped the object in question, you may need to check several different departments, which can be a drawn-out process
Call or email the adequate department and report the loss—The representatives will need all the details you can remember and a thorough description of the missing item. In some cases, your call may get transferred to another rep, or you may need to wait on hold for some time. Sending an email is less time-consuming, but the answering time frame usually depends on the company's workload
Wait for the final response—The contacted department will check whether someone has found your item and let you know
Note that you should inform the airport/any other responsible agency about the loss as soon as you notice something's missing. This way, the reps can track down your item faster and prevent it from being shipped off forever.
Whom Can You Contact Regarding a Lost Item?
If you know where at the JFK airport you may have lost the object in question, determining who you should reach out to is simple. The following table helps you find the adequate department depending on the potential place of the incident:
You Lost the Item At/In
You Should Contact
Contact Info

JetBlue's plane
Curb
Terminal

JetBlue Lost and Found department (located in their Baggage Service Office)

Phone number: (866) 538-5438 (open line 24/7)

TSA Passenger Security Checkpoint
TSA Lost and Found for the JFK airport

Phone number:
(718) 917-3999 and (718) 751-4001 (for Terminal 4, which operates independently)

Non-terminal areas of the JFK International airport (after or before landing)
Port Authority Police (PAP) Lost and Found Custodian
Phone number: (718) 244-4225
If your item is at one of the above-mentioned agencies, it will remain there for 30 days only. After that, it will be pronounced unclaimed property or even destroyed, in some cases.
Let DoNotPay Contact the Airport and Look for Your Lost Item
If you find reaching out to several different departments too exhausting, DoNotPay can help you save precious time and contact the required office in your stead!
With our assistance, you will have higher chances of tracking your lost luggage or object more quickly and prevent it from being disposed of forever.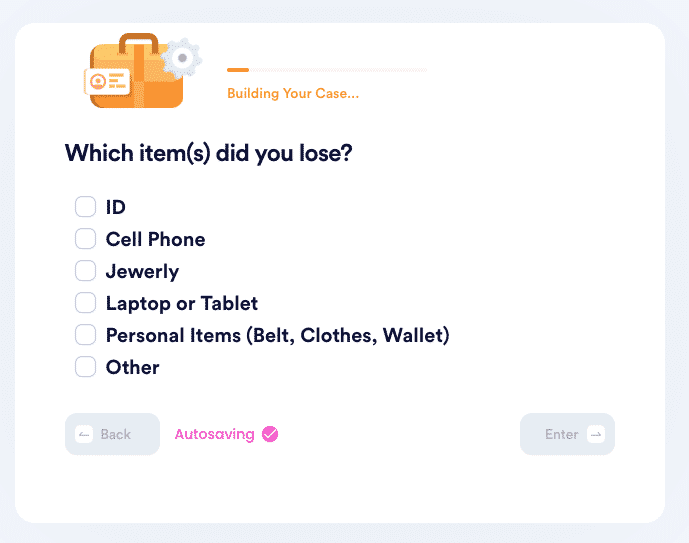 Here's the way our app works:
Navigate to the Find Lost Airport Items product
Describe the missing object thoroughly and provide more details on the incident
We will automatically contact the appropriate department!
Has your flight been postponed or canceled? You can also use DoNotPay to get a refund for the ticket sold! Check out our learning base and find out all about this procedure from other handy guides we offer!
What About Other Perks Our App Offers?
DoNotPay offers valuable assistance with the following tasks:
DoNotPay Cares About Health Matters
Finding suitable and verified clinical trials you can participate in is often complicated and time-consuming. Still, with DoNotPay, it becomes a breeze! Our platform allows you to search through clinical trial databases and apply for the ones that seem acceptable to you.
If you want to make sure your health wishes are honored if you get too sick, we help you compose an advance health care directive based on your preferences. That's not all—you can also name a person who can decide on your finances and estate if you get incapacitated by creating a power of attorney in our app!