The Tricks That Can Save You From Email Spam Scams
According to Verizon Data Breach Investigations Report (DBIR), 94% of malware was distributed via email, and 29% of breaches were related to the use of stolen credentials.
Securing your email accounts is paramount for your personal safety from email scams.
Read on to learn more about how to protect yourself from malicious spam emails.
The Common Types of Malicious Spam Emails
There are various types of unsolicited and harmful spam emails. They can roughly be grouped into four categories:
Phishing attacks

—designed to trick you into sharing sensitive information, such as passwords, bank account details, credit card numbers, Social Security number, and more

Fraudulent emails

—often disguised as coming from a bank, large brand, or a government agency and aiming to extract money from the recipient

Sextortion emails

—informing the recipient that the scammer has a compromising video of them and demanding a ransom

Malware Emails

—containing a link to a dangerous malware download that enables the scammer to steal sensitive information and control a device remotely
DoNotPay Stops Your Spam Email

Why fight spammers on your own and unsubscribe from emails manually if there is a winning card?
Yes, your DoNotPay robot lawyer comes to rescue!
We can help you report spam emails and email abuse, too.
All you need to do is follow the steps below:
Access your DoNotPay account from any

Go for the

Spam Collector

option

Enter your email address to connect it to DoNotPay

When you receive your next spam email, just forward it to

spam@donotpay.com
Not only will we discontinue your subscription from that mailing list, but we will also inform you of any ongoing class action against the sender. If the spam email you got is illegal, you may even get some settlement compensation.
How to Protect Yourself From Spam Email Attacks?
Having in mind the dangers of unsolicited emails, you have to know how to protect yourself from spam emails. Some of the crucial steps to take are:
Installing anti-malware software on your devices and setting it to update automatically

Using multi-factor authentication on your accounts

Backing up your data (copying the files to an external drive or cloud storage) and keeping them secure

Getting a different password for each email account

Changing your passwords frequently and always making them strong

Covering your webcam when you are not using it

Setting up spam filters

Refraining from publicly displaying your email address
How Did They Get Your Password?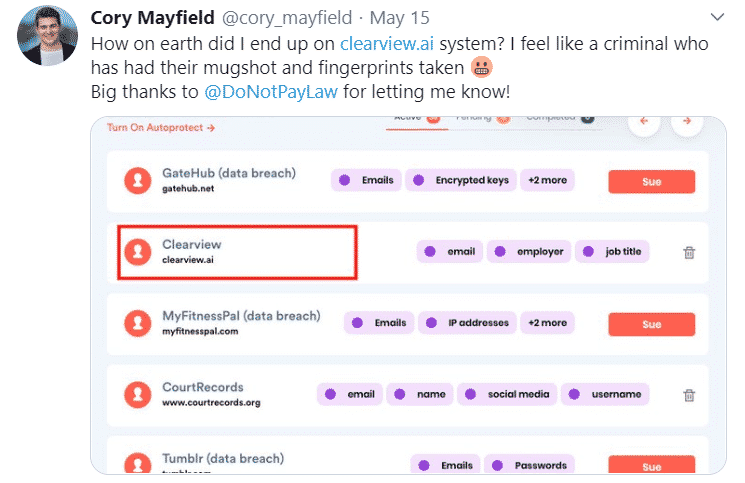 Even though your first thought might be that your account must have been, that is highly unlikely.
There are plenty of online marketplaces where scammers can buy login details extracted from previous attacks on various online forums, banks, and stores. Fraudsters then use the data obtained in the breach to spam the account holders.
If you receive a spam email containing your username and password, it is probably because that is the only information the scammers have about you. If you have changed your password in the meantime, that information is useless. In case you haven't yet, change it immediately if you still have access to your account.
What to Do if You Got a Spam Email?
If you received a potentially malicious spam email, you should stay calm despite its content.
Do not act rashly or start panicking. You should always remember to do the following things:
Do not reply

Do not open links and attachments

Check your password

Scan your device

Report the spam email
Do Not Reply
In case you get a spam email, the best course of action is not to respond at all. If the sender claims that they have your password or a compromising video, it is simply to scare you into paying a ransom.
Don't fall for it! By replying to such emails, you will confirm that your address is active, which results in even more spam emails streaming towards it. But the consequences could be far more serious than that.
Responding to such emails could cause:
Your personal information to be leaked

Your account to get hacked

Your email address to be sold to other scammers

More spam attacks to be directed to your account
You can learn more about the implications of responding to spam emails in this useful article.
Do Not Open Links or Attachments
Refrain from following any links or opening attachments in spam emails as they can deliver malware to your devices or lead to malicious websites.
You can inadvertently get yourself into more trouble if you follow up on any attachments in dangerous spam emails. Don't even click the "Unsubscribe" button, because many scammers tend to pose as legitimate services, like Netflix or Amazon.
In case you get such an email, it is best to contact those services right away to check if the information contained in it is valid. But to do it safely, contact them via their support center or other channels they provided on their website.
Check Your Password
If you get a malicious spam email featuring your password, you should check your password immediately. In case it is the one you are using currently, change it instantly and make it strong.
Make a habit of updating your password frequently.
Scan Your Device
Run a full scan of your device using up-to-date antivirus software. It will perform a thorough search of your system, pick up any malware that might have accessed your device, and quarantine it if necessary.
Report Spam
If spam emails bypass filters set by your email client and you find them in your primary inbox, you can report them as spam to your email client and the Federal Trade Commission's complaint assistant.
If you do, the filters in your account will learn to recognize spam sources, and the FTC will be able to build a better case against the scammers.
If you would like to learn more about blocking spam emails on your Android or iOS devices, click the respective links.
What to Do if You Replied to a Spam Email?
If you replied to a spam email and believe that the fraudster has your personal information, the Federal Trade Commission suggests checking this page.
DoNotMail With DoNotPay!

Having your physical mailbox flooded with an enormous amount of junk mail can make you fume with anger. You don't have to put up with it any longer!
Aside from helping you stop spam emails and serving your spam email revenge cold, your DoNotPay virtual assistant can also de-clutter your mailbox with its new feature—DoNotMail.
The functionality offers multiple benefits:
Protection from scams

Full control over the mailbox

Guaranteed removal of junk mail

Environmental sustainability
If you decide to try out what DoNotMail can do, you should send us a snapshot of your junk mail. Follow these steps:
Click DoNotMail option on the DoNotPay homepage

Tap the

Enroll Now

button

Upload your photos
We will immediately unsubscribe you and block the senders from piling up paper mail in your mailbox ever again. You can enroll in the current class-action lawsuit against the sender (if there is one) and qualify for compensation.
DoNotPay Saves Your Day!

We know how annoying it is to go through administrative procedures and fight for your customer rights.
The world's first robot lawyer, DoNotPay, is here to ease your burden. Before we continue, check out the perks of using our service.
| | |
| --- | --- |
| DoNotPay Way | Other Way |
| We are affordable | It can be costly |
| We require no effort on your part | It takes a lot of time, energy, and effort |
| We save your money | It is not DoNotPay |
Team up with DoNotPay and devise a perfect plan to solve your problems. Access your account from any , and we will assist you with:
Contesting traffic tickets

Challenging speeding tickets