Unclaimed Money Indiana—Everything You Should Know
When you decide to move, change your job, or even when a relative departs, your money might be lost or unclaimed. There are millions of dollars in unclaimed money that people can get back if they learn how to claim their assets. 
Unclaimed money in Indiana is returned to its rightful owners every year. Why wouldn't you claim your property? 
Locating abandoned money can be challenging as there is no centralized database in the USA you could use to get the necessary information. This shouldn't stop you since DoNotPay can help you collect your unclaimed money in Indiana and other U.S. states.
What Counts as Indiana Unclaimed Money?
Unclaimed money or property can originate from any financial asset not used or claimed by its owner for a certain period of time. Unclaimed money in Indiana includes the following:
Includes
Excludes

Certificates of deposits

Refunds

Contents of safe deposit boxes

Deposits

Credit balances

Checking or savings accounts

Inheritance 

Stocks

Uncashed dividends

Commissions

Customer overpayments

Money orders

Wages

Stolen property

Real estate

Abandoned vehicles

Furniture
An organization holding the unclaimed funds will try to get in touch with the owner. If it fails, Indiana will take over the unclaimed assets if the owner's last known residence was reported in this state. There is a staggering $570 million of unclaimed money in Indiana. 
Indiana Lost Money—Where Does Unclaimed Money Come From?
Considering how much money is reported unclaimed, it might be a good idea to check if you have some assets lying around and waiting for you to claim them. With the amount of forgotten money, Indiana officials cannot track and contact every unclaimed property owner.
Here are some of the common reasons why assets become abandoned: 
People move and do not report their new address to the authorities

Banks close, and their clients do not know how to collect their savings 

Employees quit and do not collect their last salary 

Businesses file for bankruptcy but do not provide adequate instructions regarding retirement checks

Some people do not know that they are beneficiaries of their

deceased relative's

life insurance policy 
Will the State of Indiana Try To Notify You?
The state law says unclaimed properties reported in a given calendar year have to appear in the newspaper by November 30 of the following year.
The Office of the Indiana Attorney General publishes a list of unclaimed property owners in newspapers in different Indiana counties.
How Long Do You Have To Claim Money in Indiana?
You can claim your lost money in Indiana for up to 25 years from when it was reported to the state. After that period, your unclaimed assets become the property of the State of Indiana.
That is why you need to check if there is some unclaimed money under your name fast. DoNotPay can help you claim any lost money under your name in various U.S. states. 
How Can You Find Unclaimed Money in Indiana on Your Own?
You can claim your lost or forgotten property by filing an online claim to the Unclaimed Property Division at the Office of the Indiana Attorney General. Here is what you should do:
Search for the property

File a claim

Complete your claim

Track the claim
Find Your Unclaimed Money in Indiana
To find your unclaimed property, follow these steps:
Access the

Claim search

page

Enter your last name or the name of your business

Fill out the additional optional boxes to narrow down your search

Click on the

Search

button

Select your property 

Click

Claim

in the

Select an Action

column
File Your Claim
After selecting the properties you would like to claim, do the following:
Review the properties you have selected

Click

Next

Enter your information on the

Claimant Info

page

Choose your

Relationship to Owner,

e.g., owner, heir, or representative

Click

Next

Review your claim and verify your information

Click

Submit
This last step will generate your claim number.
Complete Your Claim
To finalize the process, you will need to provide additional documentation. You will get an email with instructions regarding all required items. 
To submit your documents, you can use one of the following options:
Upload

the documents

Mail them to:
Office of the Indiana Attorney General
Unclaimed Property Division
PO Box 2504
Greenwood, IN 46142
Track the Claim
Here is how you can check your status:
Open the

Search

page

Enter your claim number in the

Claim ID

box

Click on the

Search

button
Hey DoNotPay, Find My Money in Indiana!
DoNotPay offers a simple and efficient way to track your lost money in Indiana. We do not need your Social Security number to search for unclaimed property under your name.
All you need to do is take these easy steps:
Go to DoNotPay in any

web browser

Open the

Missing Money

feature

Enter your first, middle, last name and previous addresses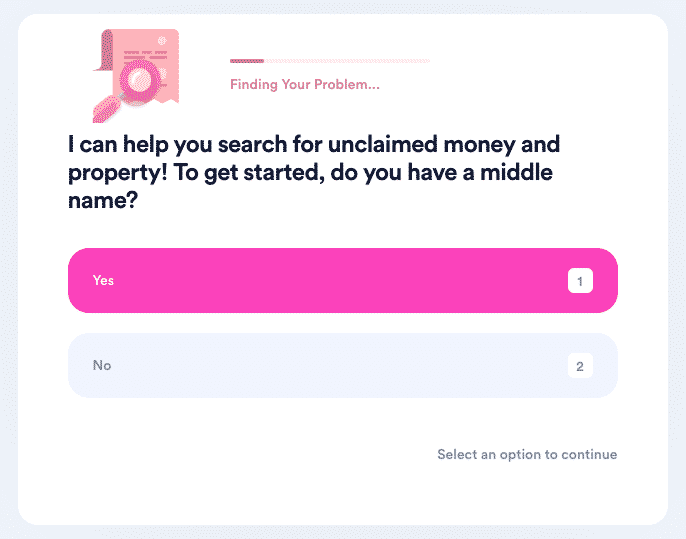 DoNotPay will then access available databases and locate any forgotten assets under your name. 
If our app finds some unclaimed properties you are entitled to claim, use the Claim My Property feature to get what is rightfully yours.
DoNotPay can also assist with unclaimed money in other states, such as Florida, Ohio, Tennessee, Kansas, Virginia, and others.
How To Prevent Your Money From Getting Lost?
Now that you are aware of how much money becomes lost and unclaimed, you will probably want to take some precautions. Here is what you can do to prevent your property from becoming unclaimed: 
Update your will and make sure your heirs' contact information is available 

Collect all your wages and paychecks from previous employers 

Keep a record of all safe deposit boxes and collect the contents when you move

Notify all organizations holding the assets of your name or address changes

Keep your bank accounts active or transfer the funds into a new account 

Make a list of any utility deposits 

Keep a record of all stocks

Make sure to cash all dividends
DoNotPay can help you collect money from other sources. If there is unclaimed money on your PayPal account or an old bank account, we can help you claim it easily. 
What Else Can DoNotPay Assist You With?
Our app can help you claim your lost property, but we also provide some money-saving tips such as how to get refunds for shipping from Amazon or cancel your Zoosk subscription. If you are a Hoosier, you might be interested in finding out about clinical trials near you and if spam emails are illegal in your state.  
Open DoNotPay in any web browser and check out how you can:
Dispute traffic tickets

Dispute speeding tickets