How to Request a Hulu Refund in a Matter of Minutes With DoNotPay
Hulu is an on-demand video subscription service owned by Walt Disney Direct-to-Consumer & International. The company launched a subscription service back in 2010 and currently has 32.1 million paid subscribers.
Have you stopped keeping track of your Hulu bills to find out that you've been overpaying for them for a long time? Are you tired of paying too much for something that you rarely even use? DoNotPay offers you an easy way to request a Hulu refund without wasting too much time and energy.
Get Your
Hulu Refund
Using DoNotPay

If you find out that you overpaid for a Hulu monthly subscription, be sure to use DoNotPay and get that money back. With DoNotPay, you get a shortcut to your Hulu refund:
Open DoNotPay in your

Find the

File a Chargeback

tab and click on

Get Protected

Provide your full name, bank information, the merchant's information, and the payment method used

Choose if you want DoNotPay to send the dispute letter and click on

Submit
After you finish the process, sit back and relax while we do the rest. DoNotPay will fax the request to your bank automatically, and we will also send all Visa and Mastercard codes that can help you with your request. We can also contact Hulu first if you instruct us to.
We bet that was easier than you thought it would be! Check out how DoNotPay can help if you are also interested in getting an Amazon prime refund or requesting a Shopify chargeback.
How To Request a
Hulu Refund
on Your Own
If you choose to ask for a Hulu refund on your own, you can do it by:
Visiting Hulu's website

Calling customer service
Request a Hulu Refund Online
Make sure to have solid evidence that you were overcharged on your previous bill or that you could not cancel your subscription in time so that your refund does not get rejected. To request a Hulu refund, you need to:
Go to Hulu website

Login to your Hulu account

Go to the bottom of the page and click

Help Center

Select the

Submit Request

button

Apply for the refund and provide information about it
You should receive an email confirmation from Hulu regarding your request. Since Hulu works on a subscription basis, you can ask for a refund if you receive an unwarranted charge or if you overpay for a service.
Get a Hulu Refund Over the Phone
You can also issue a request by contacting their customer service. If you are having trouble reaching them due to waiting on the line, DoNotPay can help you skip those long queues and get in touch with the customer service rep in a heartbeat.
| | |
| --- | --- |
| Can I Request a Hulu Refund Via | Yes/No |
| DoNotPay | Yes |
| Phone | Yes |
| In Person | No |
| Online | Yes |
Hulu Refund Policy
Hulu is strict when it comes to its refund policy. The Hulu refund policy states that the company will only approve refunds if you happen to be overpaying for your monthly subscription or if there is an unwarranted charge.
When you get overcharged for your monthly bill, you have 30 days to request a refund; otherwise, Hulu will not accept it. Hulu will dismiss any request made after 30 days from the charge in question.
What Is
Hulu Subscription Refund Policy?

Hulu does not issue refunds for canceled memberships. When you decide to cancel your account, you will not receive a refund. The service will last until the day of the renewal but will then be terminated. If you choose to downgrade your package, you could request a refund for the amount that is left from the previous bill.
There is a chance that Hulu will refuse to give you a refund and carry the amount forward and use it to pay for the new plan in the next billing cycle.
If you are having trouble with your Hulu subscription and you believe that Hulu is overcharging you for their services, we can be of further assistance. We can show you the fastest and easiest way to cancel your Hulu subscription. There is no need to get in touch with Hulu or contact any third-party service that you bought the subscription through, such as Spotify, iTunes, or Amazon. Open DoNotPay in your and cancel that subscription without any hustle.
How to Cancel Hulu Subscription With DoNotPay
DoNotPay can help you monitor all your subscriptions and cancel any that you don't feel like using anymore. If you want to cancel your Hulu subscription, you can do that by:
Signing in to DoNotPay account

Selecting

Find Hidden Money

Naming Hulu as the service you want to cancel
DoNotPay will inform you as soon as your subscription has been canceled. If Hulu refuses to cancel your subscription and continues to charge you for the service you don't want to use, DoNotPay can help you sue the company in small claims court. We will provide evidence for your case and draft you a script that you can use in court to help you win the case.
Does Hulu Offer a Free Trial?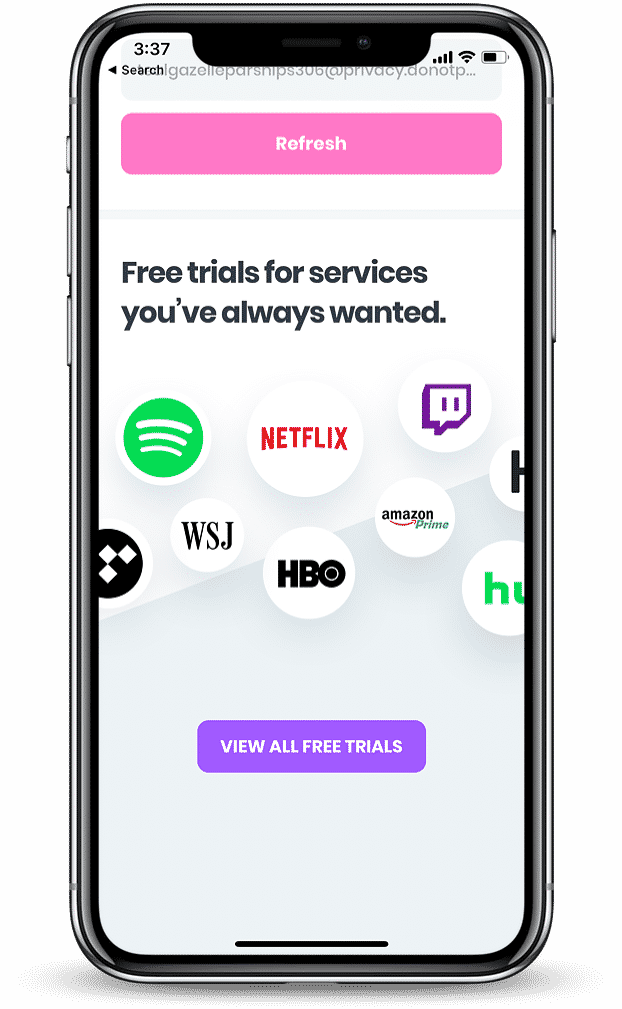 Yes, Hulu does offer a seven-day free trial, and once it is over, it automatically converts into a paid subscription.
If you find it hard to keep track of a seven-day free trial and are annoyed every time a trial turns into a paid subscription, we feel you. With DoNotPay's virtual credit card, you can sign up for as many free trials as you want and never worry about losing your money on unused subscriptions. You can use DoNotPay's virtual credit card generator to quickly create a new credit card you can use once and forget about those pesky unwanted charges.
What Is a Virtual Credit Card?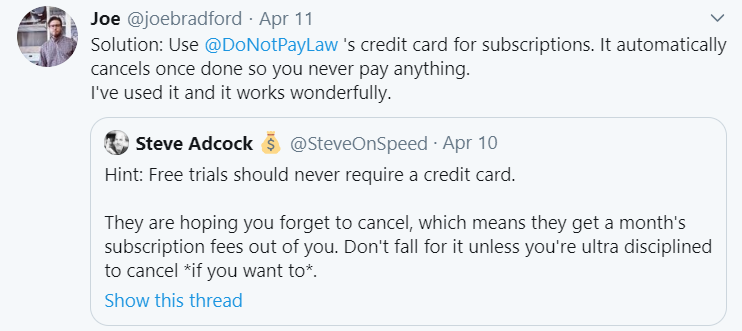 Once you register for a free trial with a virtual credit card, DoNotPay will generate random numbers to make the card appear like a real credit card but will conceal your personal data—such as your bank and credit card information. The secret to this free virtual credit card is that the merchant sees it as an actual credit card, but when they want to use it to charge you for a subscription, the virtual credit card will no longer be valid.
You never have to worry again about free trials' expiration dates and companies charging you for services you don't want to use.
DoNotPay Can Help you Get a Refund for Various Services
Don't you just hate it when you buy a product or service and realize it's not to your liking? Your money doesn't need to be wasted like that. With the help of DoNotPay, you can request a refund from any company, even the ones that officially offer no refunds, in just a couple of minutes. All you need to do is provide our chatbot with the necessary information, and we will fax a refund request to your bank. We can also contact the service provider for you and ask them to refund your payment. We can help you request a refund from:
What Else Can DoNotPay Assist You With?

You don't need to rush anywhere — with DoNotPay, you can do everything from the comfort of your chair. Our offers vary from getting refunds, canceling subscriptions, and even suing companies that violate your rights. We are here so that you don't have to go through life's troubles all alone. Visit DoNotPay using your and see if there is anything you need help with. Our robot lawyer can assist you with:
Fighting speeding tickets

Dealing with traffic tickets