Getting in Touch With the Hobby Airport Lost and Found Effortlessly
Losing your phone, wallet, or a piece of luggage at the Hobby Airport can ruin a perfectly planned trip, especially if you don't know where to look for the missing item. Most airports have designated departments you can contact in such situations, but getting through can be challenging.
This article explains how can help you reach the Hobby Airport Lost and Found and other responsible offices with minimum effort! Read our guide and learn how to skip burdensome calls with multiple representatives in a few simple steps.
What if You Miss an Item After Going Through the Houston Hobby Airport?
Have you realized that you left one or multiple valuable items somewhere around the Hobby Airport? Before you lose your temper, try to retrieve your lost object in one of the following ways:
Getting in touch with the Houston Hobby Airport Lost and Found—If you are positive that you lost the item in a non-airplane area within the airport, you can call the airport's Lost and Found office or go there directly
Reaching out to a particular airline—Many items get lost in the aircraft during flights. Calling the airline company can solve the matter, as all the lost items from airplanes will be sent there
Contacting the Transportation Security Administration department for the particular airport—This option is valid if you leave the item somewhere around the security checkpoint. TSA keeps lost objects for 30 days and then disposes of them, which means you must react quickly
Going to or calling your rental car company—They can help if you believe you may have left the object in question in a rented car
How To Report a Lost Item at the Hobby Airport
Here are the steps you should follow to inform the airport about the incident:
Reach out to the appropriate department via one of the available communication channels
Tell them about the item you lost and describe the object in as much detail as possible
Provide the representative with your contact info or wait for them to check the lost item collection and see if the object you are looking for is there
What Contact Details Can I Use To Report the Missing Item at the Hobby Airport?
Depending on the exact location where you lost your belongings, you can use one of the following communication channels:
Office
Phone Number
Other Contact Methods
Hobby Airport Lost and Found
(833) 274-7020
TSA Lost and Found
(713) 454-6933

Sending an email to: TSAHobbyLF@tsa.dhs.gov
Visiting the office (Level 1, on the east side of baggage claim)

American Airlines
(800) 433-7300
Delta Airlines
(800) 221-1212
/
Southwest Airlines
(800) 435-9792
U.S. Passport and Border Protection (for passports that have been at the airport's Lost and Found office for more than 30 days)
(713) 640-7729

Sending an email to: cbp.goes.support@dhs.gov
Tired of Waiting in a Phone Queue? Let DoNotPay Contact the Airport for You
Don't waste your precious time on never-ending calls and emails that take weeks to get responded to. DoNotPay can help you track your missing luggage or anything you lost more quickly by reaching out to the specified department in your stead!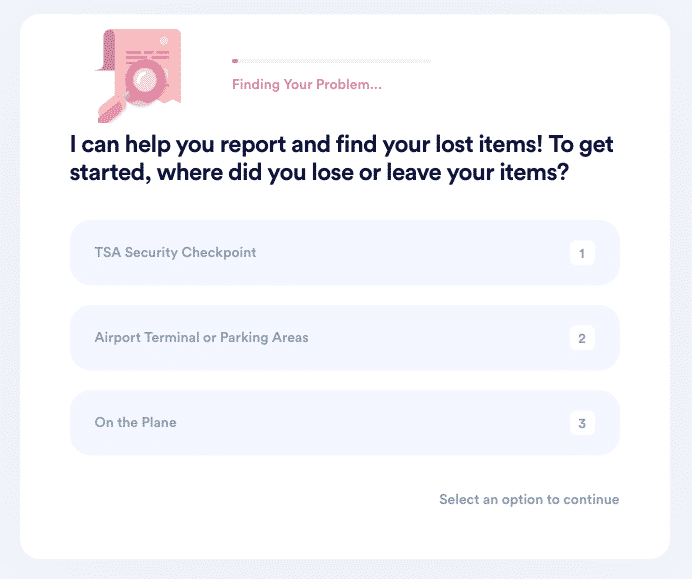 All you should do is follow the prompts below:
Go to Find Lost Airport Items
Give us more details about the incident and the object you lost
We can also request a refund from airlines on your behalf and help you get the money back if your flight was postponed or canceled!
What About Other Perks Our App Offers?
DoNotPay offers valuable assistance with the following tasks:
DoNotPay Cares About Health Matters
Finding suitable and verified clinical trials you can participate in is often complicated and time-consuming. Still, with DoNotPay, it becomes a breeze! Our platform allows you to search through clinical trial databases and apply for the ones that seem acceptable to you.
If you want to make sure your health wishes are honored if you get too sick, we help you compose an advance health care directive based on your preferences. That's not all—you can also name a person who can decide on your finances and estate if you get incapacitated by creating a power of attorney in our app!