Receive and Send a Fax to a Gmail Account Without Any Trouble

Faxing is not a thing of the past—it is still the safest and most reliable method of sending and receiving confidential documents. Fortunately, you don't have to learn how to use a fax machine. Faxing has evolved to the point where the internet has replaced phone lines.
Today's online faxing services and apps enable a much safer and quicker way of receiving and storing your faxes via email. If you want to know how to receive and send a fax to a Gmail account, DoNotPay knows the answer!
How Can You Send and Receive a Fax in Your Gmail Account?
Many web-based fax companies integrate with email services and transfer files directly to your email inbox. Most online-fax service providers also send you notifications to inform you of the upcoming fax. You can use any digital device, such as your iPhone or Android phone, to track down the faxes as they reach your inbox.
The online fax service provider of your choice will assign you an online fax number. That number plays an equally important part in both sending and receiving faxes via your email account.
Take a look at how the process of sending and receiving faxes via email looks like:
Sending a Fax via Email
Receiving a Fax via Email

Sign in for an online fax service provider

Access your email account

Click on the

Create an Email

button

Type in the short description of your fax in the

Subject

field

Enter the fax number in the

To

field—don't forget to add the fax company's extension at the end of the number

Attach the file you want to fax

Click

Send

Choose an online fax service provider

Log into your Gmail account

Click on your inbox

Open the fax by clicking on the attachment
What Does an Online Fax Number Look Like?
There are various online fax number formats, depending on whether you wish to fax internationally or locally. The trick is to format your fax number as if it was a regular phone number. You can add local, area, long-distance, and international codes.
Adding hyphens and parentheses is an option, and the online fax service will ignore those and any other non-digit signs. The plus sign is a generic international access code and will remain a part of your fax number.
Can You Receive a Free Fax in Gmail?
That depends. Many online fax services offer a free trial period during which you can send and receive faxes in your Gmail inbox for free. While most web-based fax companies enable you to send faxes during the free-trial period, not many will allow you to receive them.
Those that include that option come with limitations, such as:
Low document resolution

Limited number of documents you can receive

Incomplete and unreliable service—many faxes never come through

Limited storage space for your incoming faxes

Lack of notifications for incoming faxes
If you want to receive faxes without any restrictions, you should opt for a paid plan.
Faxing With DoNotPay Is Practical and Affordable
While most online fax companies offer the option to send faxes, they come with a huge price. If you need to send faxes from time to time, your best choice would be to find a middle-ground between overpaying and settling for free, limited service.
In case you don't feel like paying a huge sum for any of the online fax providers' plans, you should consider using DoNotPay. We offer a great service for a low price, with some additional perks to follow!
DoNotPay provides the most affordable faxing service on the market by far! With our app, your faxes will reach the receiver's Gmail account without any trouble.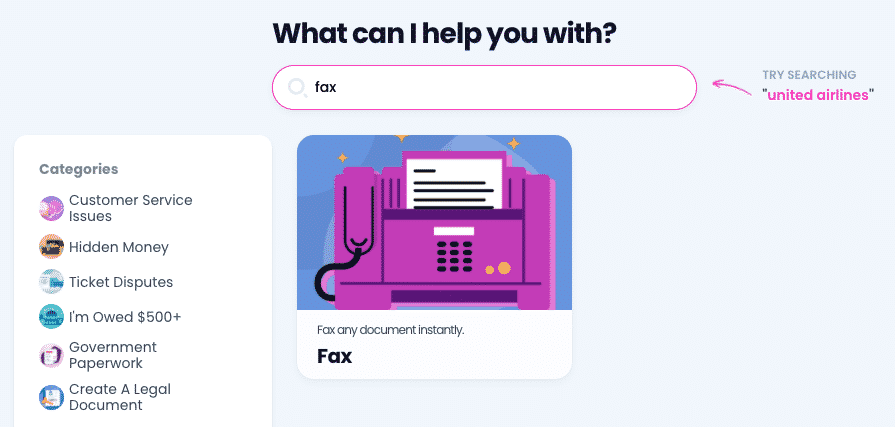 The perks of using DoNotPay's fax feature include:
Uploading files or photos with ease

Sending as many as 100 pages each month

Sending faxes from any device, including a PC,

Mac

, phone, tablet, or laptop
Some of our additional perks include snapping a photo of your checks and bills so you can avoid scanning.
If you ever need to send a legal document, we can make it easy! Our legal documents feature can combine with the fax feature and allow you to create, sign, and fax a document in a matter of minutes!
How Can You Send a Fax With DoNotPay
Sending faxes with our app is simple. You only need to follow these instructions:
Access DoNotPay in any

Select our

Fax

feature

Opt to send a fax

Take a photo or upload a document you want to fax

Enter the receiving fax number in the required field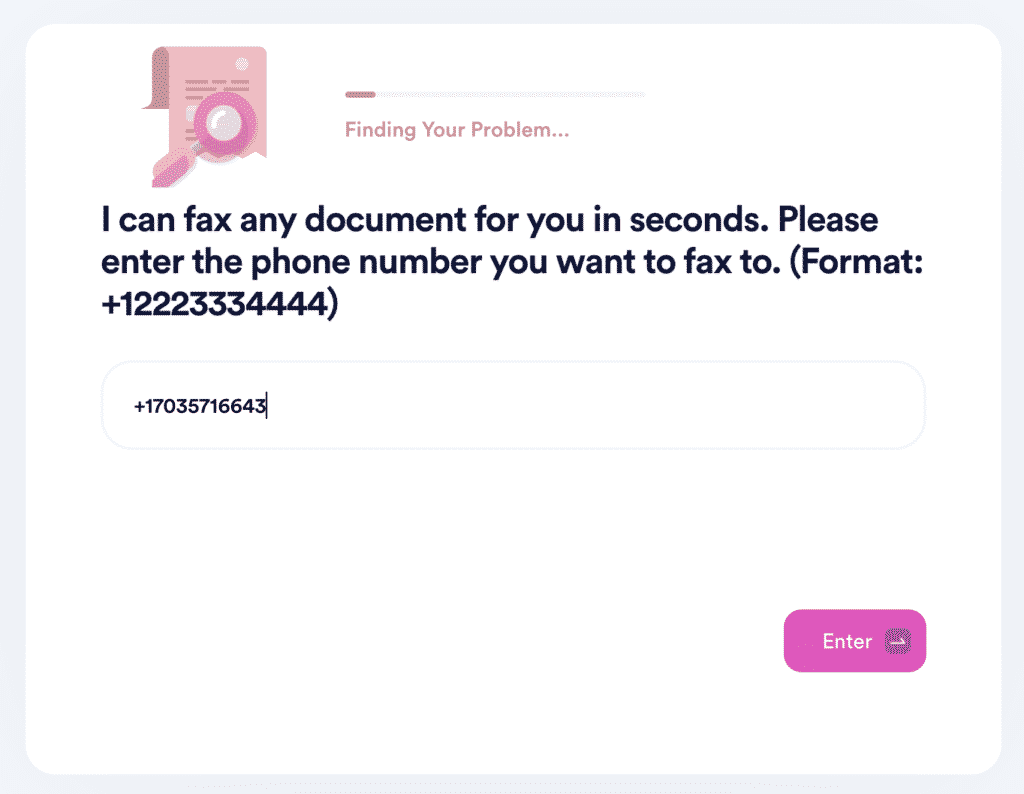 DoNotPay will immediately send your fax to the receiving party. You will get a notification as soon as your file comes through.
Find Out More About Online Faxing With DoNotPay
If you want to learn more about online faxing, you will find our knowledge base invaluable! Take a look at some of these articles for more information on:
For some additional information about faxing, we single out articles on secure faxing and finding the best fax cover letter examples.
DoNotPay Leads the Way Against Spammers
Browsing the internet has never been more popular than today, but you must not forget to keep your private and financial information safe. You know you can cancel any streaming service or magazine subscription easily, but that won't stop them from using your personal details for marketing purposes.
DoNotPay has a solution for that!
Is a company pestering you with incessant robocalls, spam emails and text messages? Use our Virtual Credit Card to catch them in the act and claim compensation for your troubles.
To prevent that from happening ever again, use our card to sign up for free trials—not only will you not pay a dime for the service, but you will be automatically unsubscribed as soon as the trials are up!
If you want to avoid revealing your personal phone number, we'll generate a temporary burner phone for you so the company won't have any way to reach you.
Already Been Scammed? DoNotPay Knows the Way!
If you've already made the mistake and divulged your personal info to the wrong party or experienced any other kind of crime or injustice, you don't have to sit tight and suffer the consequences. DoNotPay can assist you in taking anyone to small claims court!
We'll help you gather evidence—correspondence proving stalking or harassment took place, customer service call recordings, denied chargeback and refund claims, online fax transcripts, or proof of copyright violation. Then, we'll fill out the relevant legal documents for you and draft a court script that you can use in your hearing.