Dulles Airport Lost and Found—Questions Answered
With thousands of travelers boarding flights at the Dulles Airport daily, it's no surprise that dozens of items get lost at various locations within this area. Retrieving a missing bag, phone, passport, or wallet can be an absolute nightmare, especially if you don't know where exactly you may have left them.
If you are wondering what the simplest way to reach the Dulles Airport Lost and Found office is, our article can help you solve the dilemma! We will teach you how to speed up drawn-out reporting procedures and report the lost item or missing luggage within minutes !
What Dulles Airport Departments Can You Contact if You Lose an Item in This Area?
The choice of the office you should contact concerning your lost belongings depends on where the incident occurred. Here is the list of all departments you can reach out to and their phone numbers/other contact info:
Office

Contact the Department if You Left the Item In/At

Contact Info
Dulles Airport Lost and Found

Terminal
Concourse
Shuttle bus
Aerotrains
Other public areas within the airport

(703) 572-8479
TSA Airport Lost and Found
Electronic submission form
Washington Flyer Taxicabs
(888) 927-4359—choose option 1
Washington Flyer Silver Line Express
(888) 927-4359—choose option 2
If you left your object in an aircraft during a flight, the only way to track it down is to get in touch with the specific airline.
Working Hours of the TSA and Dulles Airport Lost and Found Offices
TSA Lost and Found operates from 9:30 a.m. to 2:30 p.m on working days, and the Dulles Airport Lost and Found works Monday through Friday from 8 a.m. to 4 p.m. Both departments are closed on weekends.
When Should You Expect the Answer From the Washington Dulles Lost and Found?
The Dulles Airport Lost and Found operators usually handle lost item reports and return calls within 24 hours. Note that making multiple queries about the same issue may delay the response.
What Happens Once Your Missing Item Is Located?
If the representatives inform you that your object has been found, you should claim it as soon as possible. TSA and the airport Lost and Found department keep the misplaced objects for 30 days.
Should you file a late report or fail to claim the object within a month, your belongings will be sent to the Washington surplus in Richmond. Once it happens, you won't be able to get them back.
Avoid Stressful Calls and Emails—Report the Lost Item With DoNotPay
Once you decide to track down the object lost at the airport, you may encounter various issues, such as:
Having trouble reaching the desired department due to engaged phone lines
Getting directed to multiple representatives
Sending an email to the office and waiting for days to receive a response
Explaining the incident and describing the lost item to operators in multiple offices—if you aren't sure where you have left it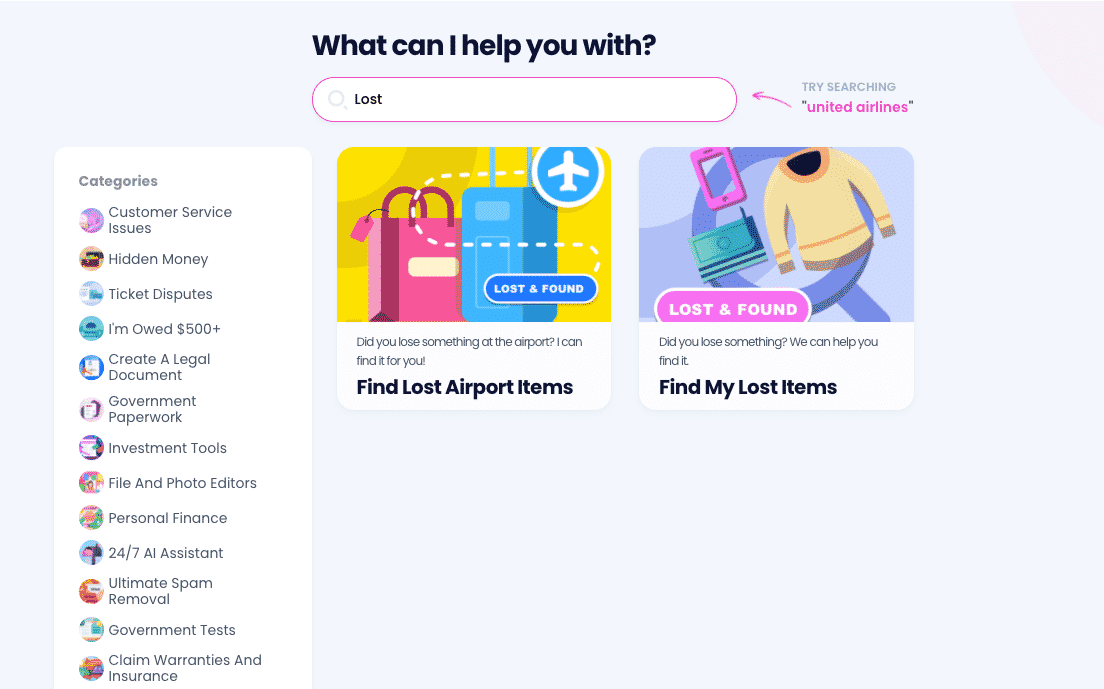 DoNotPay features a handy tool that can report the missing item or track lost luggage in your stead! To get our help with this process, follow the steps below:
Navigate to the Find Lost Items tool
Answer questions about:

Item you have lost
Circumstances of the incident
Has an airline canceled or postponed your flight? Don't let them get away with that—demand a refund or chargeback from the company with our app. We can help you file a compensation request and skip tedious bureaucratic procedures!
Administrative Issues Are No Longer a Problem With DoNotPay
By signing up with DoNotPay, you can say goodbye to tiring bureaucracy and:
Our App Generates Legal Documents and Letters in Your Stead
If you need some important paperwork, DoNotPay can generate it for you in record time! Our tools can assist you in drafting the following categories of documents:
Legal Documents
Appeals and Letters

Revocable living trusts

Advance health care directives

, including living wills and medical powers of attorney

Standard powers of attorney

Divorce settlement agreements

Defamation demand letters

Property tax appeals
All legal documents you create can also be notarized and faxed online in our app!