Denver Airport Lost and Found—All You Wanted To Know
Don't despair if you displaced your valuable belongings—such as a cell phone, wallet, or ID— while you were going through the Denver Airport. It happens to thousands of passengers each year due to massive crowds and complex security control procedures.
In most cases, the Denver Airport Lost and Found will have your item. The bad news is—getting in touch with this office isn't always a breeze. You may need to spend hours waiting for the rep to pick up the call. For this reason, we help you discover how to use DoNotPay to reach this department more easily. Check out our tips and report a lost object or a piece of luggage in no time!
What Lost Items Does the Lost and Found Office at the Denver Airport Keep?
The DIA Airport Lost and Found department is the place where you can search for all the items found in the following areas:
Airport restrooms
TSA security checkpoints
Mt. Elbert and Pikes Peak parking lot shuttles
Employee shuttles
Any other public interior or exterior parts of the airport
How To Report the Loss to the Denver International Airport Lost and Found
There are two ways to inform the Denver Airport Lost and Found about a missing item—by:
Calling the office
Filing an electronic report form
Here's how to do both:
Method
Instructions
Phone call

Dial (303) 342-4062
Inform the representative that you want to report a lost object
Tell them where you believe you have left the item and describe it in as much detail as possible

The lines are open from 8 a.m. to 7:30 p.m. on working days and from 8 a.m. to 6 p.m. on weekends

Electronic report form

Pick the Services tab
Click on Lost and Found
Select the DEN Lost-and-Found Website hyperlink
Click on At the Airport
Complete the report form and send it
Where Else To Look for Your Lost Item at the Denver Airport
Here's how to deal with a loss that didn't happen in the areas controlled by the Denver Airport Lost and Found office:
If you have lost an object during a flight (in a plane), call the airline you traveled with and ask them to check their Lost and Found storage. You will find the necessary contact info in the complete list of airlines that operate at the Denver Airport
If you believe that you left the item at a restaurant, shop, or any other concession within the airport, contact the service provider
If you have dropped the object in a taxi, shuttle, Uber, or any other means of transportation around the airport, call or visit the particular transportation provider
Tired of Back-And-Forth Emails and Calls to the Airport? Use DoNotPay!
The best way to get in touch with the desired Lost and Found office at any airport in the U.S. is to subscribe to DoNotPay! Our app will save you precious time and contact the department you need on your behalf. It means you don't need to reach out directly to the office or spend hours talking to representatives. We collect all the necessary info and forward it to the right hands, making it simpler for you to locate lost luggage or track down any lost item.
Here's what you need to do to get our help:
Look for the Find Lost Airport Items product in our app
Give us more info about the incident, the place where you left the item, and its characteristics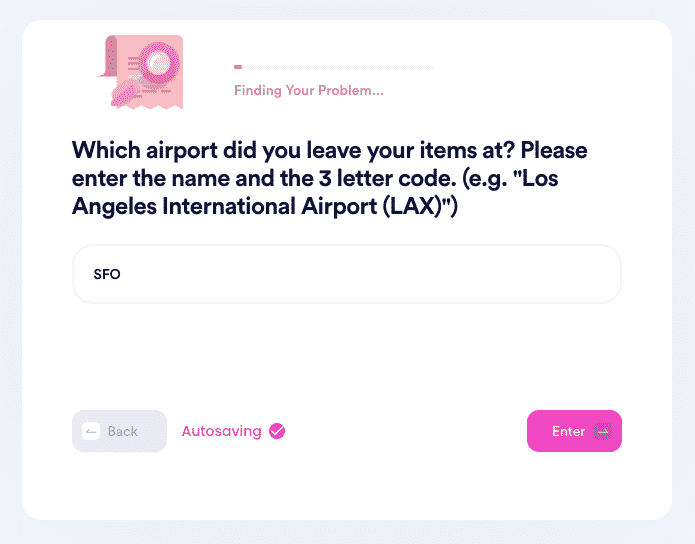 We also want to protect you from paying for dissatisfying services—which is why DoNotPay can help you get a refund or chargeback from any airline! If your flight has been called off or postponed, we can help you get your money back with minimal effort!
DoNotPay Is Your Ultimate Money-Saver
Don't spend your hard-earned money on subscriptions you don't use—cancel them with our app in a few simple steps! The best part is—that's not all we can do to help you save some coins. DoNotPay can also reduce other expenses by helping you:
Kiss Spammers and Harassers Goodbye for Good With DoNotPay
Our app offers handy features that can assist you with blocking irritating robocalls and getting rid of pesky spam texts and emails. It also gives you peace of mind by helping you fight workplace discrimination, stalking and harassment, annoying neighbors, and defamation.
With DoNotPay, you will always be able to maximally protect your safety by searching updated sex offender databases and avoiding unpleasant situations. Suppose you have already been a victim of harassment or any other crime. In that case, we can help you get compensation with no difficulties!