How to Get a Shopify Free Trial With This Virtual Credit Card

In today's market, eCommerce is the name of the game. Online selling was already on the rise before the start of the pandemic. Since the remote migration, ordering products online is now becoming more popular than buying them in person. Even local businesses with local customers are opening online stores to sell via curbside or delivery.
Shopify is an important part of that. As a DIY eCommerce platform, any brand can start selling online with a Shopify account and just a little setup. But is Shopify right for you? The is the best way to find out.
Does Shopify Offer a Free Trial?
Yes. Shopify offers a . Any business or brand can try out Shopify for free for two weeks without worrying about payment or commitment. This is a very user-friendly system where you get to explore how to set up your store and even start selling during your free trial.
A big part of this free trial is that progress and success are their own selling points. Once you've gone through the effort of setting up your store, branding the platform, and uploading your inventory, you are also more likely to stick with Shopify and all the hard work you've done during the free trial phase. And if you're already selling, that's one more reason to choose a Shopify paid membership when the free trial expires.
How Can I Sign Up for the Shopify Free Trial?
Signing up for the Shopify free trial is easy to do. You can do it from the homepage and most pages of the website by following the "Start free trial" button in the upper right-hand corner inside the top nav bar. This will open a pop-up inviting you to create an account and name your store.
Navigate to the Shopify free trial page.
Enter your email to start the trial.
Choose a name for your Shopify store.
Create your store and get started.
Be mindful of your store name as this will become your permanent Shopify URL.
Does Shopify Free Trial Automatically Renew Into a Paid Subscription?
Interestingly, no. Shopify does not ask for a credit card when you start your free trial. This means that theis 100% free, no strings attached. Here at DoNotPay, we believe this is a great business model, doing free trials the way they are meant to be done - as free.
When your Shopify free trial ends in 14 days, you will have the option to close your demo store or choose a Basic/Shopify/Advanced paid account billed monthly/annual/biennial to become an official Shopify eCommerce vendor.
Avoid Automatic Renewal With DoNotPay Virtual Credit Card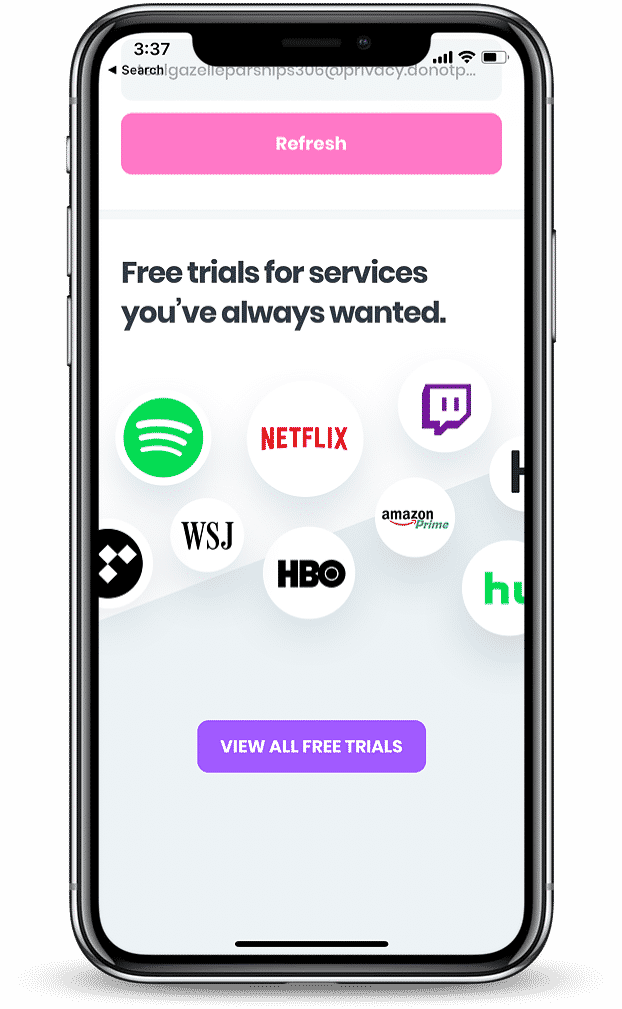 Shopify has a very friendly free trial with no strings attached. But when building your business software collection, you may need to test a few free trials that are harder to get out of. Many, in fact most, free trials ask for a payment card, then charge you on the last day of your trial for a subscription - if you don't remember to cancel the account first.
The good news is that you can test out these free trials with no-strings-attached with the help of a virtual credit card. A virtual credit card is not a real payment card, it's a dummy that will be temporarily accepted as valid until a real expense is charged to it. Here's how it works:
DoNotPay generates a random string of numbers
You enter those virtual credit card numbers instead of your payment card when signing up for free trials.
The free trial ends and your virtual card is charged
The charge doesn't go through, your trial ends and a paid subscription does not begin
You are still free to choose any software you liked and wish to purchase
The best thing about the virtual credit card solution is that you can still choose. The trial ends free, the way it should, but the choice to sign up for any of the services you test is entirely up to you and on your timeline. You can get as many free virtual credit cards from DoNotPay as free trials you want to try.
How Much Does Shopify Cost After the Trial?
There is no automatic cost at the end of your Shopify free trial. But if you should choose to buy a subscription to continue using your Shopify store,this is the Shopify subscription pricing structure. If you want discounts for an annual or biennial account and can't find the links we can help you contact Shopify customer service.
| | |
| --- | --- |
| Plan | Price |
| Basic | $29 |
| Shopify | $79 |
| Advanced | $299 |
What Else Can DoNotPay Do?
can do more than generate virtual credit cards. How else can we help your business take care of necessary tasks to grow, connect to your customers, or move red tape out of your way? Here are just a few of the vast number of services you can use to save your business time and money this year.
That's not all! DoNotPay can help you with even more: