How to Get a Risk-Free Trial for WeWork

hasn't always been in the news for the best reasons, but it remains a credible coworking space for any company looking for an in-person work environment. Of course, the opportunity to try before you buy is always appreciated. In this article, we will explain how to set up a free trial with WeWork, and how DoNotPay can be incorporated into the process – all without using your real credit card information.
Does WeWork Offer a Free Trial?
WeWork does offer a trial run for their services – albeit on short-term notice.
The company offers a one-month, 31 day trial of WeWork All Access. This level of subscription gives customers access to shared workspaces, bookable meeting rooms, and offices that are available 24/7. All-Access memberships are best suited for individual workers or small groups of people. Users of this free trial will be allowed to use any of the WeWork All Access locations around the world. There is no free trial option for dedicated spaces that are entirely private.
The offer is limited to one membership per person and ten memberships per company. It is not available to current WeWork employees.
How to Get a WeWork Free Trial
Assuming you don't already have a WeWork account, here is how you set up a free trial for the co-working space:
Create an account on their website or app. You will have to give them your credit card information to complete this step.
Once the account is made, you will receive a confirmation email that explains how to complete a user profile and receive a keycard. You obtain the keycard by visiting the community desk at your chosen WeWork location in person during regular business hours. Some sort of government-issued identification is also needed to get the keycard.
From then on, you can begin to use your membership to book a workspace or meeting room. This is done via the WeWork app or their member web portal.
Workspace bookings are required before each visit. After the booking is official, your keycard will automatically be activated to give you access to your chosen workspace location on the day of your booking. It's also worth noting that if you make your first booking on any non-holiday weekday between 9 AM and 5 PM, WeWork's community team will give you a personal welcome. How fun!
Booking a meeting room requires selecting a specific window of time that you want the room for, and the time is paid for with credits tied to your account. (All-Access members get five credits a month.) If you go over the monthly allotment of credits, you will be charged for the extra credits in overage fees. (Here is a list of the overage fees for each country with a WeWork office.) Once the room is booked, your keycard will automatically be activated 30 minutes before and after your booking to give you access to your chosen location.
Does the WeWork Free Trial Automatically Renew Into a Paid Subscription?
After the first month, you will be automatically charged a subscription fee for WeWork's services. Previous charges won't be refunded if you do decide to and the company holds the ability to collect due payments if you come up short. Memberships can be canceled at any time and for the end of the current month. For example, a cancellation on March 5 won't go into action until March 31.
To opt-out of automatic renewal, you enter the WeWork or website and got your account page, then "Support", then "Membership" and request to cancel. This must be done with at least five days' notice before the last day of a calendar month.
Avoid Automatic Renewal With DoNotPay's Virtual Credit Card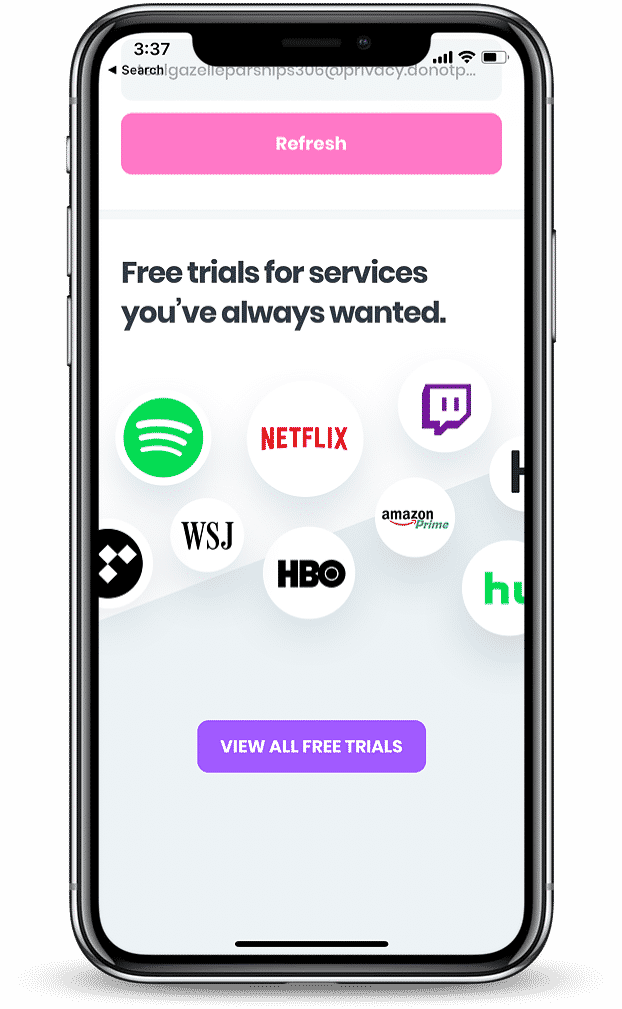 Given the nonstop churn of memes and doomscroll-inspiring events and the general speed of daily life, it's easy to forget to cancel free trials and then keep paying for services you don't even use until you check your bank statement.
This is where DoNotPay comes in. Our virtual credit card system makes it possible to sign up for as many free trials as you want without giving up your credit card information and losing any of your money.
Here's how it works:
Search free trial card on DoNotPay and enter the company you want a free trial for.
We'll generate a virtual credit card with random information that you can use for any service. Copy the card details shown on your screen.
Use the card to sign up for your free trial
Since this is only a virtual credit card, each version will be deactivated as soon as it's used once, and you can't use it to make any real purchases. But that further proves the point of the card. Once the trial period is over, you can't be charged because there's no money on the virtual credit card, so you'll be automatically unsubscribed.
How Much Does WeWork Cost After the Free Trial?
The cost of WeWork depends on the level of service you're looking for. Their "solutions" as they call them fall into three categories: Dedicated spaces that reflect a longer commitment, the monthly subscription of WeWork All Access, and a pay-as-you-go option called WeWork on Demand. Here is an overview of what the dedicated have to offer:
| | | | | | | |
| --- | --- | --- | --- | --- | --- | --- |
| Office Type | Team Size | Hours of Access | Private Amenities | Credits | Guest Policy | Price |
| Dedicated | 1-5 | 24/7 | None | 5 per month | Allowed with Conference Room Booking | Upon Request |
| Standard | 1-20 | 24/7 | No | 12 per month | Allowed During Working Hours | Upon Request |
| Office Suite | 20-100 | 24/7 | Optional | 50 per month | Allowed during working hours | Upon Request |
| Full-Floor Office | 100+ | 24/7 | Yes | Varies by the number of desks | Allowed during working hours | Upon Request |
We've already covered WeWork All Access, so here's the rundown on WeWork on Demand. This lets individuals use shared workspaces or meeting rooms on an hourly basis during working hours without making any substantial investment. A place in the shared workplace starts at $29 per day and meeting rooms are $10 per seat an hour.
What Will WeWork Charges Look Like on My Statement?
Once you're charged for the time and space, this is what WeWork charges look like on your bank statement:
WEWORK, WEWORK.COM GB
WEWORK
WEWORK 855-593-9675 CA
WEWORK WEWORK.COM GBR
WEWORK_UK LONDON GBR
WEWORK LONDON
WEWORK-WEWORK COMMON 855-593-9675
WEWORK LONDON GBR
WEWORK, LONDON, GB
WEWORK 855-593-9675 NY
WEWORK WEWORK.COM
WEWORK COMMONS
WEWORK WEWORK.COM NY
APP*WEWORK MARKET 888-6660579 NY
What Are the Most Popular Alternatives to WeWork?
There are many co-working companies attempting to make waves in the industry. Here are some of the best options around:
Industrious Offices has over 100 locations across the US and in Singapore. They offer flexible workspaces with private offices, conference suites, and amenities such as cafés, meeting rooms, lounges, and wellness rooms. Memberships to Industrious can be had on monthly or longer-term commitments, as well as virtual memberships that give businesses a professional mailing address and exclusive member benefits. The cost of a membership is dependent on your team size and location.
With more than 100 locations in 60 countries, Impact Hub is a co-working organizer that attempts to push positive change in the world. They aim to encourage collaboration between entrepreneurs in order to create more sustainable projects and programs for food production, clean energy, and climate change. You have to be part of an organization or company to join Impact Hub, but their global membership option has been made free during the pandemic.
Make Offices currently has a smaller scope, with only a few locations in Philadelphia and Washington D.C. They offer virtual offices ($75 per month), day passes ($35 per day), hot desks ($300 per month), and private offices ($600 per month). Amenities include 24/7 building access, a game room, and craft beer on tap.
By contrast, Spaces has the widest scope of any company on this list, with offices in the Americas, Africa, Europe, Asia, and the Pacific. Their worldwide range is reflected in their flexibility. They offer dedicated and virtual offices, co-working spaces, and catered meeting rooms. The price of their services changes depending on where you are in the world.
Venture X has 45 locations in five countries. They offer all of the co-working space standards and podcast rooms. Venture X has also been used as an event space and offers free coffee on a daily basis in their cafe/lounge area.
What Else Can DoNotPay Do?

DoNotPay can help you with almost anything. Here are a few examples: