Living Near a Summit County Sex Offender? Use DoNotPay To Find Out
Summit County has one of the highest numbers of registered sex offenders in Ohio. On average, the Sheriff's Department monitors the registration compliances for about 1,100 sex offenders—with many turning up as missing during surprise checks.
Are you worried about an absconding Summit County sex offender hiding near your home? There can be hundreds of homeless or unmappable sex offenders in Summit County who move through multiple neighborhoods without ever getting noticed.
With DoNotPay's practical Sex Offender Search feature, you can view the relevant mugshots and identification data for all registered sex offenders. Prioritize safety today— to get your customized alerts!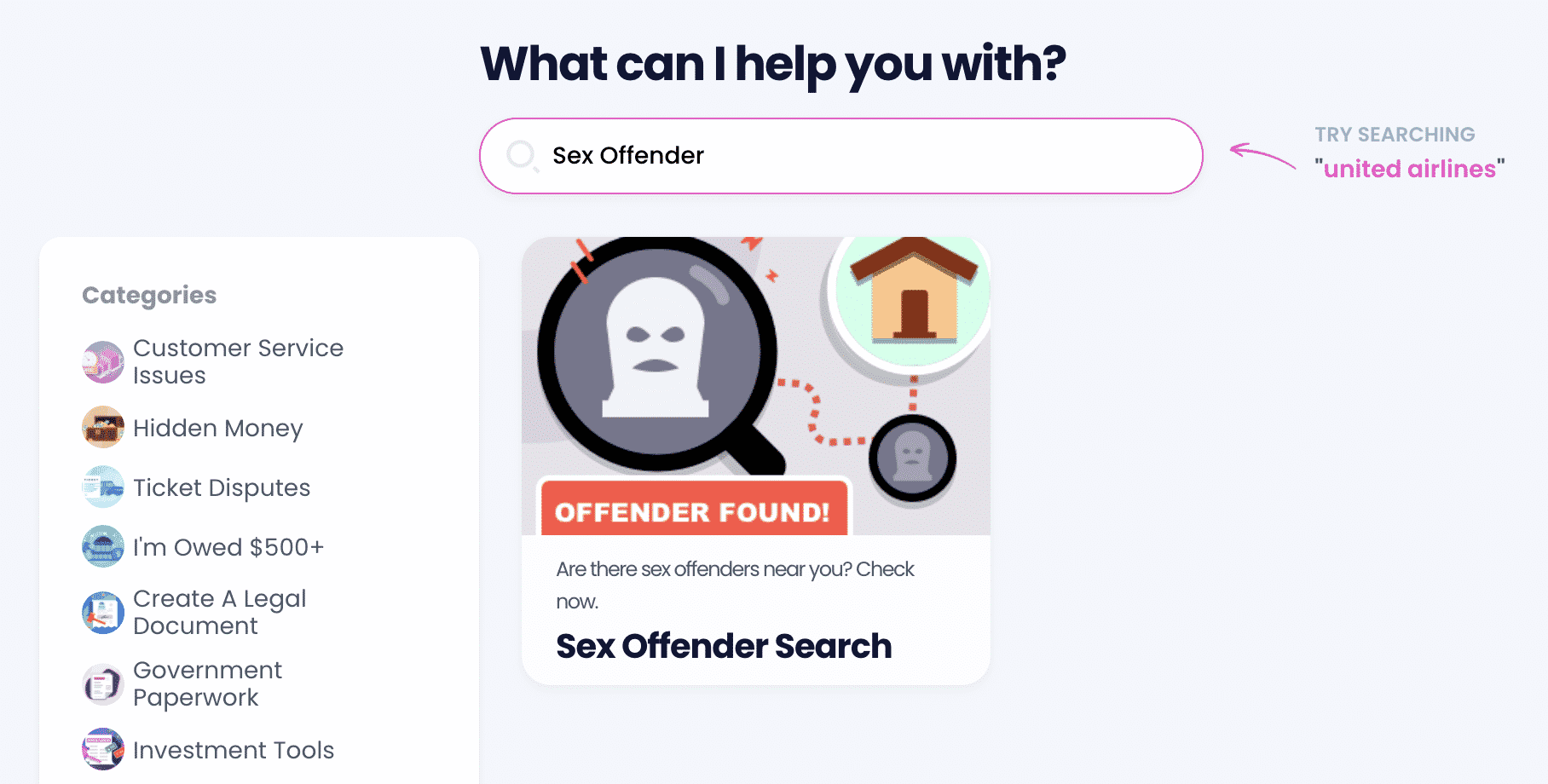 Summit County Sex Offender Tiers
Summit County follows the Ohio sex offender laws, which categorize sex offenders into three tiers based on the severity of their crimes.
Use this table to analyze the kind of sexual offenses that fall under each tier:
Tier 1
Tier 2
Tier 3

Sexual imposition
Voyeurism against a minor
Indecency in front of a minor
Importuning
Promoting prostitution
Misusing minor in nudity-related material or performance
Stalking

Human trafficking
Abduction or kidnapping
Compelling prostitution
Child pornography
Unlawful sexual conduct
Any sex crime committed by a Tier 1 offender

Rape
Sexual battery
Murder with sexual motivation
Felony assault with sexual motivation
Gross sexual imposition where the victim is under 13 years
Any sex crime committed by a Tier 2 offender
Anyone recognized as a sex offender of any tier must provide their details to the sheriff to add their record on Ohio's Sex Offender Registry.
How Can I Look Into the List of Summit County Sex Offenders?
Like every county in Ohio, Summit County publishes its list of registered sex offenders through Electronic Sex Offender Registration and Notification—also known as eSORN. It serves as a complied sex offender registry that lets you access its database through the following direct or reverse search parameters:
Address
Name and alias
City
Compliance status
Internet identifiers or email
Phone number
The Summit County Sheriff's Office makes the following disclaimer about using this database:
There is no guarantee about the complete accuracy of this database at any given point in time
The Registry will not publish the names of unregistered sex offenders, certain juvenile offenders, or the name of any other offender as per Ohio's registration laws or court orders
You cannot misuse the database to commit a criminal act against any registered offender
Summit County Ohio Sex Offenders—Community Notifications
You can subscribe to the Registry website to get email notifications from law enforcement whenever any sexual predator moves within 1,250 feet of your address. The authorities claim to notify you via email, but the efficacy of these notifications remains highly doubtful.
Many residents never even receive a timely email alert, or the alert gets buried in their junk folder without any trace.
Absconding Summit County Sex Offenders—What Are the Consequences?
It's good to stay vigilant if you have absconding sex offenders plaguing your neighborhood—but first, you must be aware of the registry laws that govern every Summit County sex offender:
Issue
Registry Rule
What is the registration duration?
Varies on the basis of tiers assigned:

Tier 1—15 years with yearly checks
Tier 2—25 years with 180-day checks
Tier 3—Lifetime with 90-day checks

Do offenders need to follow residential restrictions?

All offenders are prohibited from living within 1,000 feet of a school
Certain offenders are not allowed to live within 1,000 feet of a daycare center

Is inter-state travel allowed for a sex offender?
Yes, but only if it is approved by the offender's supervising officer
What are the consequences of non-compliance with registry laws?

Failure to register can be a felony or misdemeanor based on the underlying offense
Failure to comply with registry laws can lead to penalties and prison time

What happens when a registrant is absconding?
The authorities issue a warrant for the offender's arrest
Missing Sex Offenders—Don't Let Public Registry Search Bring You Down
Megan's Law facilitated the creation of online sex offender registries open to the public, but most of these registries operate in a substandard manner. Relying on Summit County's Sex Offender Registry is not a viable option due to several reasons:
The website's slow, complicated, and time-sapping search mechanism can leave you exhausted
It may be hard for you to filter out relevant data from the Registry's search results
You will need to run a lengthy search every few days for consistent safety
If you don't feel safe in your Summit County neighborhood, it's time you reclaim your power using DoNotPay's dependable Sex Offender Search feature.
Predators Don't Stand a Chance When DoNotPay's Scanner Is at Work
Terrified of shady sex offenders lying low in your quiet neighborhood? DoNotPay's AI tool can access any Sex Offender Registry to give you updated search results that make actual sense as per your needs. You will hardly need a few seconds to scan any address for a comprehensive list of sex offenders, including the absconding or non-compliant ones.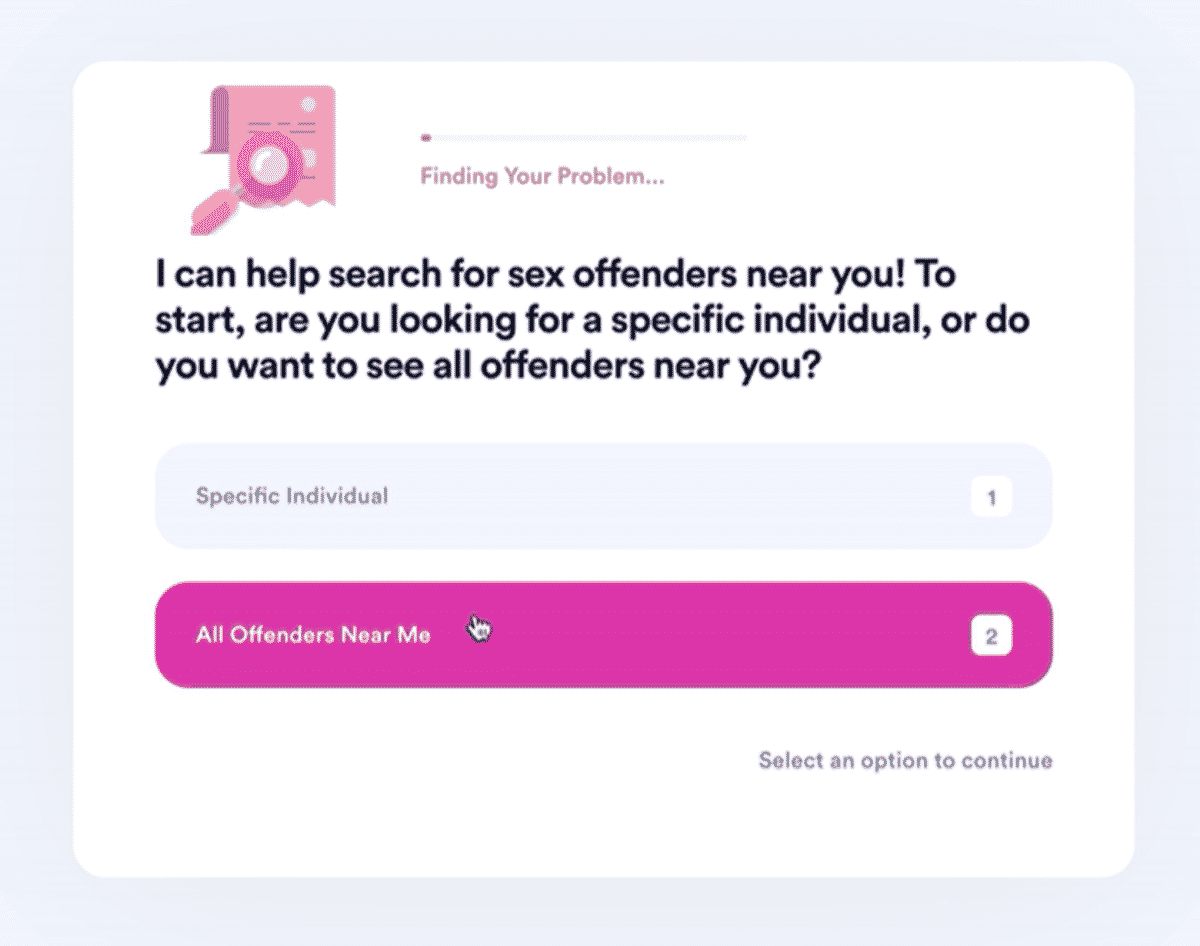 Follow these simple steps to access your desired list of Summit County sex offenders:
and find our Sex Offender Search feature
Select report type—Specific Individual or All Offenders Near Me
Tell us the search radius for your address—one, two, or three miles
Select or reject the optional weekly scan feature
DoNotPay will make sure you get a quick report after every scan without having to waste another minute on tedious registry websites!
DoNotPay Alerted Me About an Offender—What Should I Do?
If you recognize an offender from DoNotPay's search report, you shouldn't panic.
If the offender is an absconder, alert Summit County authorities immediately. Consider taking the following precautionary measures if the offender is a compliant registrant:
Talk to the possible at-risk targets
Bring the matter up during a community discussion
Reach out to the offender's supervising officer for any security concern
Use DoNotPay To Resolve Administrative Tasks in Minutes!
Tired of brainstorming the easiest way to deal with administrative issues? We know how you feel, and we're here to take the burden off your back!
Once you subscribe to our app, you'll be able to resolve an abundance of bureaucratic issues with ease.
Taking a valid passport photo, reporting workplace discrimination, reducing property taxes, preparing for a government test, applying for a college fee waiver, and appealing a parking ticket are some of the many tasks we assist you with.
In case you need a quick way to draft a legal document, such as a power of attorney, divorce settlement agreement, or a child travel consent form, DoNotPay will do it for you!
Learn How To File Claims the Easy Way
Are you dissatisfied with a certain company and/or its products? You don't have to stay quiet! Use DoNotPay to file your insurance, warranty, or missing/late parcel claim effortlessly! We'll also show you how to request an item return in a few steps.
If you want to cancel a subscription or request a refund or chargeback, you can do it with our assistance without breaking a sweat. Use one app to deal with countless issues!