Hamilton County Sexual Offenders Registration Laws Explained
According to the Hamilton County Prosecutor's Office, over 1,600 sexual and violent offenders are registered in Hamilton County, and CityData reports that more than 180 of them reside in the city of Hamilton. Any of them can be living near you.
Thanks to Megan's Law, information on registered sex offenders is publicly available, so you can stay informed about perpetrators and map out their whereabouts. In this guide, DoNotPay will explain how you can and outline the laws they need to abide by.
Hamilton County Sex Offender Registry Laws Broken Down
Hamilton County sex offenders need to register with the electronic sex offender registration network (eSORN), which is maintained by the Ohio Attorney General's Office. Below are answers to commonly asked questions about Hamilton County sexual offenders registration laws.
How Long Does a Hamilton County Sexual Offender Have To Register?
After the sentence hearing, sex offenders have three days to register with the sheriff of Hamilton County.
What Information About a Hamilton County Sexual Offender Is Available to the Public?
By law, a sex offender in Ohio is required to register their:
Photograph
First and last name
Home address
Work address
Vehicle information
This information will be publicly available in the Hamilton County sex offenders registry.
Sex offenders also need to register their telephone numbers and email addresses, but this information is not published online.
How Are Hamilton County, Ohio, Sexual Offenders Classified?
Hamilton County sexual offenders are classified into tiers according to the severity of the offense they committed. You can find more details in the table below:
Tier
Crime
Tier I
Tier I sex offenders in Hamilton County are those who committed any of the below:

Sexual imposition
Importuning
Voyeurism
Promoting prostitution
Pandering obscenity
Rape
Sexual battery
Unlawful sexual conduct with a minor
Gross sexual imposition
Illegal use of a minor or impaired person in nudity-oriented material or performance
Unlawful restraint
Public indecency
Criminal child enticement
Gross sexual imposition

Tier II
Sex offenders who committed any of the below crimes will be classified as tier II:

Compelling prostitution
Pandering obscenity involving a minor or impaired person
Pandering sexually oriented matter involving a minor or impaired person
Offenses when the offender is at least four years older than the minor
Kidnapping with sexual motivation
Abduction
Endangering children
Trafficking in persons

Tier III
Tier III sex offenders are those who committed either of the following:

Aggravated murder
Murder
Felonious assault
Involuntary manslaughter
Voluntary manslaughter
Can All Hamilton County Sexual Offenders Be Found in the Registry?
According to the state law in Ohio, information on juvenile offenders is not available to the general public's inspection in the Hamilton County sex offenders registry, even though they need to comply with the registration requirements.
Information on the sex offenders who are serving time in prison will also not appear in the registry.
For any information about juveniles or incarcerated offenders, you can check with the local sheriff or the Ohio Department of Rehabilitation and Correction.
Unregistered sex offenders can also not be found in the registry.
Lawful Use of the Sexual Offenders Registry in Hamilton County, Ohio
Information provided on sex offenders in Hamilton County is for the protection of the public and should not be used for any unlawful activities. Anyone who misuses the information is subject to criminal penalties.
Restrictions for Hamilton County, Ohio, Sex Offenders
Sex offenders registered in Hamilton County are not allowed to live in certain areas and need to report on their travel plans as follows:
| The Restrictions They Face | Description |
| --- | --- |
| Residence restrictions | Ohio law states that sex offenders cannot live within 1,000 feet of a school, preschool, or daycare center |
| Travel restrictions | A sex offender needs a permit if he/she wants to travel out of Ohio |
How To Search for Sex Offenders Using the Official Registry
To use the official eSORN registry to find sex offenders in Hamilton County, you need to:
Open the Hamilton County Sheriff's website in your browser
Go to Public Services in the menu and choose Sex Offender
Choose your preferred search method using any of the following:
ZIP code
Township
School district
Address
Name
You have the option to input a phone number to check if it is registered with a sex offender.
You can also sign up for the email alert program. If a sexual offender registers with your county Sheriff's Office, you will be alerted if their address is:
In your county
Within a mile of the address on your subscription
To sign up, here's what you need to do:
Go to the email alert program
Enter your name, email, and address details
Hit the Submit button
Use DoNotPay To Find Hamilton County Sex Offenders Quick and Easy
The sheriff's website experiences frequent bugs when loading the result pages. The terms and conditions state that there is no guarantee that the service will be uninterrupted or error-free. This hardly makes it the most convenient system to look for sex offenders near you.
The good news is that you don't have to use tiresome methods when DoNotPay has a quick and efficient solution to search for the Hamilton County sex offenders!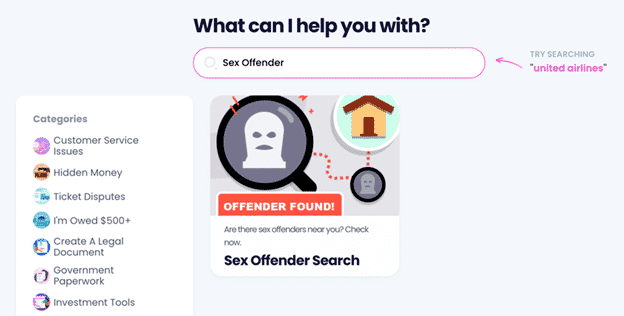 To use DoNotPay, here's what you need to do:
Type in Sex Offender Search
Select whether you want to search for an offender by name or find the ones in your vicinity
Enter the proximity—one, two, or three miles of your address
Enroll for the weekly check option and hit Submit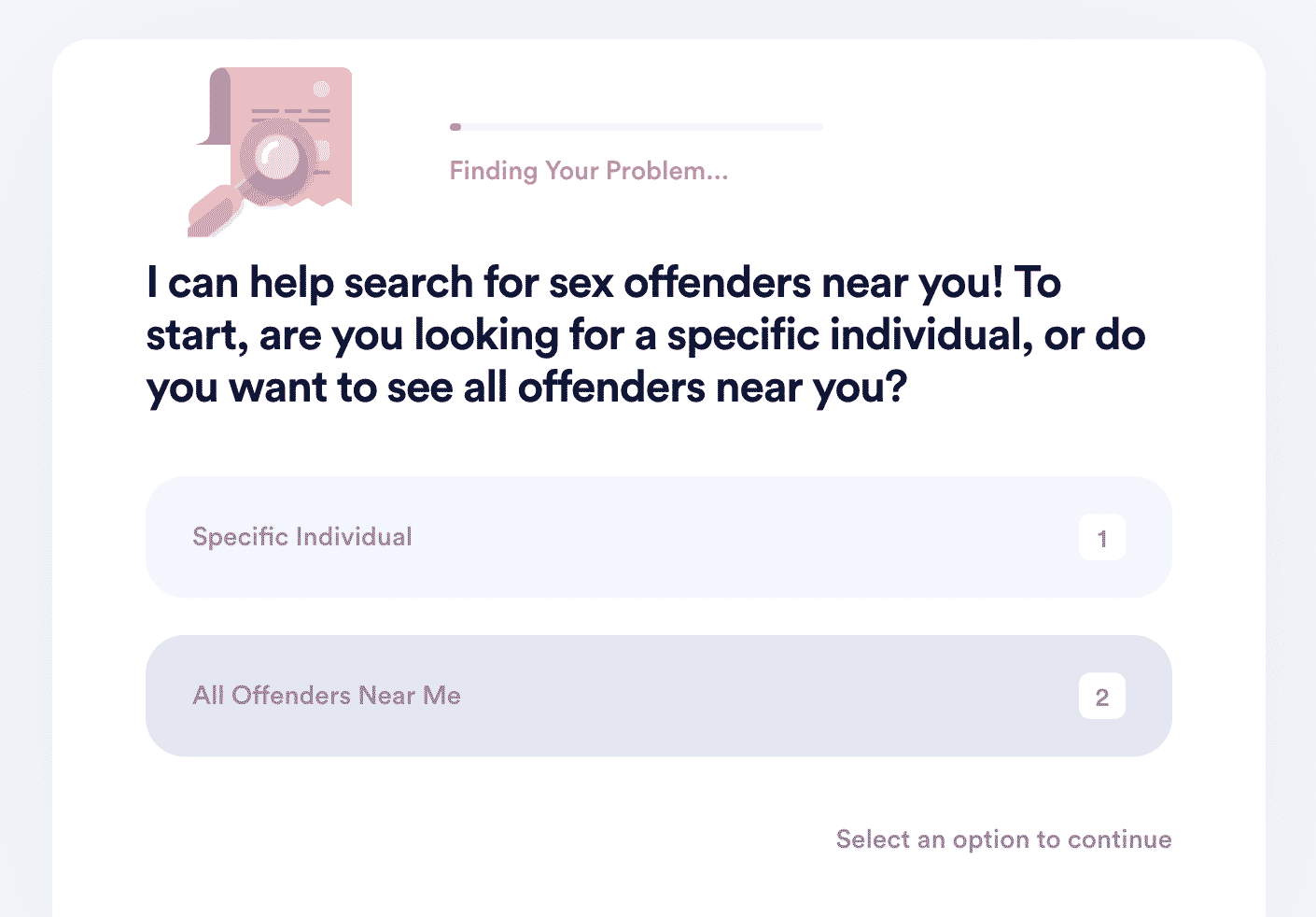 You will receive a compiled report of the sex offenders based on your search parameters in seconds. You also have the option to sign up for an automated alert system that will send you comprehensive weekly reports on sex offenders near you so you can have peace of mind.
Only the Sky Is the Limit for DoNotPay
DoNotPay has an insane number of features that keeps growing. Our platform can help you:
Say Goodbye to Spam Mail With DoNotPay
DoNotPay has designed a feature that will put a stop to the flood of junk and spam mail into your inbox! We can help you join a class action against a spammer or take any person or company that's wronged you to small claims court!
Need a virtual credit card number or a fake phone number to protect yourself from scammers? We've got you covered! We can help you fight text spam or even assist you in sending mail without any chance of error.
Our users' safety is our number one concern, so we've developed a feature that will protect you from cyber stalking or harassment!