Contact the Charlotte Airport Lost and Found Office the Easy Way
Losing something at an airport can be stressful, especially if it's something valuable like a phone or a wallet. You may think that the odds of recovering lost items are low, but it doesn't have to be so provided that you file a missing item report on time.
In this article, you'll find out how to retrieve a lost item from the department with little effort.
How To Report Lost Items to Charlotte Douglas Airport Lost and Found
Not sure where to report your missing item? Depending on where you lost it, you have a few options, as follows:
Boarding area or aircraft—Airline baggage service
Restaurants and retailers—The business chain in charge
Security checkpoints and other areas—Charlotte Airport Lost and Found
Items Lost on an Airplane or at the Boarding Area
Left something behind while you were on board? Fret not—you can direct your inquiries to the baggage service of the airline you flew with. Consult the following table for the list of airlines that serve Charlotte Airport and their contact info:
| Airlines | Baggage Service Contact Details |
| --- | --- |
| Air Canada | +1-888-689-2247 |
| American Airlines | Online form |
| Contour Airlines | +1-888-332-6686 |
| Delta Air Lines | +1-800-221-1212 |
| Frontier Airlines | +1-704-359-5501 |
| JetBlue | +1-704-264-0728 |
| Lufthansa | +1-704-359-1985 |
| Southwest Airlines | +1-704-359-1760 |
| Spirit Airlines | +1-855-728-3555 |
| Sun Country Airlines | +1-651-905-2737 |
| Swift Air | +1-866-227-9438 |
| United Airlines | +1-800-335-2247 |
| Vacation Express | +1-800-309-4717 |
| VivaAerobus | +52-818-215-0520 |
| Volaris | +1-55-1102-8000 |
You can also visit the airline's baggage service counter directly to see whether your lost items have been returned.
Items Lost in an Airport Restaurant or Retail Store
You can direct all reports and inquiries about missing items at Charlotte Airport restaurants or retailers to the relevant business group, as follows:
HMSHost—For items left on a restaurant or food court, email CLTlostandfound@hmshost.com
The Paradies Lagardère—Dial 704-359-1890 to report items that are lost in one of the airport retail shops
Items Lost at a Security Checkpoint or Other Airport Areas
If you lost an item at a security checkpoint, terminal, or non-commercial area in Charlotte Airport, you can file a report in the following ways:
If you call past business hours, leave a message containing the following information:
Your contact details
Information about the date and the location where the item was last seen
Description of the missing item
You can also visit the Charlotte Airport Lost and Found department in Baggage Claim Zone B from 8 a.m. to 6 p.m. seven days a week.
If the staff locates your property, you will be contacted to pick up the item in question. Be sure to claim your property within 30 days of the date the item was turned in. After that, unclaimed lost items will become the City of Charlotte property.
Recover Your Lost Items From Charlotte Airport Lost and Found Without a Hitch With DoNotPay!
Feel overwhelmed by the entire procedure? Cut to the chase and get your missing item back as effortlessly as possible. You can use DoNotPay to file your missing item report in a matter of clicks, and here's how:
Search for the Find Lost Airport Items product
Provide details regarding your lost item, the airport where you lost it, and other relevant details about your incident
We will generate a comprehensive lost item report in no time. Our app will make sure the appropriate representatives get it, so you don't have to deliver the letter on your own.
Need to track delayed or missing luggage? We have got your back!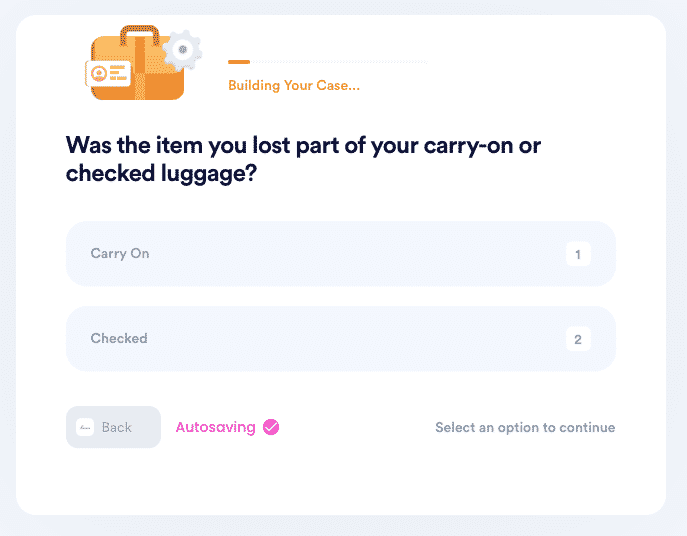 What Else Can DoNotPay Do for You?
Our vast collection of products simplifies various everyday tasks, including:
Various mailing issues by:
Applications for:
Traveling tasks, such as:

Getting tourist visas the easy way

Appeals of:

Unfair property tax assessments

Other tasks, such as:
Get More Money the Easy Way With DoNotPay
Is a tight budget a constant problem in your household? DoNotPay is here to reduce your expenses and help you get the money others owe you. Our app helps you get refunds from companies, find unclaimed money, cash out old gift cards, and terminate unused subscriptions in a jiffy!
You can also request violent crime compensation, demand chargebacks from airline companies, or claim your warranty or insurance without paperwork.