Case Western Reserve University Application Fee—The Scoop
If you are looking to apply to a school in Ohio, Case Western Reserve University (CWRU) might be on your wishlist. This is a private research university with an acceptance rate of 29%. You will have to set aside more than $50,000 for tuition and college fees if you wish to study here.
Those expenses start even before you become a college student—when applying for schools and paying for college application fees. There is a way of bypassing this step, and it involves fee waivers.
What Are Application Fee Waivers and Why Do Schools Offer Them?
Colleges across the country request future students to pay application fees when signing up. This is a necessary step that comes along with sending other documentation. These fees are not cheap—be prepared to spend anything from $50 to double that amount, depending on the school.
An average student looking to start a university life will apply to several schools to increase their chances of getting in. This means they will have to pay several application fees, and when those sums pile up, the total amounts to hundreds of dollars.
This is not an affordable expense for anyone—especially for people who come from families experiencing financial difficulties.
Most schools will allow those individuals to avoid these expenses with fee waivers. There are certain qualifications that need to be met, but if you fit in those categories, you should use the offered aid to lower the expenses.
Who Can Obtain an Application Fee Waiver at CWRU?
Students who have obtained an SAT or ACT fee waiver are eligible for college fee waivers automatically. If you don't have either of those, you will need to prove that you and your family are not doing great financially.
Most schools—Case Wester Reserve University included—will need to see that your annual family income meets the USDA Food and Nutrition Service Income Eligibility Guidelines. Anything below $70,00 per year should be considered, but it's also calculated per capita in your household.
Other reasons for schools to give out fee waivers include individuals who are orphans, state wards, or homeless.
You may also get your application fee waived if you are already a part of a certain program that helps students coming from low-income families.
In case you meet any of these requirements, you should try and get a fee waiver from CWRU and other schools, and the easiest way to do so is with DoNotPay!
How Much Is the Application Fee Waiver in Case Western and Other Schools?
New students have to set aside $70 for the Case Western Reserve University application fee. Here are some other schools in states near Ohio you might consider applying to along with their application fees and acceptance rates:
DoNotPay can help you remove application fees for all these and numerous other schools across the country.
DoNotPay Can Help You Remove the Case Western Reserve Application Fee
DoNotPay has the largest database of universities in the United States and can help you obtain fee waivers with ease. If you want to request a fee waiver from CWRU the fastest and safest way, you should open our app in your and heed these instructions:
Find our

College Application Fee Waiver

option

Find and select the application fee waiver you want to request

Type in

Case Western Reserve University

as the university you wish to attend

Provide us with details of your current financial situation
DoNotPay will deal with filling out the form in your stead. We will also send it to the right address, be it to the school counselor for a signature or straight to the University's financial aid office.
We can help waive fees for new and transfer students, and we can ensure you get enrollment deposit fees. If you want to save money, count on the world's first robot lawyer for assistance!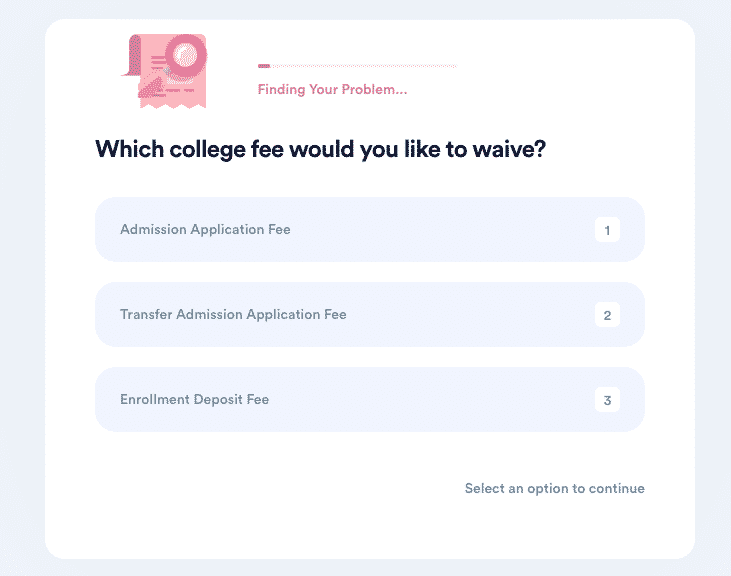 How Can You Request an Application Fee Waiver for Case Western Manually?
Future students can ask for fee waivers from CWRU when sending in their applications. They may do so via:
You will have a much easier time requesting a fee waiver from CWRU with DoNotPay than with either of these apps. You should also know that both of the apps have a smaller database of schools than DoNotPay.
How To Ask for an Application Fee Waiver From CWRU via the Common App
If you want to send your application to Case Western via the Common App, you will need to request a fee waiver this way:
Access your account on this app or create a new one

Find and select

Profile

Click on the

Common App Fee Waiver

option

Name the reasons that make you eligible for an application fee waiver

Select the economic factors that influence your financial situation

Answer all the other questions

Finish the process with your signature
How To Ask for an Application Fee Waiver From CWRU via the Coalition App
If you decide to send your application to CWRU via the Coalition App, you will need to ask for a fee waiver by following these instructions:
Access your account on this app or make a new one

Locate and click on the

Profile

link

List all the reasons that can help you get a fee waiver

Select

Case Western Reserve University

as the school you want to attend
DoNotPay Is the Solution to Your Bureaucratic Troubles
If you are situated in the Buckeye State, DoNotPay will gladly assist you with an abundance of administrative issues you might come across.
In case you are a driver, you know how annoying traffic tickets can be. We are here to help you contest parking citations in Cleveland without any fuss! Your virtual assistant can also help you deal with high electric bills or student loan bills and save some money that way.
In case you are looking for a way to make some extra cash, DoNotPay can help you find clinical trials in Ohio or in Cleveland if you'd like to stay in the city.
If you want to explore more of what our app has to offer, open DoNotPay in your , and allow us to assist you with:
Contesting traffic tickets

Challenging speeding tickets