How To Avoid Paying the Michigan State Application Fee in a Few Clicks
Michigan State University (MSU) is a public research university located in East Lansing. MSU is one of the largest universities in the U.S., with over 39,000 undergraduates enrolled every year.
If you plan to apply to Michigan State but want to save some money, you can get an application fee waiver with the help of DoNotPay. Our app will significantly reduce the amount of time and energy you'll spend on obtaining a college application fee waiver.
What You Need To Know About Application Fee Waivers
As if the high college fees aren't enough, you have to pay for the college application too. Colleges use these application fees to process the students' admission documents. Some colleges let their potential students apply for free, while some application fees can cost between $25 and $100.
Fortunately, you can apply for a fee waiver—if you're eligible. A fee waiver is a request form that can exempt you from paying the application fee. Obtaining a fee waiver is especially useful if you're applying for more than one college.
With some higher education schools, you might be able to avoid paying an application fee if you had already obtained SAT and ACT fee waivers. In most cases, you'll need a high school official to sign your form.
How Much Is the MSU Application Fee?
MSU application fee is quite high. To apply for Michigan State University, you'll have to pay $65.
The most frustrating part about college application fees is that MSU won't refund you the money even if you don't get in.
Who Qualifies for a Michigan State Application Fee Waiver?
The criteria for getting a college application fee waiver have to do with your financial status. If you can provide proof of financial need, you might be eligible for a fee waiver.
You can apply for an MSU application fee waiver if you:
Acquired an ACT or SAT fee waiver

Provide proof that your annual family income falls under the

USDA Food and Nutrition Service

income eligibility criteria

Receive or are eligible to receive free lunch at your school

Get public assistance

Are an orphan or a ward of the state

Live in a foster home, public housing, or are homeless

Are a U.S. military veteran

Provide your school counselor's statement that can attest to your economic need
How To Get a
Michigan State Application Fee Waiver
by Yourself
You can apply for an MSU fee waiver in any of the following ways:
| | |
| --- | --- |
| Can You Request a Fee Waiver Via | Yes/No |
| DoNotPay | Yes |
| Letter request | No |
| SAT/ACT/College Board Request Form | Yes |
| Common App | Yes |
| School Visit | No |
How To Apply for an MSU Fee Waiver via SAT/ACT/College Board Request Form
The general rule is—when you obtain the SAT or ACT fee waivers, you can apply to a college for free. The necessary documentation you'll need includes a fee waiver request form signed by your high school counselor.
Getting an MSU Fee Waiver via the Common App
The Common App is an online platform that has a database of 900 U.S. colleges. It helps future students explore their options and apply to several colleges. The Common App can also help you avoid paying an application fee, but only if you're eligible.
Follow the steps to waive a fee using the Common App:
Open the Common App

Log in to your account

Click on

Submission & Fees

Select

Common App Fee Waiver

Submit a fee waiver request
Use DoNotPay To Submit an Application Fee Waiver for Any College in the U.S.
With our amazing College Application Fee Waiver feature, we make it simple for students to request a fee waiver from any college. The expenses of application fees can amount to several hundred dollars if you apply to more than one university. You can avoid those considerable expenses by using DoNotPay.
We will fill out the request form and mail it to the university's financial aid office on your behalf.
Within our fee waiver feature, you can opt for one of the following options:
New Student Application Fee Waivers

Transfer Student Fee Waivers

Enrollment Deposit Fee Waiver
DoNotPay can also obtain a signature from your high school official if you need one on your fee waiver request form.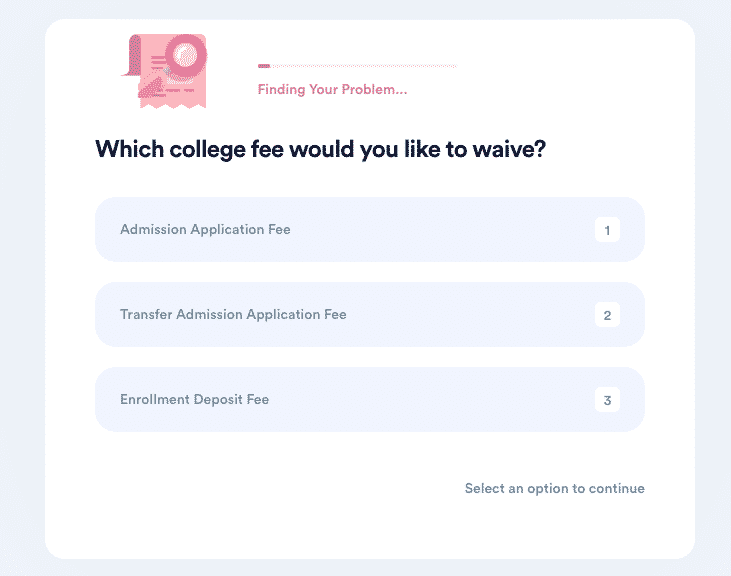 How To Submit a College Application Fee Waiver via DoNotPay
To request a fee waiver via DoNotPay, you need to open our app in any and follow these steps:
Open our

College Application Fee Waiver

Select the type of fee you want to waive

Type in the name of the college you're applying to and provide information about your economic need and financial status

Choose if you want us to get your counselor's signature

Submit your request
DoNotPay will fill out your form automatically and send it to your counselor if you choose that option. If you don't need the signature, we will send the request form directly to the financial aid office of your university.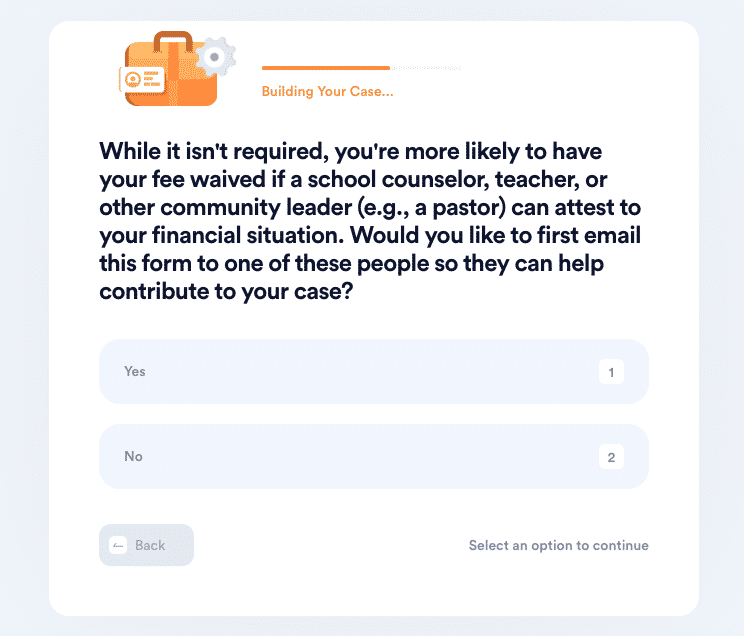 Are There Colleges in Michigan That Don't Charge an Application Fee?
Yes, there are numerous colleges in Michigan that have free applications. If your heart is set on Michigan, be sure to check out some of them—you might end up finding the college of your dreams.
The colleges in Michigan that won't charge you when you apply are:
DoNotPay Can Do a Lot More Regarding Various Administrative Issues
Once you find yourself in Michigan, DoNotPay can assist you with various utility bills, including DTE, internet, and electric bill.
If you own a car, you'll probably want to drive in Michigan, but that could be a problem if you need to renew your driver's license. DoNotPay can schedule a DMV appointment in Michigan for you. Apart from that, our app can help you avoid MSU parking tickets.
DoNotPay can find you the best paid clinical trials in Michigan so you can earn some extra money.
Browse through our platform to find more assistance with your everyday bureaucratic issues. Open DoNotPay in any , and we will provide you with knowledge and resources to:
Avoid traffic tickets

Appeal speeding citations