All the Details About the RPI Application Fee
Rensselaer Polytechnic Institute (RPI) is a private university located in Troy, New York. This school has campuses in Hartford and Groton, CT as well.
To study at this university, you will have to pay $55,000 for tuition and additional college fees. Getting a higher education is expensive, but is there a way to cut those expenses? Yes, and we have all the info on college application fees.
What You Should Know About College Application Fee Waivers
If you come from a family that is not doing great financially, you will probably have an option to waive college application fees. This is a useful option since students tend to apply to more than five schools at the same time to improve their chances of enrolling at their wishlist-colleges.
If you know that application fee price ranges from $50 to $100, you can see how the total expense can become a lot for someone struggling financially. If you meet certain criteria, universities will let you avoid paying application fees. This is why you need to see what your options are and try using them.
The easiest way of getting college fee waivers is with the help of our AI-driven app—DoNotPay.
What's the Cost of Rensselaer Polytechnic Institute Application Fee?
Rensselaer Polytechnic Institute has one of the most expensive application fees—you will have to set aside $70 for it. The fee is not refundable, and the price is the same for graduate and undergraduate students.
You can pay the fee with credit cards through the individual application websites. You may also mail a check or money order. Adding your first and last name and date of birth with your payment is mandatory. You cannot pay the fee with cash.
Who Can Obtain an RPI Application Fee Waiver?
The point of fee waivers is to help students who come from low-income families with difficult backgrounds. This is why not everyone can request a fee waiver even though the costs can be hefty. RPI states that people who meet these criteria can have their fees waived:
Student Type
Fee Waiver Criteria

Graduate Students

Rensselaer Medalists

Rensselaer alumni

Current Rensselaer matriculating and non-matriculating students

Employees and their spouses

Students with financial struggles

Undergraduate Students

Students whose total family income is up to $70,000

People for whom the application fee is a financial hardship
Ask for an Application Fee Waiver With DoNotPay
DoNotPay is the fastest and safest way of requesting fee waivers. We can make sure you're done with the otherwise tiring process in a few minutes. Your virtual assistant will complete the form in your stead and mail it to the university you want to apply to.
Follow these simple steps:
Access DoNotPay from your

Locate and click on the

College Application Fee Waiver

feature

Choose the application fee waiver you want to request

Select the university you're applying to

Give us the information about your financial status
DoNotPay can send the form to your school counselor to sign it if needed. In case that step can be skipped, we will send the documents to the financial aid office of the university.
DoNotPay is capable of requesting these fee waivers: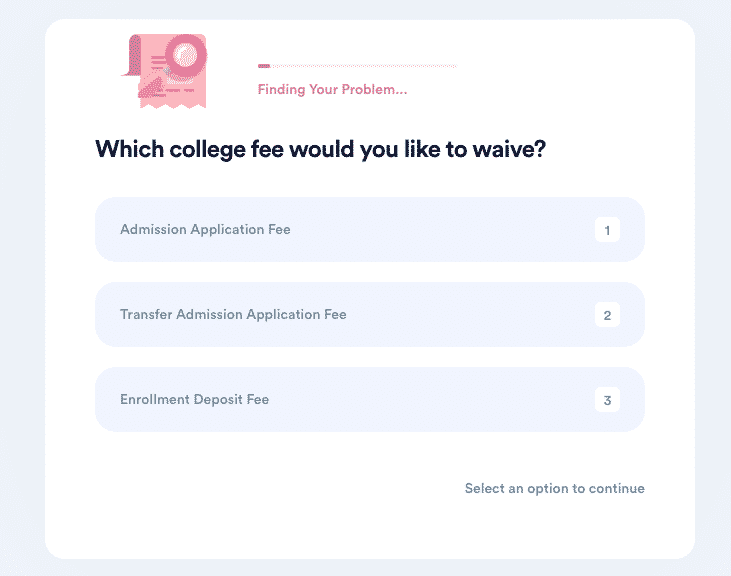 How Can You Request a Fee Waiver From RPI by Yourself?
You may request a fee waiver from Rensselaer Polytechnic Institute by asking your school principal, counselor, or any other school official to complete the SAT Request for Waiver of College Application Fee form. They can also submit an official letter on your behalf to confirm your financial hardships.
RPI also accepts these fee waiver forms:
Students who wish to enroll at RPI may also send their applications via the Common App and Coalition App and request fee waivers through those apps.
How To Ask for an Application Fee Waiver via the Common App
You can apply to RPI via the Common App and ask for an application fee waiver this way. You will have to heed these directions:
Log in to your account or create a new one

Select the

Profile

link

Pick the

Common App Fee Waiver

category

Explain why you should get an application fee waiver

Select all the economic factors that are relevant to your financial status

Provide answers to the rest of the questions

Sign the form to finalize the process
How To Ask for an Application Fee Waiver via the Coalition App
You can apply to RPI via the Coalition App as well and request a fee waiver this way. You will have to follow these directions:
Log in to your account or create a new one

Locate and click on the

Profile

link

Select all the economic factors that make you eligible for a fee waiver

Select

Rensselaer Polytechnic Institute

as the university you want to attend
How To Send the Fee Waiver Forms or Official Letters
You can send the fee waiver form or official letter:
You should check your online application status page to make sure that the school received your fee waiver request and that they processed it. RPI will let you know if your fee waiver request has been denied. If you don't hear from the school, you can consider it granted.
Say Goodbye to Your Bureaucratic Troubles With DoNotPay
DoNotPay is a helpful tool when it comes to various bureaucratic tasks in New York. If you are looking to renew your driver's license, schedule a road test, or need assistance with disputing parking citations in New York City, you can count on us. Your virtual assistant also knows the easiest way of passing a DMV permit test in this city.
We can also help you cancel famous newspapers from this state, such as The New York Times or the New York Daily News.
Perhaps you're wondering what the penalty for harassment in New York is? Our simple guide will have all the relevant info you are searching for.
Maybe you want to surprise your loved ones in a New York jail with a care package? We have the scoop on New York inmate packages.
If you have health problems and think clinical trials could be the solution to your issues, DoNotPay can help you find the best ones in New York City.
Access DoNotPay from your , and let us assist you with: