All You Need To Know About Capital One Extended Warranty
Extended warranties for credit cars are extremely useful. They help protect your purchased items, which can save you thousands of dollars. Capital One offers extension plans for a number of their credit cards.
We are here to explain the conditions of the Capital One extended warranty and show you how to file a claim the easiest way.
What Are the Benefits of Capital One Credit Card Extension Plans?
Extended warranty on Capital One credit cards can match the original manufacturer's warranty or exceed it by one year. The terms of the extended warranty depend on the Capital One credit card's network.
All Visa credit card extension plans come with common benefits, which include:
Adding one year on the original warranty period, provided that it lasts three years or less

Covering all purchased items up to the original price of the item, with a maximum of $10,000 per claim and $50,000 per cardholder
Extension plans for Mastercard cards come with their own set of benefits:
The extended plan exceeds the original warranty plan provided that all items are purchased with Mastercard cards

The amount is limited to the amount charged on the card with a maximum of $10,000
Qualifying credit cards for these benefits include Capital One Quicksilver Cash Reward Credit Card and Capital One Venture Rewards Credit Card.
If you need more details on the extended warranty terms for your credit cards, check your card's guide to benefits.
What Doesn't Capital One Extended Warranty Cover?
If you wish to file an extended warranty claim, you should know that Capital One extended warranty doesn't cover the following purchases:
Antiques

Vehicles

Used or collectible items

Items bought for commercial use

Other exceptions listed in your original warranty
You can find a complete list of items that the extended warranty doesn't cover in your card's guide to benefits.
How To File a Capital One Purchase Protection Claim on Your Own
If your purchased item gets stolen or damaged, you need to contact the benefits administrator and file a warranty claim within 60 days. You can find the number in your benefits guide. The steps you need to take are:
Call the benefit administrator

Explain the incident

Fill out the appropriate claim form that the benefits administrator sends you

File the police or other type of report that will confirm your claim in the first 48 hours of the incident

Send the claim to the Visa or Mastercard assistance center
If you don't have a guide to benefits, call Capital One Support and ask them to redirect you to the benefits administrator. You can find their number on the back of your credit card.
Here is a summary of the ways to file a Capital One extended warranty claim:
| | |
| --- | --- |
| Can You Claim Your Warranty Via | Yes/No |
| DoNotPay | Yes |
| Email | No |
| Phone | Yes |
| Letter | No |
| Online Form | No |
| In Person | No |
| Capital One Website | No |
DoNotPay Can Help You Claim Capital One Extended Warranty
If you find the filing process too difficult, we are here to make it easier. DoNotPay will file and submit the claim on your behalf, provided you perform a few easy steps first. Here's all you need to do:
Access DoNotPay in a

Select our

Claim Warranty

feature

Pick

Warranty on a Purchased Item

Type in

Capital One

and answer a few questions about the purchased item

Click

Submit
After we file the claim, you can be sure that Capital One will contact you as soon as possible.
If you are wondering whether we can handle other warranties, such as car, home, or extended warranties for used cars, the answer is yes!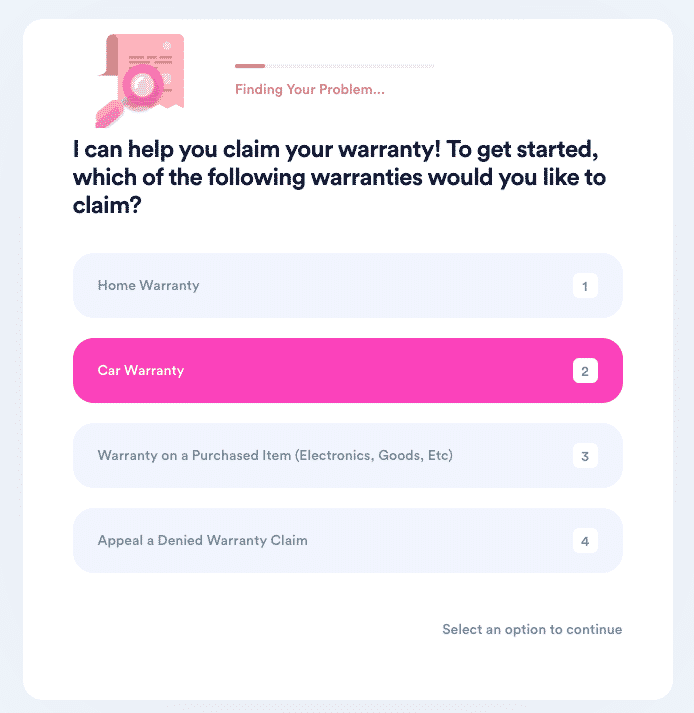 What To Do if Capital One Rejects Your Warranty Claim? Appeal It With DoNotPay!
If Capital One denies your extended warranty claim, all is not lost! Most companies deny warranty claims the first time. The good news is that DoNotPay can assist you in appealing your claim. Here's how to do it:
Open DoNotPay in a

Navigate to the

Claim Warranty

feature

Select

Appeal a Denied Warranty Claim

Provide us with some information about the original claim

Click on

Submit
We will use the information you gave us to submit an appeal letter. In case you don't have any warranty information, we will file an appeal based on warranty laws.
If you ever find yourself in a situation with a dealer refusing to cancel your extended warranty, you know who to contact for filing an appeal!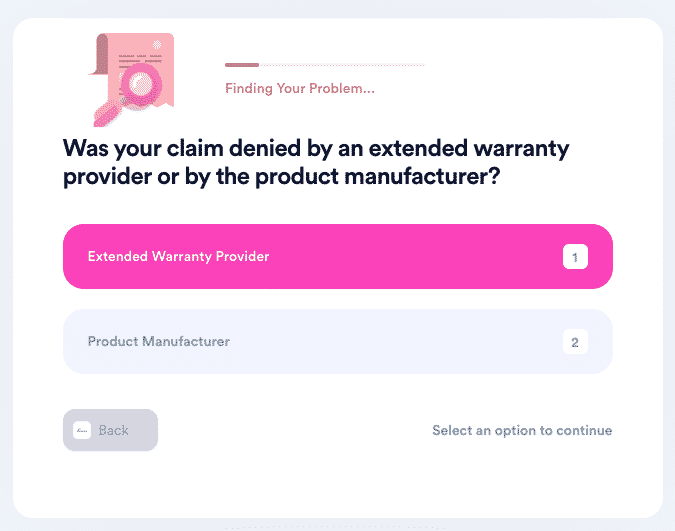 Let DoNotPay Help You With Other Annoying Chores
You don't have to shy away from dealing with other warranty issues because DoNotPay can tackle them all! Whether you want to look into home warranty reviews or the top home warranties in America, you can count on us.
Let DoNotPay help you with all kinds of tasks. Visit DoNotPay in your , and learn how to:
Appeal traffic tickets

Dispute traffic tickets across America