Did California Sex Offender Laws 2017 Simplify Rules for Predators?
California is only second to Texas when it comes to having the largest number of registered sex offenders in the U.S.
The California sex offender laws from 2017 were introduced to ease the lifetime registration burden on many offenders, but that was hardly a pro-move in terms of public safety. In the past year, California authorities have released several offenders early into the community despite their unresolved high-risk tag.
If you are looking for a way to keep sex offenders at bay, DoNotPay has the perfect fix. Our Sex Offender Search tool scans any address for sex offenders and drops you automated alerts. today and enjoy top-class vigilance!
Why California Had To Reform Existing Sex Offender Laws
For years, California had been one of the few U.S. states that registered all sex offenders for life. It didn't matter if the underlying offense was a misdemeanor or a felony—every offender had to follow California's registration laws for the rest of their life.
The lawmakers perceived that the state's Sex Offender Registry was packed with thousands of sex offenders who had only committed trivial sexual offenses.
With that in mind, California Governor Jerry Brown signed the new sex offender law in 2017 to:
Introduce a three-tiered system to classify offenders and set different registration durations for them
Allow existing registrants to petition for removal from the Registry in an easy manner
Before the reform, the California Sex Offender Registry was overloaded with over 100,000 entries, which meant one in every 400 residents was on it! As per the latest data, the state's Registry is a little shy of 83,000 registrants now.
The new laws did not violate Megan's Law, which originally mandated U.S. states to maintain public sex offender registries.
California Sex Offender Laws 2017—Pros and Cons
The reforms in California sex offender laws from 2017 transformed the state's sex offender monitoring structure. This table lists out the major benefits and flaws of this change:
Pros
Cons

Unburdens the Registry database
Gives reformed sex offenders a fair chance to get off the Registry
Reduces sex offender monitoring duties for law enforcement
Lessens registration and verification paperwork
Shifts increased vigilance towards high-risk offenders
Helps lower homelessness and unemployment caused by restrictions

Lowers the Registry database's transparency and reliability
Lets unreformed sex offenders off the hook as well
Increases safety concerns for vulnerable targets like kids
Promotes

recidivism

—or the risk of reoffending—due to no monitoring
Leaves people blindsided about the potential predators they come in contact with
California's New Sex Offender Tier System Explained
The new tier system organizes different types of offenders as per the severity of their crime and the risk they pose to society.
Here's a bird's-eye view of California's tier rules:
Tier & Risk Associated
Offenses
Registration Rule
Tier 1
All misdemeanor and some non-violent felony sexual offenses

Adult sex offenders must register for a minimum of ten years
Juvenile sex offenders must register for at least five years
All Tier 1 offenders can petition for their registration to be terminated

Tier 2
Mid-level felonies, like lewd acts and oral copulation with a minor

The mandatory registration period is 20 years for adults and ten years for juveniles
All Tier 2 offenders can petition for their registration to be terminated

Tier 3
Serious offenses, like rape, child pornography, or any violent sexual act

All Tier 3 offenders are lifetime registrants
They can petition for the termination of registration after 20 years only if they were assigned this Tier due to their recidivism risk
Understand the California Sex Offender Restrictions
California's sex offenders face restrictions based on both the registration laws and the state's penal code. Depending on their crime and parole or probation terms, the registered sex offenders may live with one or more of the following limitations:
Ban from working in predator-free zones
Continuous monitoring of internet and social media usage
GPS device wearing for 24/7 mapping status
No access to alcohol and certain drugs
Everyday curfew
No contact with minors
The above restrictions won't apply to the ones who become unregistered sex offenders because of the 2017 law.
California Sex Offender Registry Removal Process
Any eligible offender who has followed all rules and restrictions and maintained a clean record throughout their registration period can terminate their registration in three ways:
Petitioning to a county superior court
Applying for a certificate of rehabilitation
Submitting a removal request on California's Sex Offender website
The offender will remain registered until the authority reviews their registration status—this process can take about 60 days or more. The final termination decision would vary on a case-to-case basis.
DoNotPay Offers You Stability Amidst the Ever-Changing Sex Offender Laws
The California sex offender laws from 2017 are rooted in practicality, but they miss the basic essence of safety.
It gets even more distressing if you analyze the nature of the seemingly moderate-level Tier-2 offenses, which include unnerving sexual crimes towards kids. No parent feels safe having Tier-2 child molesters lurking in their neighborhood.
California's modified laws may be turbulent, but DoNotPay will always have your back. Our Sex Offender Search uses an AI-powered tool to extract the latest database from any sex offender registry. The whole process is free from the inefficiency and delays that plague government registry websites.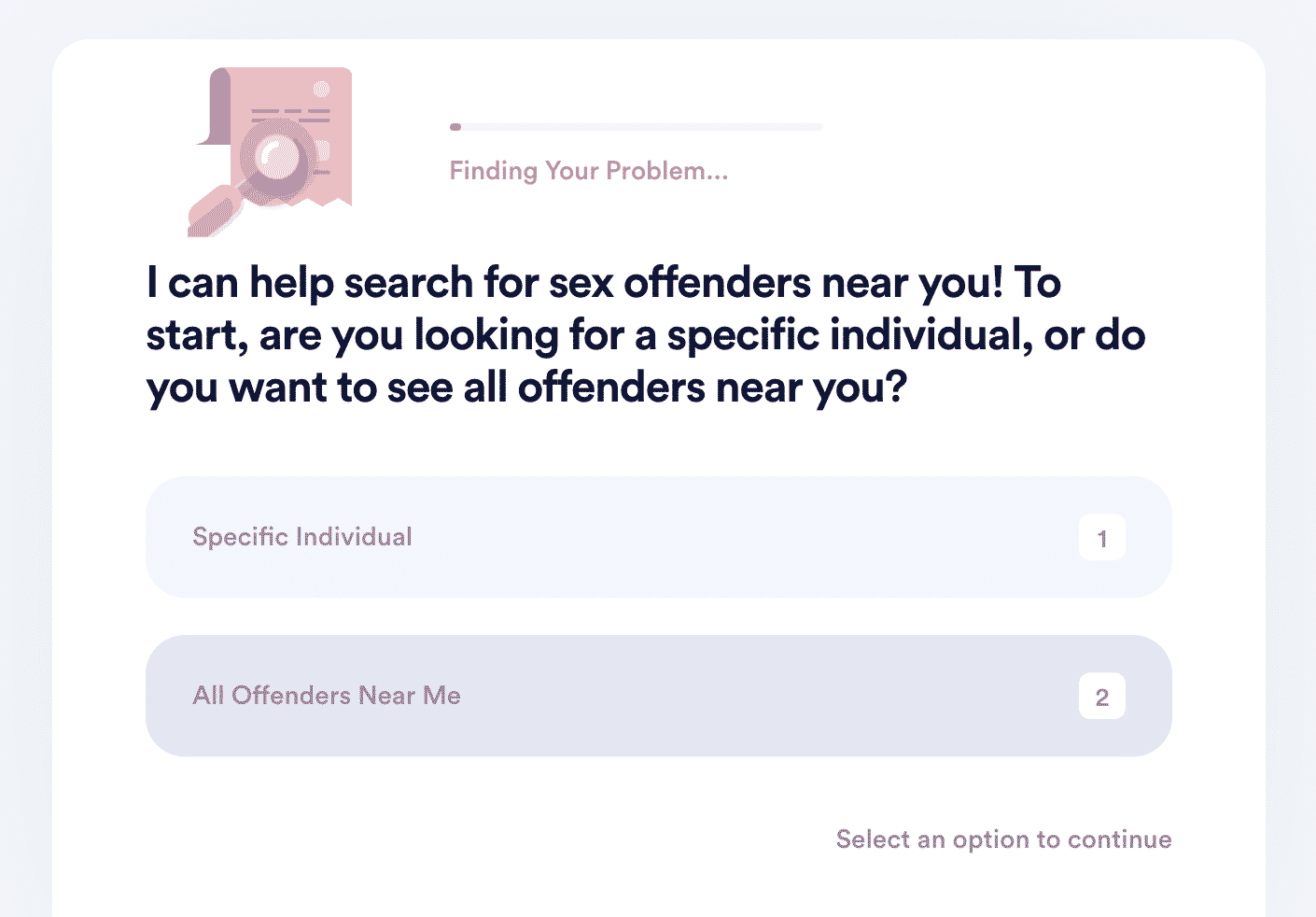 Here's what you need to do:
and click on Sex Offender Search
Select report type—a single-offender report or a detailed list of offenders near your address
Set a proximity radius to run the area scan
Decide whether you want to activate weekly scans for any address
The report generated will contain mugshots, personal details, and other physical identifiers for the registered offenders within the search perimeter.
If you opt for our weekly scans, we will automate the search ritual for your given address and keep you posted on all the changes. You can use the data to strategize a precautionary safety plan for you and your family every week!
Need Legal Assistance? DoNotPay Got You Covered!
Forget about getting a migraine every time there is an administrative task to handle. DoNotPay makes it easy and stress-free to deal with any bureaucratic issue that comes your way.
Not only can we assist you in drafting a legal document and getting it notarized, but we also help you:
Reduce your property taxes
Finishing Your Daily Errands Has Never Been Easier!
Looking for help with running errands? You don't have to spend hours trying to make a DMV appointment or contacting a customer service rep! Completing your day-to-day tasks stops being a burden once DoNotPay gets involved.
There is no shortage of errands we'll help you run for a small subscription fee, including:
Sign up for DoNotPay and avoid spending hours on simple daily tasks that can be done in a jiffy!