Is a Boston Mobile Notary the Right Choice for You?
In this day and age, nobody wants to waste countless hours getting documents notarized. Instead of using the traditional notarization method, Boston citizens often choose to hire a mobile notary and complete the procedure much faster.
But is hiring a Boston mobile notary the perfect solution? If you need more information on how mobile notaries operate and what they do to facilitate notarization—look no further. DoNotPay will break down mobile notary services in Boston and offer an even more practical alternative!
How Do Mobile Notaries in Boston Work?
Mobile notaries in Boston travel to different locations to witness the signing of legal documents—including wills, trusts, affidavits, and medical consent forms—or perform the following acts:
Taking

acknowledgments

Administering oaths and affirmations

Certifying

copies

Issuing subpoenas or summonses for witnesses
If you choose to hire a mobile notary in Boston to notarize your document, you will have to:
Set up a meeting at a time and location that suits you

Prepare the documents and your ID

Sign the document in the notary's presence

Have the document notarized with a

signature

and a stamp
Where Can a Mobile Notary Meet Me?
Mobile notaries are convenient because they will meet their clients at any agreed-upon location. You can ask a mobile notary to come to:
Your home or office

A nearby park, parking lot, or anywhere outdoors

A nursing home, prison, or hospital
Bear in mind that mobile notaries charge extra for travel expenses on top of a regular fee. Massachusetts doesn't put a cap on mobile notaries' travel fees, which means you can end up paying a large sum.
Where To Find a Mobile Notary in Boston?
The crucial element of finding a reliable mobile notary is exploring your options. You can do that by visiting notary-search websites. They typically display the following details:
Contact information

Business hours

Short description of the mobile notary's experience and services they perform

Commission start and expiration date

Customer's reviews (optional)
You can turn to one of the following online notary-search databases for help:
Most of the websites require you to:
Enter the state, city, and ZIP code in the search field

Adjust the filters or scroll down to find mobile notaries among the results

Click on the required link to access the contact and other information
Can I Have My Documents Notarized Online in Boston?
As of 2020, the State of Massachusetts has allowed remote online notarization due to the COVID-19 outbreak. This method enables you to complete the whole procedure from your home on a video call with the notary.
The most important requirements for online notarization in Massachusetts involve the following:
Using Zoom and Cisco Webex online platforms for virtual appointments

Being physically present in Massachusetts at the time of the videoconference (both the notary and the signer)

Signing the documents in wet ink (most other states allow electronic signatures)

Recording the notarization session and keeping the recording for ten years
You don't have to look for mobile notaries, overpay for their travel expenses, and risk your health during the pandemic. Online notarization is a far more practical option, and DoNotPay will help you schedule an appointment with an online notary in no time!
Make an Online Notary Appointment With DoNotPay
Our app is your trusted assistant for getting documents notarized as effortlessly as possible. You need to and follow these steps first:
Enter

Notarize Any Document

in the search field

Upload your document

Type in your email address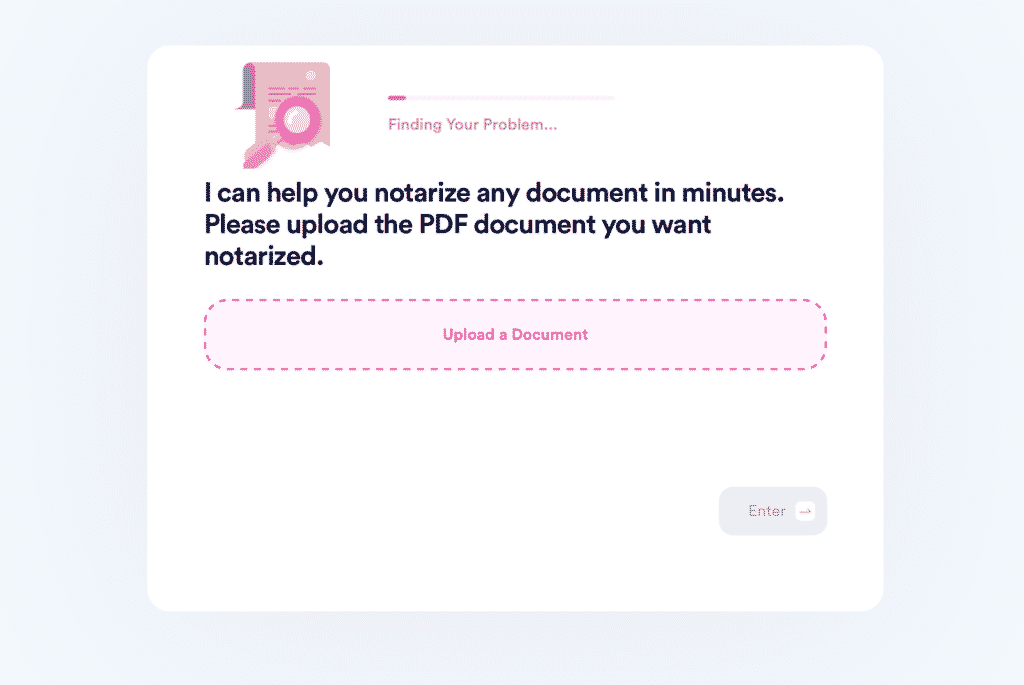 Shortly after completing the required steps, you'll get a link from us. Follow it to schedule an appointment with an online notary. After that, you can meet the notary online, sign the document, and download it after the notarization.
DoNotPay Provides Other Products for the Same Price!
Helping you get documents notarized is not all we can do. gives all subscribers the privilege of using other products, such as Standardized Legal Documents.
We can help you create numerous legal documents from various fields, including business and real estate. If you provide us with a few essential details, we will generate a customized and professional contract in minutes!
Here are the steps you should take:
Find our

Standardized Legal Documents

tool

Enter the name of the agreement you want us to create

Answer our chatbot's questions

Download the document
Check out which contracts and agreements we can currently generate for you:
Document Type

Documents

Real estate

Estoppel certificate

Quitclaim deed

Residential

lease agreement

Intent to purchase real estate

Business

Bill of sale

LLC operating agreement

Non-disclosure agreement

General business contract

Non-compete agreement

Independent contractor agreement

Other

Promissory note

General affidavit

Child care authorization form

Prenuptial agreement

Child custody agreement
Learn About DoNotPay's Awesome Products!
DoNotPay is a multifunctional app that can solve numerous everyday challenges swiftly.
You can use our app to protect your work from copyright violations, schedule your driving exam or any other appointment with the DMV, reduce your property taxes in a few steps, and similar.
We have created many useful products to help our users take care of their issues through the same app. With us, you can:
DoNotPay Connects You With Your Loved Ones
Sending letters to inmates can be difficult since you have to follow certain rules to a T to avoid having your letter rejected. The situation is even more complicated if you don't know where your incarcerated loved one serves time. DoNotPay's app can help you locate prisoners and correspond with them without worrying whether you're breaking any rules.
Do you want to send a letter, but you don't feel like heading over to a post office? By using our mailing service, you can mail as many letters as you want from the comfort of your home. With DoNotPay, you can also send online faxes in under five minutes!
Email and text spam is something that everyone experiences at least once in their lives. DoNotPay has a solution for that too. Access your DoNotPay account and count on us to help you block spam and get compensation by reporting pesky robocalls.