Everything You Should Know About Claiming a BGE Home Warranty
BGE is a Maryland-based home warranty provider, operating for 26 years. Even though the company has been in the business for a long time, its customer service and on-site technicians are not customer-friendly.
They often don't answer calls for scheduling a repair, and sometimes, technicians don't show up on site. This can be troublesome since their warranty plans have a higher price, and you are not getting the service you are paying for.
If you are having problems with your home systems or appliances and want to file a warranty claim the easy way, DoNotPay can help you do it in a flash!
What Are the BGE Home Warranty Plans?
BGE offers two home warranty plans for its users. They are different from regular home warranties and are called Home Service Plans:
Individual protection plan

Smart service plan
Here is what they cover:
Individual Protection Plan
Smart Service Plan

HVAC system

Gas heating system

Air cleaner and humidifier

Water heater

Heat pump water heater

Tankless water heater

Washer

Dryer

Range

Refrigeration

Dishwasher

Kitchen

Laundry

Well pump

Water and sewer line

Electrical and plumbing

Select service (water heater, air conditioner, and heating unit)

Home comfort (heating and air conditioning system and water heater)

Whole house (HVAC, water heater, washer and dryer, refrigerator, range, and dishwasher)
BGE's most expensive plan is above-average priced if you take into account that it only covers eight systems with no add-ons. If you have any problem with claiming a warranty, we can help you out!
File a Warranty BFE Home Warranty Claim Easily With DoNotPay
Are you tired of your appliances breaking and dealing with endless calls with customer service? DoNotPay can help you claim your warranty with just a few clicks! Forget about long calls and time wasted.
If you want to file a claim:
Open DoNotPay in your

Choose the

Claim Warranty

option

Pick

Home Warranty

from the list

Write the name of the company and the problem you have

Click

Submit
That's all you have to do, and we'll handle the rest. We will submit the claim letter in your name to the company you provided.
DoNotPay can also claim any car warranty, including an extended warranty for used cars. We can also help you handle a dealer who refuses to cancel your extended warranty.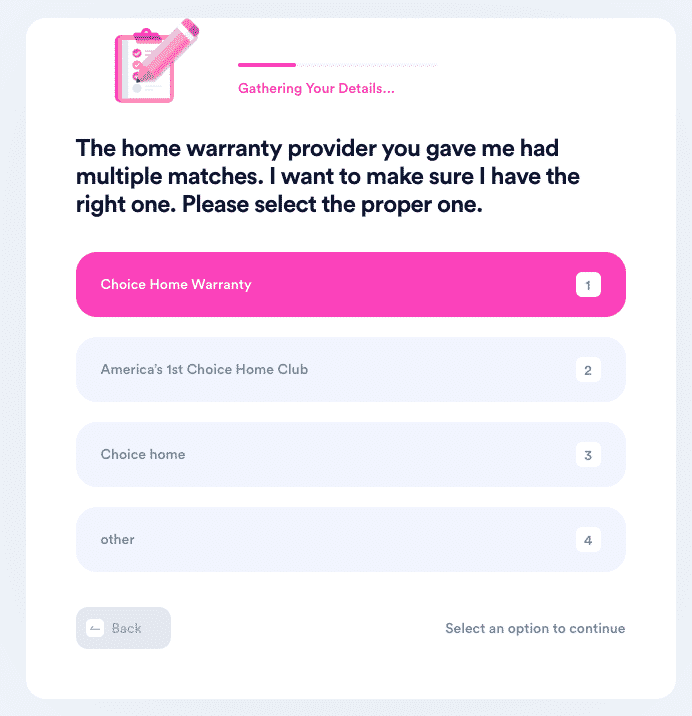 How Can You File a Home Warranty Claim by Yourself?
If your home system or appliance breaks down, you can easily resolve the problem with the help of DoNotPay. If you insist on claiming a home warranty with BGE by yourself, these are your options:
Phone claim

Online form claim
Claim Your Warranty via Phone
To claim the warranty via phone, this is what you have to do:
Dial

1-888-243-4663

Explain your issue to the service rep

Schedule a repair when possible
Claim Your Warranty via Online Form
You can file a warranty claim on the company's website through the submission form. This is what you have to do:
Go to the

Schedule a Service

tab on the BGE's website

Provide your contact information and address

Choose your appliance or system and provide as much detail as you can

Type in the address for the repair

Click

Submit
How Do BGE Home Warranty Reviews Hold Up?
Many customers complain about the service of BGE—from customer service reps to on-site technicians. They have a lot of negative home warranty reviews, like those on Yelp, which doesn't place them among the top home warranties in America.
This is why claiming a warranty by yourself might not be a good idea. You may encounter many difficulties in the warranty claiming process.
The biggest problem is the customer service and scheduling. Customer service reps often don't answer the calls, and if they do, you have to go through a lengthy process to schedule a repair.
BGE also only allows non-emergency calls during the working hours. If you call them outside those hours, you will have to pay a $75 fee.
Sometimes technicians don't show up for the scheduled repair, which can be devastating if you are dealing with a damaged system.
You can avoid all of the mentioned problems by filing a warranty claim with DoNotPay.
What To Do After Your Claim Gets Rejected
If a company rejects your warranty claim, that isn't the end of the game. You still have the option of filing an appeal letter and increasing your chances of an approved warranty claim. DoNotPay can help you create an appeal letter and send it to the company in your name.
This is what you have to do:
Open DoNotPay in your

Choose the

Claim Warranty

feature

Click on

Appeal a Denied Warranty Claim

Choose

Extended Warranty Provider

Provide the details about your denied claim and the name of the company
When you submit all of the details, we will generate an appeal letter and send it to the company in your stead.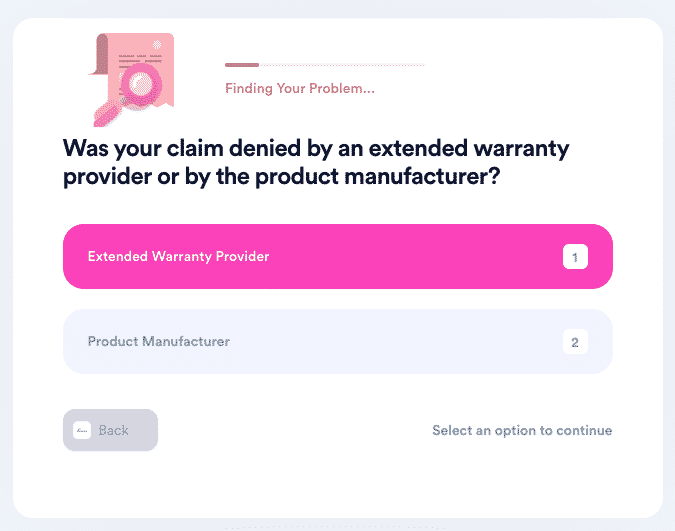 Explore the Full Range of DoNotPay's Services
Don't let annoying bureaucracy stop you from exercising your rights or finding new opportunities. DoNotPay—the world's first robot lawyer—comes with a diverse portfolio full of practical shortcuts for:
Struggling with finances? Our app will help you manage unpaid bills, find and claim lost money in any state, or get college application fee waivers.
Minimize Paperwork With DoNotPay
Writing letters, filing claims, sending requests—these chores are nobody's idea of fun. Thanks to DoNotPay, you can bypass these menial tasks with a few clicks in your browser.
Our platform is full of useful tips and features for filing insurance and warranty claims, dealing with parking tickets, getting refunds and chargebacks, or writing harassment cease-and-desist letters.
DMV offices don't have to be the place where hope goes to die. With DoNotPay, you will be able to schedule any DMV appointment without the nightmare of waiting in lines. While you're at it, you can check out our guides and practice tests for the best driving exam preparation!