All the Info You Need To Reach Austin Airport Lost and Found Department
Did you rush to get home from the Austin airport (AUS) only to discover that your baggage feels a little lighter? Losing your phone, wallet, or any other essential item is never pleasant, but quick action increases your chances of recovering the object in question.
DoNotPay introduces you to all the ways you can contact the Austin airport lost and found department so you can inquire about your items and hopefully get them back!
I Lost an Item at the Austin Airport. What Should I Do?
The right steps to finding your lost items depend on where you suspect the unfortunate event occurred. The table below contains instructions on contacting the airport's different departments about your belongings:
Department
How To Contact It
Barbara Jordan terminal
Complete the lost item form
The airport's lost and found department
Call 512-530-LOST (5678). If nobody answers, leave a voicemail with:

Your name and phone number
A brief description of your missing item

The department's working hours are 7:00 a.m. to 5:00 p.m, every day

Security checkpoint
All items left at the security checkpoint end up at the TSA Lost and Found office. To inquire about your missing belongings, call 512-386-2015. The office works from Monday through Friday, from 8:00 a.m. to 5:00 p.m.
South terminal
If you lost your items at the South terminal, you will have to submit your request through their contact form by entering:

Your name
Your email
A brief description of the item you lost and the approximate time the mishap occurred
What Can I Do if I Left My Item on a Plane?
If you left your item on a plane that took off from or landed at the Austin airport, you should:
Call the airline you flew with
Tell the representative that you suspect you lost an item on one of their planes
Describe the item in question in detail
Provide the number of your flight
The table below lists all airlines that provide their services through the Austin airport and their respective contact information:
Category
Airline
Contact Information
AUS Airlines
Aeromexico
1-800-237-6639
Air Canada
1-888-247-2262
Alaska Airlines
1-800-ALASKAAIR
American Airlines
1-800-433-7300
British Airways
1-800-247-9297
Delta Air Lines
1-800-221-1212
Hawaiian Airlines
1-800-367-5320
JetBlue Airways
1-800-JETBLUE (538-2583)
JSX Airline
1-800-435-9579
Lufthansa
1-866-846-4283
Southwest Airlines
1-800-435-9792
Spirit Airlines
1-855-728-3555
Sun Country Airlines
1-800-359-6786
United Airlines
1-800-241-6522
Vacation Express
1-800-309-4717
WestJet
1-888-937-8538
South Terminal airlines
Allegiant Air
1-702-505-8888
Frontier Airlines
1-800-432-1359
Sometimes, the most straightforward way to look for a lost item isn't the best one. Airline hotlines are typically busy 24/7 and will leave you waiting hours on end. There's an easier way to approach the issue—save time and inquire about your precious belongings in a snap with DoNotPay!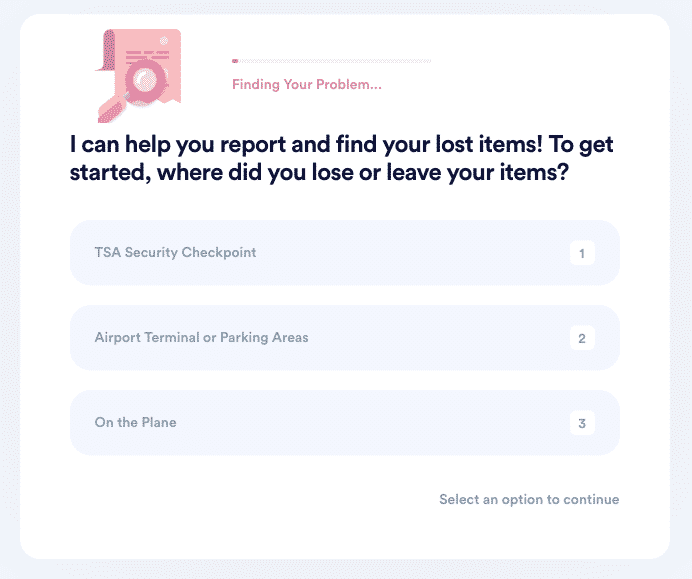 Use DoNotPay To Contact the Austin Bergstrom Airport Lost and Found Office Fast
Avoid phone queues—our app will contact any airport in your stead and inform you about the airport's response so that you can dedicate your precious time to your other matters.
and all you need to do is:
Search for the Find Lost Airport Items feature
Answer a few short questions, such as:

Where and when did you lose your item?
What is the item in question?
Besides pinpointing the location of your misplaced objects, our app can also: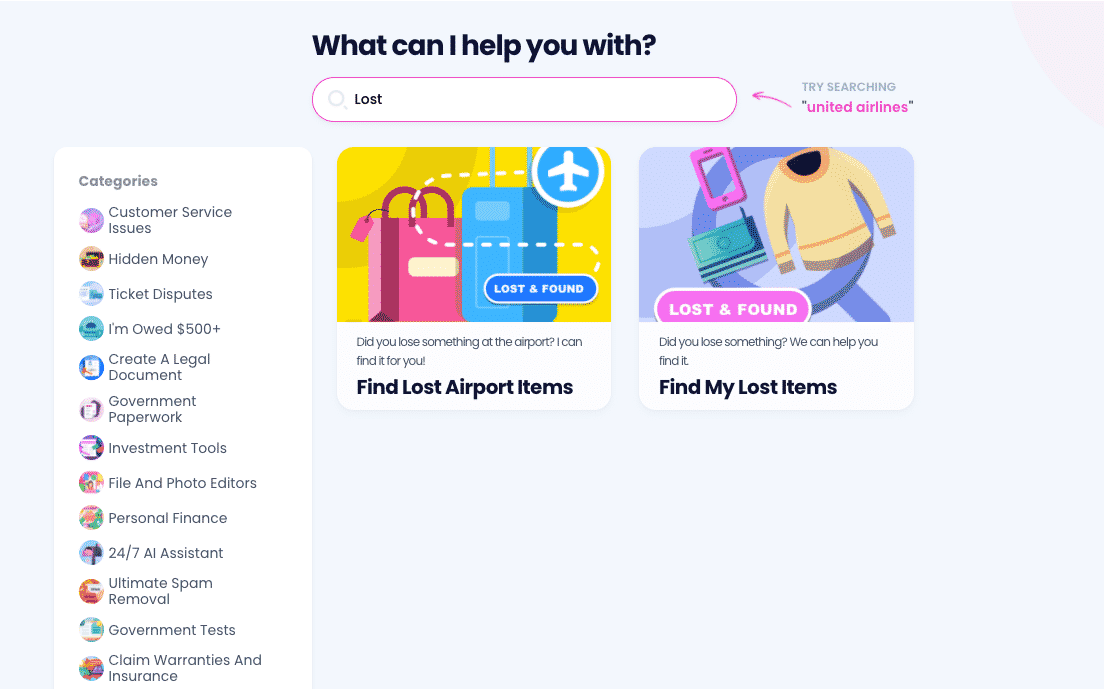 DoNotPay Is Your Ultimate Money-Saver
Don't spend your hard-earned money on subscriptions you don't use—cancel them with our app in a few simple steps! The best part is—that's not all we can do to help you save some coins. DoNotPay can also reduce other expenses by helping you:
Kiss Spammers and Harassers Goodbye for Good With DoNotPay
Our app offers handy features that can assist you with blocking irritating robocalls and getting rid of pesky spam texts and emails. It also gives you peace of mind by helping you fight workplace discrimination, stalking and harassment, annoying neighbors, and defamation.
With DoNotPay, you will always be able to maximally protect your safety by searching updated sex offender databases and avoiding unpleasant situations. Suppose you have already been a victim of harassment or any other crime. In that case, we can help you get compensation with no difficulties!