How To Reach the Atlanta Airport Lost and Found Office in a Snap
Did you pass through the Atlanta airport and arrive at your destination only to discover that your baggage is one phone or wallet lighter? Losing precious belongings is never a pleasant experience, but if you act quickly, you increase your chances of finding them.
This article breaks down the fastest way to contact the Atlanta airport lost and found office and report your missing possessions!
What To Do When You Lose Something at the Atlanta Airport
When you discover that you lost an object on the plane or at the airport, you should:
Remain calm—Panicking will prevent you from thinking rationally. Collect your thoughts and convince yourself that you will get your item back if you approach the issue calmly
Try to remember all the times you had the item with you during your trip—You will find that you have a gap in your memory which is most likely when you lost the item in question
Contact all departments you suspect could get a hold of your item—Talk to representatives of airlines and airport lost and found offices, and complete lost item forms. The sooner you do it, the greater your chances are of recovering your item
How To Contact the Hartsfield-Jackson Airport Lost and Found Department
You can locate your lost item by contacting the Atlanta airport lost and found office using one of the following methods:
Call 404-530-2148 (operational hours are Monday through Friday from 8:30 a.m. to 5:00 p.m.)
Send an email to lost@aatc.org
Complete a lost item report
Whichever method you opt for, try to describe your lost possession in as much detail as possible. If prompted, provide an image or a receipt of the item in question to help the lost and found department locate your belongings quicker.
Steps To Take if You Lost Your Item on a Plane
To find an item you lost on a plane, contact the Atlanta airport airline you need using the information from the table below:
Category
Airline
Phone Number
Domestic carriers
Alaska Airlines
800-252-7522
American Airlines
800-433-7300
Boutique Airlines
855-268-8478
Delta Air Lines
800-221-1212
Frontier Airlines
800-432-1359
JetBlue Airways
800-538-2583
Southwest Airlines
800-435-9792
Spirit Airlines
855-728-3555
United Airlines
800-864-8331
International carriers
Air Canada
888-247-2262
Air France
800-237-2747
British Airways
800-247-9297
KLM Royal Dutch Airlines
800-447-4747
Korean Air
800-438-5000
Lufthansa German Airlines
800-645-3880
Qatar Airways
877-777-2827
Turkish Airlines
800-874-8875
Virgin Atlantic
877-359-8474
Before you call an airline, locate and keep your plane ticket, boarding pass, or flight itinerary at hand so the customer service representative can contact the workers on the plane you flew with.
Once you reach out to the airline, you will notice that:
Phone lines are busy, and the queues are too long
Customer service takes a lot of time to respond to your messages
You probably won't get the department you need as soon as you would like to if you use these methods
Did you know that there's an easier way to contact any airport? If you're looking for the quickest way to report a lost item—try DoNotPay!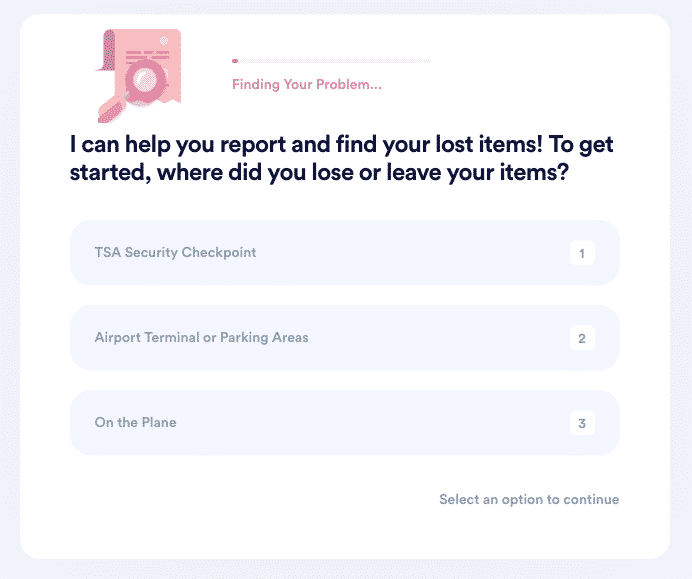 Use DoNotPay To Reach Any Lost and Found Office in No Time!
Use our app to minimize your concerns and maximize the chances of finding your items! Once you provide all the required information about your lost luggage or any other item, we will reach out to the airport in question and track your belongings.
To get started:
Search for the Find Lost Airport Items feature
Answer some questions about the item you lost and the circumstances under which it happened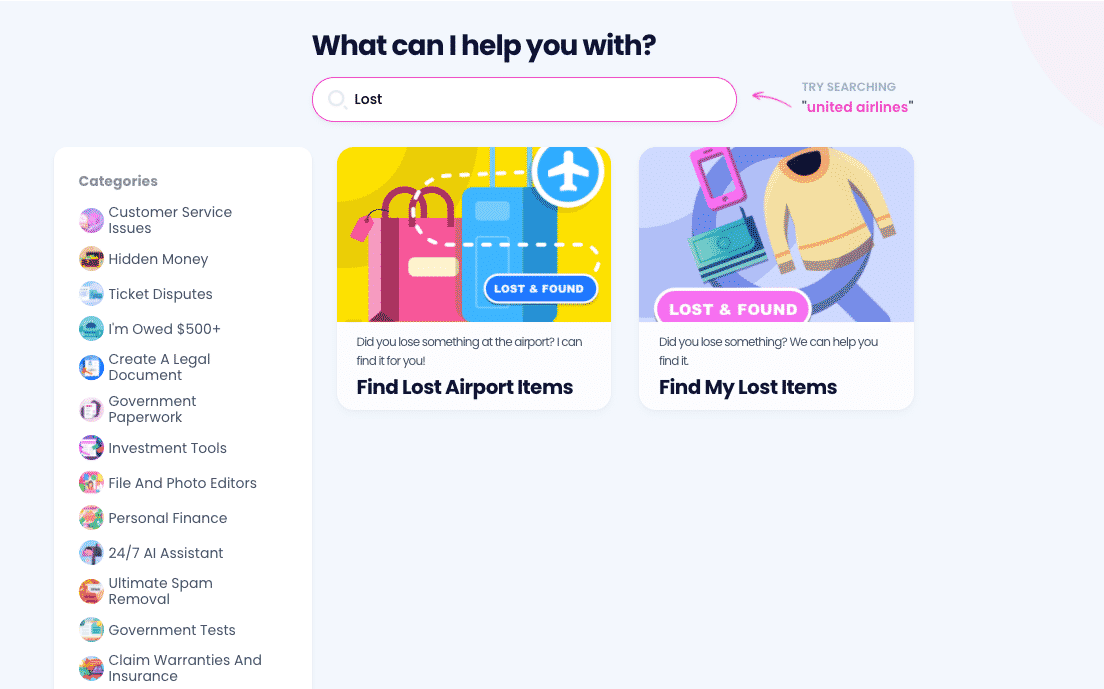 Our Virtual Lawyer Has Got Your Back
DoNotPay has solutions for all those burdensome tasks you would rather avoid or entrust to someone else. Our AI-empowered app can assist you with copyright protection, clinical trial applications, DMV appointments, FOIA requests, mailing services, item returns, and delivery refunds. It also generates standardized legal documents and gets them notarized or faxed with zero fuss!
Through the same app, you can:
Make Education More Accessible and Affordable With DoNotPay
College expenses can be quite a burden for the entire family. Luckily, DoNotPay can have your tuition expenses waived or assist you in applying for various types of financial aid, such as scholarships.
We also offer you a chance to prepare for government tests in a much simpler way or contact embassies or consulates quickly and efficiently if you want to travel abroad to continue your education. If you are a parent who wants to withdraw their kid from a standard school, we will help you draft a notice of intent to homeschool and send it to the local authorities with no stress!