Contacting the Alitalia Lost Baggage Department Made Simple
Did you fly with Alitalia and arrive at your destination only to discover that the company misplaced your luggage?
Losing anything, be it your phone, wallet, or suitcase, is a stressful experience, but don't fret! In most cases, airlines don't dispose of lost baggage quickly, and if you take the right steps, you can recover your belongings in no time!
Learn what the quickest way to is in this straightforward guide!
How Does Alitalia Lost Baggage Tracking Work?
If you flew with Alitalia and haven't received your baggage, you can try to track it if you visit the WorldTracer service and:
Enter your baggage file reference number
Type in your name
Click on Submit
After completing all steps, Alitalia staff will notify you about your baggage and arrange a pickup time if they locate it.
What To Do if You Lose Your Luggage After Flying With Alitalia?
The process of reporting your lost luggage to Alitalia will depend on where you lost your items:
On your way to the Fiumicino airport or in any Alitalia Rome lounge
In your destination country after flying with Alitalia
Lost Luggage After Boarding a Plane to Fiumicino or in an Alitalia Rome Lounge
The Alitalia lost and found office is in charge of items lost on flights to the Fiumicino airport or in Alitalia Rome lounges. To contact the office, write an email to oggetti.ritrovati@alitalia.it and include:
Your first and last name
A detailed description of the luggage or item you lost
Your contact information, such as your:

Telephone
Fax
Email
Address

Your flight number (if you lost your items on a plane)
The name of the Alitalia lounge in question (if you lost your luggage in one of them)
If Alitalia staff find your items, you will be asked to pick them up from the lost and found department located in Terminal 3 of the Fiumicino airport. The table below shows the department's working hours:
| Shift | Working Hours |
| --- | --- |
| First shift | From 07:00 a.m. to 1:00 p.m. |
| Second shift | From 3:00 p.m. to 7:00 p.m. |
Lost Luggage in Your Destination Country After Flying With Alitalia
To report lost luggage in your destination country, head to your airport's lost and found desk right upon arrival. You will be asked to complete a Property Irregularity Report (PIR) and will be given a copy. The lost and found office will inform you about your luggage if they find it.
Luggage not returned to you within 45 days is considered permanently lost.
Reporting Lost Items Is a Breeze With DoNotPay
Regardless of the airport your mishap occurred at, our app can help you report your lost items in a jiffy. All you need to do is:
Locate the Find Lost Airport Items feature
Provide information about the:

Airport the incident happened at
Item in question
Time of the incident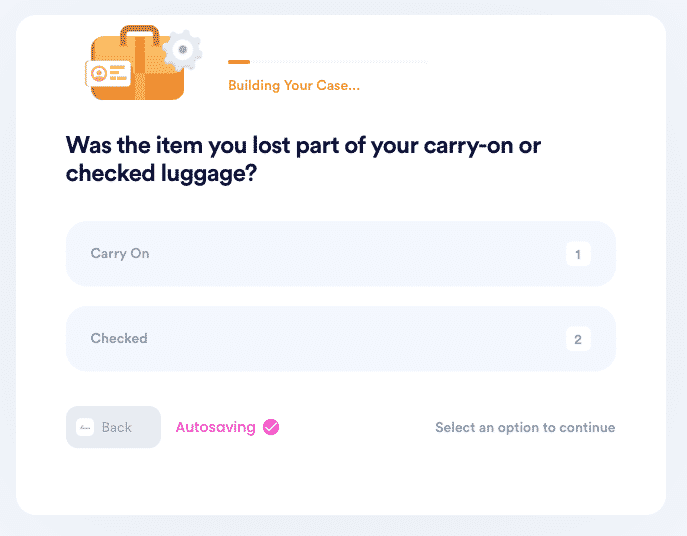 After you complete all steps, we will:
Contact Alitalia in your stead
Track your lost luggage or other items
Inform you about the current location of your belongings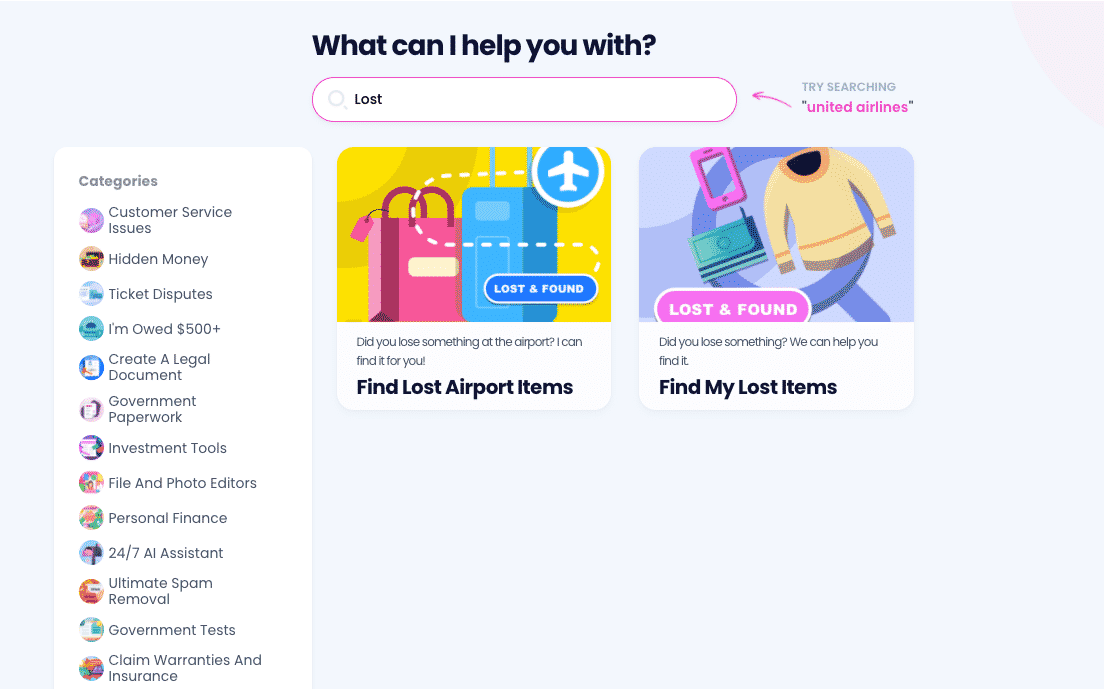 Other Alitalia Lost Luggage Procedures Explained
All items lost on Alitalia aircrafts or in the company's lounges that don't get picked up within 20 days are passed to the Aeroporti di Roma lost and found office.
If you recover your luggage and discover that it's damaged or if you never receive it, you can contact Alitalia and:
Receive a coupon for your next Alitalia ticket
Discuss other compensation options by sending the following documentation to the Client Relations Office:

A detailed letter describing the damage, signed by you
The PIR issued by the baggage assistance office
Your flight ticket receipt
A written damage estimate done by a specialized store (if your baggage delivery was delayed)
What Else Can DoNotPay Do for You?
Our vast collection of products simplifies various everyday tasks, including:
Various mailing issues by:
Applications for:
Traveling tasks, such as:

Getting tourist visas the easy way

Appeals of:
Other tasks, such as:
Get More Money the Easy Way With DoNotPay
Is a tight budget a constant problem in your household? DoNotPay is here to reduce your expenses and help you get the money others owe you. Our app helps you get refunds from companies, find unclaimed money, cash out old gift cards, and terminate unused subscriptions in a jiffy!
You can also request violent crime compensation, demand chargebacks from airline companies, or claim your warranty or insurance without paperwork.