Done With Paying for Your Cable? Request a YouTube TV Refund With DoNotPay
YouTube TV is a television streaming service designed as an alternative to your traditional cable TV. The service offers several paid packages that vary in price and the number of channels—and that are anything but affordable.
If you came to the conclusion the entertainment service cost you more money than it's worth and decided to cancel YouTube TV, here's how you can get your refund fast and without problems.
Here's the Best Way to Get Your YouTube TV Refund

Requesting refunds from any company is a piece of cake when you do it with DoNotPay. We make the usually tiresome process both easy and cost-effective since you don't need to leave your house or contact customer services.
When you log in to your account from your chosen web browser there are only four short steps to go through:
Click on the Chargeback Instantly section

Enter the payment details for your YouTube TV registration

Type in YouTube TV to tell us you're requesting a refund from them

Confirm your request with your date of birth and email address details
Once you're done, the rest is on us! We'll fax your request to your bank as well as YouTube TV, including the applicable credit/debit card codes to make sure you get your refund quickly. Dealing with companies has never been this easy!
DoNotPay can also help you cancel your Sling TV, Willow TV, and Starz subscriptions.
Can You Request a Refund on Your Own When You Cancel YouTube TV?
Requesting a YouTube TV refund manually isn't a simple feat. You have two options:
Calling YouTube TV support

Using the Contact Us form on the company's website
Both these will undoubtedly stress you out since you'll have to suffer the lengthy back and forth with the company's representatives, but you may also lose precious time while waiting for a reply or getting through the packed phone queues.
You also need to keep in mind that the options only apply if you signed up for the subscription service through YouTube TV itself—not a third-party merchant.
How to Request a YouTube TV Refund Over the Phone
If you decide to call YouTube to get your refund, take these steps:
Dial +1 (844) 545-3222

Sit through the phone queue

Ask to be refunded for your paid membership when someone picks up

Provide your customer information

Request to be sent an email confirming your refund was processed
We understand if you're feeling anxious just by thinking of waiting on hold for hours. Worry not—we'll help you skip the phone queue. DoNotPay can get in touch with any customer service for you, so you don't have to lose time listening to slow jazz while you're waiting for someone to answer. 
How to Request a YouTube TV Refund on the Website
Using the YouTube website to request a refund will result in you sending an email to YouTube TV, but the process isn't as straightforward as it might first appear. There is no email address that you can use. Instead, you will need to:
Go to the

YouTube Get Help page

Log in if you're not already in your account

Complete the online form

Choose email among the contact options you're shown

Submit your refund request through the form

Wait for YouTube to respond
| | |
| --- | --- |
| Can You Request a Refund Via | Yes / No |
| DoNotPay | Yes |
| Email | No |
| Phone | No |
| Letter | No |
| Website | Yes |
| In-Person | No |
What You Should Note About YouTube TV Refund Policy
YouTube TV doesn't have long and complicated refund rules, yet one detail is crucial to keep in mind. The refund policy states you are eligible for a YouTube TV refund when the service you paid for is in any way faulty, inaccessible, or not as it was initially described.
This means that while you can pause or cancel your membership any time without cancellation charges, you cannot get a refund because you do not like the service.
You also won't be granted prorated refunds if you cancel YouTube TV before the billing period elapses.
Free Trials and How to Avoid Their Automated Charges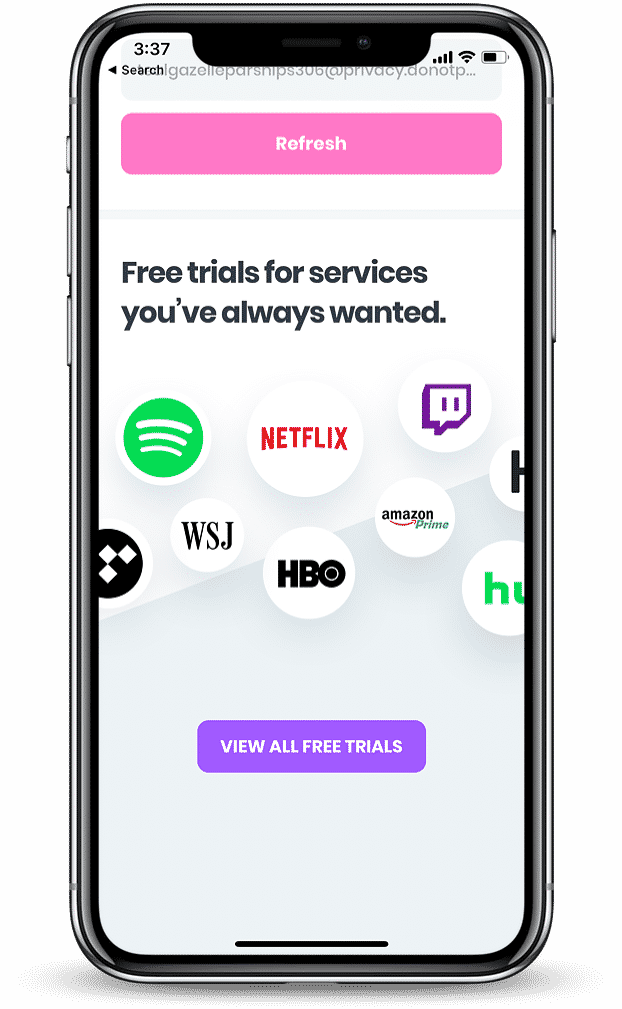 Signing up for a YouTube TV free trial might be the only reason why you're now requesting a refund—YouTube charged you automatically before you got the chance to cancel the service.
With DoNotPay, you can prevent this and never again let an automated charge creep its way onto your credit card statement. Use our virtual credit card instead of your own the next time you sign up for a free trial. The card works just like any other during the registration process but will make it impossible for membership charges to be incurred since there are no funds on it. 
More Help From DoNotPay When It Comes to YouTube

Like any major company, YouTube is guaranteed to plague your inbox with spam mail when you're signed up for any of its services. With DoNotPay, you can learn how to stop getting emails from YouTube once and for all.
If you're also thinking about trying out YouTube Premium or are already a member and are experiencing issues with the service, DoNotPay is here for you to help you:
Should You Watch Out for Any Issues When Requesting a YouTube TV Refund?

Unfortunately, the company is known to charge users even after they cancel their free trial by failing to process the termination. Also, YouTube has been reported to end the users' free trial period before its due date and surprise them with a charge that way.
Both of these scenarios violate core customer rights.
The Fair Credit Billing Act (FCBA) was passed to guard you against shady billing practices. Under the Act, you have the full right to dispute a charge on your credit card within 60 days of it being imposed.
If you think you have valid grounds to report YouTube TV or any other company, DoNotPay will help you sue them in small claims court. We'll obtain the evidence you need and draft your initial paperwork, so you don't have to face litigation on your own.
Solve Any Administrative Issue With DoNotPay and Keep Your Money for Yourself

You don't just need to save up when requesting refunds with the help of DoNotPay. You can also use our robot lawyer when dealing with any other bureaucratic issue or online payment. Signing up for free trials using our virtual credit card instead of your own is just one example of how DoNotPay helps you keep your money for yourself. 
Here are all the other issues and tasks we help you solve or get done faster and without cashing out:
Appealing speeding tickets

Fighting traffic tickets
You can employ our robot lawyer's help wherever you are—just log in from your web browser.