Get Your YouTube TV Free Trial in a Flash
YouTube TV is an American streaming service boasting an 85+ channel lineup. Subscribers can watch the news, entertainment shows, live sports, and much more on various devices. The service also includes popular YouTube videos and YouTube Originals.
Where Is YouTube TV Available?
In case you want to give the service a go, you should know that YouTube TV is available only in the U.S.
Note that the channel lineup may vary depending on your ZIP code.
Key YouTube TV Free Trial Things to Know
To check if your credit card is valid, YouTube TV will charge you a small fee once you've registered for a free trial. Your financial institution will get a payment authorization request, and it will show on your statement. As soon as your payment method has been confirmed, YouTube TV will credit the same amount back to your credit card.
Note that purchases via prepaid credit cards are not supported by YouTube TV.
What Is the Price of YouTube TV Membership?
As of recently, the price has gone up by $15 and now stands at $64.99 plus monthly tax.
How Long Is the YouTube TV Free Trial?
YouTube TV free trials usually last for seven days, though sometimes the company offers 14 to 30 days of free trial for some networks.
Can I Cancel My YouTube TV Free Trial Anytime?
Yes, you can, but you will immediately lose access to the service, including any add-ons.
If you are not sure how to cancel your YouTube TV free trial, you can resort to DoNotPay to do it on your behalf.
How Do I Sign Up for a YouTube TV Free Trial on My Own?
Before you start your free trial sign-up, you should know that YouTube TV has ceased to support registration on iOS devices. You will still be able to sign in and view the YouTube TV content through the iOS app once you have subscribed to the service.
To register for a YouTube TV free trial, you should open the YouTube TV website on your PC or download the app to your Android device, and do the following:
Tap the free trial button

Log in to your Google account and confirm your home location

Review all the networks covered by your membership, then tap

Next

Tick any premium networks you'd like to add to your membership

Confirm the payment details

Tap

Buy

to finalize the purchase
Note that you can add as many premium networks as you like during your trial run, and you won't be billed for the services until the free trial expires.
Can I Pause My YouTube TV Membership Instead of Canceling It?
Yes, you can for up to six months, and you won't lose the recordings you have saved so far.
I Have Noticed Unfamiliar YouTube TV Charges—What Should I Do?
If you see an unauthorized charge for a YouTube TV digital purchase, you should report it to their support team within 120 days of the purchase.
A YouTube TV charge will show on your statement as GOOGLE*YouTube TV. If you see any other charge format, you should contact your financial institution.
If the charge has the aforementioned pattern, but you don't recognize the purchase, you should check with other account users covered by your membership. If the charge is accidental or unauthorized and not a result of fraud, you can contact the YouTube TV support team for a refund.
In case the charge is from YouTube TV, but not made by anyone you know, you can report it here within 120 days of the transaction.
Perhaps you want to avoid dealing with the customer service and find another way to get a YouTube TV refund? DoNotPay is here for you.
Is Your Money Buried in Subscriptions?

Many people spend money on memberships they don't use or even know they have. Americans spend an average of $237.33 on subscriptions per person monthly. That is almost $3,000 spent just on memberships per year—the money that can often be put to better use.
DoNotPay's Find Hidden Money feature can help you manage your subscription expenditures.
All you have to do is connect your email and bank accounts to DoNotPay, and we will make a selection of memberships you could terminate based on how often you use them.
What YouTube TV Alternatives Are There?
Many YouTube TV users are looking for alternatives to the service due to its recent 30% price increase. If you are one of them, check out some of the most popular ones in the table below.
Streaming Service

Cost

Benefits

$20/month

Unlimited DVR

50+ channels

Stream on up to three devices simultaneously

Add-Ons

$54.99/month

Live TV with 65+ top channels

Up to six user profiles

Library of 80k +TV episodes and movies

Stream on two screens simultaneously
Sign Up for Free Trials With DoNotPay's Virtual Credit Card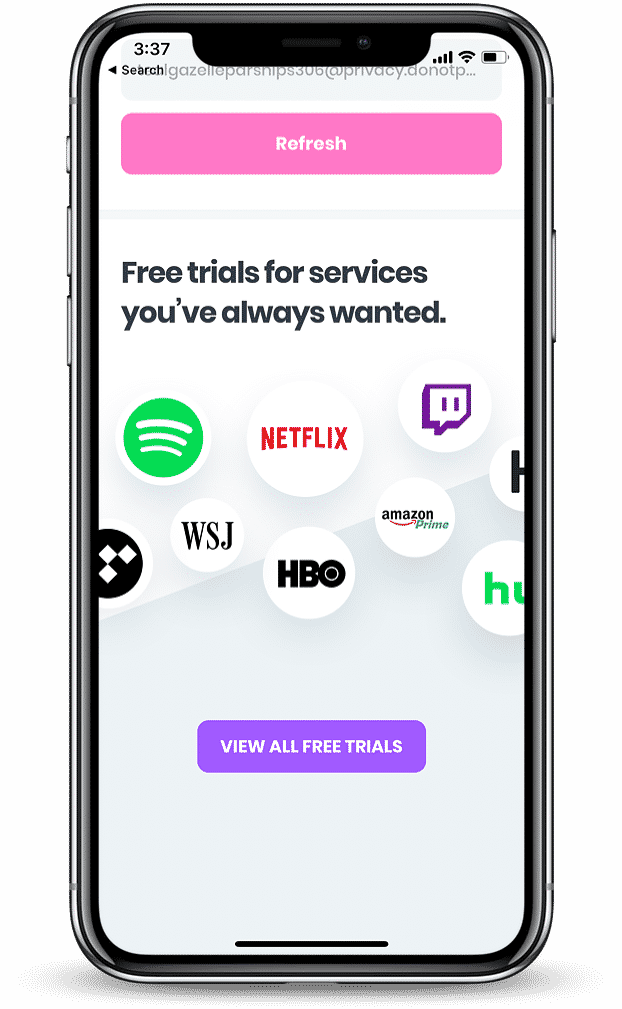 Many subscription-based services allow prospective users to register for free trials on condition that they provide their payment details. Sometimes subscription services entice users with flashy free-trial promotions and count on them to forget that free trials have an expiration date.
Since almost every free trial automatically transitions into a paid subscription, DoNotPay has come up with an ingenious tool to prevent this outcome—the Free Trial Card.
It is our virtual credit card that you can use to sign up for free trials on countless subscription-based services without the risk of hidden charges. You can use DoNotPay's virtual credit card generator to quickly create a new credit card you can use once and forget about those pesky unwanted charges.
You should consider using it because it:
Looks like a standard credit card to any vendor

Guarantees approval on free trial pages

Automatically declines charges
Note that our virtual credit card works only with services offering free trials without pre-authorization. Given that YouTube TV will test your payment method during registration, providing a virtual credit card number to sign up will be futile.
Not only can our virtual credit card prevent unwanted charges, but it can also fend off spam and commercial emails swarming your inbox.
The card generates other information, ranging from your fake name to a bogus home address. It also creates a temporary email address that you can use for a free-trial registration.
The additional perks of using the DoNotPay virtual credit card are:
Guaranteed anonymity

Geo-location and tracking prevention

Data leak protection
If subscription services do not possess your personal information, they can't sell it to third parties and compromise your identity.
Handle Administrative Issues With DoNotPay

DoNotPay's range of services expands with each new bureaucratic and administrative challenge.
Whether you need assistance with canceling AT&T, getting a refund from Epic Games, or procuring loans to pay bills, we've got you covered.
You can review the ever-growing list of DoNotPay services below.
Disputing traffic tickets

Fighting speeding tickets
You can access these services by creating a DoNotPay account in any web browser.