How to lower your cable bill in a few easy steps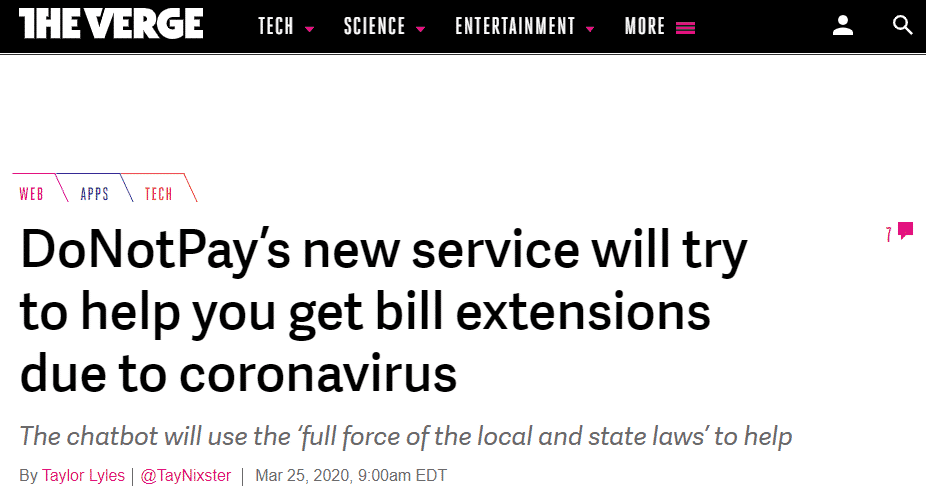 Did you know that the average American spends $217,42 on their cable bill each month? As the competition gets stiffer, so do the monthly expenses of American households. It is no wonder that you're trying to find an answer to how to lower your cable bill! 
With the help of DoNotPay, you will be able to lower any bill—not just your cable one. But how? Keep scrolling to find out!
How can DoNotPay help me lower my cable bill?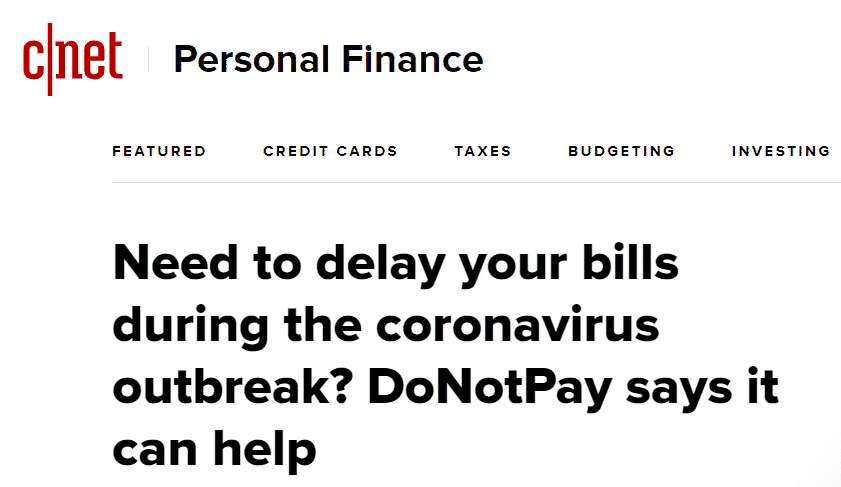 We're glad you asked. We at DoNotPay have one goal—and that is to assist you when you need it the most. Our app can help lower your cable bill in just a few easy steps:
Open the DoNotPay app through your

web browser

Tell us what kind of help you'd like to receive with your cable bill

Give us some information about yourself and your issue
Once you're done with these steps, simply let us do the work for you! We will propose some solutions, and it is entirely up to you which one you would like to go for.
DoNotPay has numerous features that are easily accessible, as our primary wish was to make our app so user-friendly that anyone who knows how to turn on the PC is able to use it.
How can I understand my cable bill better?
Although cable television is a wondrous invention that lets you watch movies and your favorite talk show hosts, it comes at a certain price. Sometimes, when you take a closer look at your cable bill at the end of the month, you aren't quite sure you understand what you're looking at. What you get from your cable provider doesn't seem to justify the paper bills you have to take out of your wallet for it.
To help you understand your cable bill better, you can take a look at this list and see what exactly you're being charged for:
| | |
| --- | --- |
| Charges | What they give you |
| Bundle plan | Cable television providers will offer bundles as mixes of different services (i.e., internet, phone, etc.) Because they're in a bundle, they are usually discounted. This part of your bill will present all the services separately and then show you what the discount is for each. |
| Package | Packages consist of different channels. You probably chose yours when you signed the contract with your cable TV provider. The name and the price for your specific package will appear on your bill. |
| Equipment | Depending on your setup, you may need additional equipment, such as a router or a DVR (digital video recorder), if you want to record shows, series, etc. Each piece of your equipment will come up on your monthly cable bill. |
| Premium channels | If you're signed up for any premium channels, such as HBO, for example, this item will also show up on your bill. |
| Taxes | Your cable provider slaps some good old taxes on your equipment, phone, etc. You can expect to see various taxes on your bill. |
| Other fees | There are a few networks like ABC and CBS that charge providers for broadcasting their channels. As you may have expected, this fee is being passed on to all cable TV users. |
If you're having trouble deciphering what some of the taxes listed on your bills are supposed to be, you can always take a look at tax explanations and figure it out on your own. For extra help, you should get in touch with a legal advisor.
Don't miss out on any errors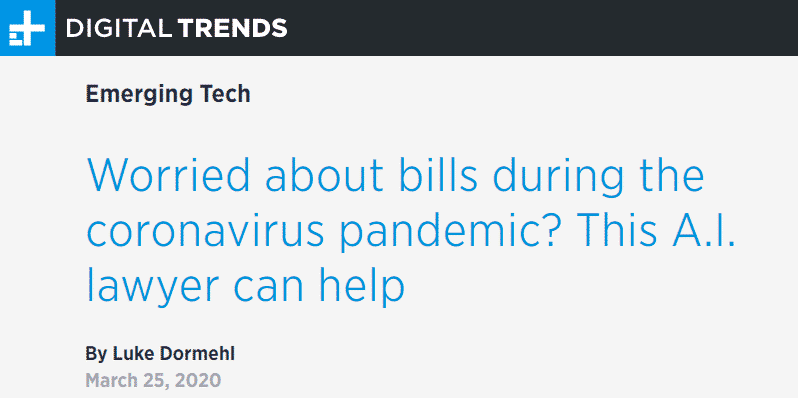 Bills are packed with errors. It shouldn't concern you whether they are on your bill purposefully or not as long as you make sure to double and triple-check if there are any. Most people can't be bothered to analyze each bill, but we urge you to do so. You will understand why once you realize how common it is for errors to appear. 
Errors are a great way to lower cable bills, and they come in all shapes and sizes. These are the main ones you should be on the lookout for:
Duplicates

Services you never received

Services you're unfamiliar with

Services you previously canceled, but still appear on your bill
It is more common than any biller would like to admit that duplicate items appear on bills. Always check whether there are any on your bill.
You might also come across some services that you never received or that you canceled but still appear on your monthly cable bill. Finding these errors is one of the best answers to how to lower cable bills.
If you're uncertain how to go about finding these errors, you could always ask a friend who happens to know more about reducing cable bills than you do. Call your provider's billing department and ask them to clarify things that you're unfamiliar with if you want to solve the issue quickly.
At the end of the day, you can always reach out to a professional if nothing else seems to be working.
Is it possible to negotiate my cable bill?
Yes, if you come from a low-income household, you are likely to be allowed to negotiate your cable bill with your provider.
A great thing you can do is reach out to a consumer rights advisor. These people know everything A–Z about what your provider can or cannot do. They can also provide you with useful tips on how to go about this issue—after all, they aren't called advisors for no reason.
In case you're looking for the easiest, fuss-free way to lower your cable bill, DoNotPay is definitely the option you should go for. You can get in touch with us through our web browser to receive help in a fast fashion.
To reduce your cable bill, you can also opt for one of these possibilities:
| | |
| --- | --- |
| Financial aid options | How to go about it |
| Negotiate the price | Don't be shy! Call your provider, explain your situation, and ask if it's possible to reduce your cable bills. The worst-case scenario is that they will say no, so there's nothing to be afraid of. |
| Look for organizations that help with paying bills | There are plenty of organizations that you can get in touch with and see how they can assist you in paying your cable bills. |
| Get in touch with a consumer rights advisor | Out of all people, talking to a consumer rights advisor will probably benefit you the most. Ask them how to reduce your cable bills, and see if they can find any errors in them. They are experts at what they do, so don't be surprised if they find multiple errors. |
Where can I find these organizations that help with paying bills?
If you're considering the option to find an organization to help with your cable bills, there truly are plenty of them. We've found some of the most popular ones that we believe you should take a look at. Just make sure to ask what their monetary aid entails and whether there are any conditions you have to fulfill:
Can I ask for an extension date for my cable bill?

If you want to ask your provider for an extension date for your cable bill, you can do that. Remember what we said about the worst-case scenario? Nothing bad is going to happen, so don't be shy about it. There are a few ways to do it:
In-person

Call your provider's customer service

Send a letter
If you'd like to stick to sending a letter to your provider, DoNotPay can help you with it. All you need to do is access our app through your web browser and let us know that you need help writing a letter to request an extension date for your cable bill.
We will ask you to provide us with some basic information about yourself, as well as the circumstances you're currently in. To make it sound more sensible to your provider, we need to let them know what's preventing you from paying your cable bill.
Once we generate an effective letter, we can send it on your behalf if that's what you'd like us to do. This whole process can take up to 48 hours. It usually takes less than that because we are quick to act in emergencies. You can always count on us when in need.
Can I ask for a waiver on late fees for my cable bill?
Yes, if you want to ask for a waiver on late fees for your cable bills, you definitely can do that. Whether you choose to ask for an extension date or a waiver on late fees, DoNotPay can help you out with both, which we will get to in a second. Let's take a look at some options you can choose from first:
Call your provider's customer service team

Send a letter

Talk to a lawyer

Go to your provider's office to do it in-person

Consult a legal advisor
If you would opt for sending a letter more than any other option, you can let DoNotPay do the harder part of the work for you. Again, all you need to do is tell us a bit about your problem and give us some basic information. We are going to generate a letter and send it in your stead if that's what you'd like us to do.
Can I pay for my cable bill with my credit card?
Yes, if you want to pay for your cable bill using your credit card, you absolutely can do that. What you should know, though, is that you could do some serious damage to your credit scores. This applies only if your bills have piled up so much that they're enormous at this point. Otherwise, it shouldn't be a big issue.
Should I apply for a loan to pay off my cable bill?
Can you apply for a loan to pay off your cable bill? Yes. But should you do it? Probably not. If you can avoid this option, do it by all means. Loans cause a lot more harm than good, but if all of the other options fail you, then do it. Treat this one as a last resort. 
Do I have any alternative options for my cable provider?
Yes, of course—there are plenty of other options. Did you know that nearly five million people stopped using cable TV in 2019? This only proves that there are alternatives that are even better than what your standard cable TV provider gives you. So many people were tired of paying ridiculous amounts of money that they opted for far cheaper options. That's when streaming networks got in the spotlight.
If you're looking for decent alternatives that will save you some serious money, these are the most popular options:
Alternative

Pricing

Benefits

$49,99/month

Having access to over 70 cable and broadcast networks

Watching from any device: your computer, phone, tablet, etc.

Having Cloud DVR

$54,99/month

Updating their TV library frequently

Having access to Hulu's original content

Suiting for any budget as you can choose from a variety of different plans

$8,99–15,99/month

Having access to millions of shows at a cheap price

Having access to thousands of Netflix's original content pieces

Using it super easy and beginner-friendly

$15/month

Having access to over 35 channels of live TV

Having access to over 15,000 movies and shows on-demand

Suiting for any budget while providing great content

$8,99/ month

Having access to Amazon's original content

Suiting for any budget and provides discounts for Medicaid and EBT cardholders

Includes High Dynamic Range (HDR) and 4K Ultra HD
What's going to happen if I don't pay my cable bill?

If you don't pay your cable bill, what's most likely to happen is that your provider will contact a collection agency. From that point on, you will be dealing with the agency instead of your provider. We would strongly advise you not to let this happen. If it's unavoidable, we're here to help.
If you feel like your cable provider wronged you, we can help you sue them in small claims court. In early 2020, DoNotPay was recognized by the American Bar Association and given the Louise M. Brown Award for Legal Access. This only proves how devoted we are to fighting for your right. DoNotPay is the first robot lawyer in the world that fights bureaucracy.
Once the collection agency gets their hands on your case, you shouldn't be afraid. The only thing that's important for you to know is what they can and cannot do. These are some of the most important aspects:
Learning everything about your rights

Recording everything and keeping track of valuable information

Offering to pay part of your debt

Being aware of credit score damage
Learn everything there is to know about your rights
Being prepared for what's about to happen is crucial. For example, you should know that debt collectors aren't legally allowed to call you in the middle of the night or threaten to call the police on you.
If you need to learn about your rights quickly, you can go to a consumer rights advisor or a lawyer. They will tell you everything you need to know about what happens from that point on.
Record everything
For your personal safety, you should record everything. The collection agency might try to rip you off, and that's why it's important for you to keep track of important information. Keep in mind that you can always ask the collection agency to send you a debt validation letter if you're suspicious of anything. They are obliged to do that, so if they say no, you will know that something's fishy.
Offer to pay part of your debt
Depending on the situation, you can offer to pay part of your debt. Most collection agencies will agree to this, as they can't access your bank account and take your money to pay off the debt. They will try to do anything in their power to make you pay for the debt on your own.
Be aware of the credit score damage
As soon as your account gets labeled as a delinquent one, your credit scores will be severely affected. It will take you up to seven years to be able to apply for a credit card or a loan. Make sure to pay your debt as soon as you possibly can because of that.
Are there any other ways DoNotPay can help?
DoNotPay has many different features that enable us to help our users in various ways. To get access to these features, you can enter our app through your web browser. Let's see what else DoNotPay can do for you:
Fight your traffic tickets

Help with many other bills

Dispute your speeding tickets