What To Do if You Lose Your Wallet? DoNotPay Has the Answers
Looking for something you lost is never a fun task, especially if it's something important like your wallet. In case you don't know what to do if you lose your wallet, look no further as our guide will provide the information you need! We'll tell you which steps you need to take in such cases and how you can use our tool to find anything you lose with little to no effort.
What To Do if You Lost Your Wallet
Your first step should be to look for your wallet around your house. Search in crammed spots between sofa cushions, underneath tables and chairs, and pay special attention to areas where you usually keep your wallet. Don't forget to check your car as well—it might have slipped out of your pockets and ended up under the seats.
Is Your Wallet Still Missing? Try Retracing Your Steps!
If you think you lost your wallet outside, try to think of all the places you've been to since the last time you used it. In case you lost it at one of those locations, someone might have picked it up and left it there. Employees usually keep lost items for a while until someone comes to claim them. Many places have lost and found bins or dedicated departments that handle lost items.
Once you figure out which locations might have your wallet, you can:
Call them to ask if they've found it
Head over there and check in person
Both options can be time-consuming and super stressful, which is why DoNotPay offers a better solution! and learn how to look for your wallet or any other item hassle-free.
Use DoNotPay To Retrieve Your Wallet in No Time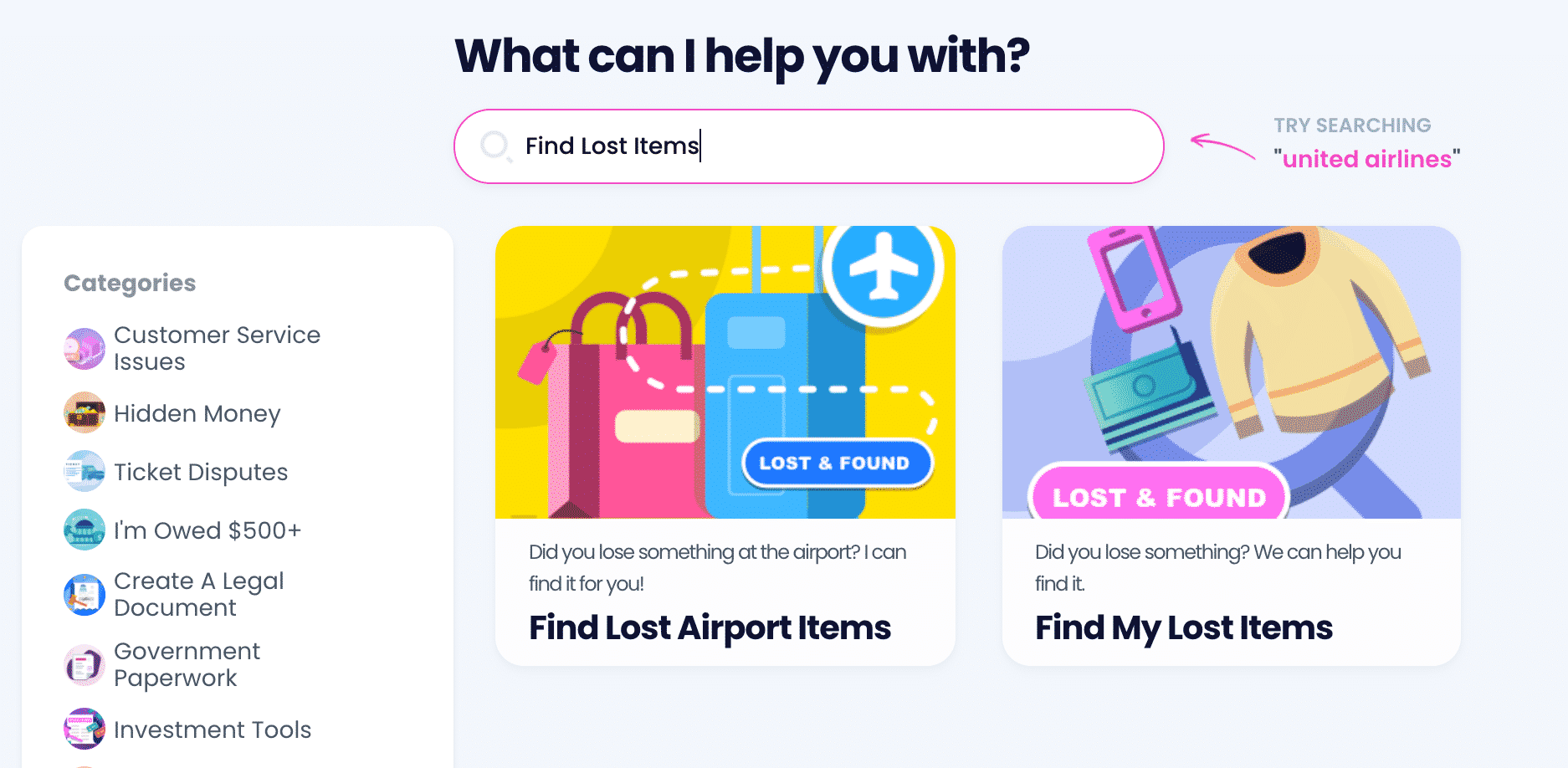 Retrieving a lost wallet on your own can be exhausting. If you don't want to talk to customer service representatives or visit Lost and Found departments of the places you've been to, turn to DoNotPay for help! Our AI-powered app will contact the locations where you think your wallet might be, so you don't have to.
Our app is both effective and simple to use, as it only requires you to follow a few easy steps. Here's how it works:
Select our Find My Lost Items product
Tell us where and when you think you lost your wallet
Describe the wallet and upload a photo of it (if possible)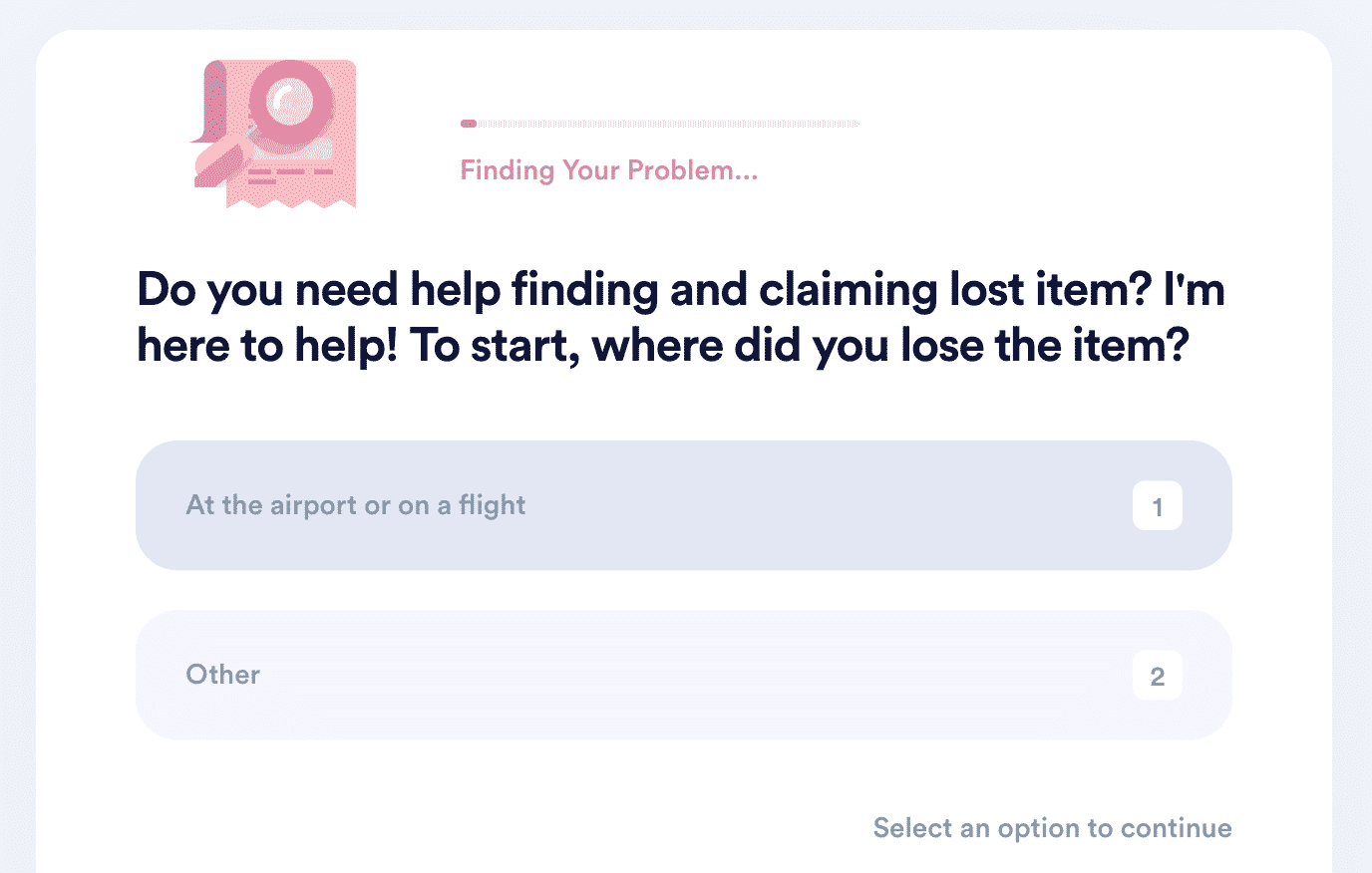 We'll process your request and contact the specified locations in your stead instantly. In case your wallet is found, you can either pick it up yourself or receive it via delivery.
DoNotPay can also help you if you forget any other item—such as car keys, a phone, or glasses—in various locations, including:
What To Do When You Lose Your Wallet for Good
Have you tried everything and still can't find your wallet? If so, you should take the following steps to make sure your belongings are safe:
Call your bank
Set up fraud alerts
File a lost wallet police report
Call Your Bank
When you lose a wallet, your credit card could fall into the wrong hands, which is why you should call the institution that issued it and ask them to cancel the credit card and replace it. By doing so, you will prevent potential thieves from doing any damage. The bank can go over the recent purchases made with the card and see whether it was used or not.
Note that you should complete this step as fast as possible—you'll be responsible for up to $50 worth of unauthorized purchases if you report a missing credit card within two days.
Set Up Fraud Alerts
Protecting yourself from identity theft requires you to call one of the three national credit bureaus and ask them to set up a fraud alert, which stays in place for 90 days. If someone tries to open a new credit card or take out a loan in your name, the bureau will notify you so you can check whether it's you who made the request. The bureaus that you can call are:
| Bureau | Phone Number |
| --- | --- |
| Equifax | 1-800-525-6285 |
| Experian | 1-888-397-3742 |
| TransUnion | 1-800-680-7289 |
File a Lost Wallet Police Report
If you think someone has stolen your identity and used it to create a credit card account or commit a crime, you should file a complaint with the Federal Trade Commission and fill out an Identity Theft Affidavit. By completing this affidavit, you'll be qualified to file a lost wallet police report, which will notify lenders and creditors about your case.
Filing a lost wallet police report can also come in handy as you will need it to get a new driver's license or Social Security Card.
Fast-Track Different Tasks With DoNotPay
Are you trying to get a refund from a company and can't reach its customer service? Was your flight canceled or delayed, and you want to get compensated? Is hiring a lawyer out of the question because they're too expensive, but you have to draft some legal documents? Once you register for DoNotPay, we'll be able to help you with all of the above and more!
Rely on our app to finally put an end to text spam, annoying robocalls, and spam emails.
Do you need help canceling your forgotten subscriptions? We'll help you detect all your active memberships or subscriptions and get rid of the ones you no longer want.
In case you're studying for your driving test, you can use our Government Tests Prep product and ace this and many other exams. We can also schedule an appointment with the DMV on your behalf.
If you have to claim your car or any other insurance or warranty, rely on DoNotPay. Use our app to also contest parking tickets in a jiffy!
Protecting Your Privacy Is Easy Using Our App!
While staying anonymous online can be difficult, we can turn it into a breeze. Get a temporary number when you sign up for various platforms. Do you want to keep other personal info to yourself? Use our virtual credit card and avoid hidden charges for free trials.
We'll also help you stay safe from stalkers and harassers, sex offenders, defamation, and workplace discrimination.