The Turkish Airlines Lost Baggage Policy Explained
Have you traveled with Turkish Airlines, and your baggage is missing? You don't have to say goodbye to your suitcase or vow to never fly again. We have prepared a handy guide covering all the basics of Turkish Airlines' lost baggage policy! This article will also explain how the the easy way.
The Essentials of the Turkish Airlines Lost Baggage Policy
In case your baggage is nowhere to be found, you have a few options depending on where and how you lost it:
Where You Lost Your Baggage
Who Can Look for It

Airport terminals
Curbside areas
Airport shuttles
Parking lots

The staff at the airport where you lost your bag

Turkish Airlines' Lost and Found Office at the airport you're at
Lost and Found Office of Ground Services
If you wish to report lost luggage when you're away from the airport, you can do so on the airline's website, where you need to provide all the relevant info—including these essential details:
First and last name
Item's category
Item description
Flight number
To do everything you can to find your lost baggage, follow these tips:
In case you got your bags but you misplaced them in a shuttle, taxi, or a rent-a-car vehicle, you should contact the companies that provide these services and report the missing items.
The Turkish Airlines Baggage Tracking Process
Turkish Airlines will track your luggage along the route on which you traveled for five days.
In most cases, the company will identify the missing baggage within 24 hours and deliver it to the owner immediately.
If the company fails to identify your lost luggage within five days, it will require a detailed list of your belongings in your lost bag for further identification of the baggage. Once you submit the list, Turkish Airlines will extend its search for your lost baggage to 21 days.
Turkish Airlines' Tips for Preventing Baggage Loss
To prevent baggage disruptions and keep your luggage from getting lost, Turkish Airlines offers several tips:
Let DoNotPay Do Most of the Work for You and Help You Find Your Luggage!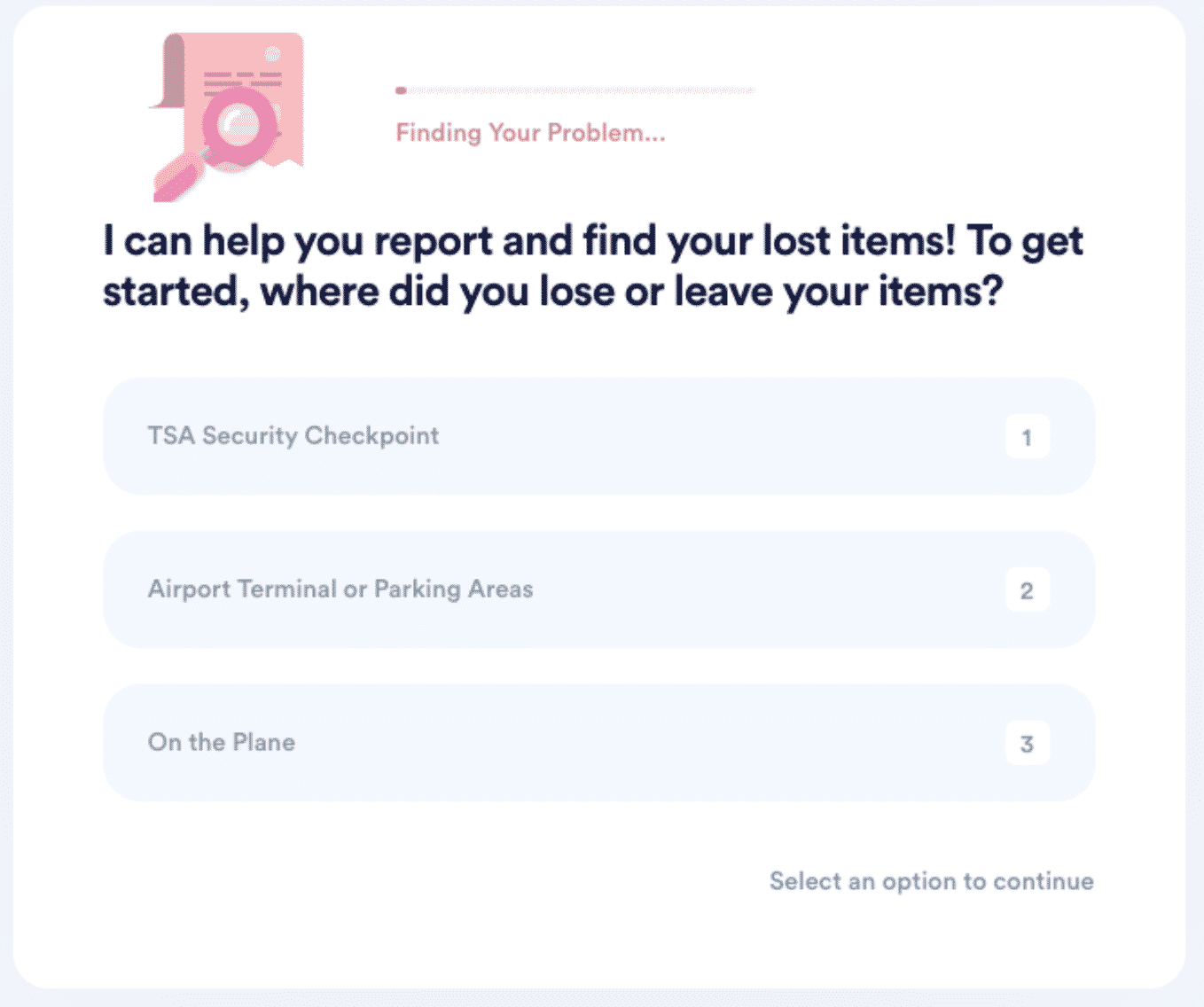 Our AI-powered app can save you a lot of time by drafting and sending a lost baggage request letter to Turkish Airlines. In case you're unsure how to proceed or don't have enough time, you can provide the app with a few essential details, and DoNotPay will do the rest.
To get reunited with your lost baggage fast, follow these steps:
Go to the Find Lost Airport Items feature
Type in detailed info about your lost luggage, like the date when you lost it, its description, etc.
DoNotPay helps you locate various items that you may lose traveling via planes, such as:
In case you want to request a refund of your Turkish Airlines ticket, our app is the way to go!
Our Virtual Lawyer Has Got Your Back
DoNotPay has solutions for all those burdensome tasks you would rather avoid or entrust to someone else. Our AI-empowered app can assist you with copyright protection, clinical trial applications, DMV appointments, FOIA requests, mailing services, item returns, and delivery refunds. It also generates standardized legal documents and gets them notarized or faxed with zero fuss! Through the same app, you can:
Make Education More Accessible and Affordable With DoNotPay
College expenses can be quite a burden for the entire family. Luckily, DoNotPay can have your tuition expenses waived or assist you in applying for various types of financial aid, such as scholarships. We also offer you a chance to prepare for government tests in a much simpler way or contact embassies or consulates quickly and efficiently if you want to travel abroad to continue your education. If you are a parent who wants to withdraw their kid from a standard school, we will help you draft a notice of intent to homeschool and send it to the local authorities with no stress.