Tackling Ticket Scams on eBay With DoNotPay's Help
Purchasing tickets for a game, show, or special event is necessary at most venues. You have to make sure the tickets you're buying are legitimate ones, though, and not a scam by someone intending to take your money. are quite common, for example.
When you come across a ticket scam, it's best to work with DoNotPay to get the problem solved. We'll help reach out to the appropriate party and help get you the refund you deserve.
How Can I Tell if a Ticket is Fake?
If you receive a ticket by mail, you can usually tell right away if it's fake. Look for:
Uneven margins around the text
Smudges and misprints
Low-quality paper
Peeling edges
Incorrect dates
When purchasing a ticket online, make sure there are no spelling errors or grammar issues. Look at how the seller is speaking and determine if their vocabulary seems off or like they're pushing high-end tickets for a very low price.
How Can I Avoid Ticket Scams on eBay?
Ebay offers a wide variety of products and often has a money-back guarantee to help ensure you'll be refunded if something goes wrong. That doesn't mean every purchase is without its problems, though. You should avoid buying tickets from places like eBay and instead stick with the actual ticket-selling sites, such as Ticketmaster, Stubhub, or directly through the venue's website.
It's also wise to look at:
| | |
| --- | --- |
| Seller's reviews | Others may have already experienced the same scam. |
| Duplicate listings | Whether or not there are duplicate listings for the same or similar offerings |
| Average pricing | Prices that seem much too high or much too low from other seller locations |
| Rush sale | Whether the seller is urging you to buy promptly or only accepts one particular payment method |
Try Contacting eBay Yourself If You've Been Scammed
Ebay encourages users to reach out to the seller first. If you realize you've been scammed and the ticket does not arrive as intended, or it doesn't work once you arrive at your venue, you can let the seller know you want a refund. If that isn't enough to get them to respond and make it right, you can speak with eBay directly and see if they'll assist you.
You need to go to your Purchase History and look at either "See request details" or "See return details" so you can ask eBay to step in. The company does its best to resolve problems within 48 hours, but it could take longer to verify all of the information.
Additional contact methods to ask eBay for assistance include:
Speaking with the automated assistant – Go to the bottom of the "Help & Contact" section and look for the "Contact us" button. Click through the options until you're given an option on the left side of the screen to "chat with our automated assistant."
Chatting directly with an eBay customer service member – Go to the bottom of the eBay money back guarantee policy page and click where it says "chat with us." You'll have to sign in to your account
Sending a message via Facebook – Go to eBay's Facebook page and click "Message" to ask for assistance. You may receive an automatic response to start, but someone should provide further assistance within a few days.
Sending a message via Instagram – Go to eBay's Instagram page and click "Message" to ask for assistance.
Tweeting the Ask eBay account – Ask your question via Twitter, using the @AskeBay tag and wait for a response.
Calling customer support – Dial 1-866-961-9253 to reach eBay's customer support team and speak with someone directly via the telephone.
How Long Do I Have to Make My Report?
Ebay covers the cost of event tickets gone wrong. However, you only have 30 days past the latest delivery date or 7 days past the event date, to make your report and start a claim. Whichever date is the latest is the one to go by.
Let DoNotPay Offer You a Scam Solution
Scams are an unfortunate part of today's world. With so many websites out there, it can be difficult to tell which ones are real and which ones should be skipped altogether. Let DoNotPay offer you a solution so you can experience at least a little relief from the situation.
1. Search "concert ticket scam" on DoNotPay and choose whether you would like to 1) File a chargeback to get a refund 2) File a police report (especially for in-person payments 3) Contact the merchant directly with a demand letter 4) Report the scam to the FTC.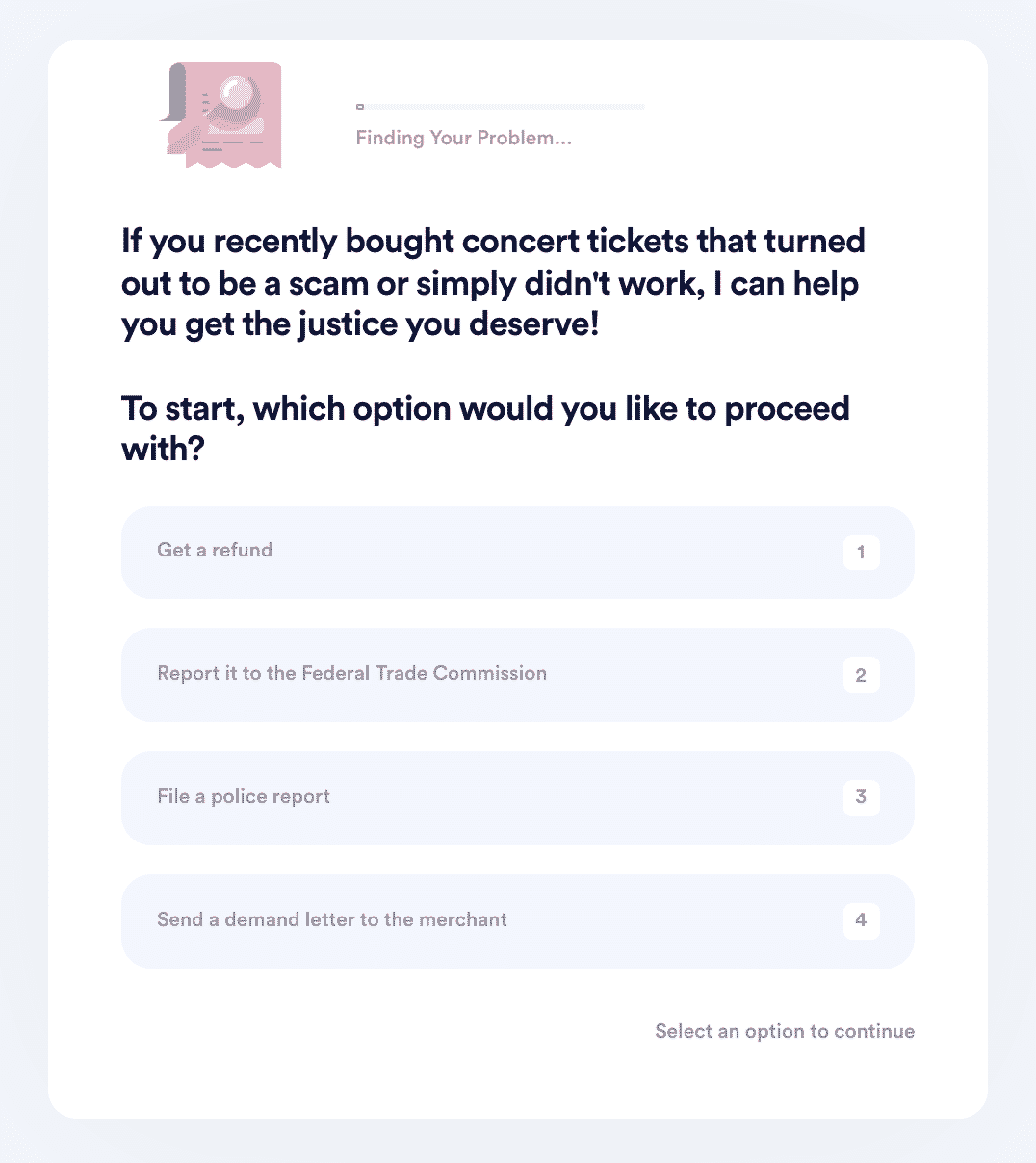 2. Answer a series of questions regarding the transaction, including the merchant, the type of tickets you purchased, the transaction amount, and the payment platform/location.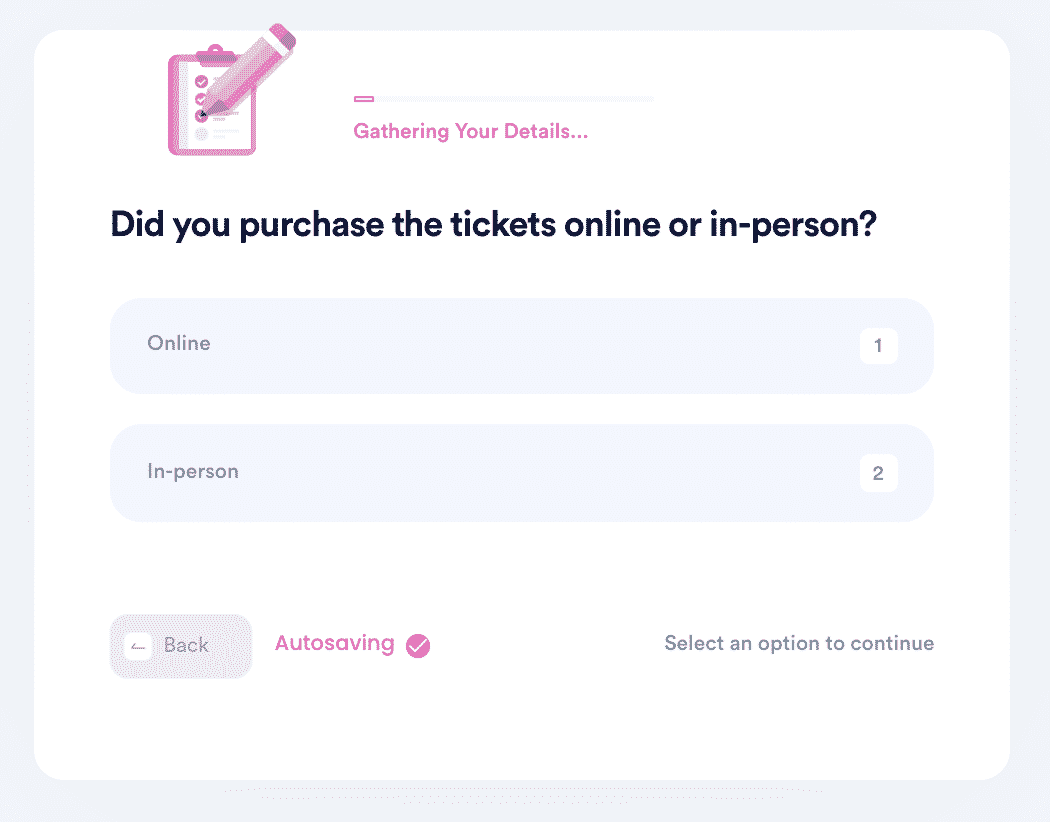 3. Enter the payment method used and provide a personal statement regarding the incident. Upload any evidence you have and provide your e-signature.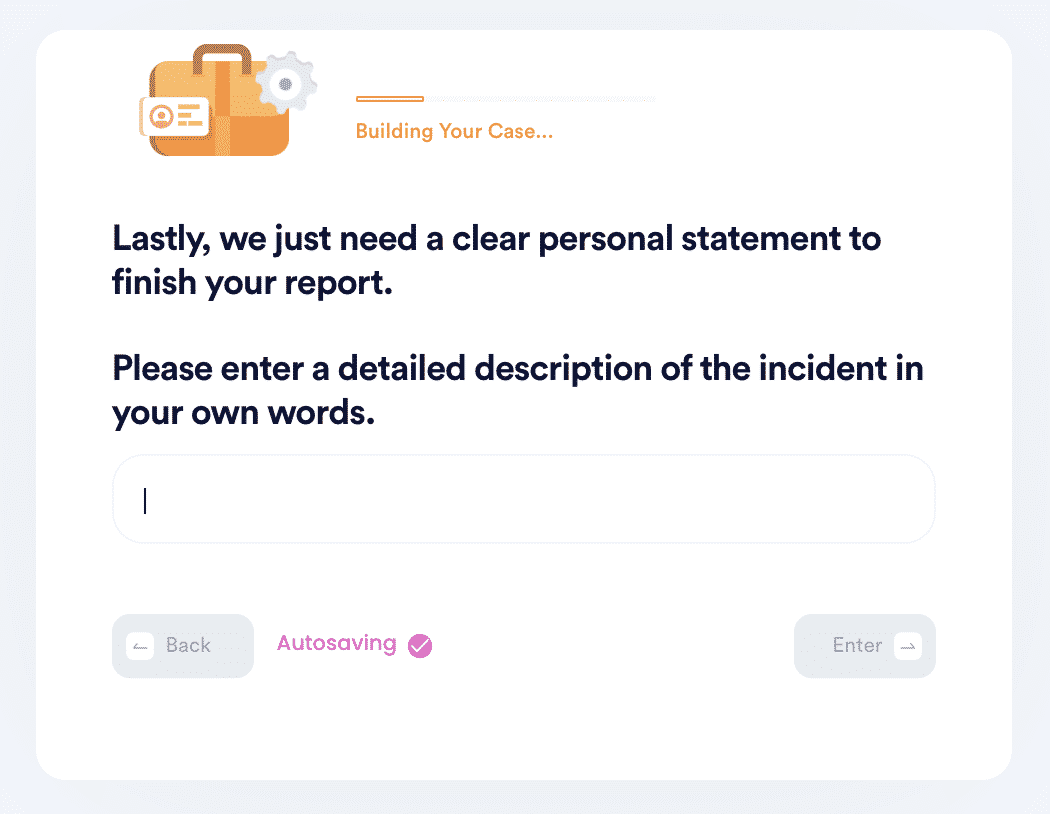 In just a few steps, DoNotPay can get to work generating a report or letter on your behalf and send it to the appropriate party.
Can DoNotPay Help Me With Anything Else?
DoNotPay helps handle a variety of tasks. More than just , we'll also assist with:
Ticket scams from SeatGeek, Eventbrite, Craigslist, Ticketmaster, and other businesses
Getting refunds at various places, such as Uber Eats, American Airlines, and Costco
Notary services, mailing, online faxing, and similar tools
The wide range of products from DoNotPay ensure each person can get assistance with their most pressing matters.