Protect Yourself From Eventbrite Scams
Eventbrite is a global ticketing website that people use to join or host a local event. Consumers can use the platform to find, share, and also buy and sell tickets to events such as music concerts, sporting events, and charity events, among many others. However, nowadays, there are many incidences whereby some users of the platform find themselves in a situation where they have been conned. For instance, some fraudulent people may use Eventbrite to sell fake tickets.
Getting your money back after you have been sold a fake ticket on Eventbrite on your own is not easy. With DoNotPay, however, you can get your refunds easily and efficiently. In addition to helping you identify a fake ticket, DoNotPay can also help you with Craigslist, Ticketmaster, and SeatGeek ticket scams. Follow the article to learn how DoNotPay can help when you encounter an .
How to Spot and Avoid Fake Tickets
Even though differentiating a counterfeit ticket from a genuine one can be hard, in most cases, counterfeit tickets have some irregularities such as irregular ink, spellings, and color. In addition, fake tickets may be manufactured with lighter paper. The following are guidelines to help you avoid falling for fake tickets:
| | |
| --- | --- |
| Do Not Purchase Tickets From Unauthorized Buyers | You should check with the event organizer for the official ticket distributors. |
| Pay by Credit Card | This means that the credit card provider is also responsible for delivering the purchase, so if it turns out to be a scam, your money should be refunded. |
| Offering the Impossible | If tickets are available for an event that is already sold out, then you know that is a scam. |
Is Eventbrite a Scam?
Eventbrite is a legitimate platform. Approximately 4 million events annually use Eventbrite as their ticketing platform. Moreover, many event creators as of today use it to promote, as well as sell their tickets. About 100 to 200 million event tickets were sold through the platform in the recent past.
Eventbrite is also safe in that; you can use a credit card on the platform without any worries because it complies with PCI requirements and uses industry-standard encryption. However, fraudulent event creators use the platform to target and con unsuspecting ticket buyers. They often sell their tickets only to end up not throwing the event.
How to Contact Eventbrite if You've Been Scammed
In case you have fallen victim to an , visit the site and follow these simple procedures:
Navigate to the event listing and select the relevant event.
Select "Report This Event" at the bottom of the event listing.
Fill out the report by selecting the most precise reason that describes your concerns.
Click "Submit Report".
Common Ticket Scams to Avoid
The common ticket scams you may come across include:
The ticket you bought is not functional at the venue.
You buy a ticket but it is never sent to you.
You receive a different ticket other than the one you paid for.
You purchase fast lane passes that are no longer usable by the time you get to the venue.
What to Do Next if You've Been Scammed
Even though being scammed may deprive you of the opportunity to attend the event you had planned for, there are several steps you can take to get your money refunded and also bring the scammer to book. You can:
File a chargeback to be refunded.
File a report with the police.
Contact Eventbrite immediately to see how they can assist you.
Contact the merchant directly with a demand letter.
Report the scam to the Federal Trade Commission - You can do so online on their website, or by phone at (877) 382-4357.
How to Get Your Money Back Using DoNotPay After an Eventbrite Scam
As discussed above, getting refunded after you have been scammed involves a daunting process. You will waste a lot of time on this, and sometimes you may not even get your money back. With DoNotPay, however, the entire process is simplified and becomes super easy.
Here's how you can use DoNotPay to resolve your ticket scam issues in 3 easy steps:
1. Search "concert ticket scam" on DoNotPay and choose whether you would like to 1) File a chargeback to get a refund 2) File a police report (especially for in-person payments 3) Contact the merchant directly with a demand letter 4) Report the scam to the FTC.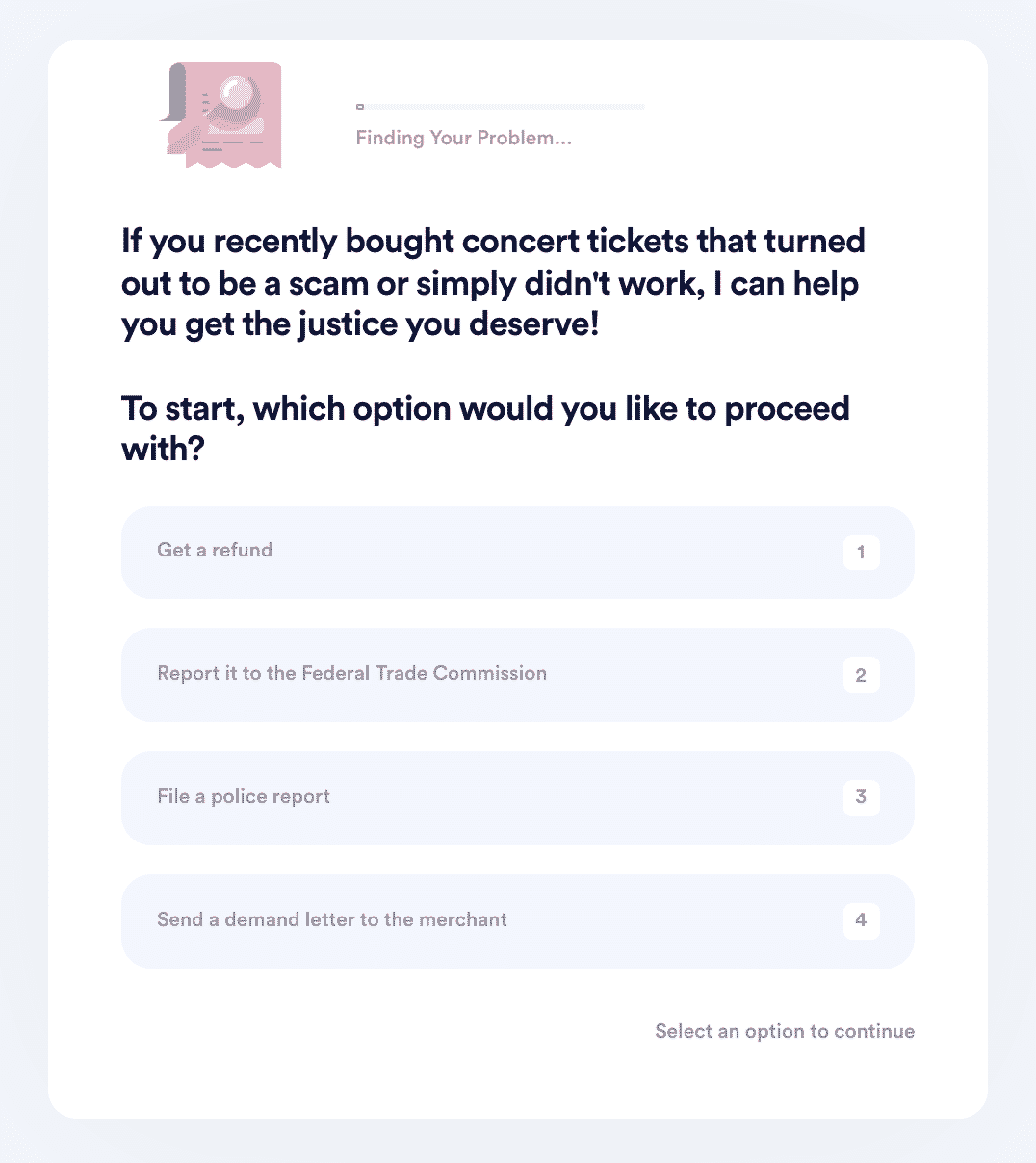 2. Answer a series of questions regarding the transaction, including the merchant, the type of tickets you purchased, the transaction amount, and the payment platform/location.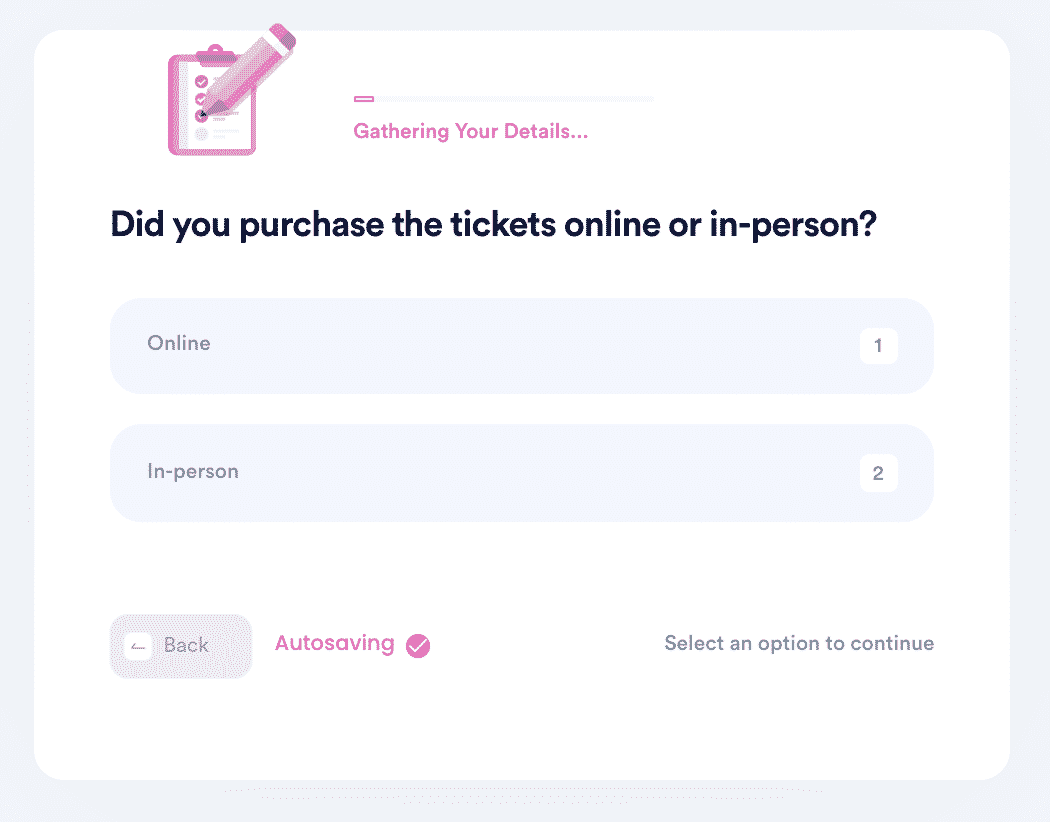 3. Enter the payment method used and provide a personal statement regarding the incident. Upload any evidence you have and provide your e-signature.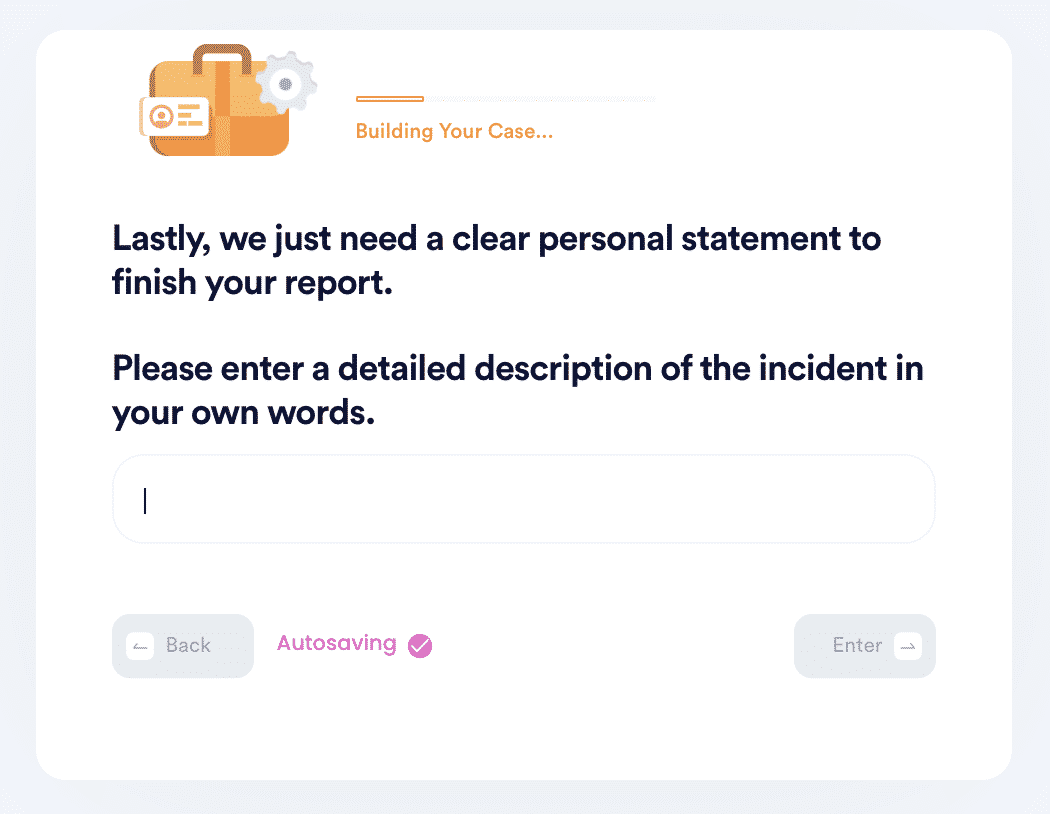 And that's it! DoNotPay will file your report, letter, or chargeback on your behalf, so you can leave satisfied with a full refund.
What Else Can DoNotPay Do?
Other than helping you resolve your ticket scam issues, DoNotPay can also assist you to deal with the following issues:
Why wait? Use today and get reimbursed for ticket scams and enjoy other great services.