Scammed Out of Your Tickets? How To Contact StubHub Fraud Department
Did you score an unbelievable price on a sold-out show, only to find out you were scammed? Here's how to to report your encounter.
Sometimes a deal is too good to be true. If you were scammed out of your hard-earned money, you can fight back. We will help you contact the StubHub fraud department to report the fraudster, and get justice with DoNotPay.
Is it Safe To Buy StubHub Tickets?
While StubHub is a legitimate company, it has a few problems.
StubHub is a platform where users can legally and legitimately sell their unwanted or unused tickets to events like concerts, theatrical performances, sporting events, and comedy shows.
If you suspect your tickets are fraudulent, promptly t.
How to Contact StubHub for Fraudulent Tickets
If the tickets you purchased from StubHub are fake, misrepresented or suspicious, call StubHub to report the issue and take advantage of the 100% FanProtect Guarantee.
You can contact StubHub through:
| | |
| --- | --- |
| Email | https://www.stubhub.com/contact-us/ |
| Call | 1-866-788-2482 |
| Operation Hours | 5:00AM to 9:00PM PST |
Remember that StubHub gives preferential service to customers with events scheduled within 48 hours.
How To Report Fraudulent StubHub Tickets
If your ticket purchase from StubHub is fraudulent, take the following actions to resolve the issue.
Report to StubHub Fraud Department
Report the fraudulent, missing, or misleading tickets to StubHub by calling the support phone number above or posting on the StubHub Comunity.
StubHub promises to send you your tickets in the following condition, or you'll receive comparable tickets or a 100% refund:
Your tickets will be valid
You will receive your tickets before the event
Your tickets will be as described or comparable
StubHub will also issue you a StubHub credit equal to the cost when the show is rescheduled or canceled. DoNotPay makes it easier to get compensation for ticket fraud.
Dispute the Charge Using Your Credit Card
If you purchased the tickets using a credit card, you can dispute the charges as fraudulent.
Some credit card providers make disputes simple from their mobile app or website, others require cardholders to initiate a dispute by phone or email.
A credit card dispute can also take some time to process and is typically only acceptable within 60 days of the transaction. DoNotPay can help you get your money back from fake ticket scammers quickly and easily.
Report the Scam To the FTC
If StubHub does not refund the ticket, and you did not buy the tickets using a credit card, you can try to file a report with the FTC.
Include the following in your submission:
Your contact information
The type of ticket purchase
Seller information, like StubHub account name, phone, email, and name
Screenshots, photos of the ticket, the amount you paid, and the date
The FTC will share your report with law enforcement across the country. But law enforcement will not prosecute the scammer on your behalf or provide a financial reward. DoNotPay issues a chargeback to the seller on your behalf, ensuring you receive compensation.
Request a Chargeback for Fraudulent StubHub Tickets With DoNotPay
It can be time-consuming and frustrating to get a satisfying solution from StubHub. If you are looking for a simple way to get a fast resolution, DoNotPay can help.
DoNotPay is the world's first robot lawyer. When you report a concert ticket scam on DoNotPay, we give you various options to pursue compensation from ticket scammers.
We won't stop until you are fully refunded. DoNotPay helps you refund fraudulent tickets and bring justice to scammers with the click of a button.
Use DoNotPay to resolve your ticket scam issues in three easy steps:
1. Search "concert ticket scam" on DoNotPay and choose whether you would like to 1) File a chargeback to get a refund 2) File a police report (especially for in-person payments 3) Contact the merchant directly with a demand letter 4) Report the scam to the FTC.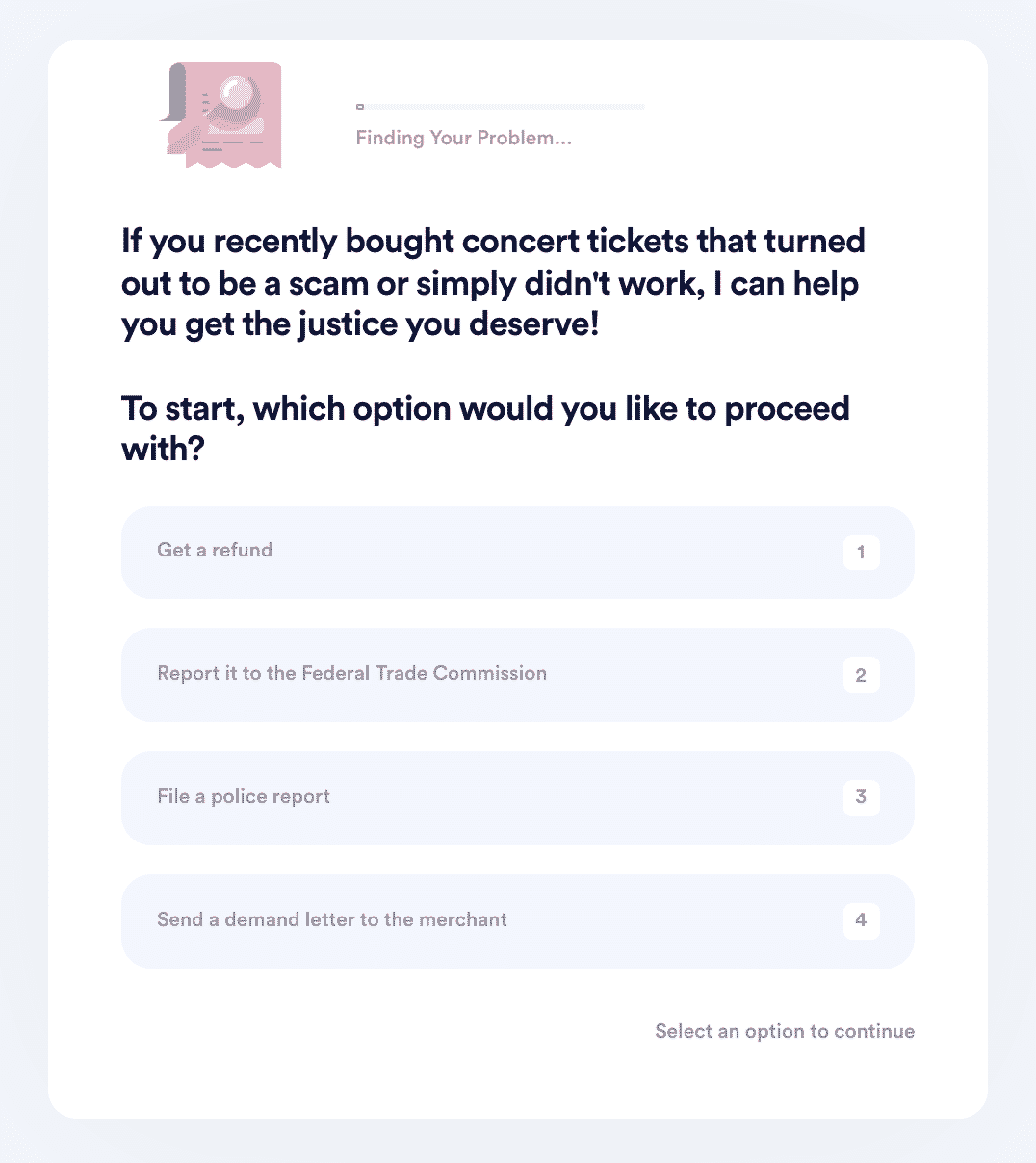 2. Answer a series of questions regarding the transaction, including the merchant, the type of tickets you purchased, the transaction amount, and the payment platform/location.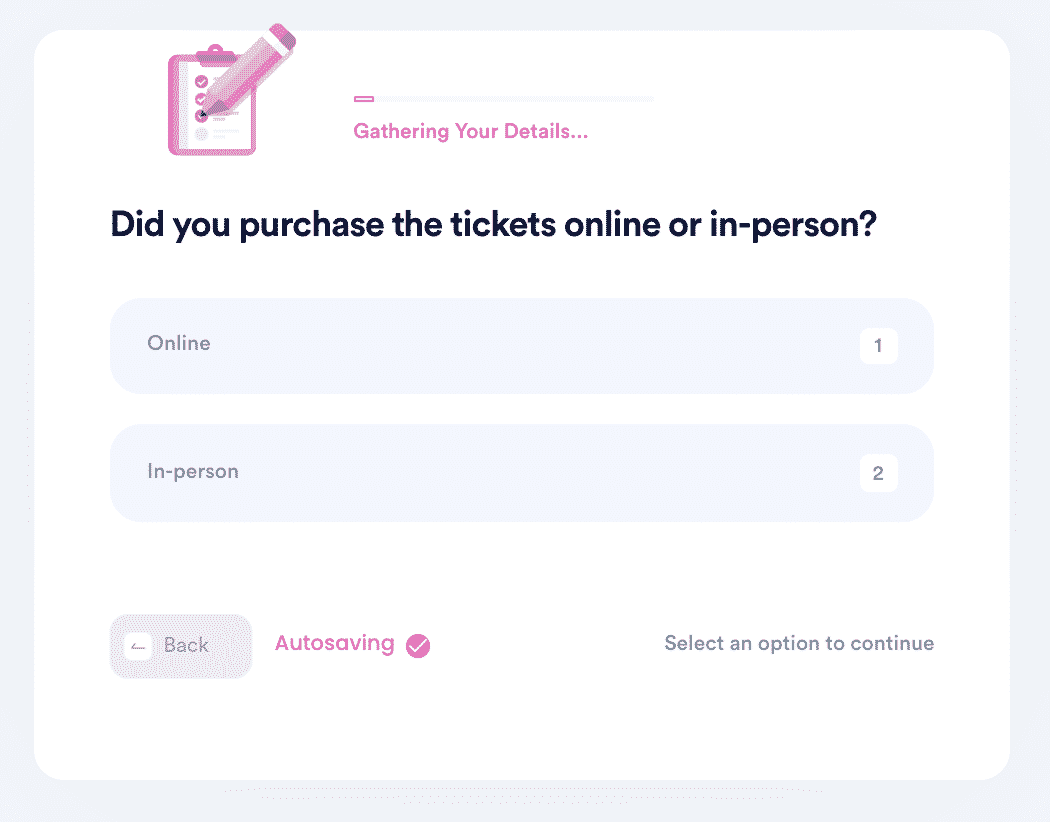 3. Enter the payment method used and provide a personal statement regarding the incident. Upload any evidence you have and provide your e-signature.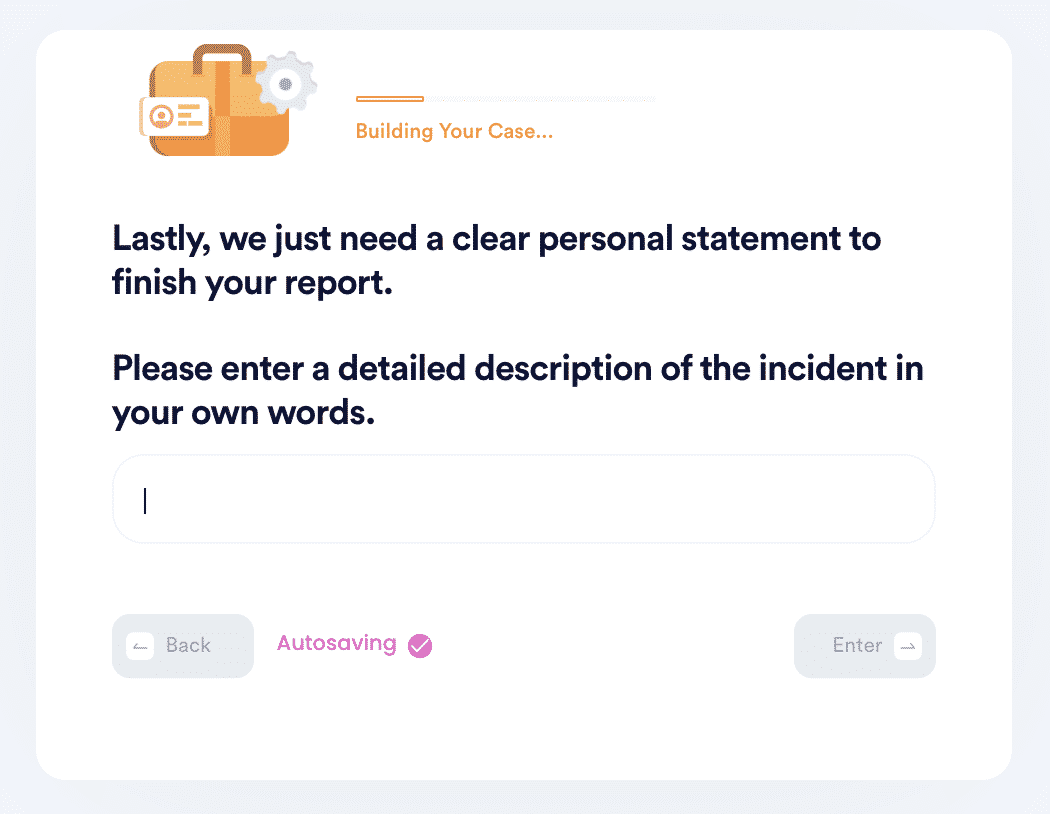 And that's it! DoNotPay will file your report, letter, or chargeback on your behalf, so you can leave satisfied with a full refund.
Why Rely on DoNotPay for Your Fraudulent StubHub Tickets?
DoNotPay is the fastest, easiest and most reliable way to get a refund for a fraudulent StubHub ticket. But that's not all you can do with the app.
What Else Can DoNotPay Do?
DoNotPay can show you how to tell if a ticket is fake and avoid scams.
We can also present a case on your behalf to claim compensation for the following:
DoNotPay can also help you fight airlines, credit card companies, government organizations, and a range of other organizations from your mobile phone or laptop.
Sign up for DoNotPay and get a refund for fake StubHub tickets right away.