How to Get Refunds for Online City Ticket Scams
How would you feel if you bought a ticket for a concert only to be denied entry or find others with the same ticket to your seat? Well, these are the reports of people alleging to have experienced a ticket scam after purchasing their tickets on a platform known as Online City Tickets.
A brief search on the internet and you will find many incidents of Online City Ticket scams, with many dissatisfied customers expressing their frustrations after being duped of their money on the platform.
If you happen to be such a customer who bought a ticket on the platform and did not get value for your money, then DoNotPay is here to take up your case. We can also help you get refunds for scams involving tickets bought from Craigslist, Ticketmaster, SeatGeek, and Eventbrite.
How to Spot and Avoid Fake Tickets
Although fake tickets can pass for genuine ones, the following ways can help you spot or avoid them.
Do some due diligence on your part to ascertain the legitimacy of tickets on offer by comparing them to those of others or calling the venue to verify whether they are responsible for the tickets.
Purchase your tickets on reputable sites. You are more likely to get an original ticket on Eventbrite or Ticketmaster than on Craigslist.
Run a check on whether the seller is accredited by bodies such as NATB or BBA. If not, avoid buying from such sites and seek alternatives.
Is Online City Tickets a Scam?
Many people have raised the issue with the site, with some reporting that they had to seek legal recourse to get their money back. The company is also not accredited by the Better Business Bureau, a non-profit that helps consumers find businesses they can trust. On this basis, and given the high number of customer complaints, it would be prudent to exercise your better judgment when weighing your ticket purchase options.
How to Contact Online City Tickets If You've Been Scammed
You can reach out to Online City Tickets through different platforms. Their opening hours are Monday through Friday 8:00 AM to 5:00 PM.
| | |
| --- | --- |
| Phone Number | (800) 854-2196 |
| Email | support@onlinecitytickets.com |
| Chat | https://onlinecitytickets.com/contact.php/ |
What to Do Next If You've Been Scammed
If you have been scammed on online city tickets, you can seek to resolve the matter by:
Contacting the site using the details provided
Filing a police report
Reporting the issue to the Federal Trade Commission
How to Get Justice for an Online City Tickets Scam on Your Own
Contacting the Site Using the Details Provided
The first course of action would be to call, email, or chat with the staff concerning your issue with the ticket, and if that fails, you could pursue other methods of seeking help.
Filing a Police Report
You could also go to your local police for help. They will likely ask for details regarding the transaction. You are advised to note the police to whom you reported the incident and take their number should you need to follow up on the progress.
Report to the Federal Trade Commission
This body deals with complaints regarding bad business practices or ongoing fraudulent practices affecting consumers. You will be asked to provide details of the trade, such as the ticket price, the company name, and ticket purchase date. You will also leave your contact details, such as your phone number and physical address, should the commission need to reach out to you at a later date.
Next Steps to Find Justice If You Can't Do It Yourself
The above steps are full of challenges, and there is a chance that you will not get your money back. For one, online tickets may decline to issue refunds citing the fact that their only part was to broker the deal. Some customers can attest to such treatment.
The local police do not have the resources to follow up the case and refer your issue to a state body that ensures consumers' welfare. Still, there is no surety that you will get help.
On the other hand, the FTC deals with hundreds if not thousands of cases daily. Therefore, they are unlikely to pick up your issue with the promptness that you may feel it deserves.
You, therefore, need a more successful way of dealing with your problem. The good news is that such an option exists.
Get Justice for Online City Ticket Scams with the Help of DoNotPay
DoNotPay can save you the agony and frustration of dealing with organizations that do not seem to act fast enough to get your money back. Follow these easy steps to kick start the process:
1. Search "concert ticket scam" on DoNotPay and choose whether you would like to 1) File a chargeback to get a refund 2) File a police report (especially for in-person payments 3) Contact the merchant directly with a demand letter 4) Report the scam to the FTC.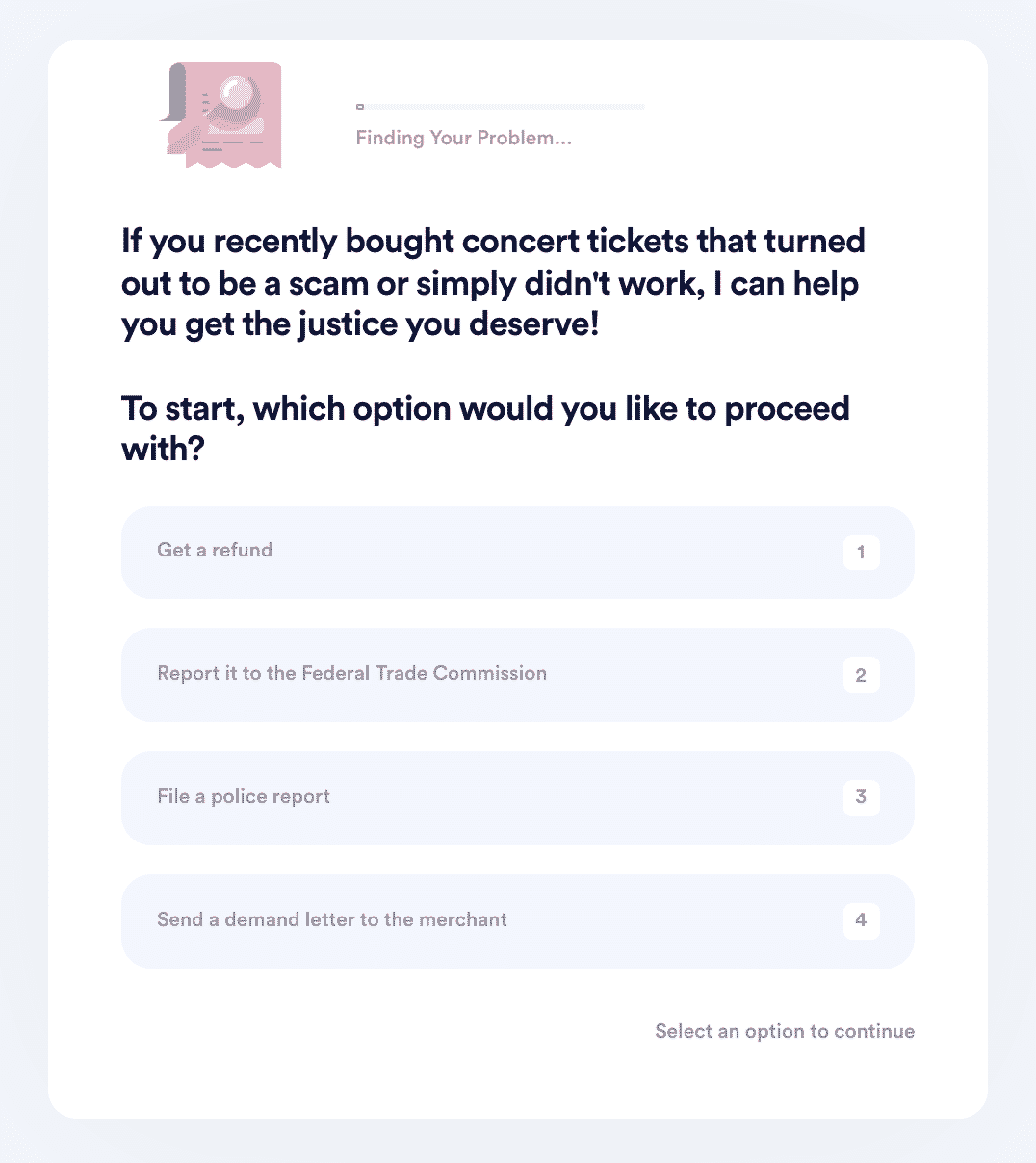 2. Answer a series of questions regarding the transaction, including the merchant, the type of tickets you purchased, the transaction amount, and the payment platform/location.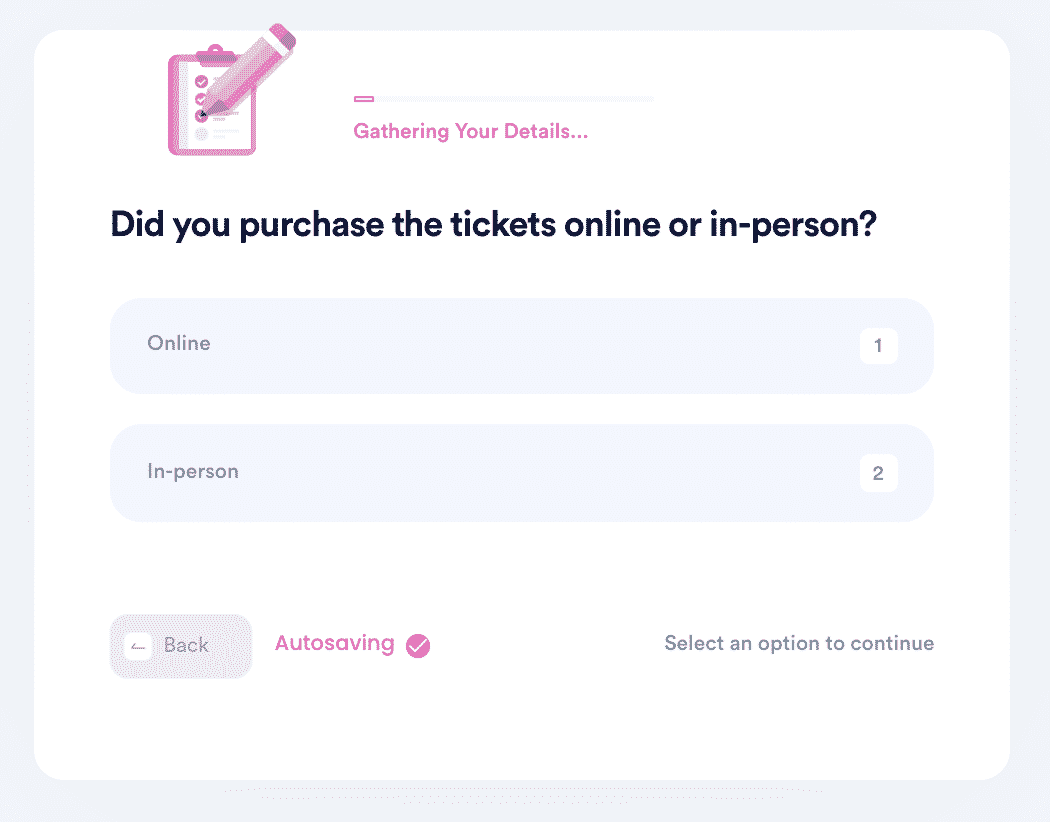 3. Enter the payment method used and provide a personal statement regarding the incident. Upload any evidence you have and provide your e-signature.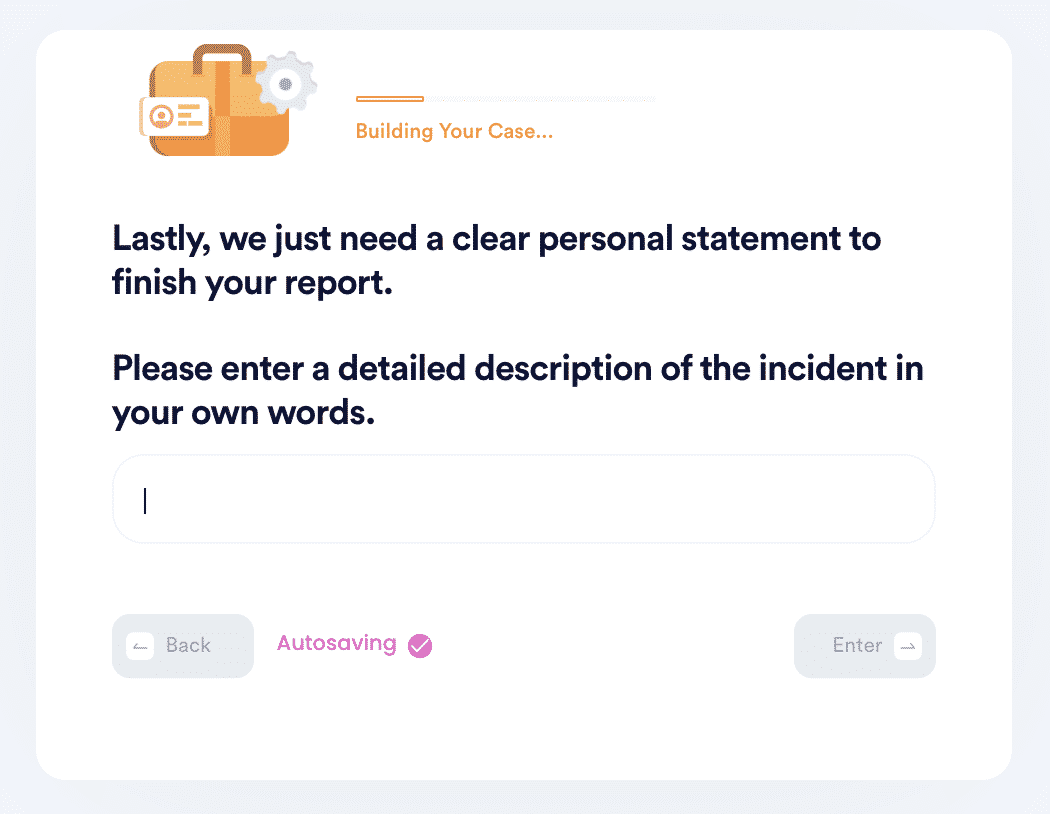 DoNotPay will file your report, letter, or chargeback on your behalf so that you can leave satisfied with a full refund.
Why Use DoNotPay for Online City Tickets Scam
There are solutions you can do yourself but it would take too much of your time. DoNotPay can simplify matters for you, we are:
Fast- You do not have to scour the internet for the solution to your fake online City Tickets.
Easy- With just three steps DoNotPay can prepare the complaint letter to be filed against the erring company.
Successful- We have helped many get their account back, we can make it a reality for you too.
What Else Can DoNotPay Do?
Getting your funds back from scammers is just one of our many superpowers. We can also do the heavy lifting for your other processes such as:
Sign up today to enjoy these and other services.