Concert Ticket Scams: Ticketmaster Scams
When you see an event or a concert with your favorite artist playing, the first thing you look for is tickets, the most affordable options, and the best way to get them. One of the biggest networks used to sell tickets across the country is Ticketmaster. Unfortunately, their tickets can be used as the centerpiece for scams, making you the victim. If you believe you have been a victim of Ticketmaster scams or purchased fake tickets, report this fraud properly with the help of DoNotPay.
Is Ticketmaster a Scam?
Ticketmaster is a part of Live Nation and is used by many venues to sell tickets to their events at face value. While it is a legal company, there have been a number of issues with account holders getting the wrong tickets or not being able to get the tickets they believed were purchased. Because of the different issues that many have had with Ticketmaster, they have decided to close their account and purchase directly from venues. 
How to Contact Ticketmaster if You've Been Scammed
If you believe you have been a victim of Ticketmaster scams, you will need to contact them through the following steps:
You will need to contact their customer service by first logging into your account. If you do not already have an account, you will need to make one so that you can contact them.
Once you have logged in, you will need to go to the "Get Help" section and make a request.
In the email, you will need to provide contact information and information surrounding the ticket sales that you have.
Wait for them to contact you for the next steps.
While Ticketmaster is reputable, their customer service and ability to make reports is not very easy. 
Common Ticket Scams to Avoid
When you are trying to purchase tickets for a concert or an event, there are several ticket scams that you should be aware of so that you are not the next victim.
| | |
| --- | --- |
| Buying repurchased tickets from another person. | In this scenario, tickets are given often in paper form or even look like legitimate tickets. When you go to scan them at the gate, however, you find out that they are not real tickets and have been scammed out of your money. |
| Opening a bad link to tickets. | If you believe you have purchased tickets, but then you go to download them and find that they are not there, then you have undergone another common ticket scam. |
| Purchasing tickets for an event that is already sold out. | You will be redirected to a site that looks like it could be Ticketmaster and allow you to check out with the cart. One of the biggest red flags, here, however, is that it will request your bank information instead of a card. |
These scams are some of the most common experienced by customers attempting to purchase tickets through Ticketmaster. Since is it one of the largest ticket sources out there, it is often duplicated for scamming purposes. 
What to Do Next if You've Been Scammed
If you believe you have been scammed by Ticketmaster or someone disguising themselves as Ticketmaster, then you will need to make a formal complaint to the Federal Trade Commission (FTC). Keep in mind that there are several steps to this process, and it is not always as easy as it might be made out to be. Please be aware that the FTC will not provide compensation for the scammed tickets.
How to Report the Scam to the FTC
Below are the steps you need to take to report the scam to the FTC:
You will need to report it online. Once you go to that site, you will be asked a variety of questions.
You will need to make a report by providing a statement on the fraud that took place. Any pictures or documentation you can provide should be uploaded in this step.
Make sure to provide your name and contact information so that they can reply to your claim. Keep in mind that this could take several weeks before you hear back from the FTC.
Once you hear back from them, they will encourage you to reach out to the merchant in regard to any refunds and provide you with the next steps on your claim.
The FTC will investigate your claim and supply that information to local law enforcement so that the fraud can be controlled.
Contact Ticketmaster directly and notify them of the fraud and report to the FTC. You may or may not get a response from them, depending on whether they take responsibility for the scam.
Next Steps if You Can't Report the Scam to the FTC
If you have tried to navigate the system and report the Ticketmaster scam to the FTC, you may have hurdled a number of steps and still not been successful. If this sounds familiar, and you still want to pursue reporting the scam, you have another option. Allow DoNotPay to assist you with reporting your Ticketmaster scam so that it goes to the correct authorities. 
Let DoNotPay Help You With Reporting Your Scam
Here's how you can use DoNotPay to resolve your ticket scam issues in 3 easy steps:
1. Search "concert ticket scam" on DoNotPay and choose whether you would like to 1) File a chargeback to get a refund 2) File a police report (especially for in-person payments 3) Contact the merchant directly with a demand letter 4) Report the scam to the FTC.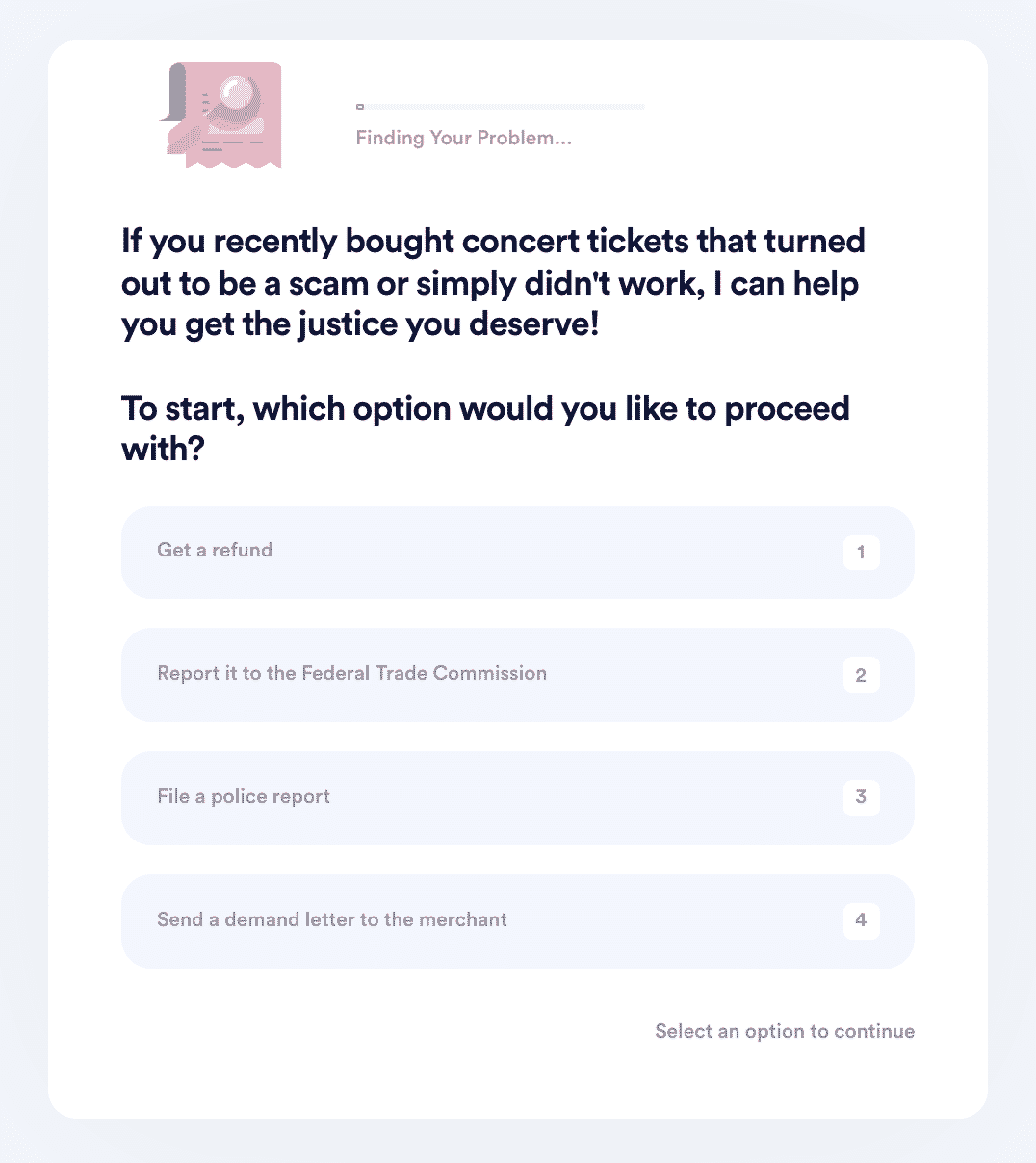 2. Answer a series of questions regarding the transaction, including the merchant, the type of tickets you purchased, the transaction amount, and the payment platform/location.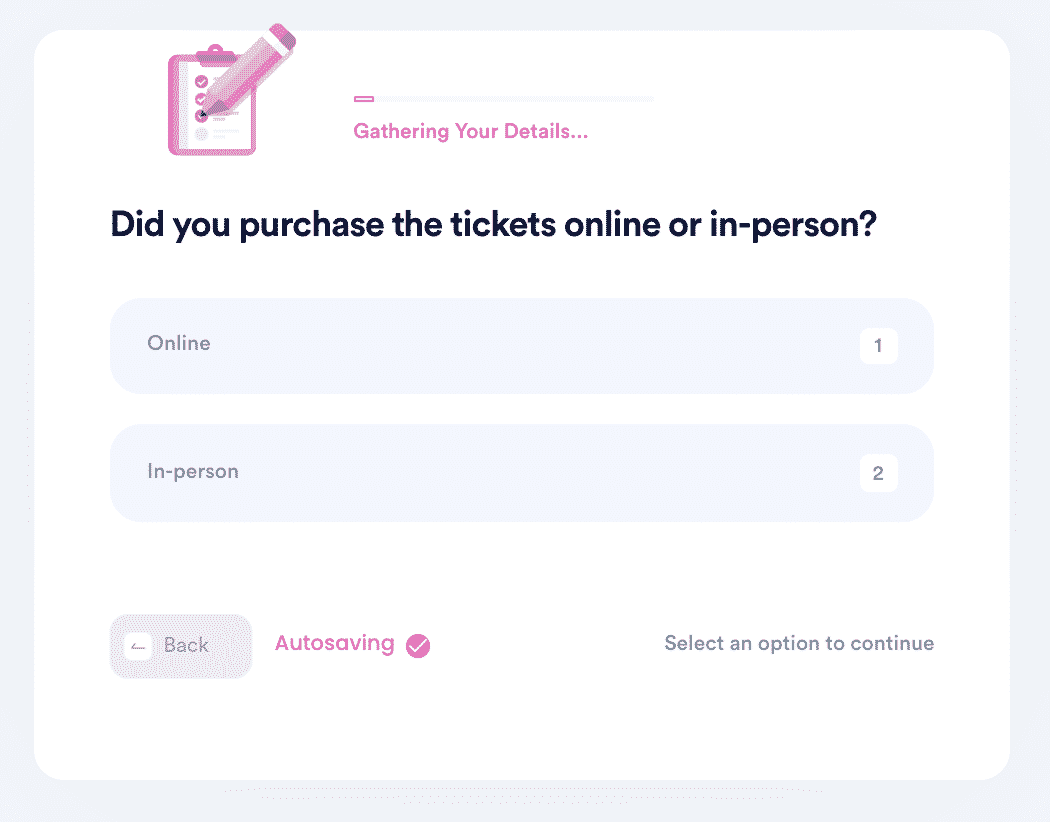 3. Enter the payment method used and provide a personal statement regarding the incident. Upload any evidence you have and provide your e-signature.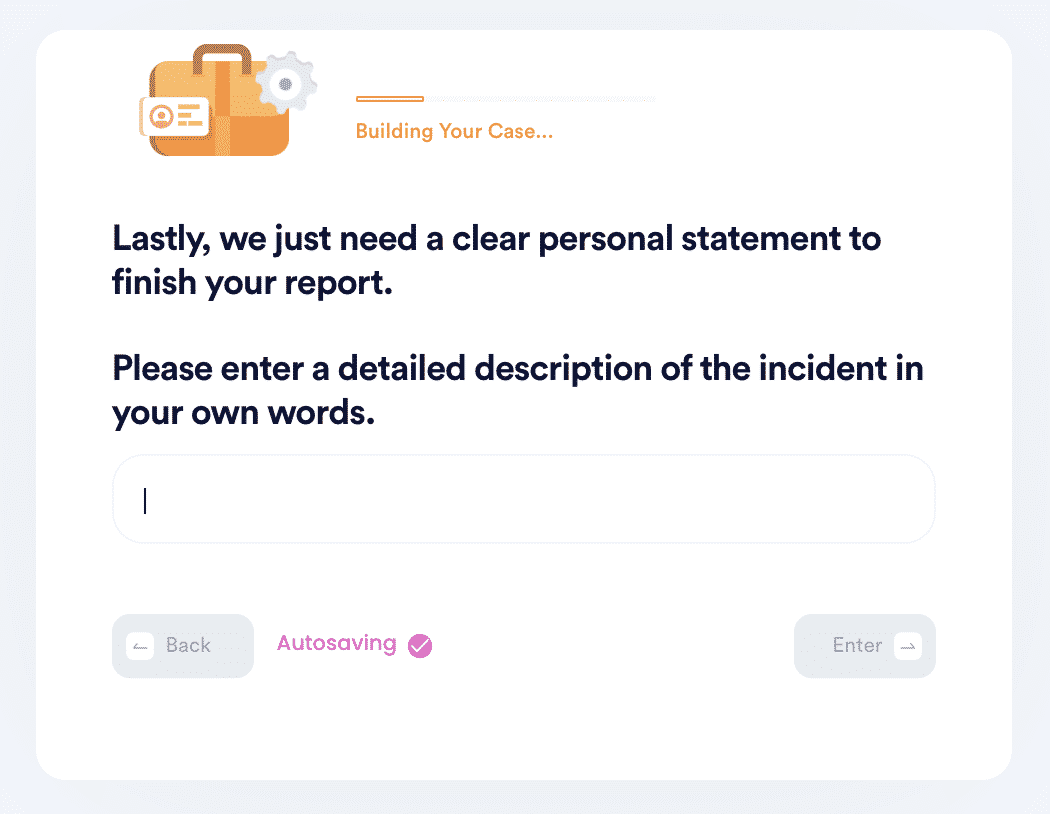 And that's it! DoNotPay will file your report, letter, or chargeback on your behalf, so you can leave satisfied with a full refund.
DoNotPay Can Help With All Scam Reporting
They are not only limited to helping you report to Ticketmaster but any other ticket you received supposedly from a different merchant can be reported through DoNotPay such as:
With just a quick click of a button, you can report other types of scams as well. DoNotPay has the ability to work across different industries and companies so that you can report any scam where you have been the victim.