How to Handle Craigslist Ticket Scams
Craigslist is a great place to find bargains on many of the things you need each day. And it can also be a great place to buy tickets to sold-out sporting events and concerts. Ticket scams, however, number in the millions each year, so caution must be taken to avoid being scammed. But even if you thought you were being careful, you may have become a victim of one of many Craigslist ticket scams that are popping up all over the country. Is there anything you can do if you were scammed?
DoNotPay can help you if you have been . They can help you to:
File a chargeback to get a refund
File a police report (especially for in-person payments
Contact the merchant directly with a demand letter
Report the scam to the FTC
And DoNotPay makes it easy and quick in only three easy steps!
What Can I Do to Avoid a Ticket Scam on Craigslist?
On Craigslist or any third-party seller, scammers prey on people who are uninformed and over-excited. There are some precautionary steps you can take to minimize your risk when purchasing tickets on Craigslist.
Attempt to buy from the official box office first. You can find out for sure if they are sold out, and if unsure, how much the tickets would be through them. If tickets to a sold-out event are cheap and seem too good to be true, they probably are a scam.
Find out if the Craigslist seller is a licensed broker. Sure, there are individuals selling tickets but don't trust them if you don't know them.
Do a little research. What does a ticket look like? If the seller is an individual, ask to see their receipt or invoice from when they purchased the tickets. Do account numbers match? Verify that the seat numbers on the ticket correspond to the venue's seating chart. Check other tickets on Craigslist to see if the person you are purchasing from has comments or complaints against them.
Always pay with a Cashier's Check if meeting in person. A personal checklist, not only your account number but other pertinent information such as address and phone number.
If transacting virtually, use PayPal for payment. This offers you some protection. With PayPal, your credit card number is hidden, and the company offers some protection against fraudulent purchases.
Never pay with cash, particularly if the amount is large.
Always meet in public, well-lit places. Use your phone to photograph the person that you are meeting with, or ask for identification and photograph that, so you will have the information if needed for a claim.
What Kind of Scams Should I Look Out For?
Always check seating charts, since some fake tickets will contain seat numbers that do not exist. Although, scammers can make tickets look realistic, check for things that seem a bit off or unusual. Check dates and times against the concert schedule. And keep in mind, if it seems too good to be true, it probably is.
What Should I Do If I Have Been Scammed?
If you purchased tickets from a seller on Craigslist, there are a few things that you can do to be reimbursed, or attempt to bring the scammer to justice.
File a chargeback to get a refund. Contact your credit card company if you charged the purchase or if you went through PayPal and file a claim with them. If you wrote a check, you may have time to file a stop payment on the check you wrote.
File a police report. Be specific. If you met in person, where did you meet, what did they look like, did you ask for identification. Furnish any photographs you may have taken.
Contact the person or company directly with a demand letter. This could be tricky unless the company had a valid address or the individual furnished contact information when you met.
Report the scam to the FTC. This may not help you get your money back, but it may help in punishing the criminal who fraudulently sold you the tickets, and perhaps save a future buyer from being scammed.
What If I Can't Do It by Myself?
If you are unable to take the time to fill out a police report or write a demand letter, DoNotPay can help. They can even help you prepare a chargeback or report the scam to the FTC. makes it easy and quick for you to take care of your problem.
Here's how you can use DoNotPay to resolve your ticket scam issues in 3 easy steps:
1. Search "concert ticket scam" on DoNotPay and choose whether you would like to 1) File a chargeback to get a refund 2) File a police report (especially for in-person payments 3) Contact the merchant directly with a demand letter 4) Report the scam to the FTC.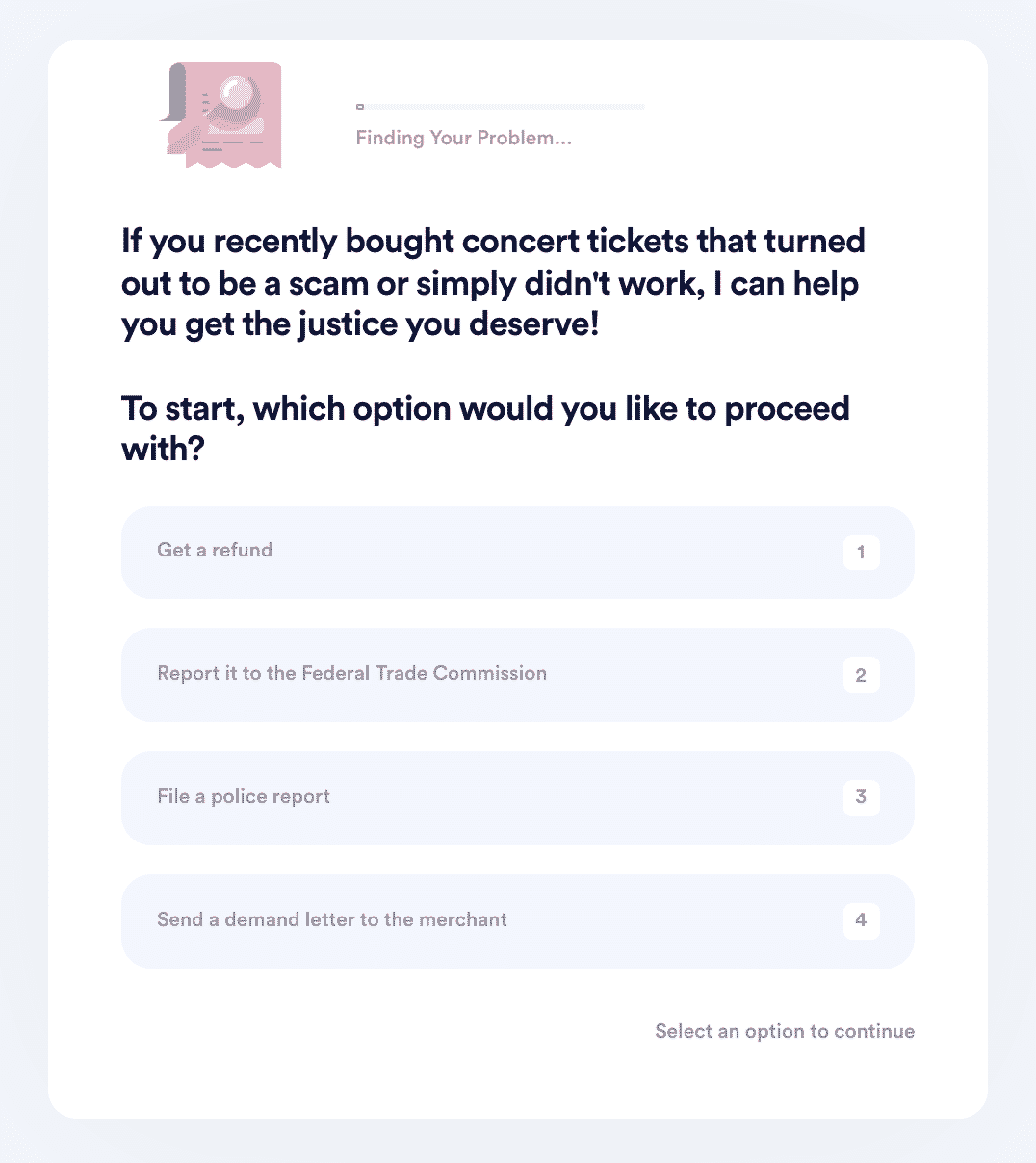 2. Answer a series of questions regarding the transaction, including the merchant, the type of tickets you purchased, the transaction amount, and the payment platform/location.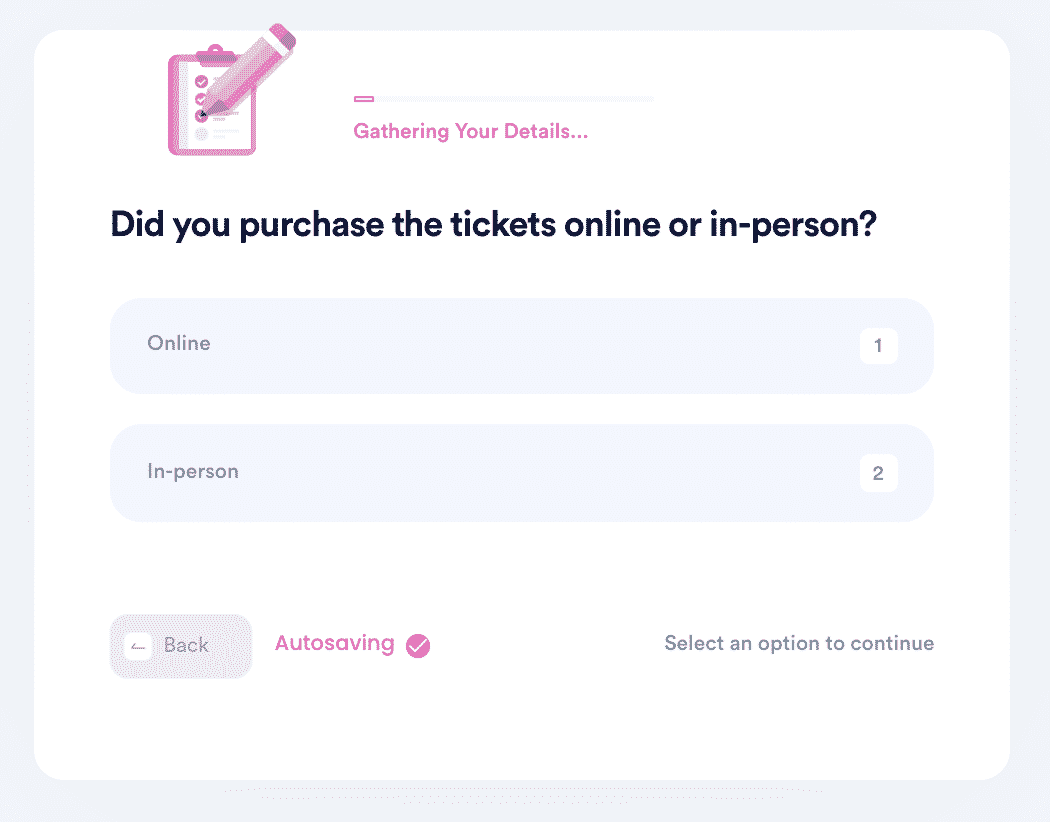 3. Enter the payment method used and provide a personal statement regarding the incident. Upload any evidence you have and provide your e-signature.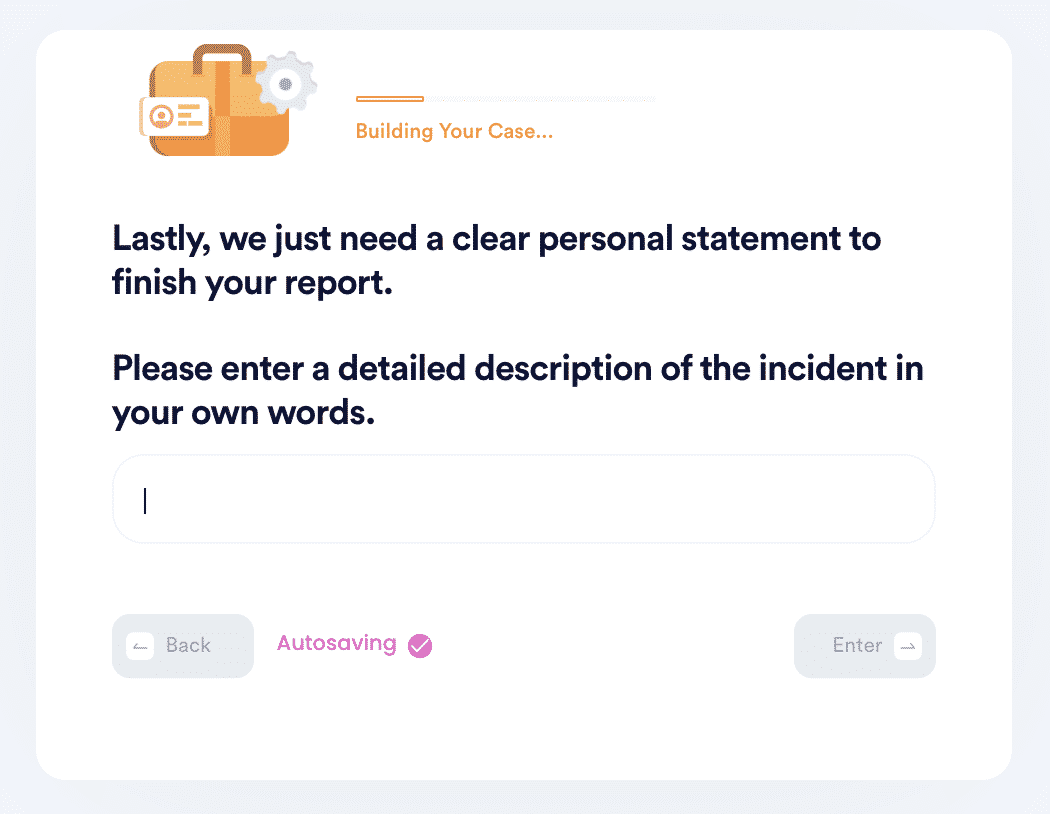 And that's it! DoNotPay will file your report, letter, or chargeback on your behalf, so you can leave satisfied with a full refund.
What If I Was Scammed by Another Ticket Seller?
DoNotPay can not help you with your Craigslist ticket scam, they can also help if you were scammed when purchasing a ticket from:
How Can DoNotpay Help with Other Problems?
DoNotPay offers quick and easy solutions to many of the problems you encounter every day. Need help fighting a parking ticket? Do you want to file a complaint? Do you deserve to be compensated for a canceled airline flight? Or need help getting chargeback or refunds handled? DoNotPay has helped thousands of people just like you solve problems. How can we help you?