Are Ticketmaster "e-Tickets" Fake? How Can I Get a Refund?
Ticketmaster electronic tickets — or "e-Tickets" — can be counterfeited. In a nutshell, modern technology makes it too easy for scammers to create Once a con artist creates some fake tickets, they sell them via:
Now, we're not claiming that every Ticketmaster "e-Ticket" is a fake. If you buy a ticket directly from Ticketmaster.com and print it yourself at home, your ticket is genuine. You won't have any problems getting into a concert or sporting event.
But if you buy a Ticketmaster "e-Ticket" in the parking lot outside the venue, you might get scammed. The internet is always ablaze with stories of Ticketmaster scams and .
So take heart. You aren't the first person to be ripped off. You're one of the thousands of victims. These scammers are getting very crafty about how they operate.
This article explores three points about fake Ticketmaster tickets:
Intelligent ways to buy tickets, so you don't get ripped off
How to use DoNotPay to get refunds for fake tickets
And some other legal tasks you can manage with DoNotPay
Your first question is: "How can I buy Ticketmaster e-Tickets safely?"
Three Smart Ways to Buy Genuine Ticketmaster Tickets
If you're wondering how to get genuine Ticketmaster "e-Tickets," you're in the right place.
Visit Ticketmaster.com
Your first stop should always be Ticketmaster.com. Scan through the events, choose your seats, and pay with a credit card or other authorized payment method like PayPal.
If your event is sold out, you'll need to look at the secondary markets. These are online platforms and classified ads where people sell tickets. Your safest bet is to use a platform like SeatGeek because they guarantee all tickets to be genuine. Still, you must move forward with care.
Try Secondary Markets, Like SeatGeek, But Be Careful
SeatGeek is a primary and secondary ticket market. Individuals can buy event tickets in bulk at Ticketmaster.com, then resell them for a profit at SeatGeek. If you'd love to see a sold-out show, this is a good place to look.
Now, sometimes people get fake tickets from SeatGeek. It does happen, but they have a solid return policy, and you'll use a credit card to make the purchase, so you're at least protected against the financial loss of a bunk ticket.
Always Pay With a Trusted Payment Method
Remember, if you're not buying the Ticketmaster e-Ticket directly at Ticketmaster.com, you need another layer of protection. This way, you can seek a refund if a ticket turns out to be fake.
| | |
| --- | --- |
| Pay for your tickets with | Do not pay for a ticket using |
| American Express credit cards | Cash |
| Visa credit cards | Cryptocurrency |
| MasterCard credit cards | Western Union |
| PayPal | Gift card trades |
| | Any tangible trade (like jewelry or watches) |
The point is that established credit cards — especially American Express and its "no questions asked" refund policy — provide you with some protection. If someone offers to make a trade for the ticket, like gift cards at department stores or gas stations, it's probably a scam.
Most of all, remember that any Ticketmaster tickets you purchase in the event parking lot might be fake. So skip the scalpers. And we'd say the same thing about Craigslist tickets, too. Be very careful buying concert tickets on Craigslist.
Now that we've covered all the ways you can buy genuine Ticketmaster tickets, let's talk about how you can use DoNotPay to get a refund for fake Ticketmaster e-Tickets.
How to Use DoNotPay to Get a Refund for Fake Ticketmaster Tickets: It's Fast and Easy!
What if it's too late? What if you got fake tickets? DoNotPay can help.
Let's see how easy it is to get a refund, file a police report, and even report ticket scams to the FTC with DoNotPay.
You can use DoNotPay to resolve your ticket scam issues in three easy steps:
1. First, search "concert ticket scam" on DoNotPay and choose whether you would like to 1) File a chargeback to get a refund 2) File a police report (especially for in-person payments 3) Contact the merchant directly with a demand letter 4) Report the scam to the FTC.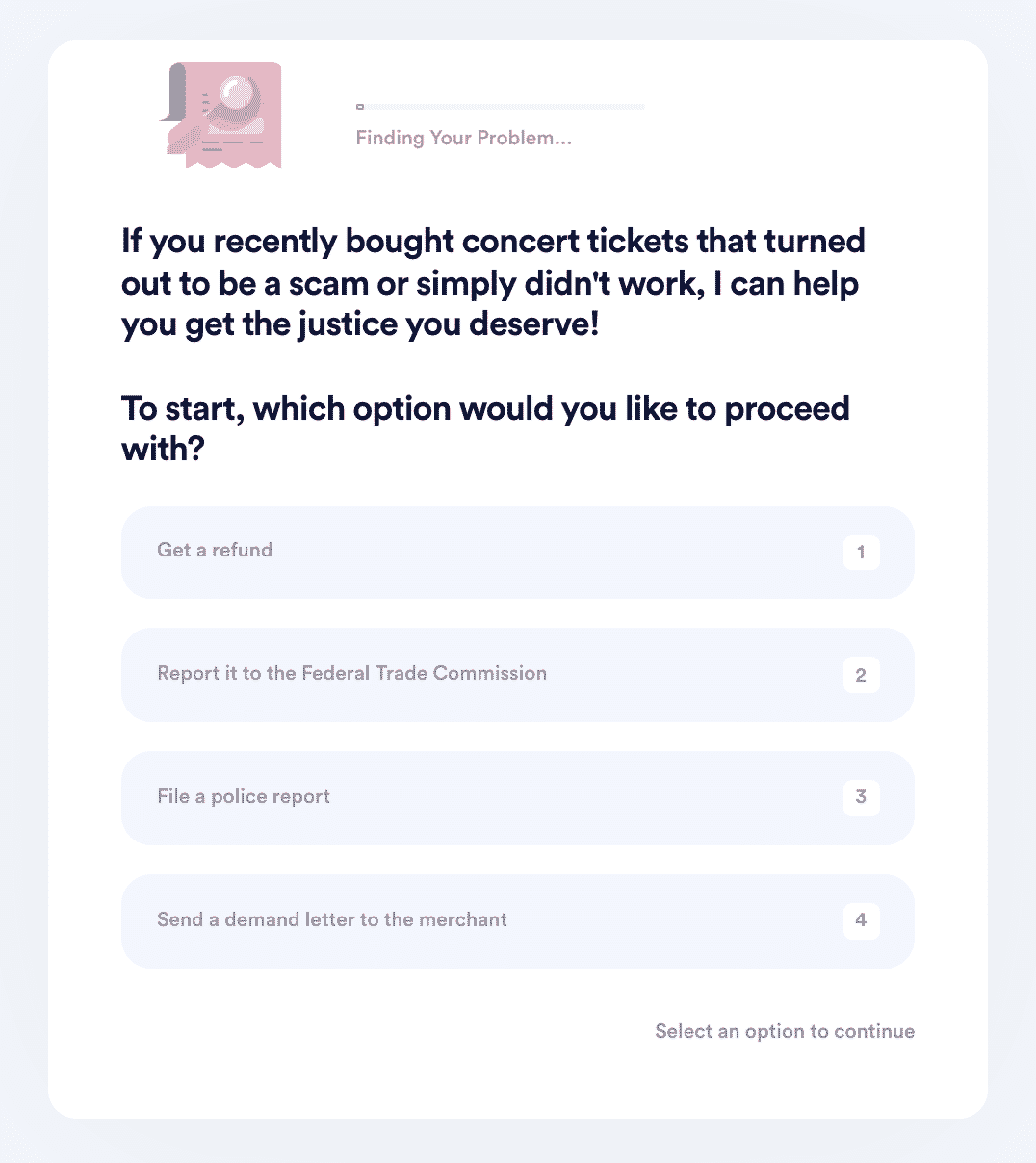 2. Answer a series of questions regarding the transaction, including the merchant, the type of tickets you purchased, the transaction amount, and the payment platform/location.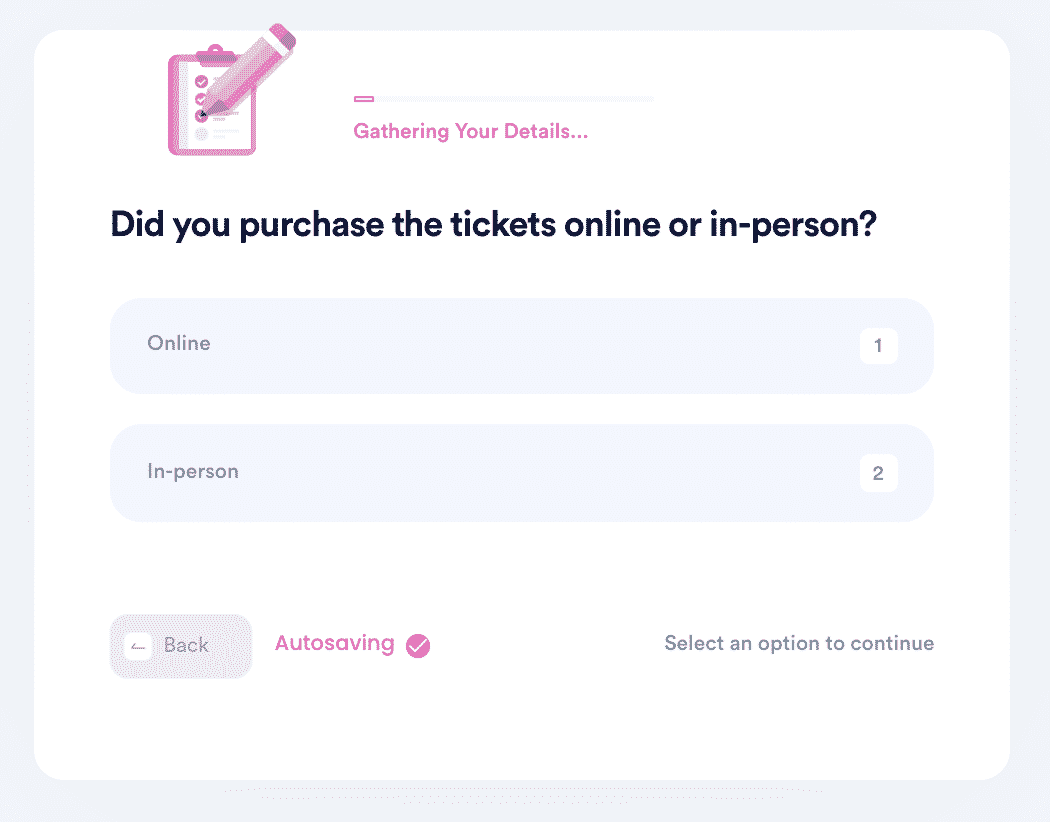 3. Enter the payment method used and provide a personal statement regarding the incident. Upload any evidence you have and provide your e-signature.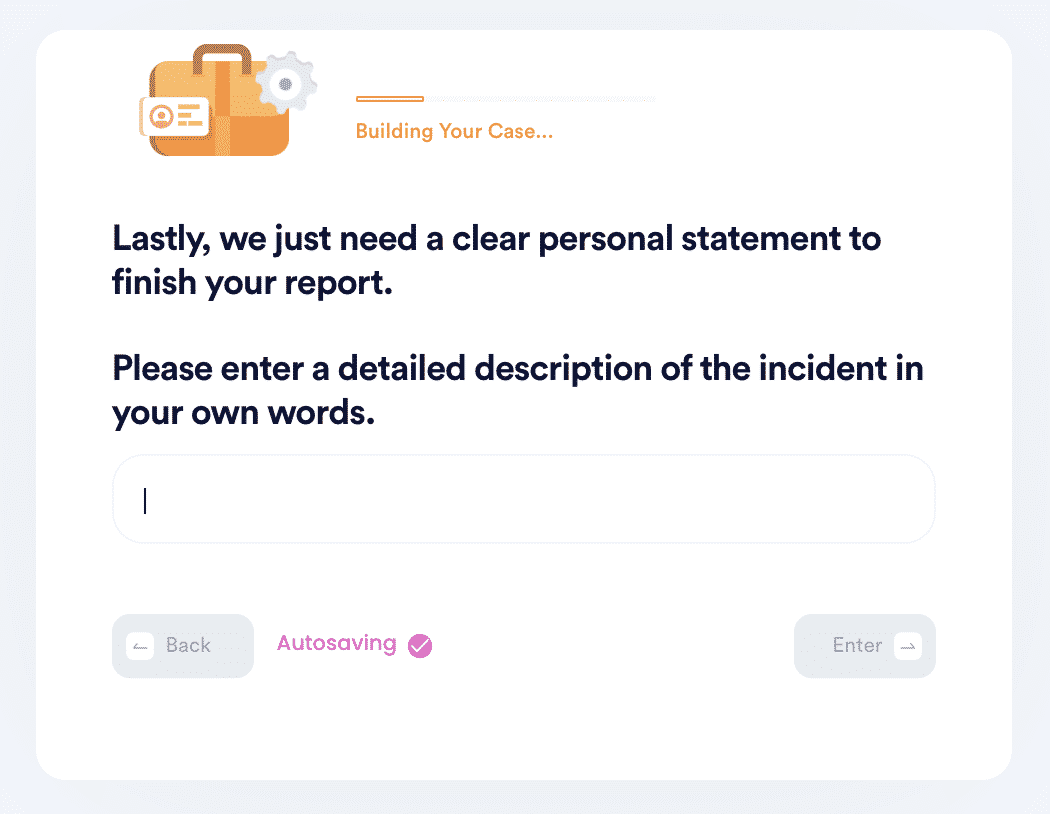 See how easy that was? Let DoNotPay file your report, letter, or chargeback on your behalf. You can leave satisfied with a full refund and know that the scammers have been reported.
DoNotPay is the world's first robot lawyer. You can use the app whenever you believe a company or individual is treating you unfairly. It's like having a personal attorney on your side all the time!
Beyond Fake Ticketmaster Tickets: Other Ways to Use DoNotPay
DoNotPay can help you tackle all kinds of legal tasks. You can use it to:
Report illegal dumping
And battle shady landlords
Try it today!