How to Deal with Internet Ticket Fraud
Internet ticket fraud entails the sale of non-existent tickets to events, such as sports or music concerts. Scammers take advantage of enthusiastic fans eager to see their favorite bands, and take this opportunity to sell useless tickets that will not be accepted at the event.
If you're tempted to buy tickets from unreliable sources, learn how to differentiate a fake ticket from a real one to avoid getting conned.
However, if you've already fallen victim to internet ticket fraud, there is a way to get your money back. DoNotPay can help! We can help you get refunds for fake tickets acquired from Craigslist, Ticketmaster, SeatGeek and Eventbrite.
How to Tell if a Ticket is Fake, and Avoid Fake Tickets 
Find out what the actual tickets look like. It can be hard to tell them apart, some fake tickets look authentic. It is best to verify ticket authenticity by confirming with the venue.
Buy tickets on reputable sites. Avoid resellers such as craigslist or Facebook unless you are buying from a friend or someone you know.
Ask the seller to provide an official sales invoice to ascertain that they bought the ticket from a verified provider.
Check whether the online ticket reseller is accredited by the National Association of Ticket Brokers or the Better Business Bureau, a non-profit that gives credence to businesses.
Check for negative customer reviews regarding the site.Iif there are complaints about poor service and a lack of refunds, steer clear of the site.
Verify the seller's physical address and phone numbers as scammers tend to use fake ones.
Common Ticket Scams to Avoid
Sellers That Ask You to Pay in Advance
Do not let the urge to see your favorite celebrity, an awaited movie, or a sporting event overwhelm you into paying for a ticket that you have not laid your eyes on. Scammers know that customers can be desperate for a ticket, and they thus create a sense of urgency and try rushing willing buyers into sending money in advance.
Such fraudsters are likely to disappear once they get their hands on the money, leaving you stranded.
Ticket Prices are Higher than the Face Value of the Ticket
Sellers that charge a price higher than the face value printed on the ticket are not necessarily scammers. A seller in possession of a sold-out ticket can hike the price due to the limited supply of such tickets.
However, you should avoid sellers charging a higher ticket price, especially if such tickets are available on legitimate sites at their face value.
Counterfeit Tickets with Forged Barcodes and Logos
Scammers can create counterfeit tickets that could pass for authentic ones by embedding barcodes or ticket logos.
Never post your ticket's barcode on social media or other online sites, as such information can be used to create fake duplicates. Remember, you can always have a ticket checked for authenticity by the venue.
Pretending to Sell Tickets Online to Steal Your Credit Card Information
Some fraudsters pose as ticket sellers to obtain your credit card information to commit credit card fraud. Be wary of sites that ask for your credit card information and avoid them.
The best way to stay ahead of fraudsters is not to engage with them. Instead, buy your tickets from an authorized site.
What to Do Next If You've Been Scammed
If you have been a victim of internet ticket fraud, you could try getting some justice by:
Filing a police complaint
Reporting the scam to the Federal Trade Commission (FTC)
How to Get Justice by Yourself
File a Police Report
You can contact your local police department about the ticket fraud. They might be able to help you locate the person and get your money back.
Report the Scam to FTC
The FTC has the resources to locate and deal with those engaging in fraudulent activities, including internet ticket scams. Visit the FTC website, and provide information on the amount paid, means of payment, and the date that the transaction occurred.
Contact Support or Fraud Departments of Ticketing Sites
You can also submit a complaint to the support pages of the ticketing sites:
| | |
| --- | --- |
| Eventbrite | https://www.eventbrite.com.au/support/contact-us |
| SeatGeek | https://support.seatgeek.com/hc/en-us |
| Ticketmaster | https://help.ticketmaster.com/s/?language=en_US |
This process takes a while to complete. And it will take longer for them to respond.
Next Steps to Find Justice If You Can't Do It Yourself
The local police may not have the resources and expertise to deal with your case. And it may drag on for a long time. Similarly, the case may take longer with the FTC as they are overwhelmed with cases across the country. There is, however, an alternative: DoNotPay!
Get Justice for Internet Scams with the Help of DoNotPay
DoNotPay will save you the hassle of dealing with the police or FTC, who may take time to sort it out.
Follow these three steps to get started.
1. Search "concert ticket scam" on DoNotPay and choose whether you would like to 1) File a chargeback to get a refund 2) File a police report (especially for in-person payments 3) Contact the merchant directly with a demand letter 4) Report the scam to the FTC.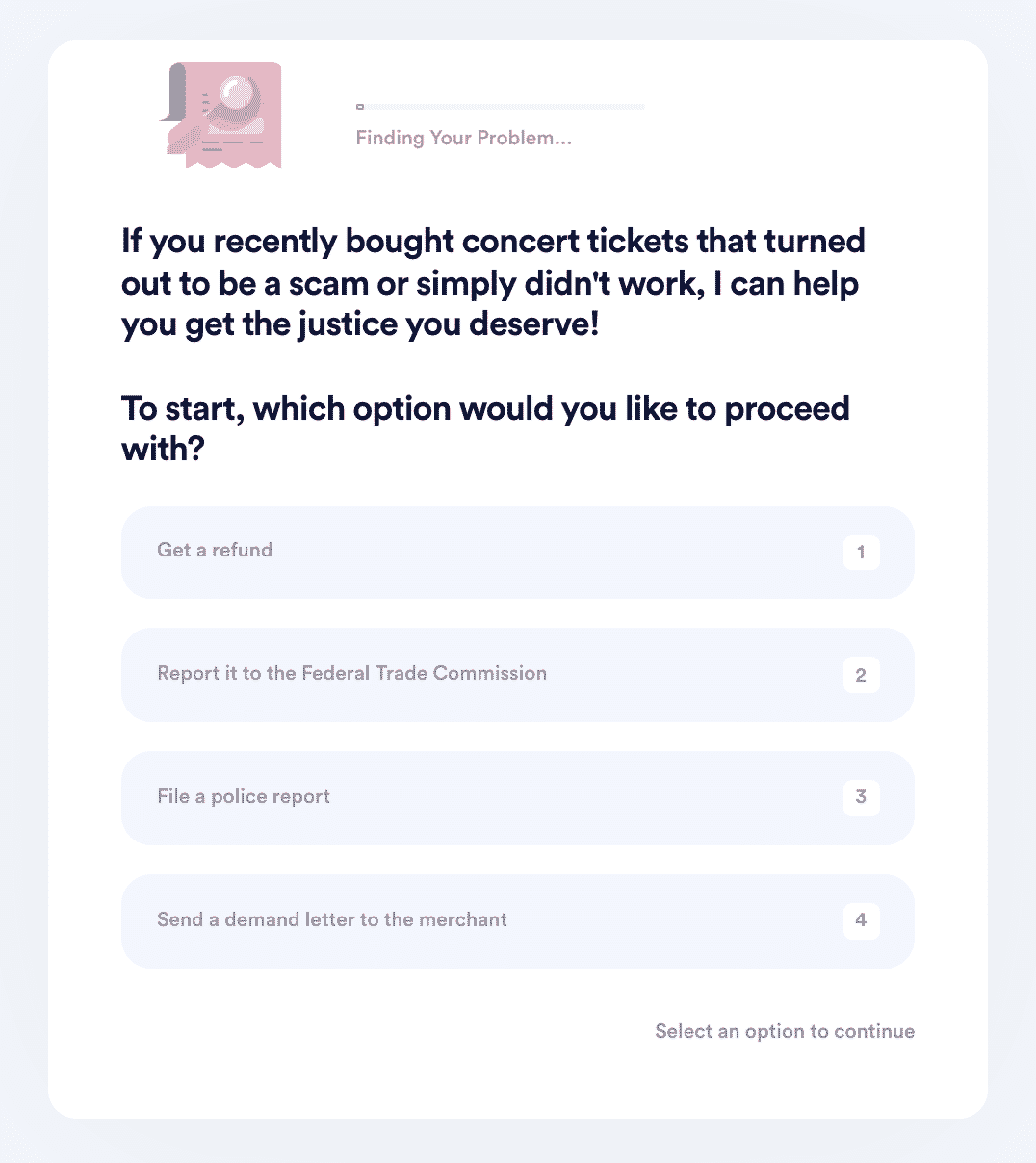 2. Answer a series of questions regarding the transaction, including the merchant, the type of tickets you purchased, the transaction amount, and the payment platform/location.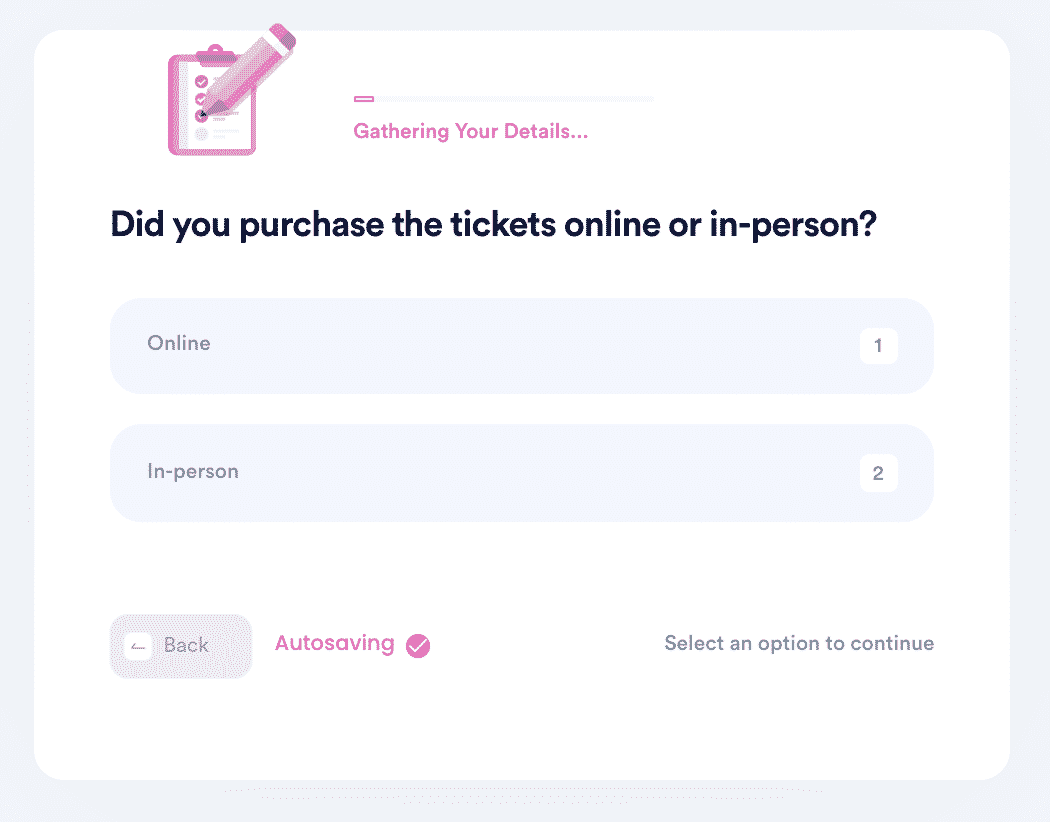 3. Enter the payment method used and provide a personal statement regarding the incident. Upload any evidence you have and provide your e-signature.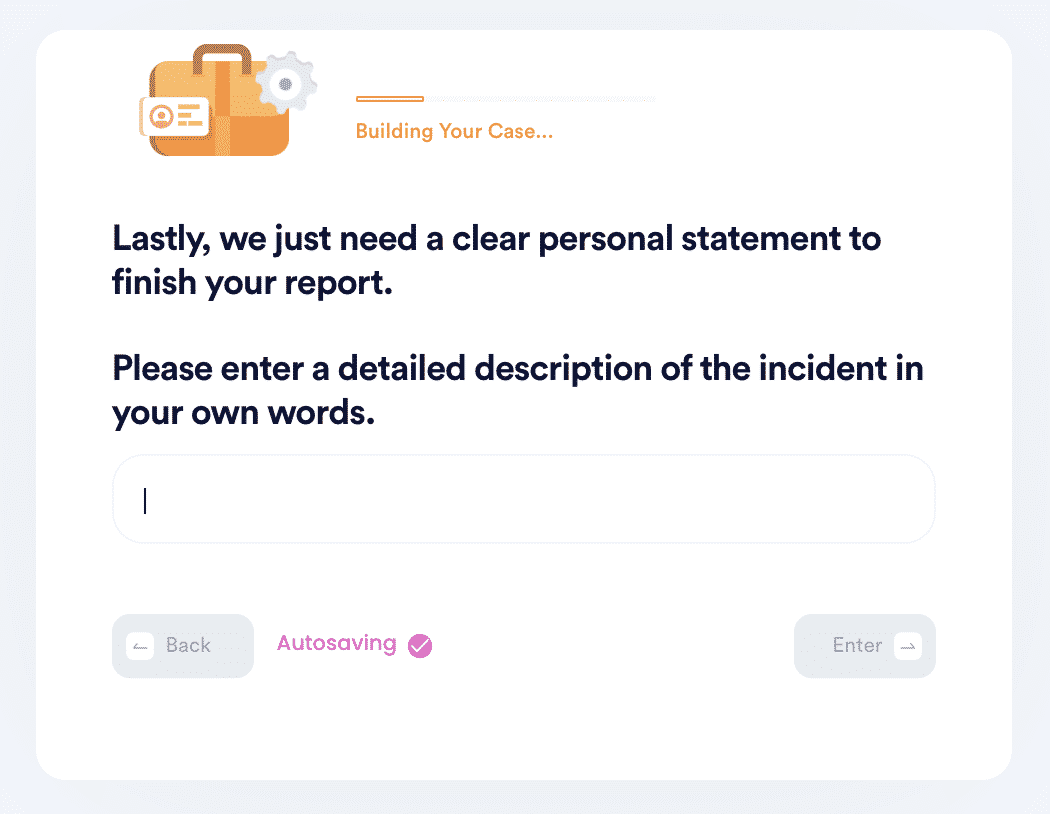 Why Use DoNotPay to Solve Internet Ticket Fraud
You can report internet ticket fraud yourself, or you can let DoNotPay handle it.
DoNotPay is the faster, easier and more reliable way to battle online ticket fraud! But that's not all you can do with the app.
What Else Can DoNotPay Do?
Helping you get your money back following internet ticket fraud is just one of our many solutions to your pressing problems.
Try it for:
•    Helping you contest parking tickets in any city
•    Claiming compensation for poor service on your flight
•    Filing a complaint against any company 
Ready to get your problem solved in no time? Then sign up with DoNotPay today. It's the fastest way to get justice for fake ticket scams on the internet.