How to Tell if a Ticket Is Fake
Every year, over five million fake tickets for sold-out concerts and in-demand sporting events are sold to unsuspecting people, who are giving their hard-earned money to scammers, not realizing that their ticket was fake. Many people are feeling heartbreak and anger when they cannot gain admittance into the event. But as the scammers have become more proficient at using technology to make tickets more realistic, you wonder how to tell if a ticket is fake.
If you have been scammed when purchasing tickets, DoNotPay can help. We can help you to:
Process a chargeback or refund
File a police report
File a report with the FTC
Send a demand letter to the merchant who sold the tickets
How to Avoid Buying Fake Tickets
Ticket scammers are everywhere. They pose on ticket selling sites, sales sites such as Craig's list, outside the venue gates, and even in nearby bars and restaurants. They prey on fans who were unable to get tickets to a sold-out concert, or a sporting event that is in high demand. Some things you may want to consider to avoid buying fake tickets are:
Buy your tickets from the official ticket seller. That means get them from the venue's ticket office, official sporting sites like NFL Ticket Exchange, or from the artist's website or app. Of course, if the event is sold out, these outlets may not be available, but it is the best place to start.
If purchasing from a ticket reseller, look for terms of service that should be clearly spelled out on the site. They should have a written refund policy, specifics on the tickets, including shipping and availability, and any transaction charges should be clear before the purchase is completed.
If you are bragging to your friends on social media, that you scored these great tickets, do not take a photo of the ticket. Scammers will reproduce the ticket and reissue it.
Know what a legit ticket looks like. For sporting events, most national sanctioning organizations include holograms and other hard-to-fake pictures on their tickets. When in doubt, contact the venue.
If dealing with an individual, ask for proof that he owns the ticket. He or she should be able to produce a copy of the invoice from when he purchased the ticket. If he or she cannot, move on.
Trust your gut. If it feels too good to be true, it probably is.
Be careful how you pay. If paying in person, bring a Cashier's Check. A person's check has too much personal information on it. Never pay with cash. You will not be able to recoup any losses.  If you are doing business online, use PayPal. Your account information is not shared and in addition they offer fraud protection. If you are purchasing near the venue, ask the seller to go with you to the gate so that you can verify the validity of the ticket.
Plan to meet with any seller in a public, well-lit place. In fact, ask your bestie to come along.  Never meet anywhere dark or at your residence.
How to Spot a Fake Ticket
You may be able to spot a fake ticket. You can look for things that might be a bit off. If you are familiar with what an authentic ticket looks like from the venue, you can make that comparison. Look for printing or spelling errors. Check the seating chart that you find online with the seat numbers on the tickets. Check for holograms or other theft detection that is on some tickets. If the ticket is printed on lightweight paper, or something is incorrect, like the time or date, your ticket is probably a fake.
Though you may be able to spot some tickets that are fake, you still may not be able to spot an authentic ticket. Scammers have gotten better, victimizing millions of unsuspecting people annually.  The best way to avoid being scammed is to buy from a reputable seller.
What to Do if You Have Been Scammed by a Ticket Seller
If you have been scammed by a ticket seller:
| | |
| --- | --- |
| Process a chargeback or refund immediately | Place a stop-payment on your check. Contact your credit card or PayPal's Fraud department. |
| File a police report | This is especially helpful if you had an in-person meeting with the seller. It is beneficial if you were able to get photos or provide a description of the person or the vehicle that the person was driving. |
| Prepare and send a demand letter to the merchant that you purchased the ticket from | Unless your seller gave you a valid address, finding it on your own could prove to be difficult. |
| File a report with the FTC | The seller could face fines or penalties if they are caught. Filing a report with the FTC can help build a case against the criminal. |
What to Do if You Need Help
This is where DoNotPay comes in. DoNotPay can help if you don't know how or what to do. We can file the reports, process the chargeback, or prepare the demand letter. We make it easy and fast for you to solve this problem.
Here's how you can use DoNotPay to resolve your ticket scam issues in three easy steps:
1. Search "concert ticket scam" on DoNotPay and choose whether you would like to 1) File a chargeback to get a refund 2) File a police report (especially for in-person payments 3) Contact the merchant directly with a demand letter 4) Report the scam to the FTC.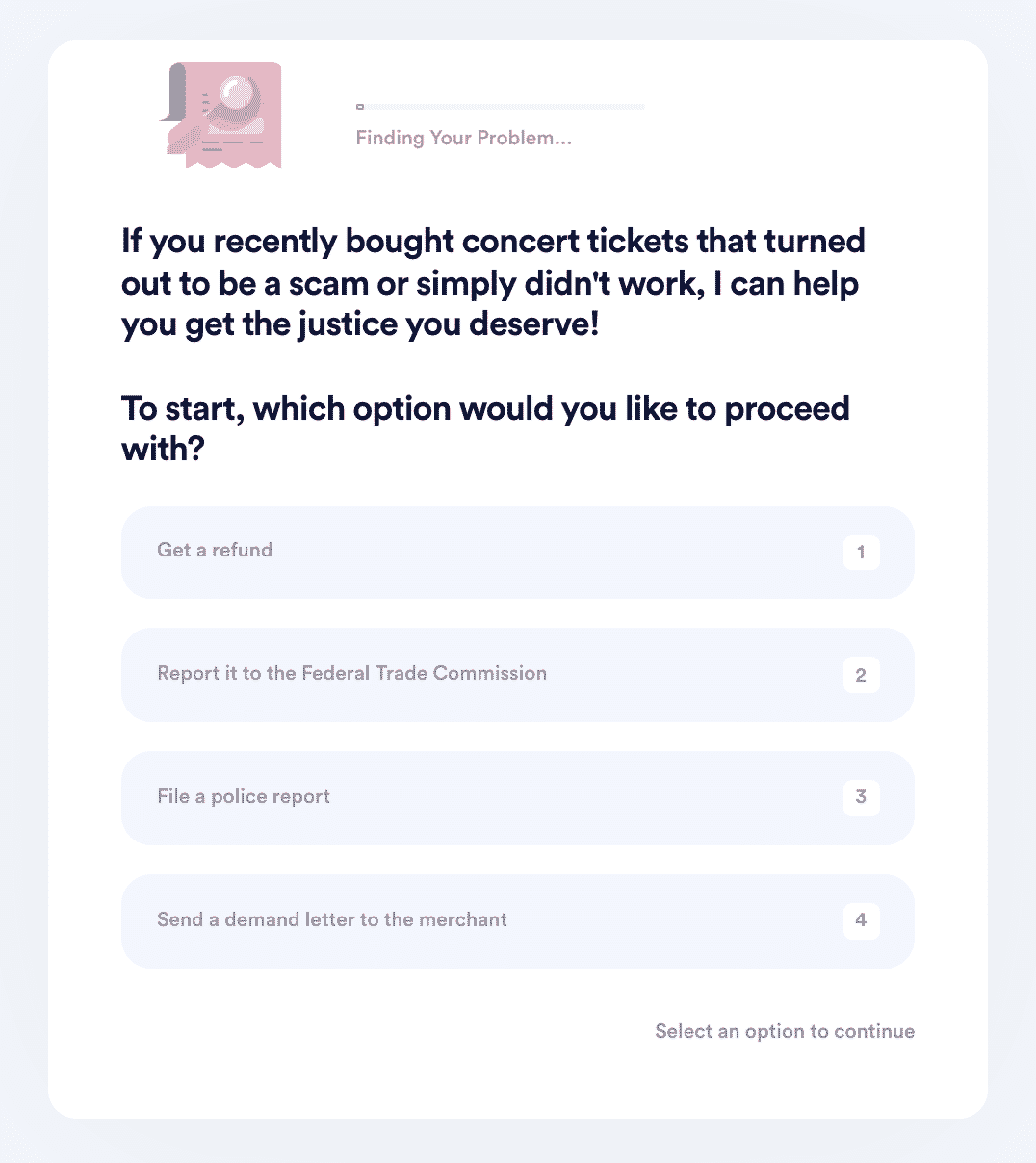 2. Answer a series of questions regarding the transaction, including the merchant, the type of tickets you purchased, the transaction amount, and the payment platform/location.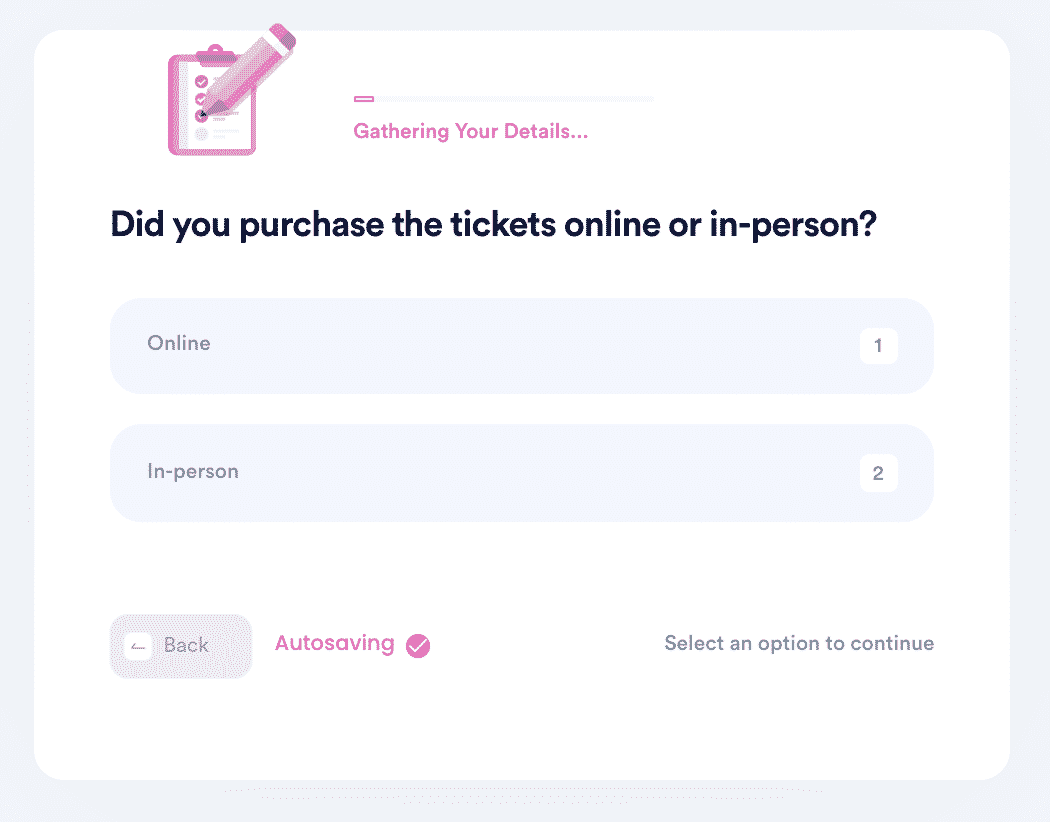 3. Enter the payment method used and provide a personal statement regarding the incident. Upload any evidence you have and provide your e-signature.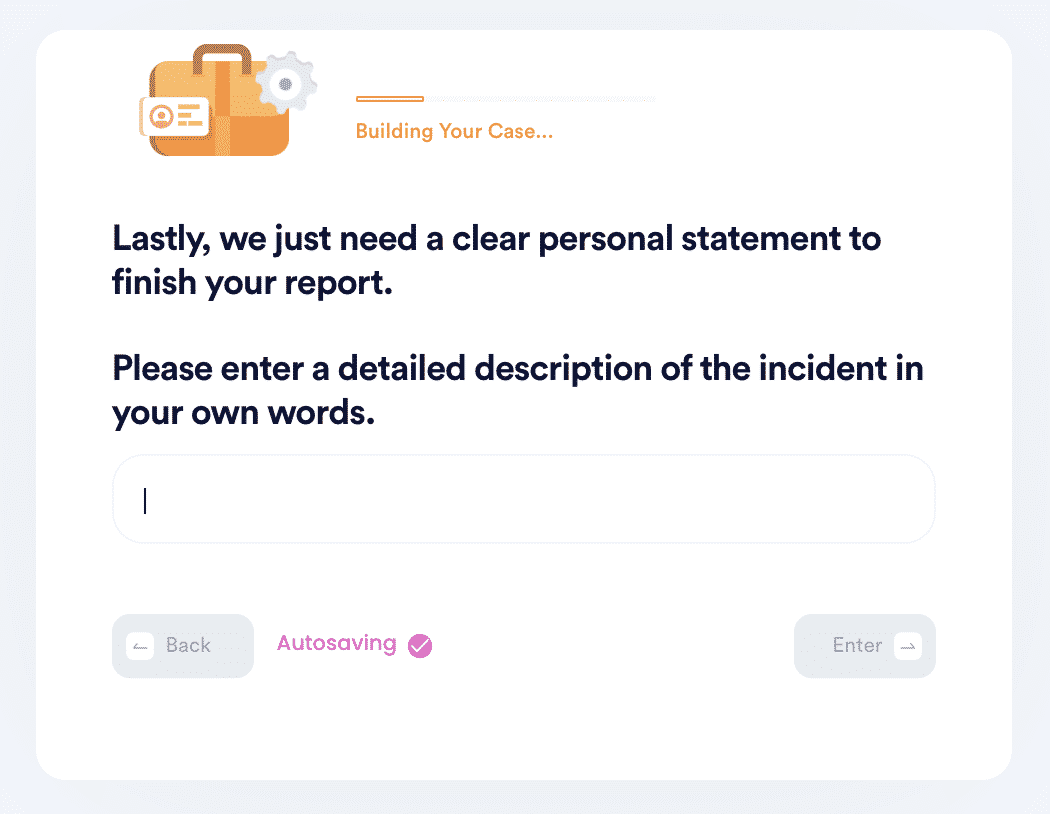 And that's it. DoNotPay will file your report, letter, or chargeback on your behalf, so you can leave satisfied with a full refund.
DoNotPay Can Help Resolve All Your Ticket Scam Issues
It doesn't matter if you purchased from an individual, off of Craigslist, Ticketmaster, SeatGeek, or Eventbrite, DoNotPay can help you file your report, demand letter, or chargeback quickly and easily.
DoNotPay Can Solve Many of Your Daily Problems
DoNotPay has easy solutions for many of the problems you face every day. DoNotPay can help you with the following:
DoNotPay can help you save time, money, and stress while solving your problems. Let us help you today.