Concert Ticket Scams: Ticketcity Ticket Scams
Imagine this; you get word that your favorite event will be held in two months. You decide to right away. You receive a confirmation email saying that you will receive your ticket days before the event.
The day of the event comes. There's no ticket in your email yet. Do you take a leap of faith and drive to the venue? The uncertainty will likely ruin your day. Unfortunately, such stories are a common complaint about TicketCity.
On what grounds can you ? And how do you become wiser and learn how to identify a ticket scam?
Keep on reading to find out.
What are Some Common Ticket Scams?
You work hard to earn a living. And others try to take money away from you unscrupulously. There is more than one form of ticket scam.
Learn them to avoid falling for them:
Some sellers take advantage of fan desperation and sell them last-minute tickets at ridiculously high prices.
Not refunding customers after an event is canceled qualifies as a scam. This has especially been rampant within the last two years.
Some scalpers obtain a few legitimate tickets and sell copies of each to unsuspecting customers.
Other scammers make fraudulent tickets.
Phony websites pose as ticket sellers, but their hidden agenda is to steal your credit card information.
Is TicketCity a Scam?
No, TicketCity is not a scam. They have a 30-year history of serving customers under their belt. They do, however, have several complaints from dissatisfied customers.
Most customers decry the company's delays in sending tickets. Some even got their tickets after the event had already started. What makes this worse is poor customer service as they inquire about their tickets.
Some customers lament that they were put on hold at length. Others say that the company's attendants are not helpful.
Despite these common complaints, TicketCity almost always delivers the tickets. They also have a dependable refund system that takes 5-7 working days for those who qualify.
How to Contact TicketCity after You Are Scammed
TicketCity has several avenues you can use to contact them:
| | |
| --- | --- |
| Email | hello@ticketcity.com |
| Live Chat | https://checkout.ticketcity.com/account/Chat.action/ |
| Customer Service | 1-800-918-2612 |
| Phone Sales | 1-800-918-2612 |
| Check Order Status | https://checkout.ticketcity.com/ |
| Twitter | https://twitter.com/TicketCity/ |
| Espanol | https://www.ticketcity.com/para-comprar-boletos.html/ |
How Do You Apply for a TicketCity Refund?
TicketCity's refund policy states that:
You get a 100% refund when organizers cancel your event and do not reschedule.
When your event is postponed, and the tickets remain valid, you cannot get a refund.
TicketCity does not refund partially canceled events, with the following exceptions:
A rained-out Miami Open.
A rained-out U.S Open Tournament.
A rained-out round of the Masters Golf Tournament.
You cannot get a refund when you cancel a placed order.
You cannot exchange tickets after you've already placed an order.
You will not be granted a refund when you fail to return the original ticket,.
Follow the following steps to apply for your TicketCity refund:
Fill in a ticket refund request.
A sales associate will reach out to talk about your order.
Send back your original ticket soon, preferably within ten days after you are offered a refund.
The refund typically takes 48 hours to be disbursed. But this may stretch to two weeks. If this time elapses and you are yet to receive your order, contact the customer care desk to check on the progress of your refund.
Here's the Easier Way to Apply for Your Ticketcity Refund
Follow the following steps to request a refund from TicketCity:
1. Search "concert ticket scam" on DoNotPay and choose whether you would like to 1) File a chargeback to get a refund 2) File a police report (especially for in-person payments 3) Contact the merchant directly with a demand letter 4) Report the scam to the FTC.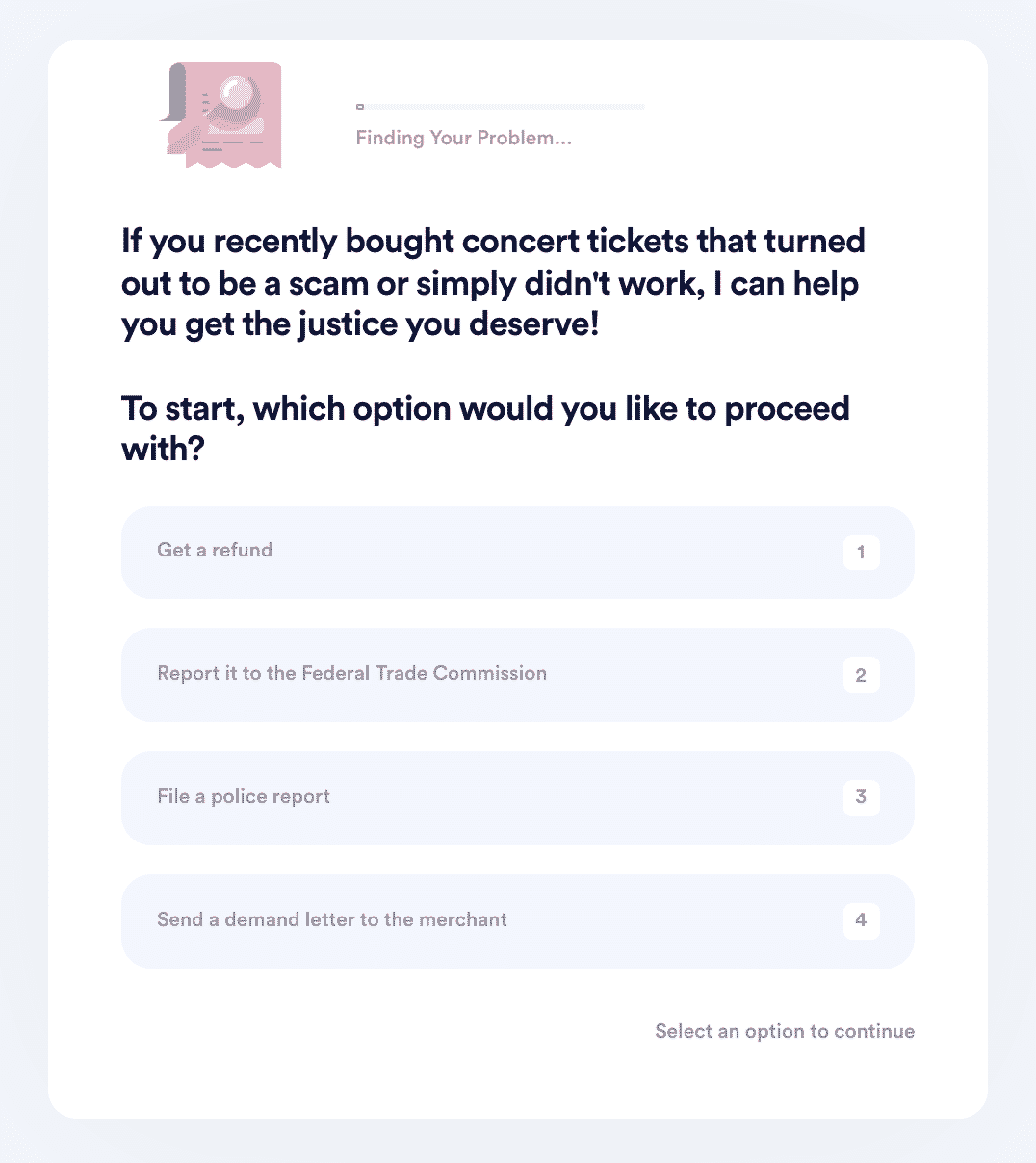 2. Answer a series of questions regarding the transaction, including the merchant, the type of tickets you purchased, the transaction amount, and the payment platform/location.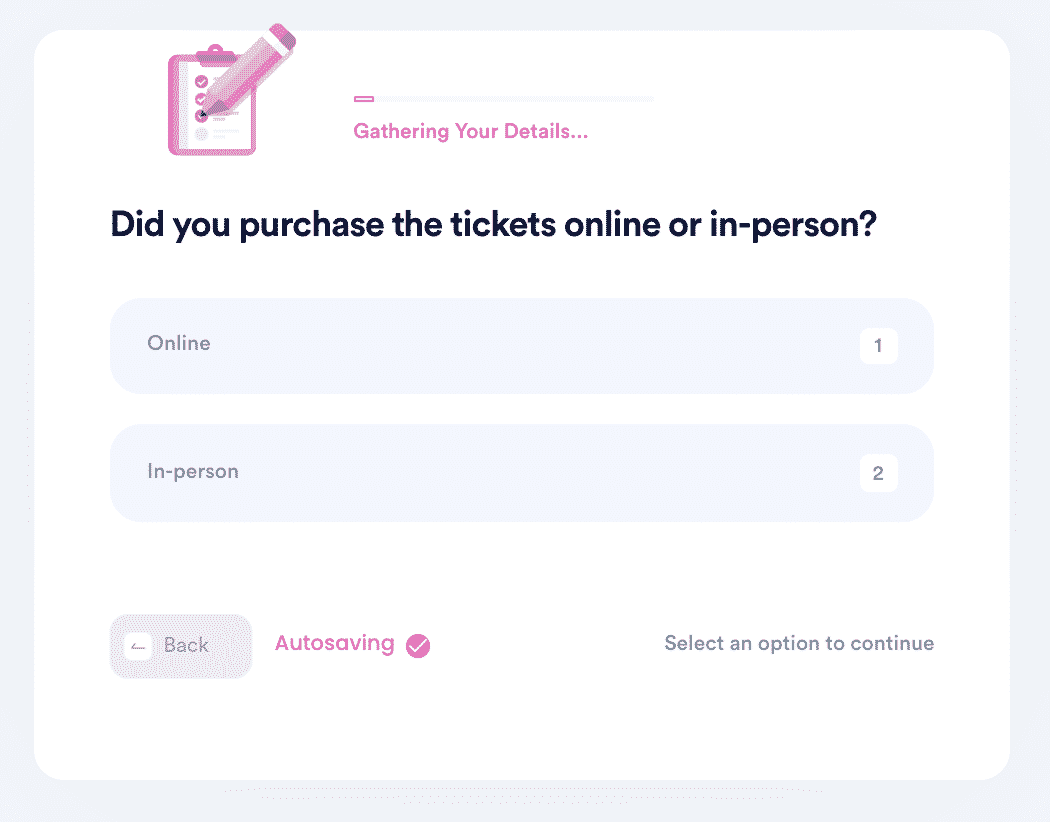 3. Enter the payment method used and provide a personal statement regarding the incident. Upload any evidence you have and provide your e-signature.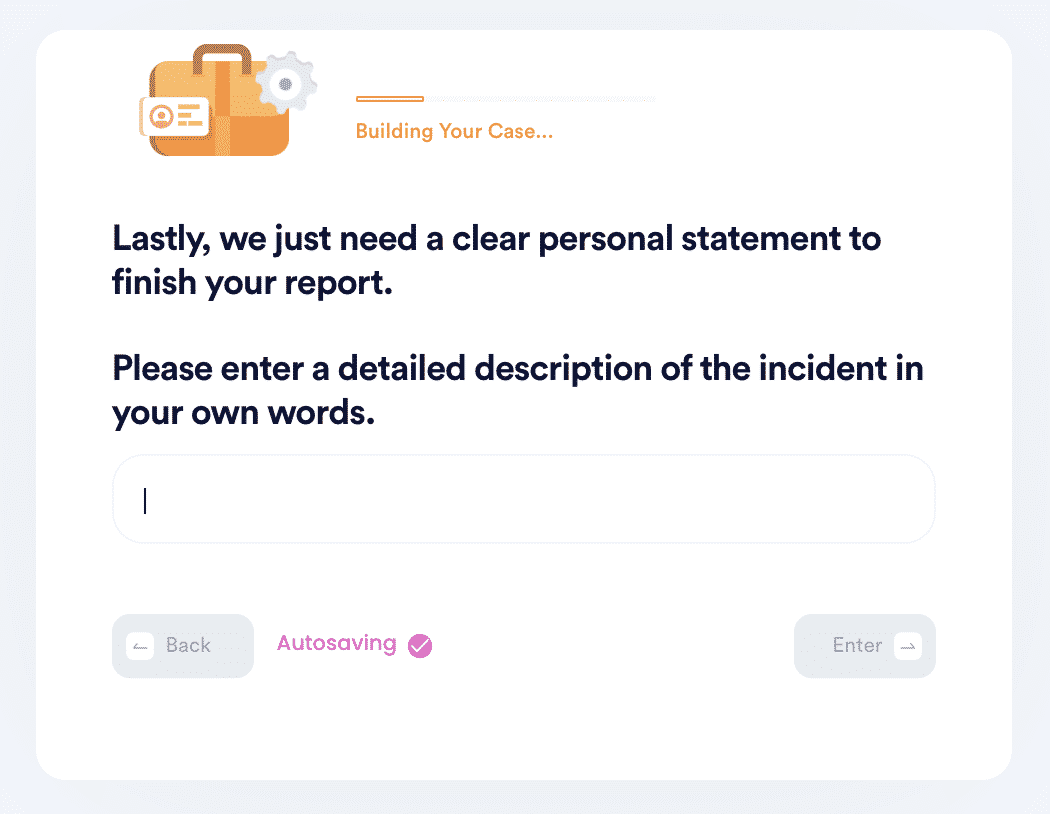 We can also help with your ticket concerns from other marketplaces likeTicketmaster, Craigslist, Eventbrite and Seatgeek.
Why Use DoNotPay for a Ticketcity Fake Tickets Refund?
At DoNotPay, we get things done fast. As soon as you finish filling in your information, we will immediately contact TicketCity. Our goal is to get your money back quickly.
DoNotPay is easy to use. Despite the weighty issues we handle, we strive to save you a lot of hassle that comes with too many bureaucratic processes.
But that's not all you can do with the app.
DoNotPay is Ready to Help
Use DoNotPay to manage all kinds of legal issues with any company.