Protect Yourself from SeatGeek Fake Tickets with DoNotPay
Ticket scams have probably existed since the early days of the performing arts. Can you imagine getting burned with a fake ticket to a Shakespeare play? Unfortunately, technology, the internet, and social media have made it even easier for scammers to con people into buying . But DoNotPay can help!
If you've been scammed with , you're in the right spot. DoNotPay is the world's first robot lawyer. It will quickly become your first resource whenever a person or organization takes advantage of you.
This article explores four key points:
How to resolve SeatGeek fake ticket scams using DoNotPay. (It's the fastest, easiest way.)
How you can fix fake SeatGeek ticket scams by yourself. (It's not impossible.)
Ways to protect yourself in the future.
And a few other legal hurdles DoNotPay can jump for you.
Now, if you've been ripped off with fake SeatGeek tickets, you're probably angry, disappointed, and ready to get your money back. DoNotPay can help!
How to Resolve Seatgeek Fake Ticket Scams with DoNotpay, Spoiler Alert: It's Easy!
You can use DoNotPay to resolve your ticket scam issues in three easy steps:
1. Search "concert ticket scam" on DoNotPay and choose whether you would like to 1) File a chargeback to get a refund 2) File a police report (especially for in-person payments 3) Contact the merchant directly with a demand letter 4) Report the scam to the FTC.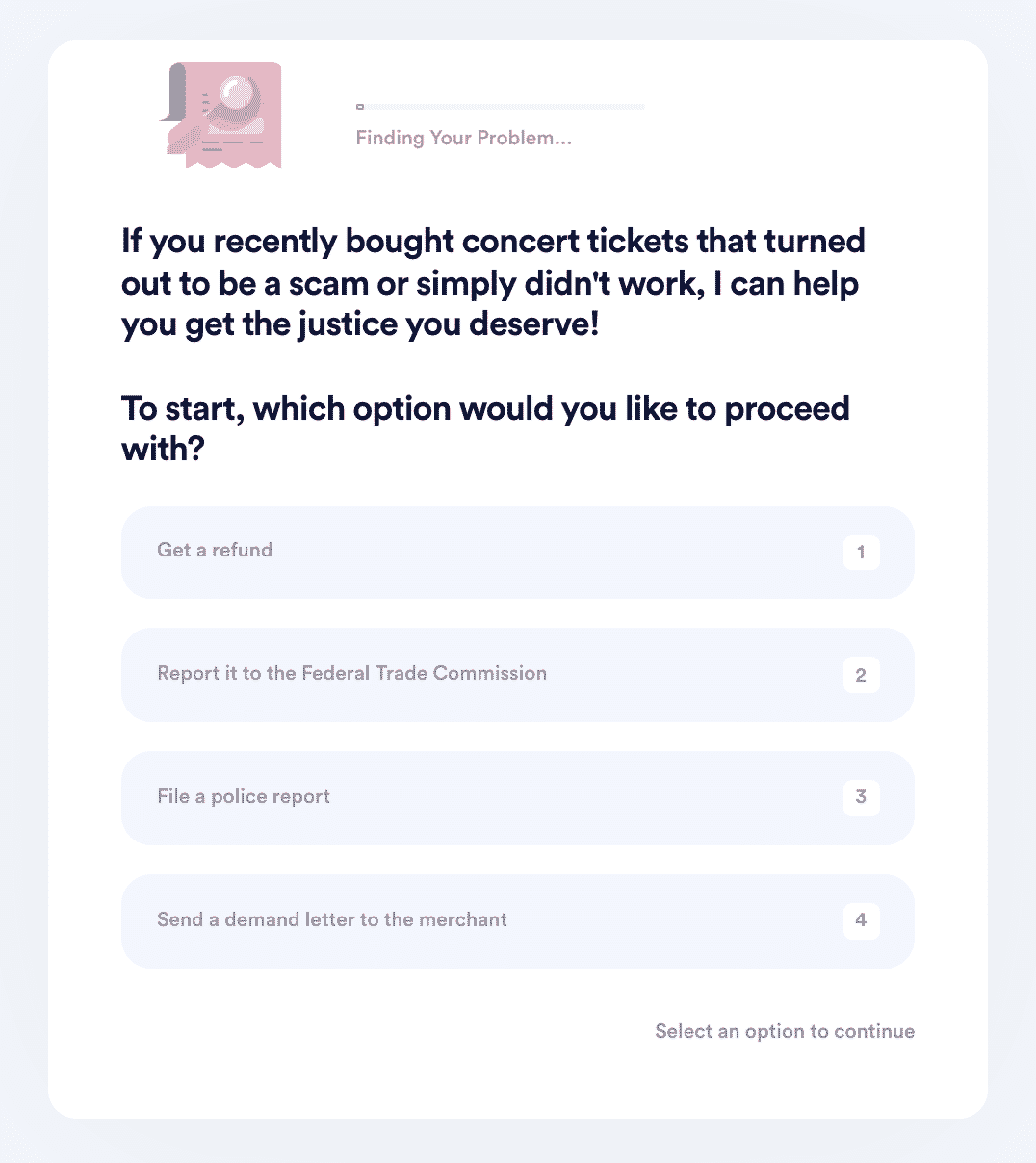 2. Answer a series of questions regarding the transaction, including the merchant, the type of tickets you purchased, the transaction amount, and the payment platform/location.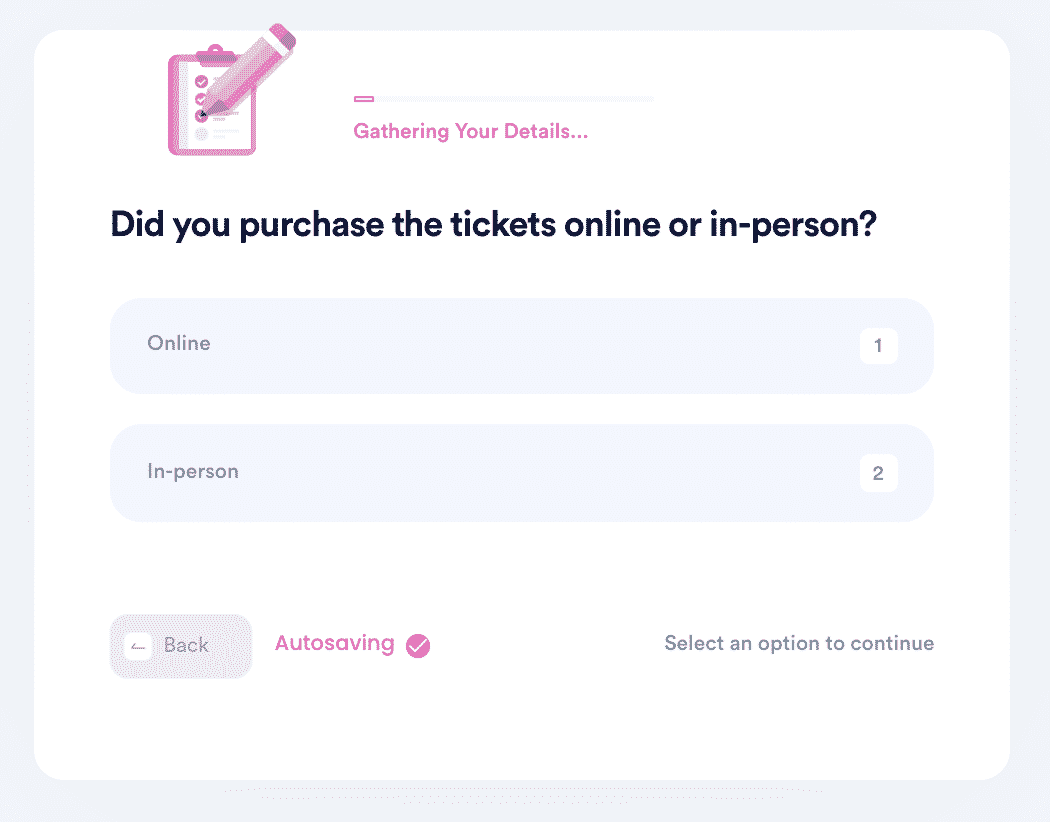 3. Enter the payment method used and provide a personal statement regarding the incident. Upload any evidence you have and provide your e-signature.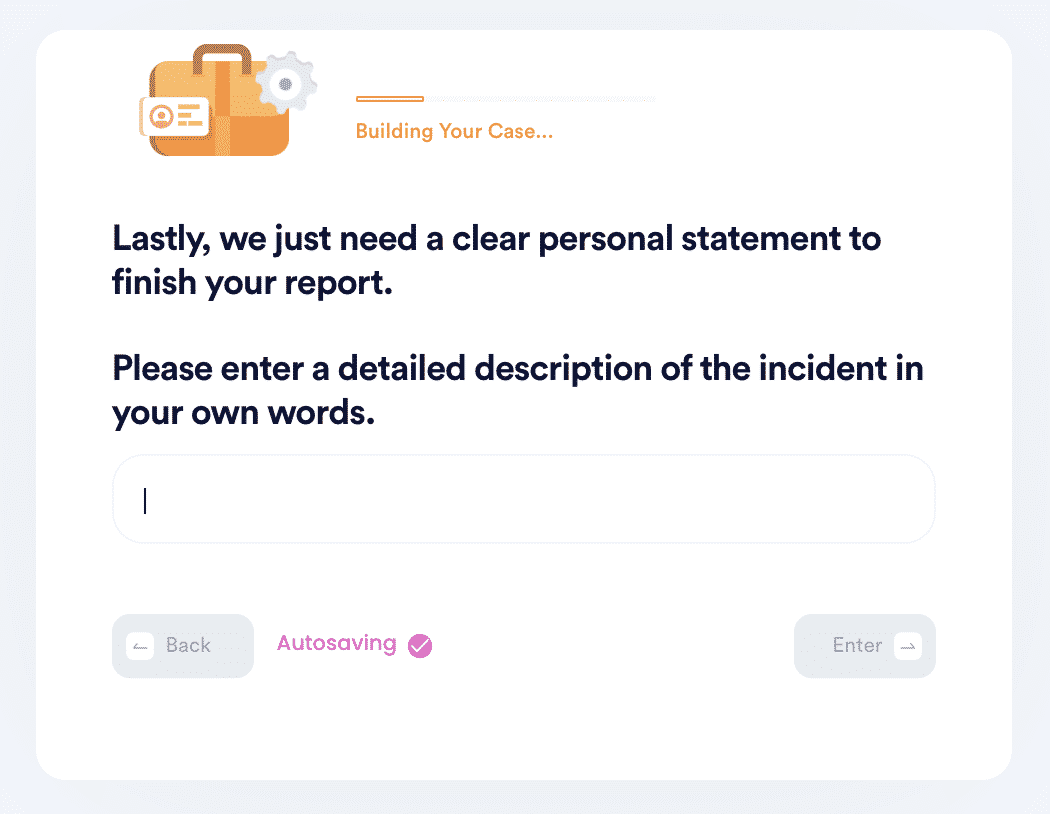 And you're done! See how easy that is! DoNotPay will file your report, letter, or chargeback on your behalf so that you can leave satisfied with a full refund.
Now, you can always try to resolve your SeatGeek ticket issue by yourself. Let's check it out.
How to Resolve SeatGeek Fake Tickets by Yourself
Being turned away from a concert at the venue for a fake SeatGeek ticket is the most embarrassing feeling! Hopefully, you used a third party — like a credit card or PayPal — to pay for your tickets.
Contact Your Credit Card, Bank or PayPal
Remember to stay calm. Then:
Call the toll-free number on the back of your credit or debit card
Or contact the third-party payment provider, like PayPal or Venmo
Explain the fake ticket, where you purchased it, the date, and so on — the more information you can provide, the better!
Ask for a refund
Write down any confirmation numbers
And wait for your refund
Now, some providers have an excellent reputation for taking care of consumers. American Express, for example, is known for its "no questions asked" customer protection policy. They'll refund your money right away, even for fake tickets up to $300.
Other organizations can be challenging to work with, especially if you're not an attorney. Bank of America, for example, has a reputation for being difficult when it comes to debit card refunds. So, if you're struggling to get a refund after purchasing fake Seatgeek tickets, DoNotPay should be your first resource.
Did You Pay Cash for Fake SeatGeek Tickets?
If you paid cash through a Craigslist scam or parking lot "scalpers," there isn't much recourse. You should contact law enforcement and describe your situation. If enough people complain, maybe they'll eventually make an arrest.
Next, let's think about ways to protect yourself from SeatGeek fake ticket scams in the future.
How to Avoid Buying Fake SeatGeek Tickets in the Future
The best way to avoid concert ticket scams is to buy tickets directly from providers like SeatGeek, Eventbrite, and Ticketmaster. Or go directly to the local venue and buy them at the box office in person. Keep receipts!
Never pay cash for event tickets. Always use a credit card, debit card, or other third-party payment providers. This is an added layer of protection.
Never use Western Union to pay for event tickets. You'll have no recourse if they're fake.
And lastly, don't trust scalpers. Modern technology just makes it too easy to create fake tickets at home. It takes a printer, scanner, some good ink, and heavy-duty cardstock for printing. Fake tickets can fool the human eye but not the scanners used in the box office.
Now that we've covered everything you need to know about SeatGeek fake tickets, let's think about a few more ways to use DoNotPay. It's like having an attorney in the family!
Why Use DoNotPay to Fix a Fake SeatGeek Ticket?
| | |
| --- | --- |
| Fast | You don't have to wait for hours for a customer representative to answer your call. |
| Easy | You don't have to struggle to fill out tedious forms or keep track of all the steps involved to fix your fake seatgeek ticket issues. |
| Successful | You can rest assured we'll make the best case for you. |
What Else Can DoNotPay Handle for You?
Any time you feel like a business is mistreating you, make DoNotPay your first resource. It works across all companies with just a few clicks.
Beyond SeatGeek fake tickets, use the app to:
And pay your utility bills in a snap
Try it today!