Find a Slidell Notary Service Hassle-Free
Visiting a notary public is not the only available option for getting your documents notarized in Louisiana. If you want to access a Slidell notary service fast and easily, you are in the right place. DoNotPay has the most convenient method of notarizing documents that is bound to save your time, money, and nerves!
What Can a
Notary in Slidell, LA,
Do for You?
A notary in Slidell is authorized to notarize your legal documents by providing their signature and stamp.
Their job is to deter fraud that occasionally comes with signing contracts and agreements. A notary does so by:
Confirming the signers' identities

Affirming the participants' state of mind

Determining the signers' awareness of the document's content

Establishing the involved parties' willingness to sign the contract
Bear in mind that a notary who suspects any foul play can refuse to notarize your document.
A Louisiana civil law notary can provide many services that are typically reserved for lawyers in other states. Those services include drafting, preparing, and executing affidavits, acknowledgments, and authentic Acts. While in other states notaries can merely verify signatures, in Louisiana, they can be responsible for the document's content as well.
How Much Do Slidell Notaries Charge?
The state of Louisiana doesn't have established fees for notarization services. The fee depends on the service provided and the notary you decide to use. Your best bet is to compare the costs of several notary services and decide on the most affordable option.
Which Documents Do I Need To Get Notarized?
Every legal document can benefit from having a notary's signature. In case of any legal disputes between the contract signers, having a notary's verification can add to the security factor.
Specific documents that involve large transactions or deal with sensitive matters require a notary signature. Those documents are:
Deeds

Trusts

Real estate papers
How To Get Your Documents Notarized in Slidell
You can get documents notarized in Slidell in one of two ways:
In-person

Via an online notary service
Getting a Document Notarized in Person in Slidell
One option to get your document notarized in Slidell in person is to visit the local notary in your area. This method typically requires you to schedule an appointment, bring the document and an ID card, and go to the notary's office at the agreed time. While some notaries work on Saturdays, most of them only offer notary service during standard business hours. Adjusting to their schedule can be challenging.
A more convenient solution would be to hire a mobile notary. Traveling notaries are available 24/7 and will come to you at your request. You can meet them in your office, home, or any other place that suits you and finish the process on the spot. If you don't mind paying extra for the mobile notary's travel expenses, this option might do the trick for you.
Getting a Document Notarized in Slidell via an Online Notary Service
Louisiana is one of the 28 U.S. states that allow permanent online notarization. You can get your documents notarized via an online platform without leaving the comfort of your home. Online notarization happens in a completely virtual environment. You can finish the whole process effortlessly and get your notarized document straight away.
Choosing the online notary service can be tricky since there are so many options. If your requirements are a user-friendly platform and an affordable price, you should go with DoNotPay!
Get Your Documents Notarized Within Minutes With DoNotPay
You don't have to waste time searching for notary services in Slidell. DoNotPay can schedule your appointment with the notary so you can finish the whole procedure in the blink of an eye.
To use our notarizing tool, you have to and:
Find our

Notarize Any Document

feature

Upload the document you want to get notarized

Enter your email address

Click on the link we will send you via email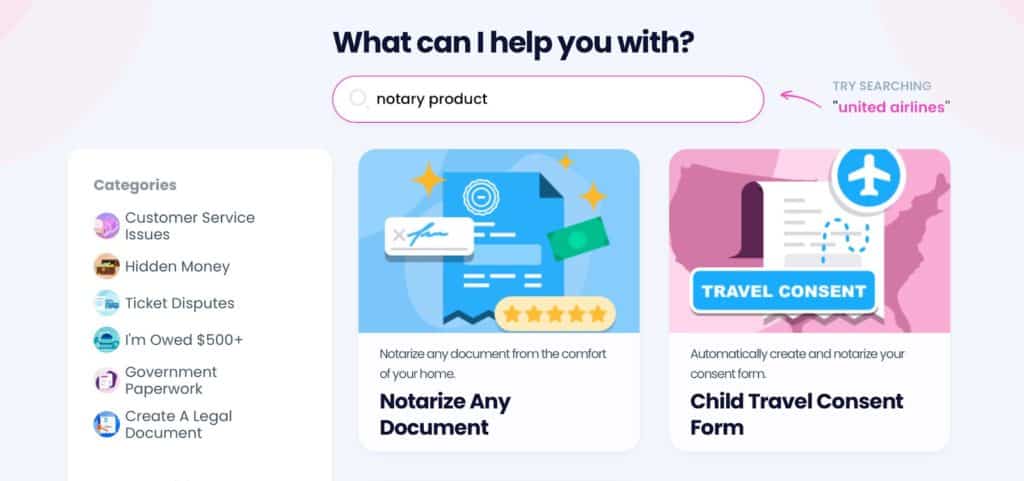 The link will take you directly to a webpage where you can confirm your appointment with the online notary. He or she will witness the signing during a video call. After providing an electronic signature and stamp, the notary will send the document back quickly.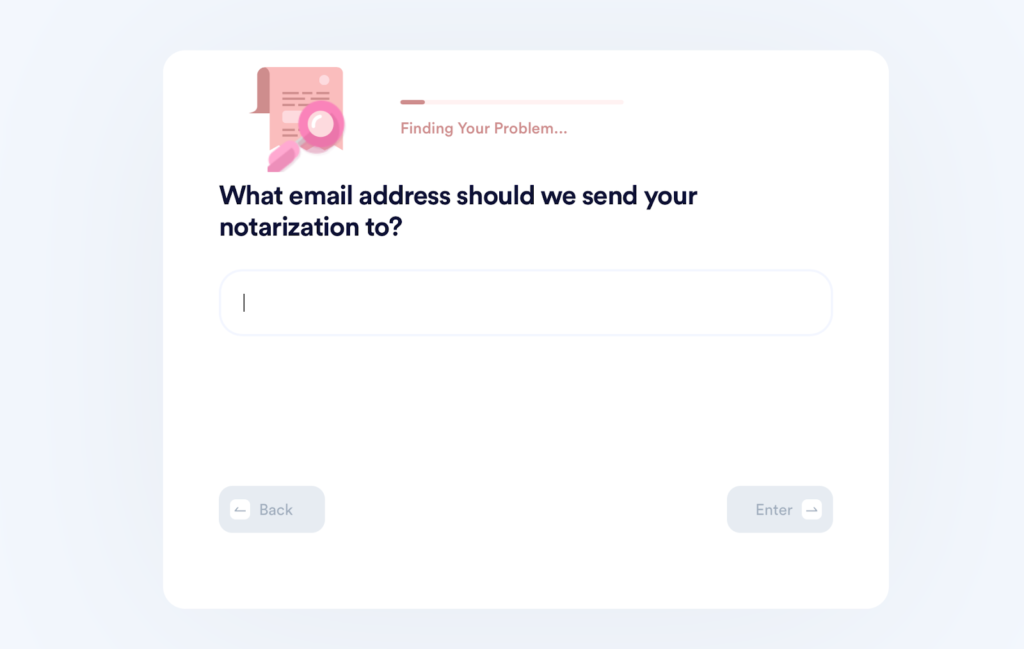 Use DoNotPay's Legal Documents Feature To Create Contracts Without Stress!
As a part of our comprehensive service, we offer the Standardized Legal Documents feature to help you create numerous business, real estate, and other contracts. and create, get notarized, and fax any of the following documents:
Real Estate
Business
Other Documents

Residential lease agreement

Intent to purchase real estate

Estoppel certificate

Quitclaim deed

Bill of sale

Independent contractor agreement

LLC operating rules document

General business contract

Non-disclosure agreement

Non-compete agreement

Parenting plan (child custody)

Child care authorization form

Prenuptial agreement

General affidavit

Promissory note
Forget About Bureaucracy With DoNotPay
There's no end to what our app can help you do. From drafting legal documents and asking for bill extensions and reducing property taxes to connecting with an inmate in a federal prison and contesting parking citations, DoNotPay can handle it all and cut through the red tape.
Need to pass a government test? Use our practice tests database to nail it. Looking to file an insurance claim? You've come to the right place. College applications drained your accounts? Request college fee waivers with our assistance.
The DoNotPay app is so versatile that it can easily locate any unclaimed funds under your name or any clinical trials that you're eligible to participate in. We can also schedule DMV appointments and take care of your small claims court documents.
Check Out What Else DoNotPay Has in Store
DoNotPay never stops upping the game. You can explore some of our latest features and see how you can access public records, receive free online fax, submit a warranty claim, or get compensation if you were a victim of a crime.
Alternatively, check out some of our most popular products that aim to reclaim your funds—from getting airline flight compensation and submitting refund and chargeback claims to canceling your unused subscriptions and getting class action cash from email, text, and robocall scammers.