RingCentral Send Fax Service in a Nutshell
If you need to send a fax, you don't have to look for the closest fax machine. Online faxing apps and services have taken over as the next safest and most practical way to send important documents.
One of the most popular online faxing companies is RingCentral. DoNotPay will teach you how to use the RingCentral send fax service and show you some other ways to fax online!
What Is RingCentral?
RingCentral Inc. is an American company that has been enabling businesses to communicate and collaborate via the cloud since 1999. One of their many solutions is document exchange using online faxing.
RingCentral offers four paying plans adapted for different kinds of faxers. The price ranges from $20 to $50 a month per user.
Depending on the plan you choose, RingCentral promises to deliver perks such as:
Video call options

A large number of users

Unlimited storage space

Various reporting features

24/7 customer support service
How To Send a Fax With RingCentral
There are multiple ways to send a fax using the RingCentral faxing service. The available methods include:
Accessing your account from the company's website

Downloading the RingCentral app

Sending a fax via email

Faxing with a PC Scanner
Take a look at the table below for a more detailed description of each method:
Sending a Fax With RingCentral via
Description

Company website

Log in to your account via your email or business phone number

Click on the

FaxOut

icon

Type in the recipient's contact information, including the name and

online fax number

Attach the document from your PC or the cloud storage

Click on

Send Now

RingCentral app

Log in to the RingCentral app by using your email account or business phone number

Go to the

Phone

section

Click on

Faxes

Tap on

Compose Fax

Enter the recipient's contact details

Attach the document you wish to fax

Click on

Send

Email

Check if your email address has the required company extension

Open your email account and click on

Compose

Enter the recipient's fax number followed by the extension

@rcfax.com

in the

To

field

Attach the file

—

Check if the format of the file is supported and the file name doesn't include any special characters

Make sure your email's body is empty

Hit

Send

PC Scanner

Place your document face down on the scanner

Go to the menu section and set it to email

Type the recipient's fax number followed by the required extension

Press

Start
Are There Any Disadvantages to Using the RingCentral Faxing Service?
While RingCentral provides an excellent faxing service, it is not without faults. One of the most important elements to consider is the price. RingCentral is among the most expensive online faxing providers on the market. While the company's faxing plans include numerous perks, most of them are not necessary for occasional faxers.
If you fax regularly, RingCentral could be one of the options for you. Otherwise, you will be wasting money.
Other disadvantages include:
Lack of international phone numbers

No digital signature tools

Lack of the two-factor authentication feature
If you find RingCentral too complicated and pricey, you should consider other options.
Faxing With DoNotPay Is Practical and Affordable
Whether you fax regularly or occasionally, our app is the best option. Other online faxing providers will charge you more than $10 for their cheapest plans. DoNotPay delivers top-notch service at a low price.
If you access our app from your , you will be able to:
Upload files easily

Send as many as 100 pages each month

Fax any document in a matter of minutes

Snap a photo of your bills and checks and fax them quickly
Our offer doesn't end there. You can combine our Legal Documents feature with the faxing service to fax legal files from one place. The process is simple:
Choose a contract you would like to make

Follow our instructions to create the agreement

E-sign it

Fax it to the receiver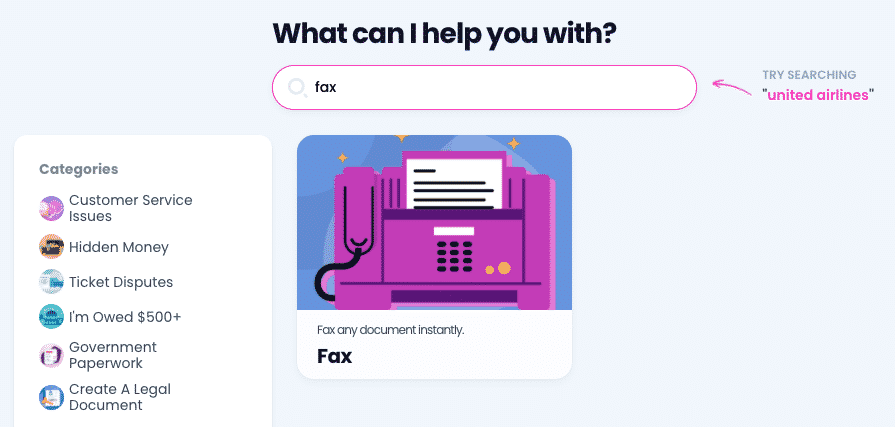 How To Use DoNotPay To Send Faxes
Sending faxes with our app will take mere minutes. All you have to do is follow these steps:
Open DoNotPay in any

Go to our

Fax

feature

Choose the

Send a Fax

option

Snap a photo or upload a file you want to fax

Type in the receiving fax number
After you hit Send, your fax will be on its way to the recipient. You can expect a notification from us as soon as the fax hits the receiver's inbox.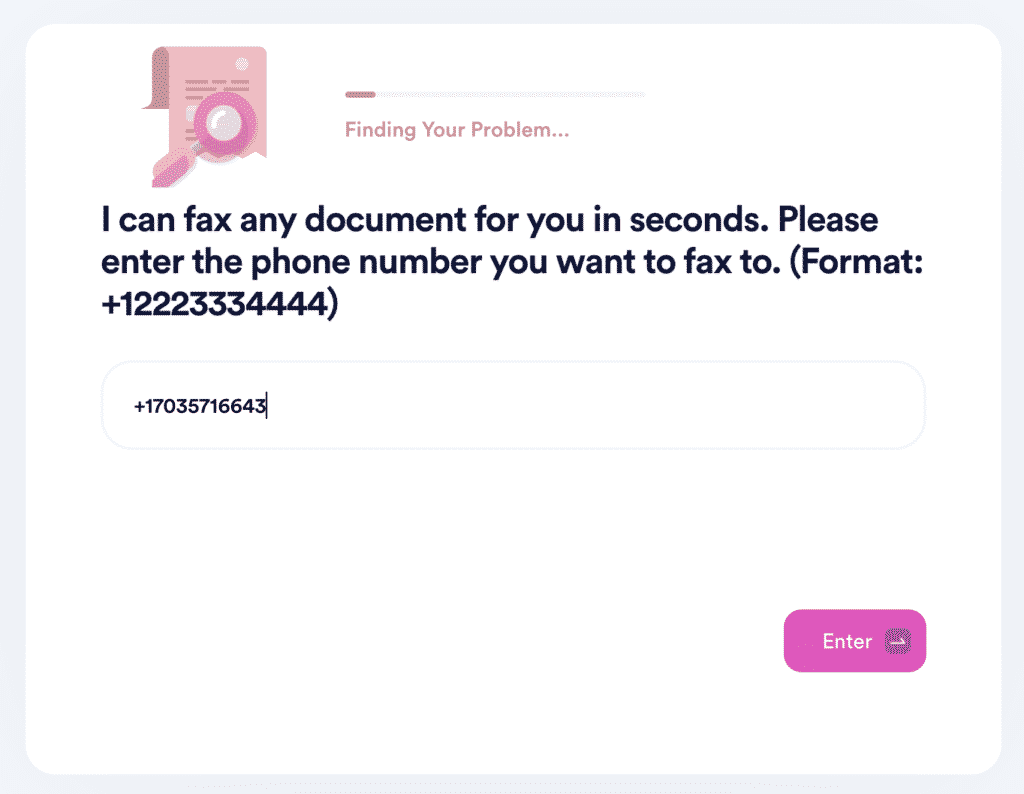 DoNotPay Knows All About Online Faxing
Check out our learning center and find out what other faxing methods you can use. We can show you how to fax with:
DoNotPay Keeps Your Privacy Intact
DoNotPay can help you surf the web safely and securely. No need to provide your personal information to every company whose service you'd like to take for a test drive. Our Virtual Credit Card and Burner Phone products shield your data from prying eyes and dishonest merchants.
Feel like subscribing for a free trial? Make it truly free and avoid automatic membership renewals with our card. It can also help identify spammers and potential scammers who send bothersome robocalls and robo texts your way. As soon as they act on the virtual card number, DoNotPay will unmask them and demand compensation!
DoNotPay Can Help You Bring Any Business to Justice
Should a company refuse to grant you a refund or compensation, our app will help you take them to small claims court!
We'll help you cancel the service in question to avoid any future charges, and we'll call their customer service so you can get info on your denied request. We'll draft the relevant court documents for your jurisdiction and give you instructions on filing them.
More Nifty Features That'll Make Your Day
You may not have breach of privacy issues or reasons to bring someone to court, but you surely have ample motivation to save or earn a few dollars here and there—especially if we catch you unawares!
DoNotPay can show you how to reclaim funds that you didn't know were under your name or make a denied warranty appeal to any company. We streamlined the processes of requesting refunds, college fee waivers, airline flight compensation, parking infraction dismissals, as well as applying to clinical trials that pay!